UPDATED REVIEW - 12 May 2006 : Plane Quiet have now updated their top of the line Solitude headphones with a slightly redesigned and slightly better performing model, the Solitude II. The review that follows has been updated/revised to reflect the new unit's performance.
Note - 1 December 2006 : Plane Quiet have released a new version of these headphones, the Solitude with Linx Audio headphones. Click for our review.
Further Note - 1 January 2007 : It appears that there are no more of the Solitude II headphones in stock, either direct from Plane Quiet or from any of their retailers. The review below still applies, in general, to the newer Solitude Linx product, which - alas - retails for $50 more.
Yet another note - 24 January 2007 : Yay! The new Solitude Linx headphones have now dropped in price to $199.95, the same price as the earlier non-Linx headphones. This squarely puts these headphones right at the sweet spot of best value for money in terms of excellent performance and great price.
Bose must now be wishing they didn't force Plane Quiet to take their earlier Mk 5 headphones off the market (due to a claimed patent infringement).
Plane Quiet's response has been three fold. They immediately countered with a differently designed headset (the NC6) which is priced less and performs better than their earlier product.
They then followed this up with a second product, priced even lower still, although this second product (the Latitude) does not perform as well as either the Mk 5 or NC6.
And now, Plane Quiet delivers the coup de grace to Bose, with their top of the line Solitude headset, which in its new Solitude II release now even looks very similar to Bose's elegant QC2 headphones.
Executive Summary
The release of the original Solitude represented such a major development that we've devoted a great deal of space in discussing everything to do with this marvelous new product, and so this has become the longest review yet in our noise reducing headphones series.
Some of you might want to skip much of the review and cut to the bottom line question - are the headphones any good or not, and should you buy them?
Yes, the Solitude headphones, and their successor, the Solitude II, both priced at $200, are very good indeed. In terms of noise cancelling and sound quality, they are almost indistinguishable from the $300 Bose Quiet Comfort 2 headphones, and clearly much better than the next best headphones (the $55 Plane Quiet NC6 and $70 Noisebuster NBFX).
The new (Dec 2006) Solitude with Linx Audio headphones are essentially identical to the Solitude 2 headphones, and now (January 2007) are priced the same as the regular Solitude they replace, making the Solitude product better value than before.
The $55 NC6 is a great priced good performing product, and if your budget is set around this number, you'll be happy with the NC6. But if you're prepared to spend more to get an improvement in noise cancelling that you'll clearly hear, then choose the Solitude over the Bose. There seems little or no tangible associated benefit for the extra $100 cost of the Bose unit.
For more detail, please keep reading.
Plane Quiet's Evolution
Plane Quiet first released a set of noise reducing headphones in May of 2003. It was a revolutionary unit back then, offering performance only slightly less than the Bose Quiet Comfort 1 product, and at little more than a quarter the Bose price.
This product went through a series of small evolutionary improvements, getting steadily better, and becoming more broadly known and appreciated in the marketplace. At the same time, Bose upgraded their headphones to the much improved Quiet Comfort 2, and new competitors started to enter the market, offering a steadily increasing range of headset choices.
And then, disaster seemed to strike. Bose claimed that the Plane Quiet headset violated some of their patents and in a negotiated settlement, PQ agreed to take their product off the market.
However, PQ did not simply turn away from developing headphones. Instead, they came out with a replacement product, using a different physical design to avoid the Bose patent, and called the NC-6, released in August of 2004.
This was initially a controversial product. At first glance, it looks very similar to several other brands of noise reducing headphones, many of which were priced below the NC-6. Some people quickly assumed that because the headphones looked similar from the outside, they must therefore be the same on the inside, and perform exactly the same.
Our testing has clearly showed this is not the case, and indeed Plane Quiet themselves also demonstrated this fact when they introduced a lower priced, similar appearing product in November 04, the Latitude. Moral of the story : Don't judge a book by its cover.
Although the NC-6 was (and is) an excellent performing set of headphones, and generally better in most respects to the earlier Mk 5, it lacked a certain aura of panache and quality, probably due to the many similar seeming competitors in the market. Many people were still choosing to spend $300 on a pair of Bose Quiet Comfort 2 headphones rather than $55 on an almost as good set of NC-6 headphones.
And now, we see the Plane Quiet response to the absolute top end of the market, appearing in the form of their Solitude noise cancelling headphones.
With the release of this headset, Plane Quiet now offer three different products covering every part of the active noise cancelling market :
Solitude II ($199.99) High end product. Around the ear design, highest quality and performance (review follows below)

NC-6 ($54.99) Mid market product. On the ear design, very good quality and performance (reviewed here)

Latitude ($29.99) Entry level product. Similar design to NC-6, perhaps something for the kids to play with (not separately reviewed but mentioned in passing in the NC-6 review). Now phased out and no longer sold.
The Solitude Active Noise Cancelling Headset - what you get
The Solitude noise cancelling headphones are shipped in a good strong outer shipping box. Inside is an attractive black and silver box with embossed printing. The box has some basic product information and pictures on it.
Inside the product box is a semi-rigid zip up carry case, and inside the carry case are the headphones themselves.
Carry Case
I did not like the carry case provided with the original Solitude headphones. It was unnecessarily bulky, and then compensated for its bulk by including foam padding inside - a terrible waste of space for most travelers who are always short of space.
Happily the new Solitude II comes with a carry case that is, ahem, remarkably similar to (but slightly larger than) that with the Bose Quiet Comfort II headphones. You unzip the case to find the headphones carefully cradled and well protected inside, and on the lid of the case is a small pouch with a zip closure that contains the cords and adapters. Same as with the Bose product, the small pouch is held onto the case lid by a velcro fastener and so can be removed or moved to a different position, should this ever be needed.
One very clever feature of the case is a molded compartment designed to fit an iPod or similarly sized MP3 player (my Toshiba Gigabeat fits perfectly in the space, too). This is very convenient.
While you of course didn't choose to spend $200 just for the carry case, it is fair to observe that the Solitude II has a greatly improved carry case that more befits its upmarket image.
Other Inclusions
The connecting cord is a generous 5'1" long (ie 1.5 m). It has gold plated standard 1/8" connectors at each end - one plugs into a socket on the left ear cup, and the other plugs into whatever sound source you are listening to. If you're just using the headphones for noise cancelling, you don't need to connect the cord at all.
This cord shows a clear benefit of the Solitude compared to the Bose Quiet Comfort 2. A problem with the QC2 is that its connecting cord uses a unique-to-Bose connector at the headphone end. If you lose the cord, or if it becomes faulty, you can only get a replacement from Bose. This is very inconvenient, especially if you're traveling, and there seems no reason for this, other than giving Bose more of your money. The Solitude headset uses standard connectors at both ends, so if you should ever lose or break the connecting cord, a replacement can easily be purchased at any stereo or electronic store. Well done, Solitude.
The unit comes with two different adapters - one is the common adapter to convert from a single jack to the double pronged jack used by some airlines, and the other converts from the connector's standard 1/8" diameter plug to the larger 1/4" plug used on professional audio gear and home stereo systems.
Yes, the unit does come complete with batteries - two alkaline AAA cells.
Also in the box is a nicely prepared user's manual and warranty card.
The 18 page user manual does an excellent job of explaining everything to do with the headphones and their operation, although on the page that quotes the headphones' specifications, no mention is made of its noise cancelling capability (their other promotional literature claims 18dB of noise cancellation).
Warranty Issues
The warranty card contains some interesting language and some onerous requirements. The previous apparently unlimited lifetime warranty offered by Plane Quiet on their other products has been replaced by what they describe as a 'Limited Lifetime Warranty'. So what are they limiting?
Well, a simple reading shows their undertaking to repair/replace defective parts 'within a reasonable period of time' free of charge.
So how long is a 'reasonable period of time'? Our interpretation was that this means that the warranty is only good for a certain time period, but we have been advised by email from James Dabbs, writing on behalf of their EVP, David Dillinger, this actually means they will repair/replace the faulty unit within a reasonable time of receiving it back. It does not mean (per Dabbs) that the coverage period is restricted; they are simply reserving the right to take more than a day or two to return your headphones to you after receiving them back. That is good to know.
Now for the onerous requirements : To get warranty service, you need to provide proof of purchase from an authorized Plane Quiet dealer. If you're like me, you lose sales slips within a day of buying something. And if you give a set of headphones as a gift to someone, you probably don't include the sales slip with the headphones.
There do not appear to be any serial numbers on the headphones, which makes this requirement somewhat pointless, because a proof of purchase can't be matched to a specific set of headphones.
Things get worse. If you are returning the headphones to Plane Quiet, they require you ship them in their original carton for shipping. Now, what does that mean? Does it mean the flimsy black printed box? Or the generic corrugated cardboard shipping outer box? If it means the latter, what about people who bought headphones direct from a retailer?
Well, PQ have thought about that. They'll, ummm, sell you an official shipping box.
Now for an underlying ugliness. Dabbs asserts that their warranty is limited to only cover the original owner of the headphones, which is why they seek proof of (original) purchase. Nowhere on the warranty form does it say this, and we're asking Dabbs for further information on how this assertion is supported.
The ultimate test of a warranty though is how well it works in practice, and we've had consistently excellent feedback from people reporting on their warranty claim experiences.
BoomerangIt
An unusual - but valuable - bonus feature of the Solitude is a membership in the BoomerangIt program. This gives you a distinctive numbered label to place on the headphones (probably on top of the headband). If you should lose your headphones, anyone finding them will notice the label, which contains a tracking serial number, a toll free number to call, and the promise of a reward to the finder.
You get a free one year registration, and are required to fill out a fairly intrusive form on Boomerang's site to get the product registered. Surely Plane Quiet could link this data to their warranty database so as to save their customers the hassles mentioned in the previous section.
The Boomerang service helps increase the likelihood that, should you leave your headphones behind - for example on a plane at the end of a long flight - they might be eventually returned back to you.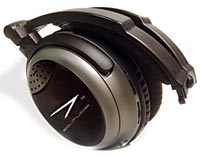 Headphones Description
The earlier model Solitude active noise cancelling headphones were very cleverly designed to fold into a very compact shape, as you can see on the left.
The headband split in the middle and rotated around, and the earcups have triple hinges, making it possible to collapse the headphones into a very small bundle. But this ultra-compactness was never fully exploited by Plane Quiet (ie they didn't come up with a matching very compact carry case) and required bulky and clunky looking extra pivots and engineering around the ear cups.
The new Solitude II has a simpler design with a non-folding headband. The earcups still rotate flat to go in the carry case, and the new design is much cleaner and more attractive looking.
The headband has faux-leather padding on it for added comfort.
The headphones have black plastic and padding, with the ear cups being made out of an attractive matt titanium colored plastic, with black center pieces and the distinctive 'flash' emblem of the Plane Quiet family in the center of each black center piece. The official Solitude photo above implies the headphones are brown and black; this is not the case, they are an attractive titanium/gunmetal type color.
Although the headphones themselves give the appearance of being sleeker, they are very slightly heavier due to stronger construction in the headband - 8.2 ounces compared to 7.9 ounces for the earlier version. And, similarly, although the new slimline carry-case looks smaller and definitely is much thinner, due to the stronger construction, it now weighs 17.1 ounces instead of 12.1 ounces for the earlier model and case.
The two AAA batteries are located in the left earcup and have a claimed life of 35 hours. Opening the battery cover is much easier now than in the earlier version, but there's no danger of it accidentally opening in your bag.
A strong plus compared to the Quiet Comfort 2 is the Solitude headphones will still play music if the batteries die. The volume level drops a bit, and you only get passive not active noise cancellation, but they are perfectly usable if your batteries die on you. In my case, I've sometimes found that I've either forgotten to turn off the power to a set of headphones, or perhaps the switch has been bumped, turning it accidentally on, and so I find myself on a plane with dead batteries. This is not such a problem with the Solitude, and of course, a prudent person will keep a spare set of batteries in their carry bag for 'just in case'.
At the bottom of the left earcup is the socket into which you plug the connecting cord when you want to use the headphones to listen to an audio source rather than just using them for their noise quietening capabilities.
Also on the side of the left earcup is a volume control, an on-off switch, and a green LED to show the headphones are on.
The volume control is for adjusting the volume level, and has no impact on the noise quietening. Normally it makes sense to leave this at maximum and to adjust the volume on your music source (this gives you better battery life for the player, too). Using the volume control on the ear cup is not very convenient and makes a lot of noise. But if you're listening to something together with another person on a second set of headphones, you can then balance the volume levels for both of you by using these volume controls.
The On-Off switch is reasonably well recessed so is less likely to be accidentally turned on. The green LED shines quite brightly, and when it reduces to a dim glow this signifies your batteries are almost dead (the manufacturer says they have about 30 minutes remaining) and should be replaced. This is not as helpful as with the QC2, which causes its power LED to flash when there are about 5 hours remaining - a better indicator and a more generous advance warning.
Noise Cancelling Functionality
The Solitude noise reducing headphones claim 18 dB of noise cancellation, which they say is the highest of any set of headphones on the market.
In contrast, arch-rival Bose is silent on how much noise cancellation their headphones offer.
How to measure noise cancelling performance
There is a great deal more to measuring the extent of noise cancellation than is suggested by quoting a single figure. This is because all noise reduction methods work with varying degrees of efficiency at varying frequencies and volumes. Active noise cancelling works best with moderate rather than very loud volumes, and with medium/low frequencies rather than very low, or medium and high frequencies.
Additionally, it is very difficult to construct a test environment that accurately recreates the noise reduction one experiences when wearing a set of noise cancelling headphones.
So, when a manufacturer says '18 dB of noise cancellation', they really need to back that claim up with a published chart showing the noise cancellation as a function of sound frequency (and perhaps sound volume, too). Without that information, we can only guess at what the manufacturer means, and this lack of precision (and great difficulty in precisely evaluating) means that manufacturers sometimes feel free to quote whatever number they feel like.
Accordingly, the actual perceived level of noise cancelling will depend very much on what type of noises you are surrounded by and trying to cancel out. By happy coincidence, a large part of the noise on a plane falls within that part of the sound spectrum that active noise cancellation works well in. However, some other noises (for example, human voices) tend to be outside the range of effective noise cancelling, and are much less affected.
I've sometimes had readers write to me, or post in the forum, saying that they tried a set of noise reducing headphones which were useless. But after questioning, it appears that they did not try the headphones in an airplane. If you're buying noise reducing headphones to improve your in-flight experience, it is inappropriate to test them anywhere else, because their functionality in other places may be totally different to their functionality on a plane.
So; what does this all mean? It means you're best advised to largely disregard any manufacturer's claims for noise reducing, unless you see comparative independent testing between their headphones and other brands that you're also considering buying. Instead, you need to compare them in the environment that you'll predominantly be using them, which is why I do all my review testing actually on planes (yes, I'm the crazy guy shuffling half a dozen different sets of headphones on and off my head all flight long!).
With all this as long winded introduction, how do the Solitude headphones measure up?
Solitude's noise cancelling performance
I did a side by side comparison between the Solitude and the Noisebuster NBFX/Plane Quiet NC6 on a flight from Las Vegas to Seattle.
There was a clear improvement in noise cancellation in the lower and mid ranges with the Solitude. An engine droning noise in particular must have lost at least 4dB and perhaps closer to 6dB (my guess, I didn't have any measuring instrumentation with me). Higher up the frequency band, as the noise cancelling effect started to taper off, the differences weren't so marked, although the Solitude seemed to also have better passive noise cancellation outside of its active noise cancelling range.
This is an amazing improvement over the already very good NC6/NBFX products. So, to answer the question we all wonder - 'Will I hear the difference between the $55 dollar headphones and the $200 headphones' the answer is a definite yes. If you can afford and justify spending almost four times as much money to get a better noise quieting experience, then go ahead and do so, knowing that you definitely will be getting a better result for your extra cash.
I did a subsequent four way test on another flight between the Solitudes, Plane Quiet NC6, the Bose QC2 and Altec Lansing AHP712i headphones. On a 15 point scale (five points each for low frequency cancellation, high frequency cancellation and comfort) I scored the QC2 tops at 14 points, the Solitudes a very close second at 13 points, the Altec Lansings third at 10 points and the NC6 came in with 7 points. The Solitudes actually beat the QC2s in low frequency noise cancellation, but the QC2 were slightly better in higher frequencies and also earned a slightly higher comfort score.
So, to answer the other question we all wonder - 'Will I hear the difference between the $200 and the $300 headphones' the answer is 'No, you won't'. In this case, there is almost no reason at all to consider the Bose over the Solitude, and remembering Solitude's extra features (still passes through music if the batteries are dead, and an industry standard connecting cable), the Solitude would seem to be the clear winner.
Comfort and Convenience
One of the distinctive things about noise cancelling headphones is that you're more likely to wear them for a longer time period than with regular headphones, and so comfort issues become even more important than with conventional headphones.
Many people think that 'on the ear' type headphones are inherently less comfortable than 'around the ear' type headphones, due to the on the ear design meaning the headphones are pressing against your sensitive ear, rather than pressing against your less sensitive skull. On the other hand, ear cups that completely enclose the ear can make you feel hot and sweaty after a long time whereas on the ear headphones might not seem so hot.
I've happily worn both types of headphones for long international flights. Personally I prefer around the ear type headphones, but don't see a huge difference between them, and suspect personal preference is probably as much a factor as any absolute comfort issues.
The most distinctive comfort component of these headphones is that they squeeze quite tightly onto the sides of your head, appreciably more so than either the QC2 or the earlier PQ Mk5. This was a deliberate design decision, so as to make a very positive seal against your head, passively blocking out as much background noise as possible.
This is not as uncomfortable as one would expect, simply because there isn't much sensation in your skull to feel this type of pressure, but does take a bit of getting used to. The new Solitude II's aren't quite as tight a squeeze as the earlier ones.
The headphones sit securely on your head (aided by their firm pressure) and while you're aware of their presence, they are not awkward and you can move your head the same as you always would without fear of dislodging the headphones.
The earcup dimensions are smaller than the Bose QC2 dimensions. The most noticeable difference is that there is less depth inside the earcup - about a quarter inch rather than a half inch with the Bose headphones. This can make your ears feel a bit squashed, especially if you have big ears that stick out!
The longest I've worn a set for, so far, is 'only' four hours. They were acceptably comfortable for that length of time; I'll update this when I have a chance to wear them for a longer time period.
In terms of convenience, the headphones fold compactly, and are acceptably light weight, making them easy to fit into your carry-on bag.
Other Observations and Issues
Excellent sound quality
Plane Quiet claim a frequency response range from 20Hz - 20,000 Hz, but their claim is meaningless because they omit the crucial detail of how many dB plus or minus is used to measure the frequency response. They do refer to '1EC-318' alongside this claim. The IEC-318 (not 1EC) is a reference to a type of reference quality artificial ear used to measure headphones, but this does not tell us the plus and minus limits used for determining the frequency response.
Happily, the quality of sound from the Solitude headphones is excellent. Clean, clear, and full bodied, with solid bass and clear treble, and neither inappropriately dominating.
The first thing I noticed was their excellent mid-range presence and distortion-free clarity, meaning that I heard some background sounds on a piano recital recording that I'd never noticed before. The sound is warm and inviting rather than harsh or muffled.
One could hear the percussive attack as individual hammers struck their notes in the piano, and one could hear the timbre of the piano itself, rather than having it masked by the coloration that is often present in a cheap pair of headphones.
Sound levels were generous, unlike some of the earlier Plane Quiet headsets. The sound level drops by 6dB when you turn off the noise cancelling, but still remains adequately high.
Plane Quiet say they've slightly tweaked the audio in a couple of important areas to improve it still further in the Solitude II. I haven't been able to definitively hear the difference myself, but possibly this is indeed so.
Either which way, audiophiles will be pleased.
Sometimes intrusive hiss
Now for the not quite so good news. Although the Solitude appears to be the equal of the Bose in terms of sound quality, the background hiss created by their noise cancelling circuitry is more apparent than with the QC2, and is reminiscent of the more intrusive level of the earlier Bose QC1.
The hiss in the original Solitude had a different coloration to it than the NC6/NBFX. It seems to cover a broader spectrum, whereas the other headphones (which sound identical to each other so I tend to use them interchangeably) had a more pronounced higher frequency component. The new Solitude II has a stronger high frequency component in its hiss, but I don't know if this is random variation or a result of different circuitry.
In all cases, the hiss is apparent in quieter environments, and detracts from the quality of the music. But you can simply turn off the noise cancelling in such cases and get the pure sound feed with no added hiss at all (but not with the Bose which needs to have the electronics on at all times to pass through any sound at all).
And, again in all cases, in a noisy environment like a plane, the electronic hiss is inconsequential compared to all the other noises surrounding you and so it seems to disappear.
The obvious comeback on this point is 'why would you use noise cancelling headphones in a quiet environment?' - there is a degree of fairness in this rhetorical question, but it is also fair to say that, no matter what the environment, less added hiss is always better than more.
Where to Buy
Note - These headphones are no longer available for sale, but the upgraded Solitude with Linx headphones that replaced them sell for the same price.
The headphones can be purchased direct from the manufacturer, Plane Quiet, at their Pro Travel Gear website, or if you prefer, they can be purchased from Travel Essentials.
Both companies sell them for the same price - $199.95 - and in both cases, if you use the 'travelinsider' discount code (ie the word travelinsider) you'll get a 5% discount off the price, again at either site.
Both companies also offer free shipping.
On balance, we're inclined to slightly recommend buying from Travel Essentials rather than direct from ProTravelGear, for one reason - TE has a fairer return policy. They have a no questions asked return policy, and don't charge a restocking fee. PTG limit your return privileges to 30 days. While there's every chance you'll love the Solitudes, just in case you don't, it is comforting to know that Travel Essentials will see you right if you wish to return them, even if more than 30 days have elapsed (as can happen if you're traveling a lot).
Summary and Recommendation
After a couple of years of giving Bose an increasingly intense amount of competition, it seems that with this latest set of design and performance tweaks, Plane Quiet have, at the least, drawn level with Bose in the performance stakes, and may even have edged very slightly ahead.
When you factor in the $100 premium that Bose charges, and the slightly better ergonomic features of the Solitude, it becomes a no-brainer to choose the Solitude over the Bose every time.
If your comparison is not with the $300 Bose but instead with the $55 Plane Quiet NC6, your strategy becomes less clear. On the one hand, the improved noise cancelling should be obvious to everyone. But on the other hand, there is a huge jump in price between the two products. If spending an extra almost $150 is something you can conveniently do, then you'll probably choose to do exactly this, and you'll be pleased with your decision.
But if you reason that you could buy NC6 headsets for the entire family at the same cost as a single pair of the Solitudes, and if you choose to do this instead, you'll be pleased with the NC6 headsets, too.
Related Articles, etc

If so, please donate to keep the website free and fund the addition of more articles like this. Any help is most appreciated - simply click below to securely send a contribution through a credit card and Paypal.