If you've ever wondered just what a $400 pair of noise cancelling headphones offers that a $100 pair does not, read on to find out.
But if you want to skip the verbiage and cut to the bottom line, the short answer to the question 'What extra do I get for all my extra money?' is, alas, 'not very much'. Again, read on to find out.
These are good headphones - possibly even excellent ones. But they're not appreciably better than the Bose Quiet Comfort 2 headphones, while costing $100 more.
Sony MDR-NC500D Digital Noise Canceling Headphones - what you get
The Sony MDR-NC500D noise cancelling headphones come in an impressively large box. Opening the box causes one to be greeted by a pile of paperwork, and after impatiently pushing that to one side, one then encounters the hard sided protective carry pouch for the headphones and a strap that can be attached to the pouch should one wish to carry it slung over one's shoulder.
Unzipping the carry pouch reveals the headphones in all their glory, along with some accessories. On the left half of the carry pouch is a three part soft pouch with a fold-over velcro flap; inside this are two AA batteries in one part, a 1/8" to 1/4" adapter in the middle part, and a double prong (airline) adapter in the third part.
On the right half of the carry pouch are the headphones themselves, plus a bewildering variety of plugs and wires and things, all neatly velcroed into spaces in the pouch.
Sorting everything out reveals the following items :
The headphones themselves

A multi-voltage recharger for the rechargeable Li-Ion batteries in the headphones

A long (5') connecting cable with standard mini stereo jacks at both ends that are iPhone compatible

A short (20") connecting cable with standard mini stereo jacks at both ends that are iPhone compatible

A connecting cable with an auxiliary battery box in the middle of it and with standard mini stereo jacks at both ends (iPhone compatible) plus a power jack to go into the headphones as well. There is 16" of connecting cable between the box and the plug that would go into an audio source, then the box, then 42" (3'6") from there to the connectors that go into the headphones
The paperwork with the headphones comprises :
A single sheet on how to select the Noise Cancellation Mode

A single sheet startup guide

A booklet about noise canceling - 14 pages in English, repeated in French, German, Spanish, Italian and Portugese. This is a rather complicated and technical booklet and clearly written by someone who does not speak English as their first language; it interesting to read for those of us who are fascinated by such things, but not necessary for the average end-user to digest and comprehend, especially those of us who are intimidated by reading statements like
TNSR = 10 log (P/P0)
[this formula is a fancy way of saying 'The total noise suppression ratio is the difference between the noise with and without the headphones on']

A large fold-out sheet of operating instructions

A single sheet warranty form

A single sheet of precautionary notes and warnings
The headphones have a one year warranty and are priced at $400 (with no discounts currently being offered by any retailers). They are available through Amazon
and many other stores.
About Sony
The Sony brand of course needs no introduction, although it is fair to say that Sony's earlier reputation for leadership and excellence has been less prominent in recent years. Who here has a Mini-disc player, for example? Chances are you don't even know what it is, let alone own one (or, if you did, it has long since fallen into disuse). And its lackluster eBook reader with a limited range of overpriced titles is definitely a poor cousin to Amazon's Kindle eBook reader.
After Sony's leadership role with its long-lived Walkman series of first cassette players and then CD players, it stumbled and - to date - although it has a broad range of MP3 players, it has never been able to build any type of leadership position with the MP3 players that knocked the Walkman off its perch and has languished as an 'also ran' in that category.
But perhaps - after its embarrassing defeat, decades ago, when its superior Beta videotape format lost out to the inferior VHS format - Sony is on the rebound, with its Blu-ray Disc format winning out over the competing HD DVD format in early 2008. Could it be that Sony is moving to the front of the pack of innovative consumer electronics leaders once more, and is this - the first ever set of digital noise cancelling headphones - an example of its renewed leadership?
Leader again or not, Sony remains a major player with consumer electronics, and offers a wide range of noise cancelling headphones in all three design styles :
Model

Design Style

Noise Cancellation

List Price

Street Price

MDR-NC5
released in 2003, now way obsolete but still offered for sale

On the ear - comparable to Plane Quiet NC6

$25

MDR-NC6
(now superseded by NC7)

On the ear

10dB

$50

$33

MDR-NC7

On the ear

9dB

$50

$40

MDR-NC22

In the ear (bud)

75%/12dB

$100

$65

MDR-NC40

On the ear

80%/14dB

$100

$77

Around the ear

85%/16.5dB

$200

$135

MDR-NC500D

Around the ear

99%/20dB

$400

$400
The MDR-NC500D's claim to fame - Digital Noise Cancelling
The big claim to fame of Sony's MDR-NC500D headphones, and the justification for their astronomical and ridiculously high price, is their digital noise cancelling.
Sony make the rather bold statement "For this development, Sony put in all of its acoustical analysis technology, digital signal processing technology and transducer technology." A little further in their notes they perhaps unwittingly reveal that both the A/D codecs and the digital signal processing (DSP) chip are actually made by Texas Instruments (and neither of these components are exactly new, either). What this implies for 'all of Sony's technology' is something we can only conjecture about...
Sony's sost for the digital noise processing feature
Oh - and the extra cost for going from an analog to a digital based noise cancelling system? Who knows the prices Sony pays for the chips from TI, but probably in total, for two A/D codecs and one DSP per set of headphones, this is about a $11 cost, and these two components may also possibly be saving some of the need to include other analog components - ie, the actual net extra cost of the digital capabilities is something under $11.
We estimate the total manufacturing cost of these headphones to be in the order of $40. So why sell something that costs $40 for $400? In part, naked corporate greed. In other part, the phenomenon known by marketeers as 'positive pricing parity' - the situation where gullible consumers assume that a more expensive product 'must' be better than a less expensive one.
The digital noise cancelling function (gimmick)
Sony uses the digital processing to create an interesting twist on active noise cancellation. You might be familiar with some types of amplifiers or MP3 players that allow you to choose a type of acoustic for the music that you hear - perhaps called 'concert hall', or 'church', or various other names, for example, and the style you choose alters the acoustic of the music - making it richer or thinner, with more or less reverberation. Well, think the opposite of this - with Sony's digital noise cancelling, you can specify an environment - either 'Plane', 'Bus/Train', or 'Office' - and the headphones will adjust their noise cancelling to suit the expected type of noise in that environment.
Or, if you prefer, just leave the headphones set to automatic and they will automatically decide which is the best of the three profiles to use.
Sounds amazing, doesn't it. But is this truly a ground breaking new innovation? Or a gimmick?
It is more of a gimmick than anything else. Sure, it gives Sony a unique claim, an ability to claim some special cleverness, and some fancy graphs to include in their manual and on the outside of the box, but in terms of extra functionality, it is a nonsense.
The thing about noise cancelling is that all extraneous noise is bad noise. The best form of noise cancelling is one that simply detects any and all unwanted noise and cancels it, whether it be high, mid or low frequency.
Why limit the noise cancelling?
Sony's noise cancelling curves for the three different noise cancelling modes each show that they variously are better than the other curves in some places and not as good in others. But why wouldn't you want to take the best parts of all three curves and combine them?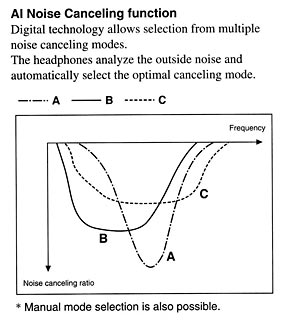 As you can see from Sony's chart, profile B provides the best low frequency cancellation, profile A the best mid frequency cancellation, and profile C the best upper frequency cancellation. But why force us to choose between these three - why not give us a profile 'D' that has the best of all three other profiles - one that runs along the left side of B, then the mid part of A from where it intersects with B to where it intersects with C, then the right side of C?
Unless there's some sort of limitation on 'total noise cancelling', it would seem to make best operational sense to just have the one noise cancelling profile that kills as much unwanted noise as possible. This might, of course, not sound as sexy in the marketing materials as does the concept of three different profiles and either automatic or manual selection of the 'best' profile. But surely the very best of all profiles is the one which cancels the most of all background noise.
Read more in Part 2
Related Articles, etc

If so, please donate to keep the website free and fund the addition of more articles like this. Any help is most appreciated - simply click below to securely send a contribution through a credit card and Paypal.