New Amazon Fire and Kindle Preview 1

The historical evolution and context of these new products

Amazon deserves massive kudos for singlehandedly transforming the moribund market for eBooks and growing it to a viable and sustainable key element of all future book publishing and distribution.
For a company with no background in hardware design or manufacture, their first Kindle, released in Nov 2007, was a good first effort.
Not content to rest on their laurels, the Kindle has undergone several transformations, as well as massive price reductions.
The new Kindles are worthy successors to the ones they now replace, and at extraordinarily exciting price points.
Introduction - the Original Kindle and its Evolution
It is less than four years since Amazon announced its first ever eBook reader, the Kindle, on 19 November 2007.
At the time of its announcement, eBooks were, to be brutal, a several times failed concept that occupied nothing more than a footnote to the major realm of publishing books on dead trees.
Sony had an eBook reader, which languished unloved as a marginal secret in their product range since its release in late 2006.
Even if one were to uncover and buy their eBook reader, there were very few titles available to read on it back then - about 10,000 (to put that in context, the local Barnes & Noble store has 160,000 titles on their shelves) prior to the appearance of the Kindle.
Worse still, not only did an eReader cost something north of $300 to buy, but the limited selection of titles were overpriced, often costing more than the same book would cost in a regular print form.
Add all this up and it is unsurprising that eBook readers were far from mainstream.
Amazon's original Kindle was vaguely similar to the Sony product, using the same eInk screen. Eink was - and still is - a major factor in the practicality of eBook readers.
It provides a black and white screen that uses no battery power to display an image - the batteries are used only to change the image on a page. This allows for an extended battery life - more than enough to read a book or two on a long flight or two.
The original Kindle was priced at - wait for it - $399 - but even at that high price (and this is back in 2007, too) Amazon couldn't sell them fast enough, with a flood of early adopting gadget lovers responding excitedly to Amazon's attempt to create a new sustainable market for eBooks.
The first production run of the Kindle was sold out within 5.5 hours of its initial release announcement, and it remained in a constant state of back-order for almost six months (at which point Amazon eased the price down to $359, spurring still more demand).
The 'Secret' of the Kindle's Success
The real 'secret sauce' of the Kindle was not just its unremarkable hardware, and neither was it the massive marketing push given to it by Amazon. Perhaps the most important factor was the range and cost of its eBooks available to be read on the device.
Increasing numbers of books available
At the time of release, there were 90,000 titles available (compared to 10,000 on the Sony device) and this number rapidly climbed ever upwards. Within a year it had grown to 200,000 titles, and in another 18 months it was over 400,000 titles.
At the present time (Sep 2011) Amazon is claiming over 800,000 titles at prices below $9.99 and more than one million titles in total.
Which leads to the second ingredient in Amazon's secret sauce - the pricing of the eBooks it sold.
Fair prices for eBooks?
Amazon's commendable initial policy was that no books would be sold for more than $9.99, and as part of its own investment in the eBook concept, on many occasions it would sell titles at a loss in order to maintain an inventory of desirable titles and at a desirable price point.
Strangely, the book publishers objected to this. There's an entire story or three in the appallingly slow and dysfunctional way that traditional book publishers are failing to adapt to the new eBook medium, with an increasing danger that rather than embrace the new channels of distribution and new formats for eBooks, their stubborn resistance against the new world of books will see them marginalized and obsoleted.
The publishers insisted that Amazon observe their official recommended mandatory prices for books, and after some high stakes negotiating in public, where variously publishers dropped Amazon and Amazon dropped publishers, Amazon acquiesced and so many newly released titles that are also published in hardcover format have ridiculously excessive prices similar to the cost of the hardcover book.
eBook Sales Skyrocket
Amazon's very aggressive push - nothing less than a complete corporate commitment to an eBook future - has been outstandingly successful, with the market share belonging to eBooks leaping upwards as is vividly displayed in this graphic, taken by Engadget at the product release event in New York.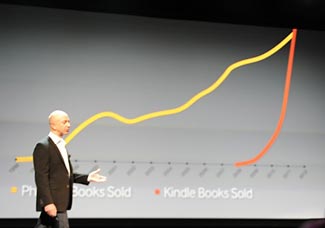 Since the release of the original Kindle, Amazon has come out with several newer models with greatly improved design, and with Wi-Fi connectivity instead of (or as well as) wireless connectivity.
Falling Prices of Hardware
Even though the cost of the books have remained steady, or in some cases increased, the prices of the readers have been dropping.
Perhaps if Amazon can no longer subsidize the cost of books, it has decided to instead subsidize the cost of the readers - a strategy which makes sense and which of course is mirrored in the cell phone industry where phone handsets are subsidized in return for the income the wireless co expects to receive over the life of a two year contract.
In Amazon's case, there is slightly more risk involved, because people who buy an eReader are under no obligation to then buy any books to read on them. On the other hand, with the Kindle and Fire readers being restricted to primarily reading Amazon's own proprietary format of eBooks, Amazon can probably safely gamble that few people will buy a reader and then not buy books to go with it.
This gamble however may be slightly more at risk with the new Fire eReader, because it is an Android based tablet. It remains to be seen how open its architecture will be and how easy it will be to load other apps onto it, extending it into other areas of use completely unrelated to book reading. Indeed, wouldn't it be amusing if it proved to be possible to download the Barnes & Noble Nook eBook reader Android app and then use Amazon's Fire to read eBooks bought from B&N.
New ways to subsidize the Fire
Although there might seem to be a small amount of extra risk on Amazon's part in terms of subsidizing the Fire, there is also an entire new dimension of possible income, too. The Fire is also capable of playing video (oh yes, audio too) and Amazon's growing library of streaming video can be played on the Fire, including now some 11,000 movies and/or television episodes offered on an unlimited all for free basis to its Prime members (people who pay $79 a year, originally for free second day shipping on all orders and discounted overnight shipping, but now who also receive this major video streaming benefit too).
In addition to video, the color capabilities also lend themselves to magazine publication, and Amazon is offering a substantial range of magazine subscriptions for the Fire as well.
In 2010 Amazon introduced an interesting new concept as a further way of subsidizing (and monetizing) its Kindle eReaders. Purchasers now have the choice of a regular Kindle or one which features advertisements on its 'standby' screens. No ads appear while reading books, but they do when not reading books, so the advertising does not interfere with the book reading experience at all.
In return for accepting this minimal advertising, the price of the Kindle is reduced by either $30 or $40.
The new release of products in September 2011 saw not only lower price points than ever before, but also a reduction on the existing Kindles too (their main claim to fame being they have physical keyboards).
For the first time ever, it is possible to now get a Kindle for under $100 if you'll accept the advertising option. (the Kindle Keyboard is now $99, down from $114 previously, and the new entry level Kindle with no keyboard is a mere $79).
Read more about the Kindle eBook Readers
This is the first of a three part article all about Amazon's new Kindles and Fire.
Please click on to read parts two and three :'The Four Different Models Compared' and 'Fires & Kindles compared to Nooks and iPads'.
Please also visit our subsequent hands-on review of the Kindle Prime.

If so, please donate to keep the website free and fund the addition of more articles like this. Any help is most appreciated - simply click below to securely send a contribution through a credit card and Paypal.