Aviiq Laptop Computer Stands

Two light weight compact solutions to working on your laptop

Life on the road, without a laptop or some other type of portable computing device, is a terrifying thought that few of us would wish to confront.
But as useful as our laptops, notebooks and even tablets are, they embody some massive convenience and functional compromises. Devices such as AViiQ's stands endeavour to address some of these compromises without introducing additional trade-offs such as too much extra weight or space in our baggage.
Do they succeed? Should you rush out to get an AViiQ stand? Read on to find out.

Two Similar Solutions to Two Problems
AViiQ have introduced a couple of portable stands for laptops and notebooks, allowing them to be angled to what they say is a more ergonomic angle for typing, and also raising most of the underneath of the computer away from whatever surface it would otherwise have been on.
Both devices are incredibly lightweight and pack down to a negligible size. One lists for $40, the other for either $60 or $80, depending on its finish (color).
As such, they seem to offer functionality at a reasonable price and without requiring weight/space sacrifices for travelers.
But how important is the functionality they offer and how effective are their solutions?
The importance of heat control
Electronics don't like to get hot. The hotter that electronics become, the quicker they age and the sooner they fail. That's why we have fans inside computers and other devices to start with.
But fans rely on there being unblocked ventilation holes in the device, and fans - when operating - speed up the drain on your battery. Devices will run cooler and with the fans operating less of the time if there is space underneath them for heat to radiate out from the device and for air to circulate freely.
If you have a $2000 laptop and can get a 5% extension in its reliable working life due to better heat management, that is sort of the same as saving $100 on the price (and delaying the usual hassle of configuring a new computer, too). And if heat control gives you a few more minutes of battery life away from a wall plug due to requiring the fans to run for less time, that's even more bonus.
The manufacturer of these two stands - AViiQ - is more optimistic about the benefits of heat control than we are. They claim that using one of their stands can extend the life of your laptop by three years, and might extend the life of a laptop battery from two years (normal) to three years (using an AViiQ stand).
That's a slightly more aggressive claim than we'd feel comfortable making, but we're not in the business of selling AViiQ stands. :) We've asked AViiQ three times to explain/support that claim and they've not replied (although we have received answers to other questions from them) so perhaps you should treat their claim with a grain pound ton of salt.
The importance of keyboard ergonomics
I'm probably in a minority here, because I view keyboard ergonomics as an essential element of employee health and productivity. For myself, I have a computer work surface at the proper height (ie lower than most desks), a top of the line ergonomic chair, and a good Microsoft ergonomic keyboard.
But I'm also a very fast typist and I spend a lot of every day at the keyboard, so fully optimizing such things is essential to me.
On the other hand, I see a lot of people with woefully un-optimized work environments, but they don't seem to notice or care.
And even those people who are keen to have optimum ergonomics have to abandon a lot of such benefits when they travel away from their controlled office or home environment. Almost without exception all hotels have terrible combinations of desk and chair heights, poor lighting, and so on.
Now for the difficult part about keyboard ergonomics. Some things are kind of obvious and intuitive. The keyboard should be directly in front of you, close to you, and on a firm stable base. Your arms should be able to reach the keyboard without having to bend up at the elbow - flat or slightly down is okay, up is bad.
Your wrist should go out more or less straight from the ends of your arms.
Beyond that, there start to be some confused ambiguities, which is where the difficulties come in.
AViiQ maintain that good ergonomics suggests a 12° upward slope on a keyboard, but I've seen fairly authoritative sources that seem to advocate more of a negative slope down rather than a positive slope up (for example, this page from Cornell's Ergonomics website).
Again, I've asked AViiQ to back up their claim with some facts/research to support it. And, again, three requests have been met with total silence (notwithstanding their answering 'easier' questions quickly). So you might view this as a reason to be skeptical of their 12° claim. And, in any case, it seems their two devices give a greater than 12° incline anyway, so go figure.
OSHA have one of the most definitive and complete collections of workstation guidelines from an ergonomic perspective.
The bottom line is sort of whatever works for you and isn't grossly at odds with most conventional ergonomic thinking probably is okay.
Here are the two AViiQ products described in some more detail. Oh - and in case you wondered what is with the strange company name and ridiculous spelling; the company's PR agency advises :
AViiQ = combination of Aviation and IQ = all products are inspired from personal struggles of traveling and not finding accessories that fit the travel lifestyle
AViiQ Portable Quick Stand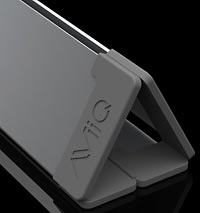 The AViiQ Portable Quick Stand comes nicely packaged in a cardboard packet with a shelf hanger top. It lists for $39.99.
Inside the outer packet is a cardboard sleeve, and inside the sleeve is the Portable Quick Stand, a card indicating the device has a three year warranty, and a folded over card that explains the features/benefits of the stand.
The stand itself is simple and lightweight. It has four pieces of what seem to be aluminium sheet all joined together at the edges by rubberized nonslip plastic connectors. Two of the sheets are the same size and the other two are half size pieces. When all four pieces are opened up, the four pieces form a triangle (as pictured above), and then, for carrying, they fold flat together.
The rubberized plastic edge pieces provide the nonslip surface both for the laptop to rest on the stand, and for the stand to rest on a desk or other surface. They are available in a choice of five different colors - black, grey, green, blue and fuschia; in all cases the aluminium type sheet is in regular silvery metal color and seems to be covered with a thin layer of vinyl plastic. This material is 'Hylite' rather than simple aluminium - there is a layer of polypropylene plastic sandwiched between two very thin pieces of aluminium, which means it weighs a third less than would aluminium by itself, while also being more flexible.
The stand weighs a mere 3.5 ounces. Strangely, the manufacturer claims it as 5.5 ounces, but I checked with two separate scales and both showed it to be a mere 3.5 oz, so there'd never be a problem with weight when traveling with it.
In terms of size, when folded flat, the stand measures 3.25" x 11" and is 0.33" thick. When opened up to form a triangle, each side measures 11" x 2.3", and the triangle is about 2.05" high. It is clearly as light on its space requirements as it is on its weight requirements, making it potentially a good traveling companion.
To use the Portable Quick Stand, you simply unfold it and then place a laptop or notebook on it, with the far away side (ie where the hinge to the screen is) lifted up onto the apex of the Quick Stand triangle. This gives two benefits - a supposedly ergonomic tilt to the screen and plenty of underneath space to help keep the computer cool.
To work best, it helps to have the stand on a stable reasonably flat surface.
I tried the unit out with four different devices - an iPad, a notebook, a lightweight notebook and a full sized notebook.
The stand was too big for the iPad. The distance between where each of the rubberized sides are was greater than the flat distance of the back of the iPad. The rubberized sides come in an inch from each end of the stand, so there are 9" with no rubber surface in the middle of the stand - in other words, devices need to be at least 9.5" or more wide to rest on the rubber sides of the stand. While, in portrait mode, an iPad is 9.5" wide, itscontoured back means there is less than 8.5" of flat surface.
A notebook measuring 11" wide at its widest point was tried next. This worked well, but perhaps the angle of incline ended up being a bit steep. If I got my high school geometry correct, the keyboard was sloping at about a 16.5° or an 18.5° angle, depending on where on the notebook the apex of the triangle was located.
The notebook was reasonably securely held by the stand, even though the notebook weighed 3 lb 2 oz.
Using the lighter weight (3 lb 12.5 oz) and medium sized laptop predictably provided results more or less in the middle between the notebook and the full size laptop, and there was starting to be a noticeable 'wobble' while I was banging away at the keys during testing. Okay, so maybe I should learn to be a gentler typist and lightly stroke the keys?
Using my full-size laptop, the 13.5" width was not a problem at all for the stand, and due to the greater depth of the laptop, the keyboard slope reduced down to about 14.5°, a more moderate amount, although still considerably more than the 12° that AViiQ claims is ideal and provided by their device.
To my surprise, the weight of the laptop - 5lb 4oz - didn't make the stand more unstable. Instead, it seemed to firm it up and give it greater rigidity, and the heavy big laptop was a better 'fit' than any of the other smaller and lighter devices.
One of the things with all the computer devices was that their own 'front' feet tended to be lifted clear of the surface, meaning that all the stability came only from the rear of the stand. If there were nonslip rubber feet still reaching the surface on the front of the laptop/notebook, I suspect they would not 'wobble' as much during energetic typing.
Coming back to the angle of incline that the stand gives to the device that is mounted on it, the literature with the stand claims it provides a 12° angle. But this would require a length of just under 10" between where the laptop sits on the stand and where it rests on the table surface - considerably more than on any of the four devices I tested. I guess if you have a 17" screen on your laptop you might get close to this, but for the rest of us, we'll have something more than 12°.
Is this extra amount of incline important? Maybe. A Microsoft ergonomic keyboard has more like a 9.5° incline, and keytops that are designed for such an incline. So to face potentially twice the incline and keytops that are designed for a zero degree incline is clearly less than optimum.
So my feeling is that this stand offers minimal or no ergonomic benefits, but does greatly help a laptop stay cool.
But would I pay $40 'just' for the ability to keep my laptop cool, and would I accept a kinda strange steep pitch to the keyboard as an acceptable part of the process?
No, I'm sorry, but I wouldn't. In the past I've simply put a book or something to lift up the back of the laptop, allowing for a much less steep incline to the keyboard and still plenty of air space underneath for the fans to do their work.
For sure, this is a very elegantly designed and presented product, and a clever idea. But their 12° pitch claim is just plain wrong, because most devices end up having an appreciably steeper pitch to the point where it starts to feel unusual and awkward.
There is one other use for the stand as well. On some occasions, it does make good sense to have a reverse tilt on a laptop/keyboard - for example, if you are standing up and looking down at the keyboard. By simply placing this 'wedge' unit under the front instead of the back of the laptop, you have an instant reverse tilt.
Now for the final bit of good news. There might be another application where it makes sense. If you've got your laptop on your knee - or even on the bed - then this could become a very useful device, with these two applications typically being ones where the underside of the computer is blocked so that no air can flow at all, and it is even possible to get uncomfortable hot legs too. One can only guess how hot the electronics inside the laptop are getting.
So using an AViiQ Portable Quick Stand would certainly help in this respect.
AViiQ Portable Laptop Stand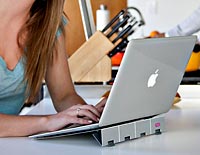 Billed as the 'world's thinnest portable laptop stand' and a 2010 Innovations winner at CES, this also comes attractively packaged in a cardboard box. It lists for more than the other product - it is $59.99 (in a plain aluminium finish) or $79.99 (in a choice of four different colors).
Inside the outer box is a clever inner box with a magnetic closure. Opening it up reveals the stand in a folded up configuration, plus a sheet of instructions, a micro-fiber carry pouch and two replacement nonslip rubber feet.
The stand actually requires six rubber feet, but my glass is definitely half full by seeing the provision of two spare feet - much better than none at all, although I'm now curious as to why even two were provided. Do they wear out? Do they fall off and get lost? For sure, the two spare feet are destined to be lost before too long!
The stand weighs a mere 5.3 ounces, and with its carry bag it becomes a still featherweight 5.8 oz. When folded for carrying, the stand measures 12.7" x 2.5" x 0.33". As with its product-mate, this is a tiny size and negligible weight, allowing us to consider adding it to our travel bags if it makes good sense.
This stand is also made out of the same Hylite material as the other stand, and this stand also makes use of the ability for Hylite to fold (by cutting a channel in the Hylite and removing the aluminium layers, leaving only the Polypropylene.
As was the case with the smaller stand, an iPad failed to fit the dimensions of this larger stand and its support feet, even though in theory the closer spacing of the feet on this stand (7.4" apart) promised a readier support base.
Placing the lightweight laptop on the stand showed the stand to provide perfect support, with no apparent wobble at all, no matter how vigorously I typed.
The notebook also worked well.
Lastly, the heavy full-size laptop. It too worked perfectly, and showed no signs of overpowering the 5.5 oz of the stand with its own 5.25 lbs of mass.
So full marks to this stand as a stable typing platform. But what about as a way of preventing heat buildup?
While there is a thin sheet of the Hylite material closely underneath the bottom of the laptop, this doesn't really stop heat from leaving the device, for two reasons. First, the material is moderately heat conductive. Second, there is still a gap - two feet at the rear of the stand lift the laptop up and off the Hylite sheet.
So plus marks for heat management, too.
As for the ergonomics, that is anyone's guess, because AViiQ have refused to elaborate or justify their claim about the ergonomic benefit of a tilt being added to a laptop's keyboard.
So - Should You Buy Either (or Both?)
Both devices pack up into similar sizes and have similar weights, so the only differences between them relate to price and functionality.
Price-wise, neither unit is cheap. At $40 for the portable stand or either $60 or $80 for the laptop stand, you're paying a tangible amount of money (don't even start to equate this to the cost per pound for such amazingly lightweight things).
I'm unconvinced as to the ergonomic benefits of either stand, because it is far from clear to me that tilting a computer keyboard up as steeply as these units do is either necessary or good.
But I do like their ability to raise a laptop up off a desk or couch cushion or bed covering, allowing for heat to more readily dissipate.
Most of the time, with most laptops or notebooks, the more expensive laptop stand gives a better mount in terms of sturdy support.
The device, due to its appealing 'gift' style packaging and clever modern high tech design is a great choice as an upmarket or 'executive' gift for someone, and there's every good chance the lucky recipient has not already got one, and if they travel regularly, they may indeed benefit from it.
But as for one for yourself? That's for you to decide. You'll probably find it useful and helpful if you buy it, and if you have a spare $60 - $80 rattling around in your pocket, maybe you should indeed get one.
I'm going to travel with the $60 unit for a while on the basis that it can't hurt and might help. In particular, it gives me more options in trying to optimize the usually very uncomfortable desk/chair options in most hotel rooms - although generally the problem is with the chair being too low or the desk being too high, in which case adding extra height to the keyboard is probably not a good thing.
See also our review of the Aviator Laptop stand for a different approach to such devices.

If so, please donate to keep the website free and fund the addition of more articles like this. Any help is most appreciated - simply click below to securely send a contribution through a credit card and Paypal.