Aviator Laptop Computer Stand

Making it easier to use your laptop, on planes and elsewhere

Some of us like the fact it is not currently possible or convenient to work while traveling in coach class on most flights. But some of the more dedicated (or overly committed) of us resent the many dead hours that we lose when flying, and with the soon coming roll-out of onboard internet, the need/temptation to use our laptop will increase.
For most of us, a regular sized laptop usually won't fit in the small space in front of us, and even if we can get it to be workable, as soon as the person in front eases their seat back into our face, all bets are off.
The Aviator Laptop Computer Stand does a great job of helping to fit one's laptop into the too-tight space in front of us. It allows the laptop to overhang the tray table, which in turn allows the screen to be on more of an appropriate angle. More portly people may find the laptop can't move as close toward them as would be fully desirable, but most people will probably find this simple little unit helps make laptop use more practical.
If the Aviator stand doesn't help make it easier to use your laptop, your only other options are to fly first class or to buy a smaller sized laptop that can more readily fit in the space available when you're in coach.
Keynamic's Aviator Laptop Computer Stand
The Aviator Laptop Computer Stand is designed to help fit a laptop computer into the tight space available on a plane, squashed between you, your tray table, and the seatback in front.
It comes simply packaged in a plastic bag, and comprises three pieces of plastic - two leg/supports and a cross-piece (see illustration below).
Assembly instructions aren't really necessary, but are included. The unit can be stored with the three pieces lying flat and clipped together, making an irregularly sized wedge shape, measuring 12.5" long and a maximum of 4.5" wide, and just under 0.5" thick.
The three pieces weigh 9.1 ounces. This is quite heavy, but in return the unit is very sturdy and doesn't wobble at all. The manufacturer claims to have driven a 4800 lb SUV over an assembled unit without breaking it. Personally, I'd prefer a lighter unit and consider the unit at present to be rather over-engineered - I'd rather have a 4 oz unit and take my chances on it being run over by a SUV!
There's no mention of any warranty on the unit, but being as how it is simply three pieces of plastic, it is hard to know what could go wrong or what would need to be covered by a warranty. Happily however the company that retails them online, Travel Essentials, has a no questions asked generous warranty coverage - if you have any problems with your unit, and bought it from Travel Essentials, you're sure to be able to return it.
The unit is priced at $19.95. If you use the discount code 'Travelinsider' (without the quotes) you'll get a 5% discount at Travel Essentials.
Aviator Laptop Stand - What it is and does
The Keynamics Aviator Laptop Stand is very simple, but describing it as simple is meant as praise rather than criticism.
It has three very sturdy plastic pieces that fit together as shown below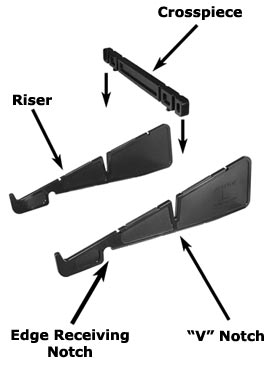 The crosspiece has four different positions to be placed between the two legs, allowing it to have varying widths from 6" to 7.5" to match different widths of laptops.
Assembling the unit is obviously extremely simple, and takes only a few short seconds.
There are non-slip rubber pads on both the bottom and top sides of the two legs. This allows the unit to sit securely on a tray table, and also holds the laptop securely on the unit.
Very cleverly, the unit has a notch cut out of it so it can sit flat on a tray table that has a raised edge around its sides.
The two legs are designed so the laptop will overhang the tray table by about 2.5" (or more if you position the stand closer to you). Because of the design of the slope, this means the front of the laptop will be at the same level as it would have been if on the tray table, while the rear of the laptop will be as much as 3.5" higher than the tray table.
Being able to have the laptop further forward means the screen can be angled to present a better viewing angle, even when wedged up against the seat back in front. The illustration below shows this.
How Well Does it Work
This illustration shows the three things the laptop stand claims to do - it enables you to use the laptop in cramped spaces, to open the screen to a better angle, and to sit more ergonomically.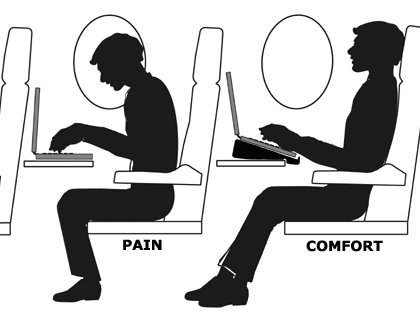 But what we see above is an artist's illustration, not the real world. How well the Aviator Laptop Computer Stand works depends on several things, all related to the amount of space in front of you. Clearly, the more spacing between seats, the better, and the thinner you are, the better.
How much space is there between seats
Seat spacing is commonly measured in terms of 'pitch' - the distance between the start of one seat and the start of the next seat.
But this is an imprecise and incomplete measure, and doesn't accurately reflect on how much free space in front of you there will be. It is very hard to accurately understand exactly how much real space you have on a plane. Our article on understanding seat space explains these variables some more.
Who owns the space behind a seat
Another variable is whether or not the passenger in front tilts their seat back or not. Some people seem to view the space behind their seat as belonging to them and so will tilt their seat back as they wish; other passengers view the space behind the seat in front of them as belonging to them, not the passenger whose seat it is.
In our opinion, the passenger in the seat 'owns' the space behind him in which the seat can be tilted back. The airline has clearly given him the ability and right to tilt his seat. If that person chooses to tilt their seat back, it is just your bad luck, and the only person to 'blame' is the airline rather than the passenger in front.
Best case scenario
If you're on a plane with generous seat spacing, and if you're reasonably thin, and if the person in front doesn't recline their seat, and if your laptop is moderately sized rather than outsized, you'll probably be able to use your laptop even without the Aviator stand, and you'll definitely find the Aviator stand makes using your laptop more convenient.
Average scenario
In the average scenario, you'll probably find using your laptop without the Aviator stand too difficult and uncomfortable. Chances are the Aviator stand will make it more convenient and will allow you to use your laptop, if not completely conveniently, still appreciably better than without the stand.
Worst case scenario
If you're on a plane with cramped seating, if you're generously sized yourself, if you have a large sized laptop and if the person in front fully reclines their seat, you're doomed, and the Aviator stand won't really help you at all.
Other Solutions to the Lack of Space Problem
Unfortunately there are no easy solutions to this problem. There are three things you can do :
Fly on airlines and airplanes with as much seat room as possible. Which are these? I've never seen a practical real-world list of seat space dimensions, so you're pretty much on your own there, needing to use trial and error.

Buy the smallest possible laptop you can conveniently use; the smaller the laptop, the easier to squeeze it into the space in front of you.

Upgrade to first class. This is not always as expensive as you may think, and if it means you can get several more productive hours of time, then the cost compared to the return may make this an appropriate action on your part.
Other Uses
The Aviator stand isn't just for use with laptops on planes. It can be used anywhere you're using your laptop - on a hotel desk, on the kitchen table, or just about anywhere else.
I've also used it, although a bit precariously, when balancing a laptop on my knee. The two legs raise the laptop up a bit, making it easier to use, and also help the ventilation. I've also used it when placing the laptop on the hotel bed, again to keep the air flowing into the unit.
Indeed, the improved airflow path is a benefit wherever you use your laptop. It cuts down on the thermostatically operated fan use in your laptop, giving a slight extension to battery life and reducing the amount of harmful heat buildup.
The Aviator stand can also be used with other devices such as DVD players. If you fit the crosspiece into the two legs using the inner set of connectors, you can fit smaller gadgets as little as 6" wide onto your tray table.
NOTE : See also our review of two AViiQ laptop stands for a different approach to possibly enhancing the ergonomics of working on a laptop.
Summary
This is a clever, easy to use device that will sometimes but not always make it easier to work with a laptop on a plane.
Will it be useful for you? Most probably, yes. And because the unit is priced at only $19.95, and because the seller, Travel Essentials, offers a no questions asked return policy, you're well advised to try one out and simply return it if you don't like it. If you use the discount code 'Travelinsider' you'll get a 5% discount at checkout from Travel Essentials.
Please let me know your own experiences using this - I liked it myself and would appreciate a broader cross-section of opinions to confirm my own positive impression.
Recommended.

If so, please donate to keep the website free and fund the addition of more articles like this. Any help is most appreciated - simply click below to securely send a contribution through a credit card and Paypal.