At $69, the new Noisebuster NB-FX noise cancelling headphones are more expensive than the previous version of Noisebuster headphones, and also more expensive than the look-alike Plane Quiet headphones ($59.95 and with a special discount for Travel Insider readers).
What extra do you get for your money?
What You Get
The Noisebuster NB-FX active noise reducing headphones come in an easily opened plastic pack, albeit of a different design to the Plane Quiet headphones.
Inside the pack are the headphones themselves, plus an AAA battery, an instruction sheet and warranty certificate, and a thin plastic carry-bag with drawstring top. A bold sticker on the outside of the box proclaims and promises 'World's BEST Performing!' (their caps and exclamation).
There is also a double prong adapter that is needed for some types of airline audio systems.
The warranty is a measly 90 days only - a sad contrast to the lifetime warranty offered by Plane Quiet, and inadequately less than most purchasers would normally expect.
Their claim to be the world's best performing is supported by this chart that they provided :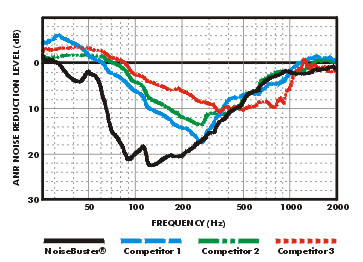 which shows the Noisebuster headphones to offer generally broader and better noise cancelling than three unnamed competitors.
Noisebuster declined to name their three competitors. Their strange unwillingness to name the other products tested detracts from the credibility of their results.
Battery Life
Noisebuster claim a battery life of 40 hours, but when I turned on their headphones with the supplied battery, they were dead within about 12 hours of being turned on - shorter than the Plane Quiet unit. Noisebuster told me that the battery must have been bad, and so I did a carefully timed second test with a brand new Duracell alkaline battery, and this time got a battery life close to the 40 hours claimed. The point at which a battery is 'dead' is rather subjective. As the battery voltage reduces, the red LED glows more dimly but performance remains much the same.
Comparison with the Plane Quiet NC6 headphones
Externally the two different brands of noise reducing headphones look similar, but not completely identical. PQ is in black and silver whereas NB is in black and brown. And whereas PQ has an elastic headband, NB omits this and instead has padding on the band that goes over the head.
Both fold the same way, have the same switch and battery box and even the same cord length and provided battery. It is an open secret that they are both made by the same Chinese manufacturer, along with several other brands of look-alike headphones.
Interestingly, both PQ and NB, while conceding that external appearances are nearly identical, claim that their unit performs the best because they've uniquely specified improved performance requirements for their respect products.
Joanna Lipper, Marketing VP for Noisebuster, says :
We chose to use the same exterior design because it was a good, workable design and we didn't want to spend the time and money creating a new design and tool. The design is lightweight and foldable for travel and it just worked for our purposes.
However we have modified the electronics to achieve much better sound quality and active noise reduction performance than the others that look similar to ours. We would definitely go up against Plane Quiet any day.

James Dabbs, Director of Operations for Plane Quiet, says this :
The Plane Quiet is, indeed, manufactured to our own specifications. The industrial design is similar, however, we have developed a strong relationship with our manufacturer that has allowed us to negotiate our own specifications for performance and stringent quality control standards.

So accepting these two sets of statements at face value, one would expect audibly different performance, even though the two units look the same.
Actually, there are more obvious differences in appearance than performance! In addition to the slight difference in headband mentioned above, there is also a slight difference in the ear pads - the NoiseBuster ear pads that sit on your ear are slightly thicker and softer, and so form a slightly better seal than the Plane Quiet ear pads, which let a bit of ambient noise slip through.
The slightly different color - black and brown compared to black and silver - might seem trivial, but after almost sitting on the Noisebuster headphones in the semi-dark of a night flight, I've decided I prefer a black and silver color combination which is easier to see in semi darkness such as on a plane at night.
Plane Quiet's carry bag is thicker than the Noisebuster carry bag. While I have not yet damaged either set of headphones while carrying them in my case, it is possible that the thicker PQ bag may be more protective.
The two companies have slightly different performance specifications. Noisebuster says their headphones have an effective noise cancellation range between 40 - 1,200 Hz, with a maximum of 18dB reduction at 100-200 Hz, and the chart above suggests that their measured performance is actually slightly better than this. Plane Quiet says their headphones cancel noise of 'up to 15dB across the sound spectrum' and also '15dB at 300 Hz' on their packaging and 'up to 17 decibels across the sound spectrum' on their website.
I've tested both headphones, side by side, both in my office where the major sounds are computers and air conditioning, and on airplanes. I hoped to hear some differences between them. The following table summarizes the results :

Comparison Test

Result

Hiss in a quiet environment

Identical level and sound.

Noise reducing in an office environment

Identical.

Noise reducing in an airplane

Very similar.

Noise Buster has a slightly thicker foam pad that fits very slightly better on the ear and so slightly better passively blocks out ambient noise, but active noise cancellation seemed identical.

Sound level of played music

Identical volume with noise cancellation both on and off.

Sound quality of played music

Almost identical.

Noise Buster might be very slightly brighter, but this might just be random variation within manufacturing tolerances (or my imagination!).

As you can see from this table, there is almost no difference at all between the two different sets of headphones in terms of sound performance and noise cancelling.
Cost
Noisebuster offer them for sale through their affiliated company Pro Tech Communications, at $69. Several other companies also sell them, but no-one seems to be discounting them below the $69 list price.
Considering they have only a 90 day warranty, this makes them appreciably more expensive than the Plane Quiet NC6 headphones, which sell for $54.95 less a 5% Travel Insider discount (making a $52.20 net cost).
Summary
The new Noisebuster headphones perform well and are comfortable on long flights.
They may be very slightly better than the Plane Quiet headphones, but the performance difference - if any - is almost inaudible.
The Plane Quiet headphones remain our favorite based on their lower net price and better warranty.
Related Articles, etc

If so, please donate to keep the website free and fund the addition of more articles like this. Any help is most appreciated - simply click below to securely send a contribution through a credit card and Paypal.