The Bose QuietComfort™ 3 Acoustic Noise Cancelling® Headset
The Bose Quiet Comfort 3 headphones represent a shift in design philosophy, moving from Bose's earlier 'around the ear' design to an 'on the ear' design; perhaps in a desire to make the headphones even smaller and lighter.
This brings with it a different series of trade-offs, and most people seem to have a clear preference for either on the ear or around the ear type designs.
Inexplicably, Bose has weakened a potentially good product by using a rechargeable battery rather than a regular disposable AAA battery. The inconvenience of the battery's short life and the need to travel with yet another charger are major negatives.
Noise cancelling performance is slightly inferior to that offered by the QC2.
Bose has set an incredibly high price on these headphones. And if you buy a second battery and an international charger, your total cost rises to a ridiculous $450. Shame on Bose for such rapacious pricing on both their headphones and the accessories that go with them.
Lastly, if you're seeking a better value but almost identical headset, consider the Phiaton PS300.
What You Get
The $349 headphones are packed into an attractive outer cardboard box. Inside is a packet of information, a carry box inside which are the headphones, and a separate plastic box with accessories. Lastly, there's a pack of dessicant to keep everything de-humidified.
The information packet contains a quick reference card that purports to tell you all you need to know in a series of illustrations with no words, a warranty card, and an owner's guide.
The owners guide has ten pages of information in English, and then repeats the information in Spanish, French, and something like Japanese or Chinese. The instructions are well written and easy to understand.
The warranty is for a one year period, not nearly as generous as the lifetime warranty on the competing Solitude headphones.
Inside the accessory box is a carry strap for the headphone case, a gold plated 1/4" adapter plug for using the headphones with, eg, a home stereo system, and a gold plated 63" extension cord.
The headphone carrying case is similar to the QC2 case, but slightly smaller - about 3/4 of an inch less wide and less tall, and 1/2" less thick. Frequent travelers who already have a way too full carry on bag of road warrior gadgets will appreciate this slight reduction in size.
Inside the headphone carrying case are the headphones themselves, plus the detachable connector cord that goes between the headphones and any music source, the battery recharger, and a gold plated adapter to convert between the two prong plugs required by some airline seats and the regular plug on the connecting cord. There is also a business card holder with ten business card sized advertisements for the QC3 - Bose hope you'll choose to pass these on to admiring fellow passengers.
The headphone carrying case has one surprising omission compared to the case for the QC2. It has no zipper pouch to store the connecting cable in; instead you're apparently expected to just squash it in and leave it loose. This slightly increases the chances of losing the cable and is a puzzling omission. Perhaps if they left out the business card holder and the advertising cards for their product, they'd have space for the cable holder like they offer in the QC2 carry case.
Description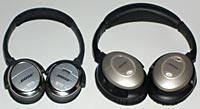 The QC3 headphones are very different to the earlier model QC1 and QC2. The obvious difference is the QC3 headphones are much smaller, as this picture showing the QC3 headphones alongside the QC2 clearly shows.
The QC2 headphones are designed to fit around your ear, the QC3 headphones are designed to fit on your ear, and so have much smaller earcups. They also have a smaller headband.
Because the QC3 are smaller, their 'on the head' weight, without cord, but with battery, is less than the QC2. They weigh 5.2 oz compared to 6.2 oz for the QC2.
But in their carry case and complete with the recharger, the total weight of the QC3 kit is 15.7 oz compared to 13.7 oz for the QC2. The QC3 carry case is smaller, but it does have a greater weight, and while none of us will obsess over an ounce or two here or there, the surprising fact is that Bose's smaller newer headphones end up being heavier than their earlier bigger model.
The QC3s don't have a volume control, just a single on-off switch and power indicator that lights up when the headphones are switched on.
The switch is on the right ear piece and the rechargeable battery also fits into the top of this ear piece.
Comfort
Perhaps my ears are more sensitive than many people's. I don't like sticking ear-plugs into them, and similarly I don't like using a set of 'on the ear' headphones, I prefer to use 'around the ear' headphones.
The around the ear style press onto your skull and form a seal against the skin on your skull. The on your ear style press onto your ear and form a seal against the outside of your ear. It seems the seal is better around the more evenly shaped skull, and there's less sensation of pressure on the skin/skull then on the cartilage of your ear.
Comfort is a very important issue, particularly if you're going to be using the headphones for a long flight, maybe as long as ten or fifteen hours.
My personal preference, from the comfort issue, is for the around the ear style of headphones, either the Bose Quiet Comfort 2 or the Plane Quiet Solitude headphones. On the ear headphones are definitely smaller, but in our opinion are not as comfortable to wear for extended periods of many hours at a time while on a long flight.
You probably know your own thoughts about this issue, and so can guess which style is more likely to be your choice.
The ear pieces have very soft padding on them to make them as comfortable as possible and to mould to the shape of your ear as closely as possible. This helps to passively block out sound.
Unlike the QC2, the QC3 doesn't have a level selector switch built into its connector cable. This is actually a relief - the level selector switch on the QC2 was in a very inconvenient place (you had to unplug the cable to access it), and with improved electronics and no need for a level selector switch the headphones are more convenient in use.
But, and like the QC2, the QC3 is gratuitously designed to force you to buy only Bose connecting cables. Sooner or later, the connecting cable is sure to wear out (or simply to be lost) and Bose seem to have deliberately designed the connecting cable to be of non-standard size and type at the end that plugs into the headphones, preventing you from simply buying a replacement cable for $5 from Radio Shack. Instead, you must pay $15 plus shipping from Bose, and if you lose/break a cable while you're traveling, you're pretty much stuck without a replacement until you can get one shipped to wherever you are. This is a bad example of Bose choosing to put their greed ahead of our convenience.
Noise Cancelling
In terms of noise cancelling, the QC2 appears to offer slightly better performance, both in terms of passive blocking (ie with the noise cancelling turned off - simply the reduction in sound by wearing the headphones) and active blocking (ie with the noise cancelling turned on).
The effectiveness of the QC3 to cancel noise - particularly passively - probably depends a bit on the size and shape of your ears. The chances are that some ears offer a better fit and seal than others, which might explain why there have been a wide range of reader comments about how well the QC3 headphones do (or, more notably, don't) work for them.
When listened to in a moderately quiet environment, the QC3 headphones have a similar low level of electronic hiss as do the QC2 headphones, and less than the Solitude or Plane Quiet headphones. But in a noisier environment, it is hard to hear any difference in hiss at all - the hiss is drowned out by the remaining noise that isn't cancelled out, and so this is not a very important issue if you're planning to use the headphones primarily in noisy places such as airplanes, rather than in comparatively quieter places (such as offices).
Rechargeable Battery
A new feature of these headphones is a rechargeable battery. All noise cancelling headphones need power to operate their electronics, and most seem to use a regular AAA battery, with a life of perhaps 30 - 40 hours per battery.
Bose chose to provide a Lithium-Ion rechargeable battery, with about a 20 hour maximum life. This battery life will reduce with each subsequent recharge cycle, and by the time you've recharged the battery perhaps 500 times, it will be down to something less than 10 hours between charges.
Twenty hours might seem like a long time, but on an international trip, it is barely enough for the flights one way, plus waiting time at airports, etc. In other words, you'll always need to travel with the battery charger and/or spare batteries.
Furthermore, these batteries slowly lose their charge - they lose perhaps 5% - 10% of their charge every month even if not being used. This means that if you're storing your headset between trips, you'll probably want to recharge the battery before leaving home; and if you forget, you might find yourself with only a half (or less) charged battery, meaning the headphones stop working in the middle of a flight.
While this isn't a problem with a regular AAA battery powered device (simply put in a new battery) you're completely stuck, if on a plane, with the Bose rechargeable battery powered QC3.
Perhaps you might think a good solution is to always travel with a spare battery. They are light (0.4 oz) and don't take up much space, indeed there's even a helpful space for one in the carry case, so this seems a practical idea and partial solution.
If you feel that way, you've walked right into a financial trap. Bose will be delighted to sell you another battery (although at time of writing they are on 3 - 4 week backorder), and they'll charge you an outrageous $50 for the privilege.
And, wait - how about the charger. The regular charger comes with a standard US plug on it. But if you're traveling internationally, Bose will be happy to sell you an international charger with a series of replaceable plugs for most other counties and their different power supplies. But they'll charge you another ridiculous $50 for this unit.
Bose seem to have a simple rule of thumb when pricing their products - take their cost price and multiply it ten fold. The QC3 probably costs them less than $35 a set (they are made in China), and the batteries and chargers probably cost them less than $5 each. With such huge margins, it is fair and reasonable to expect Bose to include an international type charger as part of their standard kit, and to enclose a spare second battery as well.
Instead, Bose hope you'll spend another $100 - in addition to the $350 it costs to buy the headphones to start with. In total, $450 for headphones and a decent set of accessories.
In contrast, the QC2 headphones seem better in all respects and have no need for another $100 in accessories. Their purchase price - $300 - is accordingly their true complete price. And the Solitude headphones, at $200, are, as always, by far the value leader, offering something almost indistinguishable to the QC2, but at $100 less.
Listening to Music
I continue to maintain that noise cancelling headphones should not be compared with top end audiophile headphones in terms of the quality of the sound they provide. The extra processing caused by the noise cancelling, and by definition, the noisy background in which they're being used, both detract from the ability of the headphones to recreate a fully realistic concert/studio musical experience.
Having said that, there is of course no reason not to prefer a set of headphones that sound 'better' than a set which don't. But how to rate headphones in terms of which sound better than which other ones? Adults have almost come to blows when it comes to sharing opinions on this topic!
So with considerable trepidation, I tested the QC3 headphones alongside a set of QC2 headphones and also the new Plane Quiet NC7 Noise Cancelling Headphones.
Regrettably, the QC3 headphones suffer the same design flaw as the QC2 (and QC1 before that too) - if you turn the power off (or, if the battery gets flat) you don't hear any sound at all. Particularly with the limited life rechargeable battery, this is a real concern. The Plane Quiet NC7 headphones, like all others in the Plane Quiet series, still feed through music when their power is switched off, but the QC3 does not.
The QC3s offered a slightly louder sound level than the QC2 (perhaps 2dB extra) and were almost exactly the same volume as the NC7s (which have a volume control on them - I had the NC7's with volume control on maximum and noise cancelling switched on).
In terms of sound quality, there was very little difference between the three headphones. All offered a rich warm coloration - perhaps slightly more prominent mid/low range and slightly less prominent upper/treble notes, but inoffensively so. The QC2 headphones seemed to be the least satisfying, but only by a very small margin, and this may have been partially due to the lower volume that came through (and that can easily be cured by turning up the volume on your player a slight amount).
The QC3 and NC7 were very close to identical in sound quality (an amazing scenario considering the NC7 costs less than a quarter the price of the QC3 ($80 compared to $350).
The NC7s had more noticeable hiss in a quiet environment than the QC3s, but in a quiet environment, the noise cancelling circuitry of the NC7s could be switched off, removing all headphone related hiss entirely, but the QC3s lacked this ability.
In a noisy environment, I'd prefer the $80 NC7 headphones. In a quiet environment, it is more a toss-up between the NC7 (with noise cancelling off) or the QC3, but the huge price differential speaks overwhelmingly in favor of the NC7s.
Which Headphones Should You Buy?
The Bose Quiet Comfort 2 headphones ($299) are better than all other products, but are also $100 more expensive than the closest competitor (the Solitude) and almost four times more than the new Plane Quiet NC7 Noise Cancelling Headphones. If money is no object, you'll of course choose Bose. But if you have a more real-world approach to cost and value, you should think carefully about your other choices.
The Bose Quiet Comfort 3 headphones ($349 or $449 with spare battery and international charger) are not as good as the QC2 in terms of noise cancelling, but are considerably more expensive. They are smaller, but only by a very minor amount, and they weight more.
Should you pay this much extra for apparently no benefits? Almost certainly not.
Where to Buy
Bose headphones are available at a number of different stores and online retailers, as well as direct from Bose.
Bose is very strict about its pricing, and no-one can ever discount Bose. This means all stores sell them for the same $349 price point.
If you don't already have a favorite retailer for such things, we'd recommend Magellan's. Not only are they a well established and highly regarded company, but after Bose's refusal to cooperate, they have kindly sent me review sets of both the QC2 and QC3 headphones. So if you decide to buy the QC2s based on the reviews on this site, perhaps you could reward Magellan's kindness by choosing them.
Magellan's also has a very generous no questions asked return policy.
Summary
The Bose Quiet Comfort 3 noise cancelling headphones seem to represent a backward step for Bose. Their noise cancelling is not as good as the QC2, and the headphones themselves are not quite as comfortable to wear.
The rechargeable battery is a good idea in theory, but a bad idea in practice, and adding the extra cost of a spare battery and international recharger adds an outrageous $100 more to the already way too high price of $349.
The QC3 would be an understandable addition to the Bose product range if it was listed for less than the QC2. But selling them for more makes no sense, and we recommend people not to purchase them.
If you want Bose headphones, buy their QC2. But if you want best value and almost identical performance, consider the Plane Quiet NC7 Noise Cancelling Headphones (to be reviewed on Aug 25) or Solitude headset instead. You'll save massive amounts of money.
Related Articles, etc

If so, please donate to keep the website free and fund the addition of more articles like this. Any help is most appreciated - simply click below to securely send a contribution through a credit card and Paypal.