Nokia 3650 Software
Extra programs extend the value and convenience of your phone
The Nokia 3650 GSM cellphone uses the Symbian operating system, and can have additional programs loaded into it (much like you can also add extra programs to a PDA).
Symbian OS - Making the Phone Extendable
The Symbian operating system is increasingly being featured on high end phones by Nokia and by other manufacturers, too (eg Sony Ericsson) and an increasing number of add-on applications are being developed. As phone screens become better, and phone memory and processor power more extensive, the value of these applications are quickly increasing from what were, to start with, little more than additional pointless games to now valid and useful business productivity tools.
Best of all, prices for these addon programs tend to be very reasonable - nothing seems to cost more than $50.
Software is available from several different websites, for example, here and here.
Here are brief reviews of some of our favorites.
IM+ Instant Messaging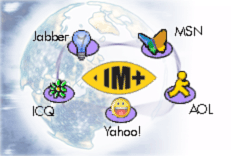 Many of us make extensive use of instant messaging - Microsoft Messenger, AOL Instant Messenger, Yahoo Messenger, or ICQ to keep in touch with colleagues, clients, and friends. This amazing program from Shape Services enables your phone to connect to any - or all, simultaneously - of these four networks and chat with your regular chat associates from your phone. It uses the $20/month TCP/IP GPRS service provided by T-Mobile to communicate with the various messaging services.
Sure, using the phone's keypad isn't brilliantly convenient, although the T9 predictive text entry makes it much easier than it otherwise would be, but as an 'emergency' way of keeping online, it is absolutely brilliant. This single application has revolutionized the value of my Nokia 3650 for me, and potentially could do the same for you, too.
The software is easy to set up, and simple to use, although the registration process is cumbersome. At $30, it is amazing value, and it even comes with a free three day trial for you to test it before committing to purchase.
WorldMate SE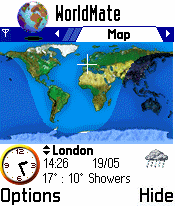 This is a simply stunning and award winning program from MobiMate that offers several different features. It is a slightly slimmed down version of their PDA version product - if you're like me, you'll end up buying both.
Its first screen shows the time in your selected home city and in four other cities that you can choose. The other cities show both the local time and also the day of the week - a helpful reminder when dealing with places that might be a day ahead or behind your day. It also automatically adjusts for daylight savings.
The second screen is amazing. It shows the current weather and the weather forecast for the next three days for more than 250 different cities around the US and around the world.
Any time you wish, you can download updated weather information through the T-Zones WAP GPRS service. It takes about 40 seconds to download the information and update its database.
The third screen has one of those lovely world maps that shows which parts are in sunlight and at night. You can scroll through the same 250 cities and see where each is located on the map, the local time there, and the current weather.
The fourth screen is a currency converter - with an extra twist. You can specify three currencies (your home currency and two foreign currencies) then enter in an amount in any currency and have it converted to the other two currencies. This is fairly basic.
The extra twist is that the program will download the exact current exchange rates for the conversion. Of course, these rates are always better than the real world rates you'll actually pay, but it saves you the bother of having to think about what the exchange rate is, or of needing to check if it has changed overnight.
This program - or really, suite of four programs - normally sells for $30 but the developers are currently selling it for only $14.95. Registration is quick and easy. An amazing bargain.
Is this a novelty or a reliable tool? Studies have shown that when a person is lying, the extra tension they feel - consciously or unconsciously - causes 'micro-tremors' in their voice. The human ear can't detect these micro-tremors, but they can be found with signal-processing software.
This program claims to monitor the speech from the other person you're talking to while you are using your phone and to provide real time graphs to show the level of micro-tremors (and therefore, perhaps the amount of lying) present in the other person's voice.
It seems to simply listen to the entire conversation, and shows what it thinks is your own level of truthfulness as well. This is actually quite helpful, because it enables you to mentally calibrate and understand the results. It seems that all conversation always creates some level of 'lie' factor on its lie meter. The key thing in spotting an egregious lie is apparently to tell when the lie meter goes much higher than normal. Alas, to date, I've seemingly been blessed with only honest people at the other end of the phone!
To use the detector it is necessary to be looking at the phone's display. This means that you need to use it with a headset - obviously, if the phone is pressed against your ear, you can't see what is shown on the display.
NOTE : The program inserts a semi-regular beeping into the conversation that both you and your caller will hear. This makes it impossible to use surreptitiously, and so removes the value and appeal of the software to most of us.
The software costs $20. Buying the software and getting it registered was difficult. After having purchased and downloaded the software, you then have to send off, by email, a request for a registration key. In my case it took six days to get a registration key back, even though I sent requests to several different people in the company and stressed the need for urgent registration so as to meet the deadline for this review.
I subsequently emailed them asking for help in how to turn the incessant beeping the program makes. They never replied.
An Essential Hardware Accessory, Too
Of course you'll want to use a headset with your phone much of the time, and the phone is typically supplied with a standard generic headset.
But you should also have a look at our review of The Boom noise-cancelling headset. This is an amazing (albeit pricey) headset that enables you to talk quietly and be clearly heard, even in very noisy environments. A very clever product that, for many of us, can be very valuable.
Lots More
There are lots more intriguing applications - for example, using your phone as a remote control to operate your television! I'll add reviews of extra products as I try them.
Related Articles, etc

If so, please donate to keep the website free and fund the addition of more articles like this. Any help is most appreciated - simply click below to securely send a contribution through a credit card and Paypal.