RIM Blackberry User Survey Results

Wonderful devices, but with some user dissatisfaction

Travel Insider readers were invited to send in comments, via a special survey, about their own experiences using Blackberry devices, as well as their experiences with other devices.
Although most readers wrote in with comments about their Blackberry, a surprisingly large number of readers also had Treo units - the Treo 600, 650 and/or the newest Treo 700 - slightly more than one Treo unit for every two Blackberries.
Various other devices were also reported upon, but none of these other units had any significant share of readers.
General User Satisfaction Levels
Treo users were significantly more satisfied, overall, than were Blackberry users. 88% of Treo users considered themselves very satisfied, compared to 59% of Blackberry users. No Treo users scored themselves as somewhat or very dissatisfied, whereas 7% of Blackberry users considered themselves somewhat or very dissatisfied.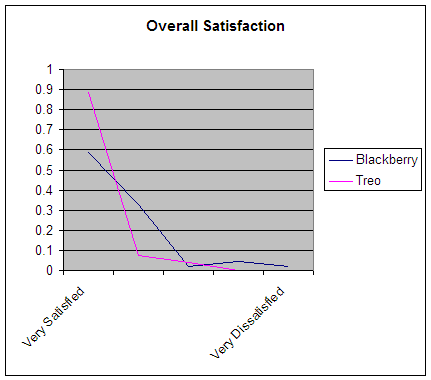 Expectations Met
Interestingly, although most users were generally satisfied with their units, they gave lower scores to a question about how well their unit met their expectations.
This would imply that users had higher expectations prior to purchasing their units, and while they are satisfied with what the units can do, they had hoped for them to be even better than they are.
Treo users reported slightly better scores for having their expectations met.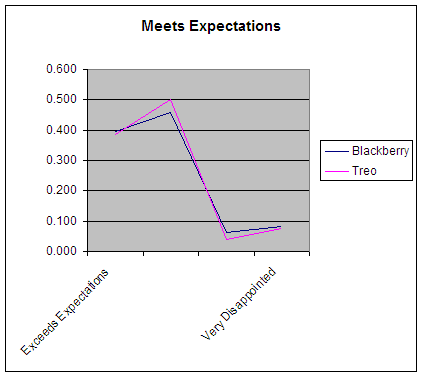 Productivity Improvements
Both Blackberry and Treo users were similarly pleased with the extra productivity their devices gave them. Although Treo users were slightly the more enthusiastic, scoring higher in the 'Much more productive' category, the total of 'much more' or 'somewhat more' scores were almost identical for both types of unit, with close on 92% of users in both cases perceiving their units as having boosted their productivity.
Only a very few Blackberry users reported a decrease in productivity, and no Treo users had a similar experience.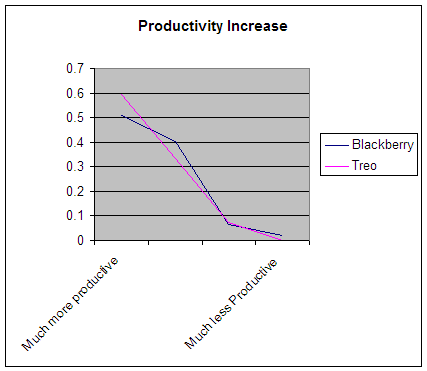 Ease of Learning
This question clearly revealed the Achilles Heel of the Blackberry units - the difficulty in mastering them.
On the other hand, the much better score achieved by the Treo units shows that it should be possible for Blackberry to design a more intuitive interface, and/or to provide better training tools.
Only 33% of Blackberry users found their units very easy to learn, compared to 54% of Treo users. At the other end of the scale, 22% of Blackberry users reported problems in getting up to speed with their units, compared to 12% of Treo users.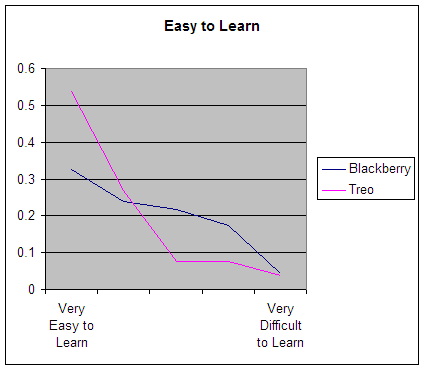 Analysis of Survey Scores
Considering these four results plus the other results and comments in the survey (some of which are quoted here), it seems clear that Blackberry's past market leader position is now under threat.
Users of new devices such as the Cingular 8125 (and the same unit sold by other companies under other names), the Nokia E61, the Motorola Q and other similar units, would commonly report that these new devices were superior to their past experiences with a Blackberry device. And the apparent number two player, Treo, while having a smaller market share seems to provide a better product as measured by user satisfaction.
It may well be that Research in Motion (RIM), the company that makes the Blackberry units, has been paralyzed for the last year or two while fighting its patent lawsuit. But now this issue has been resolved, it will need to act quickly to update both the hardware it designs/manufactures and the software that runs on that hardware. If it does not, it can expect to suffer continued losses in market share.
The original unique features of the Blackberry units - the 'push' email and the dedicated unit - are no longer unique. Other companies such as Goodlink now offer similar push email service and there are plenty of other units with a similar design and functionality to the Blackberry unit.
The growing weakness on the part of Blackberry has to be massively exacerbated by Microsoft's increasing interest in mobile phone/PDA units, and their development of a mobile phone operating system (a variation on their standard Windows OS). While by all accounts, to date, Microsoft has yet to develop a category killer, if one looks at Microsoft's past record of dominating the markets it chooses to enter, there's every reason to suspect that in a few more versions time, the MS platform based products may eclipse Blackberry entirely.
In that context, it is also interesting to note that the Palm Treo seems to be migrating from its earlier Palm OS to the new Windows OS; while the first results of marrying Palm hardware to the Microsoft OS have been mixed, this too can be expected to improve.
Summary
Blackberry phones remain the market leader in the field of offering a handheld device to access and manage your email, along with assorted other PDA and phone type functions.
Although difficult to learn, the results of investing some time in getting familiar with the unit seems to justify the time spent learning.
But if you're considering buying your first Blackberry type unit, it might pay to consider new competing products that can offer the same or possibly even better functionality, with a more user friendly interface.
Related Articles, etc

If so, please donate to keep the website free and fund the addition of more articles like this. Any help is most appreciated - simply click below to securely send a contribution through a credit card and Paypal.