Seattle Wine Trail Touring and Tasting

Visit over 40 wineries in Woodinville, less than half an hour from downtown Seattle


Click image to open larger JPG map of the Woodinville wine region in a new window
If you're planning a visit to Washington State and the Pacific Northwest in general, you'll probably be spending some time in Seattle.
And so a wine trail tour that is close to downtown Seattle is a convenient opportunity for you to enjoy some of the lovely wines that Washington is increasingly becoming renowned for.
The nearby city of Woodinville and surrounding area has a concentration of over 40 different wineries, from tiny boutique wineries to the state's largest winery, and so offers something for everyone wishing to go wine touring and tasting.
This page provides an overview of the Woodinville winery region, and talks specifically about the larger wineries. The next page in the series talks about the boutique type micro-wineries, also in the same area.
Where the Wineries are Located around Seattle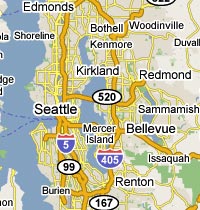 The largest number of the wineries that are conveniently close to Seattle are in the Woodinville area, about 20 easy freeway driving miles north-east of downtown Seattle.
There are also a few wineries sprinkled around the rest of the region. There's an excellent map on this website that shows you many (but not all) of the wineries and their locations.
We suggest you concentrate on the Woodinville region because you have your greatest choice of wineries there.
Weather Issues
Although people love to joke about Seattle's rain, the reality is that Seattle has a welcoming climate, conducive to wine trail touring pretty much year round.
Snow is very rare in the winter. Expect one or two brief falls a year, and they will usually melt away within a day or two of falling, so you're almost certain not to have snow problems if visiting in the winter.
The summers are warm to hot - temperatures will sometimes get into the mid 80s but seldom much beyond that, so you'll not get too hot in the summer.
And the rain, when it does fall, tends to be a light drizzle rather than a drenching downpour. You'll be parking close to the cellar door at most of the wineries so even if there is a bit of a drizzle, you shouldn't get too wet.
So you can plan a visit to the Seattle area at any time and enjoy your wine touring free of major weather type constraints.
Organized Touring
A helpful solution to the 'designated driver' challenge might be to take an organized tour around selected wineries, with someone else doing all the driving for you.
There are standard scheduled winery tours available, or, as an alternative, you can charter your own vehicle of pretty much any size and be driven around at your pace, and to your choices of wineries.
One company that specializes in private vehicle touring is the winerybus.com company. The advantage of using this company rather than a generic coach or limo operator is that they have some prepared winery itineraries, ranging from $340 for a 16 seater coach on a four hour tour and up from there - more of course for larger coaches or longer tours.
A company with scheduled 'seat in vehicle' public touring is Shuttle Express, operating a 5.5 hr tour on Saturdays for $65 per person.
And here's an excellent 'combo' tour that takes you to some of the scenic highlights of Seattle's Eastside as well as to two wineries for $70 per person. Definitely recommended if you don't want such a heavy-duty wine touring/tasting and would like to combine it with other sightseeing.
Two Touring Options
We suggest you choose from one of two different 'themes' to your tours. The first theme would be to focus on the larger wineries, the second would be to visit the micro-wineries. Of course, if time allows, you can do one theme one day and the other theme the next day.
The Major Wineries
There are two major wineries and several other large wineries, all clustered close to each other on the south side of Woodinville.
In addition, there is also a mini-brewery (bigger than a micro-brewery, but still a craft type brewery which brews and serves its beer onsite), a good hotel to stay at, and food options ranging from some of the very best in the Seattle region to ordinary fast food choices, all no more than a mile or so from each other.
If you chose to stay at the hotel, you could simply walk the short distance between it, the brewery, and the best three of the wineries, with other wineries only slightly further down the road.
There is also a lovely walking or cycling trail along the Sammamish Slough nearby (the Sammamish River Trail, an extension of the Burke Gilman trail, which can take you all the way around the top of Lake Washington, through Seattle, and to Puget Sound in one direction, and to Issaquah in the other direction before continuing on to Snoqualmie Falls and even to Snoqualmie Summit) and in the summer, balloon flights operate in the area too.
Wineries to Visit
We recommend you visit Chateau Ste Michelle, Columbia Winery, and Novelty Hill/Januik (two wineries sharing common facilities).
We recommend you do not visit Silver Lake Winery. If you wish to visit more wineries, the Woodhouse Family Cellars would be a very much better choice.
There are two other nearby wineries that on the face of it you might consider visiting, but we recommend against those, too. These are Matthews Estate and De Lille Cellars.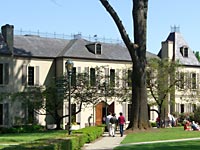 Chateau Ste Michelle
This winery is far and away the largest winery in Washington State. In 2008 they produced about 60 million bottles of wine, with the total wine production in WA state being about 102 million bottles.
Although it is a mega winery, they've gone to considerable lengths - and spent substantial sums - to develop a beautiful 'chateau' style environment in Woodinville. Several different buildings are set in delightful park-like grounds, and there is even an outdoor area for summertime concerts.
In terms of tasting, there is a nice and large series of tasting rooms which do double duty as retail shops. Tasting is expensive - $10 minimum, in return for which you get to taste four wines. If you choose to buy any of the wines tasted, you get a 20% discount as partial compensation for your $10 tasting fee.
They have reasonably interesting winery tours that also give you a wine taste as part of the tour. The tours are free and last just over 30 minutes.
Our suggestion is not to buy the $10 tasting, but instead take the free tour (assuming you haven't been on lots of winery tours already). And then, if it is a nice day, you can also spend time in the beautiful grounds - perhaps have a picnic lunch on the lawn - even enjoy a bottle of wine (and we've spotted people drinking on the lawn with their bottles of wine not being from Chateau Ste Michelle).
Their website is helpful and gives details of opening hours, etc. Normally they are open from 10am - 4.30pm daily.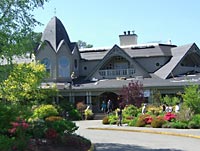 Columbia Winery
This long established winery (est 1962) is another major player in Washington State (and California too), and is located just over the road from Chateau Ste Michelle.
One of the distinctive things about Columbia is that their tasting room stays open until 6pm daily - the latest of the wineries in the south Woodinville area, so it often makes sense to visit them last.
They have a nice facility in nice grounds, but there aren't the same opportunities for outdoor picnicking as there are at Chateau Ste Michelle.
Tastings are $5, which can be applied to wine purchases if you choose to buy some wine. You can taste any five wines from a selection of usually eight or nine wines.
Their website tells you more about the company.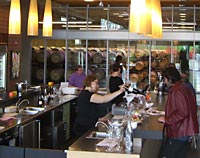 Novelty Hill Winery & Januik Winery
These two wineries share the same building and the same winemaker.
The building looks ugly and stark from the outside, but inside there's a lovely tasting area that won a design award, plus outdoor areas, private rooms for groups, and views into the storage and winemaking parts of the building too.
Staff are very friendly and very generous with their wine pours. In theory, $5 buys you four wine tastings - you're given a list of about seven wines to choose from - but we've had as many as seven on some visits (including wines not officially on the list), and could have had more if we'd wished.
As is invariably the case at the smaller wine makers, if you're polite and friendly and appreciative, the staff will respond positively.
They sometimes sell hot food snacks (ie pizza), and in addition to selling wine by the bottle to take away, you can also buy wine by the glass to drink on site.
This is our favorite of the large winery facilities for drinking in; Chateau Ste Michelle is our favorite for enjoying the outdoors at.
There are websites for both wineries - Novelty Hill Winery and Januik Winery. The tasting room is open until 5pm daily.
A Bonus Winery if Time Allows....
If you're walking around the area, you're somewhat limited as to how far afield you can conveniently roam.
Fortunately there's a smaller but still very nice winery close by that is not too far to walk to. So if you'd like to add another winery to a day of tasting (and if you've been tasting at three wineries already, you've probably had something like half a bottle of wine to drink so far, so be realistic about the number of wineries you're visiting) here is a suggestion.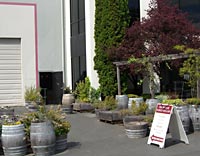 Woodhouse Family Cellars
As a smaller winery, this company doesn't have its own building but instead has space in a light commercial business park just up the road from Novelty Hill/Januik.
Go inside and you find yourself in a very spacious and appealing tasting room area.
Like many of Washington's small up and coming wineries, they are rapidly growing and are currently doubling their production every year (6000 cases in 2008). They produce a variety of different wines under a confusing variety of five different brands. The friendly owner, Bijal, will be pleased to explain the rationale for each different brand, however.
A tasting costs $5 and gets you four different wines, freely poured rather than via a measuring device. One of the unusual and positive features of this winery is that you will probably get a chance to taste not only very recent wines but also some much older wines too - when we visited in May 2009, he was pouring a 2002 and 2003 wine. Other wineries were more commonly offering 2006 - 2008 wines.
The winery is open until 5pm daily and has a Friday 'Happy Hour' from 4pm - 7pm (when you can buy wine by the glass and some light snacks and sit down in the tasting room area for an extended stay rather than just visit for a tasting session). More information can be found on their website.
.... And a Brewery Too
Located immediately next to Columbia Winery is the Redhook Brewery, which can make for an interesting change of flavor (assuming you choose to ignore the adage 'don't mix grape and grain'). They also serve food.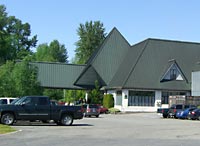 Redhook Brewery
The Redhook Brewery was established in Seattle in 1981 and has grown to become one of the nation's largest craft brewers, producing 360,000 barrels of beer annually. It has a brewery in Woodinville and a second one now in NH.
The Woodinville Brewery has an adjoining brewpub, which is open until mid/late evening (check their website for the seasonal and daily variations in opening time). They serve average quality normal pub snacks and meals; and it can be a convenient place to break a day's wine tasting for a meal, or to go to when the last of the wineries closes (Columbia at 6pm).
As well as serving their own beers, they also offer wine by the glass or bottle.
If you've never been on a brewery tour before, you might find one of their brewery tours interesting - they are available at least a couple of times every afternoon.
More information can be found on their rather annoying website.
Wineries to Avoid
If you're looking at a map of nearby wineries, you'll see some other wineries that, on the face of it, seem like they might make for interesting visits. Here are three that we suggest you consider avoiding - not necessarily because they are bad, but rather because we feel they are not as good as the others, so assuming you run out of time before you run out of wineries, maybe it is best to avoid these ones accordingly.
Silverlake and other affiliated wineries
This is/was an ambitious project to provide a common retailing facility for multiple wineries.
Unfortunately, we feel that the concept sadly fails - it has become overwhelmingly commercial with no real winery type ambience. You may as well go to your corner wine shop as visit this facility.
They sell tastings for $5 - $10 for perhaps five wines.
Matthews Cellars
Their website implies a lovely facility; the reality is a more disappointing tiny tasting room on the corner of a drab commercial building.
The aloof and unfriendly man working in the tasting room seemed to think that charging twice the going rate - ie $10 - to taste four wines was fair and reasonable; indeed he strongly implied we should feel privileged at the opportunity to leave so much of our money behind in return for a chance of tasting his wines.
Do the math : If four ounces of wine cost $10, a $26 oz regular bottle is being valued at $65. We feel that to be an unrealistically high price and object to being charged so much. We do understand the commercial need to break even on all the direct and indirect costs of wine tasting, and we even accept that wineries should make a gentle profit, but we feel that Matthews (and some other wineries) are being too aggressive in their pricing.
For sure, you can sometimes find yourself paying up to $30 when visiting wineries in the Napa Valley. But this is not the Napa Valley, and we feel the most commonly imposed $5 fee represents a fair win-win compromise for wine makers and wine drinkers.
Curiously, Matthews has a second outlet in one of the business park areas of Woodinville. When we visited that outlet, they were only charging $5 rather than $10 for their samples (which we found to be ordinary rather than exceptional). So we asked why their other location was charging the more reasonable $5. The aloof and unfriendly man looked annoyed and said variously that it was a mistake and they shouldn't have been doing that.
So - ordinary rather than exceptional wine, ordinary/disappointing facilities, unfriendly staff and over the odds costs. With 40+ other wineries in the surrounding area, there's no reason to visit Matthews.
De Lille Cellars
The main reason for avoiding this place is simply because it will probably not be open. They are open only on a few days each year, and so we've not visited them ourselves. They can also open for tastings by appointment at other times of year.
We believe they probably have a fairly nice facility, and they say their wines are very good, and charge prices (eg $75/bottle) that makes one hope they are not just very good but extraordinarily excellent.
But if your main objective in tasting is to casually go to friendly places and to affordably 'discover' some wines that you'd never otherwise encounter and in an informal setting, this is probably not the experience you'd get at De Lille.
A Place to Stay and Gourmet Food
Why not stay in the Woodinville winery area for an overnight (or longer)? You can then solve the problem of drinking and driving by walking between the wineries if you choose to stay at the lovely Willows Lodge, which is right next to the Redhook Brewery. You could also bicycle by hiring a bike from Willows Lodge (assuming you were a guest) - but note that DWI laws apply to cyclists as well as to motorists.
Willows Lodge offers 84 rooms and suites, all spacious and furnished to a high quality.
In addition to the lodge, they have an indulgent spa - perhaps just the thing after a hard day of wine tasting. There are three restaurants in the complex - the Fireside Cellars (which also offers wine tastings), the Barking Frog, and the renowned Herbfarm Restaurant, which is considered to be one of the top 20 restaurants in the country.
The first two restaurants have a la carte dining. The Herbfarm provides a fixed nine course menu, complete with five or six wine pairings, at a price varying between $179 - $195 per person, inclusive of wine, but plus tax and tip. However, when expressed in terms of cost per hour, the price may appear more reasonable - they recommend allowing 4 - 5 hours for the dining experience.
Needless to say, reservations for dinner at the Herbfarm are almost essential, and there can sometimes be a several month waiting list, especially for weekend dining.
More details on the websites Willows Lodge and Herbfarm.
A Suggested Day Tour
If a nice summer day, arrive late morning, go to Woodhouse Family Cellars first, then either have a picnic lunch at Chateau Ste Michelle (you'll have to bring your own picnic) or go to the Redhook Brewery for lunch.
After lunch visit Chateau Ste Michelle if you're not already there, then go to Novelty Hill/Januik for a leisurely afternoon of sipping and drinking, moving on to Columbia Winery shortly before 5pm (when Novelty Hill closes) to give you an hour or slightly longer at Columbia.
Related Articles, etc

If so, please donate to keep the website free and fund the addition of more articles like this. Any help is most appreciated - simply click below to securely send a contribution through a credit card and Paypal.