Leavenworth Regional Wine Trail Tour

Enjoy wonderful wines in beautiful scenery

The beautiful region around Leavenworth is located in and/or close to the large Columbia Valley AVA and the new recently established (April 2009) Lake Chelan AVA.
The wineries in this region may get their grapes locally, but may also source some or all of their grapes from vineyards 100+ miles further afield in south-east Washington.
A more casual and relaxed attitude prevails on 'this side of the mountains' - ie, east of the main north/south lying Cascade mountain range. This is manifest in many ways, including lower fees to taste wine and a wider range of wine samples included in a tasting session.
If you're visiting Leavenworth (and you should - see our related series about visiting Leavenworth) then a day or afternoon of wine tasting and touring around the beautiful region is a great way to add to the range of experiences in this lovely part of Washington.
Weather Issues
The Leavenworth area, due to being on the other side of the Cascade Mountain range (compared to Seattle), has a very different climate to that found in Seattle. It has much hotter summers and much colder winters.
If you don't like hot weather (ie temperatures often up into the 90s) you might want to avoid the hottest times during July and August. And if you're not comfortable driving in the snow, you'll probably not want to be driving down minor roads and up driveways that may not be well snow plowed in the coldest, snowiest times of winter either (December - February, more or less).
But if you're limiting your wine tastings to simply ambling along Leavenworth's main street, going from tasting room to tasting room (click link for related article on this topic), you should have no problems with weather, no matter what the sun or snow is doing outside.
One related issue is that of how you travel to and from Leavenworth - if you're driving, snow can sometimes make the mountain passes slightly challenging, possibly requiring chains (discussed in our general article about Leavenworth).
This suggests that the most convenient time of year for visiting wineries in this region will usually be from about March through to about December, possibly with a break mid July through mid August.
Wineries and/or Tasting Rooms
You'll find a number of wineries close to Leavenworth and in the nearby Wenatchee region, plus a concentration of 15 more wineries in the Lake Chelan area, about 50 easy driving miles north-east of Leavenworth.
These are what we term 'estate' wineries because they are usually on some land, where they may grow some of the grapes they use for wine making too (although it is common for the wineries to also bring in some of their grape requirements from south-east Washington).
In addition to the wineries, there are also a range of tasting rooms in downtown Leavenworth. These are generally owned by a winery located somewhere else that wishes to introduce the public to its wines, and are discussed in the next page of this article series.
Organized Touring
If you want to tour around the region, visiting wineries, and have someone else do the driving for you, an organized tour can be the best solution.
In Leavenworth there are three hour wine tours offered by LE Tours (aka Leavenworth Enchanted Tours for $55/person on Fridays, Saturdays and Sundays, plus various enhanced tours including the basic wine tour and something else as well (eg spa visit or dinner).
Another company offering various wine touring packages is Leavenworth Wine Tours.
Or, if you'd prefer to abandon the more formal image of being chauffeured around in a stretch limo, perhaps you'd prefer Sasquatch Jeep Tours and their 3 - 4 hour combination wine tour and scenic tour around the Leavenworth area, in a Jeep Wrangler. Tours start from $65 per person.
Self Touring Strategies
Basically you can choose from several different touring options :
Wineries close to Leavenworth

In-town wineries and tasting rooms

Wineries in the Lake Chelan area
The Lake Chelan area deserves a separate page, which we may write subsequently. As for the other two options, although there aren't a great number of wineries to visit, due to the generosity of the sampling you'll be offered, you'll probably find three of them to be more than sufficient.
If you want to go driving around, we suggest you go first to Eagle Creek, then to Wedge Mountain, then spend a relaxing balance of your afternoon at Icicle Ridge. Cascadia would be our fourth choice, and seriously you're going to have problems with your blood alcohol level if you taste at all four wineries, so it may be prudent to leave Cascadia off your itinerary.
If you'd rather go walking around the tasting rooms in Leavenworth township, we suggest you avoid Bavarian Cellars, and we suggest you do visit both Bergdorf Cellars (which is actually a winery) and the tasting room immediately adjacent which showcases wines from both Pasek Cellars and Willow Crest.
If you wanted to add another tasting room or two (and, after all, you are walking, right?) then Okanogan Estate would probably be our third choice. And then, if you're at Okanogan Estate, well, Ryan Patrick is almost directly opposite, so you may as well try and visit there too.
The Wineries Close to Leavenworth
There are five wineries close to Leavenworth, plus one located in central downtown. One of them, Berghof Keller (pictured at the top of the article) opened perhaps in 2007, but after a year or so of being open regular hours, it is now apparently always closed, apart from occasionally opening by arrangement for special group tours.
It is our impression that this winery is as much a personal hobby as a full-time business for its owner, well known local building contractor Bob Duncan. You could try calling to see if they'll be open, but being as how there are plenty of other wineries and tasting rooms to choose from, perhaps there is no need to do so.
The other wineries are (in alphabetical order) :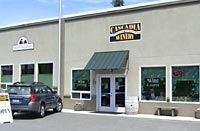 Cascadia Winery
This winery suffers from having perhaps the least attractive setting, being in a row of light industrial/semi-retail tenants in a concrete building facing directly onto the street.
Inside you'll find a combination tasting room/store, behind which is the winery itself. The winery is very small and very new, being established in December 2006 and producing about 800 cases of wine at present. You're sure to see either the wine maker, Alan, or his wife Lilith in the store, and if you're polite and pleasant, they'll probably proudly invite you to see their small wine making facility out the back.
Tastings are free, and depending on what is available, you may be offered as many as seven different wines to sample. Some of the wines are quite distinctive, including a rarely found Roussanne and some apple wine. They also have a Cherry Merlot dessert wine.
The tasting room is open Thursday - Sunday. More details on their website.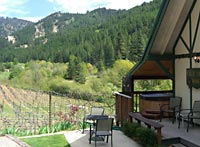 Eagle Creek Winery
Like all the other wineries, this is north-east of Leavenworth, and only a short 10 minute or so drive.
The winery building is small but attractive, and there is some nice outdoor seating both in front (on the road side) and down at the rear (where the tasting room entrance is). The tasting room itself is also small, but nicely decorated. Food platters are sometimes offered.
Tastings are free, and typically you'll be offered a couple of red wines and a couple of white wines to sample. In addition to 'normal' wines (particularly Cabernet Franc blends) they also have a raspberry wine. They produce about 1000 cases of wine a year.
Their tasting room is open Friday - Sunday between May and October inclusive. They also have a tasting room on the fat west side of downtown Leavenworth, D'Vinery. There is also a rental cottage if you want to truly make a day/night of your experience.
More details on their website.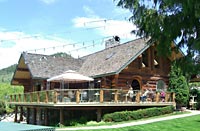 Icicle Ridge Winery
This winery has a stunningly beautiful combination of lovely tasting room (the entire log home you see in the picture) in a wonderful natural panoramic setting.
The log building was formerly the family home. But with the continued growth of the winery, it is now the main hospitality center for the winery, with tables and chairs on a deck wrapped around two sides of the building as well as plenty more inside. The house overlooks a lovely lake as well as the verdant valley it is nestled in, vines around, and the Cascade Mountains ranged around as a backdrop. The main winery facility is in an adjacent building, from where they currently produce about 4500 cases of wine a year.
In the summer they offer various outdoor jazz concerts and other special events, usually with a catered dinner included as well.
If you visit, you'll be seated at a table and served pours from up to 12 different wines. The cost for all of this? Nothing. Amazing. Hopefully you'll choose to buy at least one bottle of wine in return for such hospitality and generosity.
Icicle Ridge also has a tasting room in downtown Leavenworth, where you're charged a nominal $2.50 to taste a selection of their wines.
Full details on their website. They are open daily.
Silvara Vineyards Winery
This is a new winery that we've yet to visit. It is located a couple of miles east of Leavenworth, just off Hwy 2 at 77 Stage Rd, not far from the turn-off to Peshastin and Cascadia Winery.
Reportedly it has a nice location and tasting facilities that is open daily. We must go check it out.
More details on their website.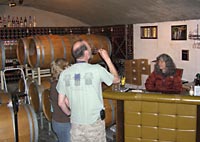 Wedge Mountain Winery
This is another small winery, set back from the road down a long driveway, and surrounded by orchards and vines. They were established in 2001 and produce 1200 - 1500 cases of wine each year.
The winery itself is in a small cave/cellar, with the front on-grade and then tunneling back a short distance into the ground, which adds a nice extra bit of atmosphere to the experience.
A $5 tasting fee gets you samples of about five or sometimes more wines. As well as regular classical grape based wines, they also produce some fruit wines from apples, cherries and raspberries.
They are open Thursday through Monday of each week. More details on their website.
And a Micro-Brewery
There's a fun micro-brewery in the small town of Cashmere, just a few miles east of Leavenworth on Hwy 2, if you'd like to mix your drinking experiences.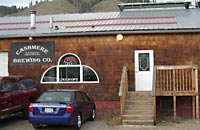 Cashmere Brewing Company
They operate out of a former warehouse space, opposite the train tracks, at 215 Mission Ave, Cashmere, WA 98815.
They started business in 2004 with a 1.5 barrel (ie 50 gallon) brewing system, and have grown twice, now with a 10 barrel capacity, and are looking at further growth. Clearly they're doing something right.
When you walk through the rather anonymous front door - or possibly sooner - you'll probably be immediately assailed by the wonderful smells associated with brewing fresh craft beers. Depending on what stage in the brewing process they are at, you might get rich malty/sweety smells, the floral flavor of the hops, or the complex smells from the fermenting yeast.
The brewery serves six or seven different types of beer, including a continuously hopped IPA and a very strong 'Suffocater' (8.6% ABV). I prefer a dry hopped IPA myself, but the continuously hopped IPA is rare and is interesting, because you get to experience hop notes from all the different stages of the boiling/infusion process.
The actual brewing area shares space with the drinking/bar area (hence the strong smells as you enter), making the experience much more closely associated with the production of the product you're enjoying. There's even a pool table if you're wanting to relax and stay for a longer time.
You can also get beer to go in growlers and kegs.
They are open sort of Wednesday - Saturday, afternoons and early evenings, but as their website says, they're often there at other times too and the lack of an 'Open' sign shouldn't stop you from visiting.
Related Articles, etc

If so, please donate to keep the website free and fund the addition of more articles like this. Any help is most appreciated - simply click below to securely send a contribution through a credit card and Paypal.