What to See and Do in Harrison Hot Springs, BC Canada

A surprisingly broad range of activities and events

Although the hot springs are a major reason for people to visit Harrison Hot Springs, the town is also fortunate to be far enough away from Vancouver and Seattle as to be a 'get away from it all retreat' while not being too far to drive for a two night weekend break.
The growing number of people who choose to go to the town not for the hot springs, but for general relaxation and for other types of recreation is encouraging a diversification and expansion of things to see and do in the area.
The community has also created some special events to bring in large numbers of people at some times of year, and in total, you end up with a small town but with a surprisingly large range of things to see and do.
The Hot Springs
Expressed as part of the name of the town itself, it was the hot spring that brought the town into being, and which remains one of the main reasons for people visiting.
As the rest of this page of the article indicates, other reasons to visit and stay have been developed over time, too, but the hot springs remain one of the major attractions.
The hot springs in Harrison Hot Springs are not accessible to the public. The water is piped from the spring direct to the HHS Resort, which claims exclusive rights to the water by virtue of owning the land on which the spring lies. The hotel does, however, 'donate' some of the water to the public pool, which opened in 1967, so if you are not a HHS Resort guest, you still have a chance to sample the waters, albeit in an unappealing building that is very different to the delightful surroundings of the five pools at the resort itself (see our review of the hot spring mineral pools at the Harrison Hot Springs Resort for more information).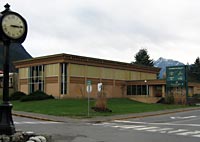 The public pool (pictured, left) is indoor in a bland building, and did not impress as attractive or appealing at all. A smell of chlorine permeated the air, and with the hard floors, walls and ceiling, one can imagine that it would be noisy and unrelaxing during the busy times of day and year. The sensation was more like a very basic ordinary public pool with no hint of anything out of the ordinary such as one would hope to associate with the notion of natural mineral rich hot springs and the alleged curative powers they may offer to people, and the relaxation of soaking in them. Alas.
It is relevant to note that these are not the only hot springs in the area. Several others can be found on the shores of the lake, at Twenty Mile Bay and Clear Creek as you go up the east side of the lake, and Port Douglas at the top of the lake. These are undeveloped springs, and the road up the lake is best suited for 4WD vehicles, and should be driven with care, particularly after heavy rains or snowfalls.
Other hotsprings also exist in British Columbia, as this site details.
Shopping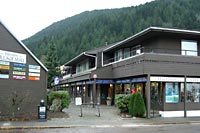 There is very little shopping in the town. A grandly named mall (pictured, left) is really a small strip mall with little to appeal to the shopaholic that lurks within many of us. Husbands can relax - your wives will probably not blow the budget going wild in local stores.
Americans should heed the warning on the first page of this article series about exchange rates. Although the town is tourist focused, its exchange rates are not tourist-friendly.
The one shopping experience that we ended up enjoying came as a surprise. While walking down Hot Spring Rd we came across an uninspiring looking store from the outside (pictured left), but I was drawn by the promise of smoked salmon and approached closer.
A most delightful character happily came up and started plying me with generous sized samples of a range of seven different types of local hazelnuts (also sometimes called filberts) - the varieties had various flavorings added to them, and some were definitely delicious. It was a fun pleasant experience and I walked away both with a bag of roasted hazelnuts and also an ingeniously designed nutcracker that seems guaranteed to make short work of any size and shape of nut.
Special Festivals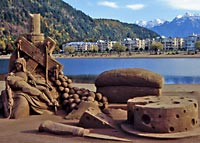 Perhaps the most special of the festivals and events in the Harrison Hot Springs area is their annual World Championships of Sand Sculpture, which is, among other things, the largest outdoor art exhibition in western Canada.
This event occurs in September each year, with individuals and teams of competitors creating the most extraordinary sculptures out of sand.
After the building period has been concluded, the resulting sculptures are sprayed with a special preservative to allow them to hold their shape for an extended period and they remain on display for the following month until some time in October (weather permitting).
In total, it is estimated that about 3,000 tons of sand are shaped into all sorts of sculptures ranging from people to places to things.
It is very interesting to see the sculptors at work, and amazing to see the finished creations. More details on their website.
For an event of a different type, the annual Harrison Festival of the Arts, held over a week and two weekends in July, presents a range of performing events and an art festival.
Some presentations are given as 'Music on the Beach' concerts, others are held in the Harrison Hall. In addition to the concentrated festival in July, other one-off events are held throughout the year. More details on their website.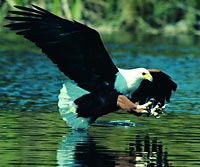 An event in November that is around the Harrison Hot Springs region is the annual Fraser Valley Bald Eagle Festival.
The Fraser Valley area is home to the third largest winter population of bald eagles in all of North America, with the peak time to see eagles is between November and March. At times, you can see as many as 50 eagles in a single tree. An amazing sight.
More details on their website.
Another nearby event is the annual Tulip Festival, where you can see 40 acres of beautiful colorful tulips in bloom. Details on their website.
The local Visitor Center can advise on other special events that might be scheduled around the area for the time you are considering visiting. Sometimes special events can be a bonus, but at other times, the influx of visitors can make accommodation harder to find and more expensive, so depending on your perspective, you might choose either to incorporate or avoid special events into your visit to Harrison Hot Springs.
Fishing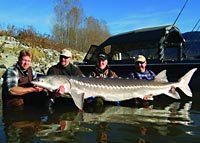 Fishing, on the lake and river, is a popular year-round activity. Massive sturgeon, up to 14' in size and 1500lbs, can be caught and released all year (although spring and fall are the best times), and trout are available year-round.
Salmon are most common in the June-November period, and steelhead in the January-May period.
Many other lakes are within a short drive of HHS. Boats and guides are available for rental, or you can of course bring your own boat with you.
Golf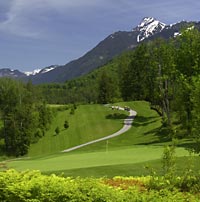 British Columbia in general is proud of its golf courses, and in 2007 was awarded the title of 'Best Golf Destination in North America' by the International Association of Golf Tour Operators.
There are four golf courses within 15 minutes drive of Harrison Hot Springs. One is the Harrison Resort Golf Course; this (owned by the Resort) and a second one, Bridal Falls Resort, are both nine hole courses. The other two - Sandpiper Golf Resort, which has accommodation available too, and The Falls, just off Hwy 1, (pictured here) are 18 hole courses.
Here's a listing of many golf courses in the lower part of BC.
Other Activities
There are many beautiful hiking trails in the area.
Or, if you'd rather do your exploring by car, consider the self-guided Circle Farm Tour around the Agassiz/Harrison area that takes you to various farms and other rural enterprises.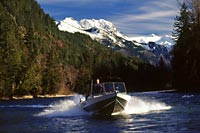 In the summer there are many watersport type activities, and year-round there are scenic lake cruises.
These days it seems just about everywhere has wineries, and if you wished to include some wineries, the closest are about 35 minutes or so drive away in the Langley and Mission areas.
Winter time skiing is available not far away in Hemlock Valley.
All in all, there's a wide variety of things to see and do, including, of course, just relaxing and enjoying the ambience of this beautiful part of the world.
For more information about Harrison Hot Springs
In July 2007 the town established its own Tourism Office. It has its own website, a visitor information center on the right hand side as you drive in to the town, and produces an excellent visitor guide and various other publications.
Their visitor center is open daily between the beginning of May and end of October, and four days a week (Thurs - Sun) during the offseason months. You can reach them at (604)796-5581.
Read more in Parts 1, 2 and 3
Related Articles, etc

If so, please donate to keep the website free and fund the addition of more articles like this. Any help is most appreciated - simply click below to securely send a contribution through a credit card and Paypal.