Sol Duc Hot Springs and Resort, WA

Stunningly beautiful in Washington state's Olympic National Park

One of the best kept secrets of the Pacific Northwest is Sol Duc Hot Springs Resort, set in the majestic Olympic National Park.
The beauty of the setting and the pleasant experience of staying in free standing cabins is combined with lots of lovely walking trails. And then, in addition to all of this, you have the hot springs themselves - mineral rich waters that flow freely out of the ground and which are channeled into a series of pools for you to relax and recuperate in.
The drive to Sol Duc is part of the experience, ideally including a ferry ride across Puget Sound with picture postcard perfect views of the Seattle city skyline and possibly down to Mt Rainier. If time and weather allows, a detour to drive up to the top of Hurricane Ridge further enrichens your visit to this lovely part of the Pacific Northwest.
Why Visit Sol Duc?
Although only half a day from Seattle, and less than a day from Vancouver or Portland, Sol Duc seems massively removed from the ordinary rigors and stresses of normal living.
Sol Duc offers you a 'get away from it all' retreat from the bustle and pressure of big city life. There are no phones, no internet, and no televisions in the units, and the chances are your cell phone has no coverage there, either (you'll have to make do with a pay phone at the main office).
Instead, you get unspoiled beautiful nature in the heart of the Olympic National Park. A fresh water stream runs alongside the main resort grounds, towering mountains surround the valley, and, of course, the hot springs give you rejuvenation of a further kind.
A beautiful drive to and from the resort makes the start and end of your journey wonderful too.
Getting to and from Sol Duc and Lake Crescent Lodge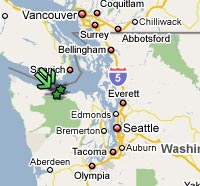 (Click image to open a larger more detailed map)
The most practical and pleasant way to get to Sol Duc is to drive. There's no easy other way to get to Sol Duc (lower arrowed star) and/or Lake Crescent Lodge (upper arrowed star).
Fortunately, the drive is easy, relaxing, and very pleasant, with some lovely scenery on the way.
The closest airport is Port Angeles (airport code CLM) but the only scheduled service is from Seattle's Boeing Field airport (airport code BFI), not its main Seatac airport, making it difficult for connections with other flights.
If you choose a flight on Kenmore Air, they will provide transfers to/from Seatac and Boeing Field, which helps simplify things, and it is of course a very beautiful 30 minute flight, albeit potentially bumpy in the small propeller power plane that flies low and slow.
If you do fly to CLM, Budget has a car rental facility there to enable you to drive the rest of the way to the resort. Otherwise, it is a 33 mile taxi ride from the airport to the resort.
Getting to Sol Duc also depends on where you drive from (and perhaps to) in order to get to the Sol Duc area.
Most people will probably start their journey in the Seattle area, either flying in to Seatac airport (airport code SEA), but some might be in Canada (either Victoria or Vancouver - YVR) and some might travel up from Portland (PDX) or other places south.
Getting to Sol Duc and Lake Crescent Lodge from the Seattle area
You have an abundance of driving choices to get to Sol Duc from Seattle. There are several routes that include taking a ferry across Puget Sound, or you can drive down to Tacoma, and then up the other side of Puget Sound. And if you're wanting to make an extended all day drive, you can drive down to Olympia, over to Aberdeen, and then up from there.
The 'nicest' way between Seattle and the Sol Duc area probably involves taking a ferry across Puget Sound (see below).
In terms of travel time there's not a lot of difference if instead of a ferry across Puget Sound, you drive down to Tacoma and then up the other side, around Puget Sound, and in terms of cost, with gas prices the way they are these days, there's not a lot of difference there, either.
One other option is to go 'the long way round' - ie via Olympia and Aberdeen - this would be interesting to enable you to do a complete circle trip, perhaps. This is also discussed below.
If you take a ferry, it is about a 120 mile drive. If you go around the Tacoma way, it is about a 175 mile drive. But the extra hour or so of driving time is more or less the same as a 30 minute ferry crossing and a 30 minute wait for the ferry to arrive, and time to get on and off the ferry.
Washington State Ferries across Puget Sound
There are two main ferry routes to consider for crossing Puget Sound, and both take cars as well as people. There is the route between downtown Seattle and Bainbridge Island, and the route between Edmonds and Kingston. Edmonds is a short distance north of downtown Seattle.
It takes 35 minutes to travel between Seattle and Bainbridge Island, and there are wonderful views across the harbor to the Seattle city skyline, and most visitors to the region will find this to be the better choice of ferry.
It is a 30 minute crossing between Edmonds and Kingston. The views from the ferry aren't as impressive, but locals who don't live downtown (and people coming from north of Seattle) will generally prefer to take this ferry.
You should plan on about a 2½ hour drive from either ferry on to Sol Duc, perhaps a bit longer, plus about an hour or so to wait for and take the ferry.
Both ferry services offer frequent sailings, but you need to be sensitive to when the peak traffic occurs. During the week, there is a surge of vehicles every morning and afternoon, with more traffic going in to Seattle in the morning and from Seattle in the afternoon. For the weekends, there is a surge of traffic from Seattle on Friday afternoons and Saturday mornings, and a surge of traffic to Seattle on Sunday afternoons.
If you can avoid the ferries at these peak times, you'll have much less waiting time. In the peak summer travel season, you can find yourself waiting several hours for a ferry, but in off-peak hours, you can find yourself on the very next sailing with no delays at all. If you are traveling at peak times, you might find the drive down and around the bottom of the sound to be faster than waiting hours for a ferry.
Unfortunately, you can't book ahead and reserve a space on a ferry - it is a case of first come, first served.
For complete and current ferry information visit the Washington State Ferry website.
The 'long way around' via Olympia and Aberdeen
Maybe you would like to do a complete circle journey, traveling either clockwise or anti-clockwise, and so in one direction between Seattle and Sol Duc you'll go via Olympia and Aberdeen.
This is an interesting and pleasant 250 mile journey, taking you through the state capital, Olympia, through some logging towns, and briefly driving alongside the Pacific Ocean, and gives you a more general tour around the Olympic Peninsula.
Allow yourself 5 - 6 hours, plus stops, for this drive.
Getting to Sol Duc and Lake Crescent Lodge from Canada
If you're in Victoria (or anywhere on Vancouver Island) you might want to consider taking the Black Ball Ferry Company's ferry, the MV Coho, from Victoria to Port Angeles and then continuing on in your car to Sol Duc from there.
If you're on the mainland, you'll probably drive south down I-5 and then go west to Edmonds (shortly before Seattle), take the ferry to Kingston, and continue driving to Sol Duc.
Where to Stay at Sol Duc
This might seem like an unnecessary section - clearly, it makes sense to stay at Sol Duc itself.
Yes, it does make sense to stay at Sol Duc, but unfortunately, it seems that the resort is often completely sold out with no accommodation available.
In such a case, you should consider staying instead at Lake Crescent Lodge, which is about 19 miles away, in the direction of Port Angeles.
If you are able to stay at Sol Duc, you'll be in one of their free standing cabins, and your choice essentially revolves around if you want a cabin with kitchen facilities or not. A few of the cabins are 'duplex' cabins - ie two units in the one structure - if you're booking a duplex cabin, be sure to understand if you're booking one or both of the units in the structure - one time I thought I was booking both the units in the structure, but arrived there to find the reservation was for one not both of the duplex units.
All cabins have two queen size beds in them, and are finished to a fairly basic standard. They also have small outdoor decks which are nice to sit and relax on.
Larger groups might also wish to consider their larger 'River Suite' apartment with three bedrooms and two bathrooms.
Lake Crescent Lodge
Lake Crescent Lodge is a lovely place to stay at (and to eat at), and is on the shores of beautiful Lake Crescent. Some but not all of their units have views out over the lake.
They offer what seems like a bewildering variety of room types, but the differences are fairly simple. Some of the rooms are in blocks of rooms, and some are free standing cottages.
The lowest price rooms are in the main central historic lodge building itself. So why are they so value-priced? Because they don't have en suite facilities.
There are three blocks of fairly similar rooms, none of them particularly luxurious, but all in lovely settings.
The cottages can be distinguished by their size and if they have a fireplace or not. If you're visiting in the colder months, the thought of having a nice traditional wood fire might be very appealing and encourage you to pay extra for a fireplace unit, but in the summer, the fireplace probably isn't something you'd need or use.
More information is available on Lake Crescent Lodge's website.
Where to Eat at Sol Duc
This too might seem like an unnecessary section. But, please, keep reading.
Sol Duc itself offers you three eating choices. It has a restaurant that is open for breakfast (usually included in your room rate) and dinner, and it has an outdoors cafeteria that is open from about lunchtime through until just before dinner.
The restaurant is of average quality only, and the outdoor takeaway cafeteria has limited items of minimal culinary interest.
Some of the units have basic kitchen and cooking facilities, and so your third choice at Sol Duc is to cook your own food. I've supplemented the kitchen facilities by bringing a portable barbeque and having an outdoor dinner party with friends there - that can be very pleasant too.
Due to the limited dining choices on site, we suggest you consider going to Lake Crescent Lodge for a meal on one of the evenings you are at Sol Duc. They have an excellent restaurant, and reservations are always a good idea. Every time we've been there, the restaurant has been full, and people without reservations are either turned away or made to wait what can be quite a long time (admittedly in a very nice bar!).
More about Sol Duc
In case you didn't see it in the opening comments, do be aware that the cabins at Sol Duc have neither telephones nor televisions. And - further isolating you from the rest of the world, there is no public internet and the chances are you cell phone won't get any signal, either.
Sol Duc is not open year-round. It opens mid/late March, then closes around about the end of October, staying closed through the winter months, and opens again each next March.
There are three hot pools at Sol Duc (plus an unheated regular water swimming pool). In addition to a large 'main' pool, there's a smaller pool with hotter water temperatures, and a shallow pool for children. Annoyingly, but apparently essentially, all three of the pools are regularly closed for an hour at a time during the day so the water can be completely flushed out of the pool and replaced with fresh clean water. The water temperature is an ideal temperature for all manner of nasty bacteria to breed, and so the resort (under the direction of the National Parks Service) has become very obsessive at keeping the water as clean and pure as possible.
This is a recent innovation, starting just a couple of years ago. One wonders how it was that we were able to bathe safely in the pools in years past, and now have to have the on-again off-again opening and closing of the pools now....
You are expected to shower in the changing room showers before using the pools, and you'll definitely want to do that again afterwards to get the smell of the mineral water off you. Towels are provided, although they are terribly small little towels that struggle to dry you completely before becoming saturated with water. You might want to bring your own towel with you, too.
Other Hot Springs in the Region
Perhaps the best known of the various other hot springs in the Pacific Northwest is Harrison Hot Springs in BC, Canada. We've prepared a multi-page article series on this town which is close enough to Sol Duc as to allow for you to drive between the two locations as part of a hot springs themed stay in the area.
Much smaller developments - or totally undeveloped hot springs - can also be found. The Olympic Hot Springs are not far off the road you travel between Port Orchard and Sol Duc - Route 101. You turn off onto Olympic Hot Springs Rd and then follow a 2.5 mile walking trail (and ascend about 260 ft as the trail gets you to the springs). There are a number of pools there, all undeveloped, and typically very shallow. Nude bathing in the pools seems to be commonplace, and the water quality is reputedly sometimes poor, with high bacterial counts.
Here's an article (link gone) detailing some of the other hot springs in the area, which curiously omits the Mineral Springs Resort on Hwy 97 in Eastern Washington, more or less halfway between I-90 and Hwy 2. If you're traveling between Leavenworth and Seattle, this might be an interesting place to stop.
Hurricane Ridge
If you have some time and it is a nice day, consider a detour on your way to or from Sol Duc, up to Hurricane Ridge, up in the Olympic Mountains. The spur road starts in Port Angeles and goes 17 miles south, into the Olympic National Park, and to Hurricane Ridge, which is some 5000 ft above sea level.
The road is open daily between April and October, and weekends and holidays during the colder season, weather (ie snow) permitting. It is an easily drivable sealed road that normal cars and drivers should have no problems with at all (assuming no snow).
You get wonderful views from Hurricane Ridge out around the area all around. There are walking trails (in the summer months) and ski trails (in winter), and there's a lodge/cafeteria/visitor center at the end of the road.
More information about Hurricane Ridge, and about the Olympic National Park in general, can be found at the National Park Service website.
Related Articles, etc

If so, please donate to keep the website free and fund the addition of more articles like this. Any help is most appreciated - simply click below to securely send a contribution through a credit card and Paypal.