A Ski Vacation in Zermatt
There's something for everyone in Zermatt.
Excellent skiing in the winter, wonderful outdoor walks in the summer, plus great dining, wonderful places to stay at, and stunning views high up in the alps - truly something for everyone.
Although notable as a high end (ie expensive) destination, if you visit outside of the peak season, and choose your accommodation carefully, it can be affordable for most people while still being a very special experience.
An Introduction to Zermatt
Zermatt is a small-town of about 6000 inhabitants (and sometimes twice as many tourists) in the South of Switzerland, and surrounded by high mountains, including ' the most photographed mountain in the world' - the Matterhorn. It is probably its proximity to the Matterhorn which has led to its prominence as a ski and spa center. Prior to the first successful climb of the Matterhorn in 1865, it was little more than a farming community, but since that time, it has increasingly focused on tourism.
In 1947, the town decided to ban all internal combustion engined vehicles, ostensibly to keep the air clear and to allow the best possible viewing of the Matterhorn accordingly. Accordingly, only electric powered vehicles can be found in the town itself, and all visitors must leave their cars at the nearby town of Täsch, 3 miles away, and take either a train or taxi the rest of the way to Zermatt. Horse drawn carriages can also be seen in the town.
Fortunately, the town is very small, and easy to walk around.
Getting to Zermatt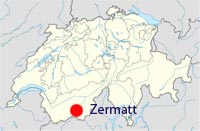 Zermatt lies in the south of Switzerland, and very close to the Italian border, in the Canton of Valais.
Although it is very close to Italy, the predominant language in the town is German, but of course most people will understand English too.
Zermatt is car-free. Private traffic is only permitted up to Täsch (5 km before Zermatt), and the road between Täsch and Zermatt is also closed to public transport.
The shuttle trains of the Matterhorn Gotthard Railway run between Täsch and Zermatt every 20 minutes. The journey takes 12 minutes. Trains operate in both directions from 6am until 10pm, and then less frequently from 10pm until 6am. A return journey costs €10.15.
Alternatively, you can take a taxi from the Parking areas in Täsch; the benefit of this is that you don't need to somehow get from the train station in Zermatt to your ultimate accommodation address, but instead will be driven correctly there. Expect to pay about €20 or so for a taxi ride.
Zermatt is about 4 hours away from Geneva and 3 1/2 hours from Zürich by train. There are trains to and from these major cities every hour or so.
Where to Stay
Zermatt's official tourism site (see below) lists 146 different accommodation choices in the Zermatt area. These choices range from excellent five star resorts (Riffelalp Resort 2222m, Grand Hotel Zermatterhof, Mont Cervin Palace) through regular hotels and to charming bed and breakfast places, and from the most modern structures to charming old houses and historic hotel buildings.
Not listed on that website, but also worthy of note, is The Omnia and The Alpine Residence in the Hotel Mirabeau.
In total, there are over 13,000 beds for visitors in the town - often the tourists outnumber the locals by more than two to one.
When to Visit and When to Ski
It is possible to consider three different seasons, not in terms of weather, in terms of tourism popularity for Zermatt.
The peak season would be during the Christmas new year holiday period, running from about mid December through about mid January, and again from about late February through to the end of the Easter period. At these times, everything is busy and crowded, and it is essential to book accommodation well in advance of travel. On the other hand, once you get there, you can be assured of the best possible snow conditions.
Shoulder season would be over the summer (mid-June to mid-September), and later in the winter from the end of peak season in mid-January through to mid-late February. In the winter, skiing is still good, but not so crowded. During the summer months, many people visit so as to enjoy the outdoors. Note that although this is summer, temperatures seldom exceed 70° F (20° C).
The low season (mid-September to mid-December, after Easter to mid June) is not nearly as crowded, and values may be much better. Also the areas are generally open from late November until the start of May, so depending on when you might be considering to travel, skiing may be a possibility in low season.
Where to Ski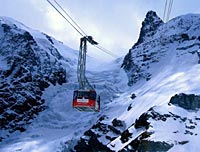 There are four main skiing areas around the Zermatt area. These are Sunnegga, Gornergrat, Klein Matterhorn and Schwarzsee.
This article suggests the five best ski runs in the area.
There are ski runs to cater for all levels of skier, from beginner to advanced. And if you're looking for a ski school, Stoked is well regarded and offers lessons in English.
The Klein Matterhorn is the highest peak, with cable cars and chairlifts taking you up to 12,740 feet.
In addition to chairlifts and cable cars, a popular way of getting to the best ski areas is by helicopter.
A one day ski pass will cost about $70, and renting boots and skis for a day will cost about $60.
Resources
The website of the official Zermatt Tourist Board has a lot of helpful information.
The Gemütlichkeit newsletter and website is an invaluable resource for all people visiting Switzerland, Austria and Germany.
Related Articles, etc

If so, please donate to keep the website free and fund the addition of more articles like this. Any help is most appreciated - simply click below to securely send a contribution through a credit card and Paypal.