Far at the south-eastern tip of England is the country's remotest region - The Duchy of Cornwall.







Search
Looking for something else? Search over two million words of free information on our site.

Custom Search

Free Newsletter

Help this Site
Thank you for your interest in helping this site to continue to develop. Some of the information we give you here can save you thousands of dollars the next time you're arranging travel, or will substantially help the quality of your travel experiences in other, non-cash ways.


Reader's Replies
If you'd like to add your own commentary, send me a note.
England's Remote Duchy of Cornwall
Part 1 : An Ancient Land of Myth and Mystery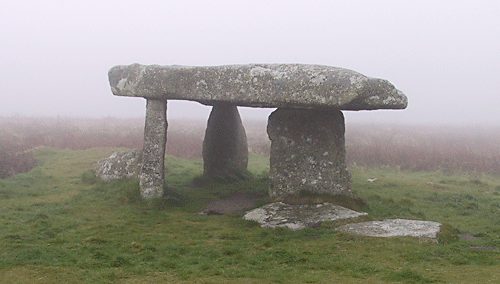 Ancient and puzzling Lanyon Quoit on a misty moor evokes all the myth and mystery of classic Cornwall.
Cornwall - A Different Heritage to the Rest of England


In this map of Anglo-Saxon England; Cornwall, Wales, and Scotland are all omitted as not being part of England.


Even as 'recently' as 1550, Cornwall rated a separate mention on maps of Britain.


The retreating boundaries of where Cornish was formerly spoken.


It is correctly said that in Europe, the concept of countries and their borders varies depending on when a map was drawn.

Not so appreciated is that the same is true of Britain, which is an amalgamation of a dozen or more earlier fiefdoms, similar to what happened hundreds of years later in the formations of Germany and Italy in the 19th century.

Ireland, Scotland and Wales are the best known of these formerly separate nations, and have now had various degrees of independence restored to them. But there are many more, and the region with the strongest claim to becoming the next semi-independent nation within Britain is probably Cornwall.

This is perhaps unsurprising, because Ireland, Wales and Scotland are all at the various geographical extremities of Britain, and so too is Cornwall, at the southwestern extremity. Its geographic remoteness is coupled with a strong sense of historic independence and even some sense of current self-identity, being a semi-autonomous duchy with slightly different procedures and processes to the rest of England.

Also like these other regions, it too has its own language, even more close to moribund, called Cornish. Cornish is another Gaelic derivative, but quite different from the Welsh or Scottish or Irish variants.

The Cornish language almost completely died out around the early years of the 20th century, but now, 100 years later, semi-successful efforts are underway to revive it.

An indication of how much of the language has been lost is given by there now being arguments as to which of three different revived/recreated/invented versions of the language is the most correct.

Cornwall - A Palpably Different 'Feel'


Lizard Point and its lighthouse, the southern most tip of England.

Rumps Point, just south of Port Isaac, in the setting sun on a summer's eve.



There's another reason Cornwall has claim to special treatment. It truly does 'feel different' to much of the rest of England.

The same is true of some of Wales, and also of the highlands and islands of Scotland (less so of the lowlands which is perhaps why the lowlands were contested territory for hundreds of years).

It isn't always easy to exactly explain what the difference is, but you don't have to be able to explain something to know that it exists.

Part of the difference is perhaps recognized in the 12 different designated Areas of Outstanding Natural Beauty that make up 27% of the entire region.

Why not come see for yourself and decide how best to describe Cornwall's special character.

A Land of Myth and Legend


Tintagel Castle (or, at least, the sprawling ruins thereof) looking very atmospheric in the mist, and the reputed birthplace of King Arthur.

King Arthur's Hall on Bodmin Moor. The moor is home to many mysteries and mysterious structures, and also to the 'Beast of Bodmin' - some type of wild cat such as a leopard, panther or puma that is occasionally sighted on the moor.

The 'Merry Maidens' Stone Circle in Cornwall, said to be 19 girls turned into stone as a punishment for dancing on a Sunday.


Talking about hard to explain things, Cornwall is a land steeped in myth and legend. The stories of King Arthur are based in Cornwall - he is said to have been born at Tintagel Castle.

A society for the preservation and revival of Cornish culture - the Federation of Old Cornwall Societies - has as its motto 'King Arthur is not Dead'. Cornish legend maintains that Arthur did not die at Mordred's hands, but will instead return to vanquish future enemies of his realm, hence their motto.

The King Arthur legend flows directly into the stories of the quest for the Holy Grail and the knight Perceval (Parsifal) who first went to King Arthur's Court before continuing on his question.

And from the Parsifal story and the opera written by Richard Wagner, it is a short step to perhaps the most moving of Wagner's operas, Tristan and Isolde, a searing love story right from the tragedy promised in its first three bars, teased unbearably throughout the second Act, and finally delivered in overwhelming intensity in the final six minute Liebestod.

The opera is set in Cornwall, more or less in Arthurian times, and makes Romeo and Juliet look like a trite Mills and Boone romance complete with a (comparatively) happy ending.

No-one who visits Cornwall can fail to appreciate the appropriateness of setting perhaps the most overwhelming of all love tragedies in such a location.

Although, yes, it is true that some parts of Cornwall are warm, welcoming, and happily beautiful, indeed St Ives has been dubbed the most beautiful seaside town in all of Britain. But other parts of Cornwall - especially on a wintry day with mists settling over the moors - exude an appropriate aura of otherworldliness such as to make the Tristan story seem appropriate and normal.

Cornwall's Weather

Pendennis Castle, on Pendennis Point, Falmouth, is Britain's warmest place.

The Carland Cross wind farm just north of Truro is Britain's second oldest, dating to 1992 and making good use of the wind that blows through Cornwall. The ten turbines produce up to 20 MW of power.

Cornwall's location in the southwest of Britain, and its shape, has a number of climate related implications.

Having a large coastline and with much of the land being close to the sea, and with prevailing winds coming from the southwest, it means the sea has a major influence on the Cornish climate.

Happily, due to the Gulf Stream offshore and its generally more southerly location (ie further from the North Pole and closer to the Equator) it has the mildest and sunniest climate of the entire United Kingdom. Also due to the Gulf Stream, Cornwall has the UK's only area of sub-tropical climate, at the extreme south-west of Cornwall. The sub-tropical nature has resulted in a number of botanical gardens, such as Trebah and the Lost Gardens of Heligan.

Pendennis Point in Falmouth is the warmest place on mainland Great Britain, with an average temperature of 11.4 °C (52.5 °F). But at the other extreme, the moderately high elevations of Bodmin Moor (up to 1368 ft) see it with lower temperatures and more rain than most of the rest of Cornwall and substantially more snow in winter.

While the climate is officially labeled as sub-tropical, that does not mean it is hot, and it is unusual for temperatures to exceed 70°F (21°C), and very rare for temperatures to exceed 80°F (27°C).

Although sunny and warm, Cornwall is also moist. The wettest time is autumn/fall and the driest is spring. In spring, almost one day in three has measurable precipitation, in fall, two days in three.

Cornwall is also windy, second only to western Scotland.

Here is some additional climate data.

More Facts and Figures about Cornwall

St Piran's Flag, the flag of Cornwall (Kernow), is said to represent the white of tin contained within the black of coal.

Polperro, known for its fishing and smuggling, on Cornwall's south coast, dating to the 12th century. Fishing used to be an important part of Cornwall's economy but less so these days.

Cornwall has a total population of 556,000 (per a 2016 estimate). This makes it the 40th out of England's 48 traditional counties (Greater London ranks first, while the City of London ranks last).

On the other hand, it is one of the larger counties in England (12th largest; North Yorkshire is the largest), making it one of the relatively emptiest in terms of population density (404 people per square mile, Northumberland and Cumbria being the two least dense).

Until 1890, Cornwall included the Isles of Scilly (off to the SW of Cornwall) but they are now independently administered.

Until 1832, Cornwall had 44 MPs in the British parliament, more than any other county, reflecting the importance of Cornwall and its tin mining to the country as a whole.

The Cornish economy lags much of the rest of Britain. It was underpinned by tin mining until the mid-19th century when tin mining started to decline, and these days there are no remaining mines in production. The county's China Clay (Kaolinite) production also declined through the 1960s, and now only employs 2133 people.

These days the major economic activity is tourism, making up about 25% of the economy.
Related Articles, etc

If so, please donate to keep the website free and fund the addition of more articles like this. Any help is most appreciated - simply click below to securely send a contribution through a credit card and Paypal.

Related Articles