All About London's Airports

Five to choose from - which is best for you?


Click on image to open a larger map of the London area and its airports
| | |
| --- | --- |
| Click on image to open a larger map of the central London area and where the airport ground transport services terminate | |
London's Heathrow Airport is an iconic symbol of the city itself, and so much so that airlines pay tens of millions of dollars to get a single 'slot' - the rights to operate a single daily flight in and out of Heathrow.
But there are four other airports around London, and while Heathrow is the best known, it is not necessarily the 'best' airport in all respects.
Of course, your choice of airport is largely influenced by your choice of airline, and so in part the purpose of this article series is to help you understand the implications of choosing an airline that flies to a different airport.
This first article is general background type information about the airports which you may or may not find interesting.
The History of London's Airports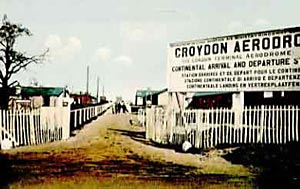 The entrance to Croydon Airport (Aerodrome) when it opened in 1920.
The original London airport is no longer in existence. After World War 1 it was decided to create an 'Air Port of London' - an airport with customs facilities to handle international flights, and this designation was bestowed upon a newly created airport that amalgamated two First World War airfields that were located almost next to each other into one single and larger airport.
This became known as Croydon Airport, which opened on 29 March, 1920. It was located south of London, about 15 miles north of Gatwick (and therefore, that much closer to the center of London).
After steady growth in the 1920s and 1930s, it was closed to civilian traffic immediately prior to WW2 and became an RAF fighter station, playing a key role in the Battle of Britain.
Croydon was returned to civilian use by the RAF in 1946, but it was felt to be no longer adequate for newer passenger planes, and so in 1946 Heathrow was designated as London's official airport.
Croydon itself continued as a secondary airport until 1959, with its last flight taking place on 30 September that year.
Basic Airport Facts and Figures
As can be seen, there is a wide variance in terms of airport traffic between the five airports.
The benefit of the larger number of flights at Heathrow in particular is that there is more likelihood of convenient connecting flights if your travels to London are for a connection rather than as a destination in itself.
We show here two sets of annual flight numbers and three sets of annual passenger numbers (we grey the 2015 numbers because there isn't a matching column of 2015 flights).
Airport

2018 Annual Flights

2008 Annual Flights

2018 Annual Passengers

2015 Annual Passengers

2008 Annual Passengers

Heathrow
LHR

480,339

478,693

80.1 million

75.0 million

67.1 million

Gatwick
LGW

283,926

263,653

46.1 million

40.3 million

34.2 million

Stansted
STN

185,660

193,282

28.0 million

22.5 million

22.4 million

Luton
LTN

136,270

117,859

16.6 million

12.3 million

10.2 million

London City
LCY

78,036

94,516

4.8 million

4.3 million

3.3 million
As can be seen, all five airports have grown in passenger numbers, although flight numbers have grown considerably less, due to larger planes and higher passenger loads per flight.
Many more tables of comparative data are offered in the second part of this series - London's Best and Worst Airports and Why.
Airport Ownership
A point of controversy for some years has been the somewhat monopolistic position enjoyed by BAA (British Airports Authority). This was originally a government organization, and then in 1987 was privatized and since 2006 has been a Spanish company, owned by Ferrovial.
BAA owns the three largest of London's airports - Heathrow, Gatwick and Stansted. As the table above shows, in 2008 BAA's three airports handled 90% of the passengers flying in/out of London.
This near monopoly on airport services by BAA, combined with unhappiness at the service levels experienced by passengers and airlines, has lead to calls for BAA to sell one of its London airports to make the marketplace more competitive, and as a result, in late 2008 it commenced what is a strangely lengthy process of selling Gatwick airport.
In March 2009 the British Competition Commission announced that BAA would have to divest itself not just of Gatwick, but also Stansted plus either Edinburgh or Glasgow (managing both the two largest airports in Scotland was felt to create another monopoly position in that region too). This would leave BAA owning only one of the London airports, instead of the three largest London airports as it currently does.
Assuming that two different companies buy Gatwick and Stansted (or perhaps even if they end up under common ownership) it is expected that this increased competition may appreciably decrease airport landing and related fees while improving passenger services.
The Future of London's Airports
Growth at Heathrow
Heathrow desperately needs to add to its capacity to accept additional flights to respond to the pent up demand by airlines to fly in/out of Heathrow. As an example of this demand, in 2008 Continental purchased four 'slots' (the rights for a daily landing and takeoff) for £105 million (at the time, equivalent to $209 million, ie, $52 million per slot).
In 2003 it was proposed by the UK government that a third runway be added to the existing two at Heathrow. (As a historical aside, Heathrow at one time had six runways, so it could be argued that an 'increase' up to three runways now isn't really an increase at all.)
Since that time the proposal has been delayed and deferred, with local residents and environmental groups all aggressively opposed to any more flights going to Heathrow (in the case of local residents) or to anywhere at all (environmental groups).
Most recently, the government promised to make a decision on the matter by the end of 2008, but that has been again delayed. Eventually, in late January, the government announced its approval for a third runway, an approval that was narrowly won, with dissent being registered not only by the opposition Conservative party but also by some prominent members of the ruling Labour party too.
It seems curious that the national government of Britain is involved in this process at all (and even more curious that the right wing Conservative party should be opposed to this expansion of private enterprise whereas the left wing Labour party is supporting it). Even though the government has now approved the third runway, this will merely be 'the end of the beginning' rather than 'the beginning of the end' of the process, with an avalanche of ongoing objections and delaying tactics almost guaranteed from the groups opposing the runway.
When would a third runway likely be completed and operational? You might think it to be a fairly simple matter to just quickly grade the underlying surface to make it level, then to asphalt or concrete it, add a few connecting taxi-ways, and - hey presto, almost instant third runway.
Well, if you think that, you'd be spectacularly wrong. Current planning (which assumed a go-ahead in 2008) is for the runway to open in 2020 - a twelve year period, subsequent to government approval (and five years after the runway was first proposed), to complete any preliminary measures and actually install the runway.
With this extra runway, and with an also proposed new (sixth) terminal, Heathrow's capacity would expand to about 115 million passengers a year, up from its present operating level of about 67 million passengers a year, which is in turn considerably more than its designed capacity (although one could argue that if it is handling 67 million passengers, who really cares about a theoretical 'design' capacity).
Update May 10 : The new Conservative/Liberal Democrat coalition government in Britain has announced that it is canceling plans for a third runway at Heathrow. It has also said that it will not allow extra runways at Gatwick or Stansted. It has not announced what it thinks the appropriate alternative solution to London's continuing need for more air capacity.
Growth at London's other airports
Gatwick had sought a second runway (it actually has two runways at present, but they are too close to each other to be used concurrently, so it only has one effective runway) but in the face of local opposition, BAA - the company then owning LHR, LGW and STN - decided to concentrate its growth advocacy on LHR and STN. Now that LGW is up for sale, who knows what its new owners might not seek (and in May 2010 the new British government said it would oppose an extra runway at Gatwick).
Stansted also wishes to add another runway, and says that with a second runway, it would be capable of handling as many - or more - passengers as can Heathrow. At present, however, the airport's ability to get its extra runway approved is far from certain, and even if it were to be approved, the lead times involved in the process could be lengthy.
Plus, with the airport about to be sold, it is possible (unlikely, but possible) its new owners might no longer wish to develop a second runway (and in May 2010 the new British government said it would oppose an extra runway at Stansted).
Luton had mooted plans for a second full-length runway and a new terminal in 2004. These predictably aroused opposition from local and environmental groups, and in 2007 the airport said it had cancelled its plans for any growth in the foreseeable future due to financial reasons.
London City airport can't really add extra runways due to its landlocked (river locked) location, but is seeking permission to increase its annual flight cap up to 120,000 a year, and with some ground facilities expansion, believes it can grow to handle up to 8 million passengers a year by 2030.
Another constraint on growth
It is sometimes easy to forget that the skies are not limitless in size. With current air traffic control technology, and the required separation between planes, the air space over London is close to fully utilized by the present volume of planes already flying in and out of the London airports.
What this means is that all of London's airports can't all expand as they wish, because there'd be no airspace to handle the increased number of flights (at least with present separation guidelines).
An Extra London Airport (or Heathrow Replacement)?
As London has grown, Heathrow has transitioned from being relatively remote and away from dense population areas to now being surrounded by development.
This makes the 'opportunity cost' of Heathrow considerably higher - ie, the land is arguably no longer being used for a 'best use' purpose, and the people around Heathrow are virulently opposed to any further growth at the airport and would love to get rid of it entirely.
The flight paths in/out of Heathrow also require planes to be low over much of central London, extending the noise 'signature' further.
From time to time, plans are mooted for an entirely new airport, not to supplement Heathrow but to replace it. All the other four main airports around London have varying degrees of growth constraint associated with them, and the thinking is to custom build a completely new airport in a less densely populated area.
The first suggestion was way back in 1971, for an airport at Maplin Sands, just north of Southend-on-Sea at the mouth of the Thames. This was actually approved in 1973, but then cancelled in 1974 subsequent to the economic downturn that occurred in 1973/74. Other suggestions have been put forward, although none have progressed as far as the Maplin Sands proposal.
Studies have even suggested that a complete new Heathrow replacement would cost less than merely adding a third runway to Heathrow. If one also factors in the revenue that could be generated by selling the 2,500 acres of prime land currently occupied by Heathrow, it would seem a financial no-brainer to close Heathrow and create a new major airport somewhere else.
Unfortunately (?) no-one wants any airport anywhere close to them, which makes the process of creating a new airport very difficult. And the issues of closing Heathrow are more complex than they first seem - there's a lot of related business infrastructure around Heathrow that would then need to close and move as well. Plus, Heathrow, for all its faults, is very close and convenient to central downtown London, and - by definition - any replacement airport would be considerably further away. This also points to another cost - the cost of developing rail and road links to any new airport.
The new (2008) Mayor of London, Boris Johnson, has expressed support for an alternate to Heathrow, and there is a new feasibility study looking at an airport located on or adjacent to (ie on reclaimed land) the Isle of Sheppey, which is on the south bank of the entrance to the Thames, and about 50 - 55 miles from downtown London.
Will anything happen to this proposal - particularly now that the third runway at Heathrow has been approved? The possible outcome is anyone's guess at this stage, with the only thing certain being that nothing will be certain for many years, and even if a new airport is to be developed, it would likely be 10 - 15 years before it started commercial operations.
A Completely Different 'Expansion' Concept
The environmental lobby in Britain is very strong - much more so than in the US, and they overwhelmingly oppose any type of increase in air traffic, due to what they see as harmful impacts on the environment.
As an alternative concept to another airport, these groups (and others too) have proposed building a high speed rail connection between Heathrow and the main rail lines that run north of London. They say that if a traveler could travel within Britain via high speed rail, this would eliminate the need for many of the shorter connecting flights within Britain, freeing up capacity at Heathrow for more longer international flights.
By way of example, a passenger from, eg, Birmingham would simply take a high speed train direct to Heathrow (probably less than an hour's journey) and then fly on from there, rather than taking a short first flight to Heathrow and then a second flight.
It has been suggested that this could replace some 66,500 domestic flights each year, which is about one third of the additional flights that a third runway at Heathrow would allow.
A connection to the new high speed rail line to the Channel Tunnel might also eliminate some of the shorter flights within Europe.
Britain's Conservative Party has expressed support for connecting Heathrow to the national high speed rail network, so these ideas are not entirely 'blue sky'. But they're also a long way removed from any substantive certainty, and for most of us, the next ten years or more will involve the five airports, much as they currently are today.
Read more in Part 2
More specifics of the five airports, and various comparative tables helping you to understand which may be the best and worst choices for you personally, are offered in the next part of this series - London's Best and Worst Airports and Why.
Related Articles, etc

If so, please donate to keep the website free and fund the addition of more articles like this. Any help is most appreciated - simply click below to securely send a contribution through a credit card and Paypal.