Where to Stay and Eat in Harrison Hot Springs, BC Canada

Limited but sufficient choices

There are only a few hotels and motels in Harrison Hot Springs, as well as some rv parks and campgrounds.
However, for most visitors, even the limited number of choices that do exist are unnecessary because there is only one choice to consider, and that is the Harrison Hot Springs Resort.
Food choices are not overly abundant either. But there are enough choices so that you can go somewhere different for every meal if you should so wish, and probably one or two restaurants you'd feel good about returning to a second time.
Where to Stay in Harrison Hot Springs
Harrison Hot Springs has one four star hotel, a lesser perhaps 3.5 star hotel, an again lesser hotel, and then a string of less notable hotels and motels.
Please understand that even though some of the places you can stay at in Harrison Hot Springs have names that imply to the contrary, the truth is that there are only two places in town where you can enjoy the mineral spring water - Harrison Hot Springs Resort, which limits access to guests only, and the public pool, which is a rather unappealing place to visit.
None of the other accommodation choices have natural hot spring mineral water in their spas or pools.
Being as how the opportunity to enjoy a soak in the hot spring water, is one of the reasons for many people visiting this area, that rather directs such people into choosing to stay at the HHS Resort, no matter what other issues may be associated with the various different accommodation choices.
Harrison Hot Springs Resort - the only choice for most visitors
The 'best' place to stay, for most people, is the Harrison Hot Springs Resort. Not only does this offer the best standard of accommodation, it is also the only place (other than the very unappealing Public Pool) where you can bathe in the hot spring mineral water fed pools.
Due to the importance of the resort, and the wide range of facilities and features it offers, we discuss and review it separately in the next part of this series.
Other Accommodation Choices
If you don't feel the need to experience the mineral pools at the HHS Resort (and, as you'll see in the review of the resort, there are some reasons why they might disappoint you), then a number of other places and styles of accommodation become available to you.
Harrison Beach Hotel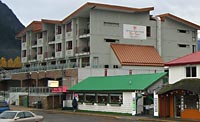 If you want a traditional and good quality hotel style experience, without paying the premium that is usually (but not always - do check out whatever specials might be on offer at the HHS Resort, particularly off-season) associated with staying at the HHS Resort, this is probably your best choice.
The Harrison Beach Hotel is just a couple of hundred yards down The Esplanade from the resort, and offers 42 spacious rooms complete with cooking facilities, giving you a chance to prepare some of your own food if you want a change from eating in restaurants.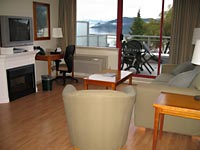 Rooms are clean and reasonably well furnished, with plain color schemes. Some rooms have unusually spacious balconies overlooking the lake.
Rooms include nice extras such as a DVD player and flat screen television, and an artificial fireplace (ie not wood burning).
A pool, spa, and range of exercise equipment are also provided, but note the pool and spa water is regular water, not mineral water from the hot springs. A spa with various treatments and services is also on-site.
The hotel may have special 'snow bird' bargain offers for people choosing to stay a month or longer over the winter season; if you might wish to consider this, ask for availability and rates. With the in-room cooking facilities, this becomes an interesting way for enjoying a very bargain priced extended winter stay.
More information on their website.
Executive Hotel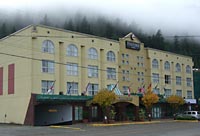 This is the third of the three hotels in town. Inevitably, one of the three hotels is going to be best, and one is going to be, ummm, 'least best', and the Executive Hotel is probably the least best choice for most people.
Formerly known as the Quality Hotel, it is perhaps more a business style of hotel, and is located a block back from the lake, meaning you don't get the same opportunity for nice views from the rooms.
It has 88 rooms, no pool, but some exercise equipment and an on-site spa service. Some people report the rooms can be noisy with sounds coming from adjacent rooms, the hallways, and any function rooms below if you're on the second floor.
There's little reason to choose the Executive Hotel over the Harrison Beach Hotel unless there's a huge differential in rates.
More information on their website.
Motels
None of the motels looked very inviting from the outside, and we didn't carry out site inspections of any of them. They all looked rather tired and dilapidated and in need of a fresh coat of paint and general sprucing up.
Several of the motels are on The Esplanade (the street that fronts onto the lake), and so their units may or may not offer lake views. If a lake view unit is important to you, you should be sure to enquire about and request a view unit when booking.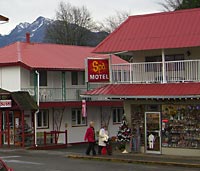 Perhaps the best motel choice might be the Spa Motel.
With 23 units, it is the largest of the local motels, has internet access, air conditioning, and cooking facilities in the units. Note that, although referred to as the spa motel, it has no pool or hot tub or other spa facilities.
More information on their website.
Bed and Breakfast choices
There are a number of B&Bs in the area. One that stands out is the Harrison Heritage House & Kitchen, located a block from the water, with a friendly host (Sonya), and both regular rooms (with private bath) and three self contained cottages on site (which they bizarrely and semi-randomly refer to as 'kottages' - yuck). See website for more details.
Another B&B is The Echoes-Harrison River Retreat. This is an interesting and distinctive choice, not least because access is by boat or float plane. You can't drive there.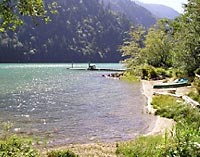 It is a 10 minute boat ride from the marina on the east side of Harrison lake to the property, which is just a little bit down the Harrison river from the lake. This image shows their river frontage and jetty.
The owners will collect you from the marina and return you back there, in their covered and heated jetboat. Alternatively, for a very different type of experience, you could fly in to the property by float plane.
This place offers three free-standing log cabins, hand built by the owners, and developed in an eco-sensitive manner, including self-composting toilets. For someone seeking the ultimate in getaway-from-it-all retreats, nestled in a beautiful natural setting, this would be an interesting choice.
More details on their website.
Where to Eat in Harrison Hot Springs
The good news is that unless you're planning a long stay in the town, you'll not exhaust the limited number of places to eat at. But a fine dining mecca, it is not. However, you'll find some reasonably good food and a range of different food styles available.
You should be warned that most places close early; you'll probably want to be at your restaurant of choice not much after 8pm, and during the busy summer months, it might be advisable to phone ahead for reservations.
The most up-market restaurant in the town is the Copper Room at the Harrison Hot Springs Resort. We review that and the other dining choices at the resort on the next page of this series that discusses the resort in detail.
Ravens at Harrison Beach Hotel
This is a small restaurant attached to the Harrison Beach Hotel (see above), and offers a surprisingly sophisticated menu including duck sausage, venison, and fondue.
Ravens is perhaps the second best of the restaurants in town.
It is open for dinners between Wednesday and Sunday, and main courses are priced between about C$17 - 19.
Crazy Fish Bistro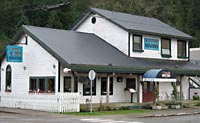 The Crazy Fish Bistro is a couple of blocks from The Esplanade on the main road into town (Hot Springs Rd). It is perhaps the third best restaurant in town, although some might prefer it to Ravens.
It has a greater seating capacity than Ravens, and offers a range of fish and steak meals, including buffalo steak and blackened snapper, as well as an interesting brie and roasted garlic combination. Main courses are priced around C$18 - 27.
Black Forest Restaurant
Located on The Esplanade right next to the Harrison Beach Hotel, and pictured at the top of this page, the Black Forest Restaurant offers mainly German style food, including, inevitably, some sausage and sauerkraut selections, as well as more international foods and local offerings such as salmon (alas, terribly overcooked when I was there). The bratwurst was also a disappointment - they had too much breading in them to be 'genuine'.
Ambience is provided mainly by a few cuckoo clocks on the wall to signify its Black Forest theme. The music playing in the background was not noticeably German at all, and the CD got stuck and kept repeating the same slice of music over and over for almost five minutes until some diners complained.
Service was attentive, and the place was popular, with probably more people dining there on a Sunday evening than anywhere else in town. Food was only average in quality, and was expensive compared to other places in town, with main courses priced between C$18 - 25, and a few items going as high as C$34.
Swiss Gourmet Restaurant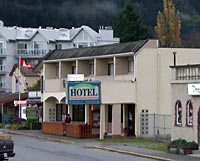 Recommended by some locals, the Swiss Gourmet Restaurant (this is the name of the restaurant, not our opinion of it!) is part of the Hot Spring Villa Hotel on The Esplanade.
It appears to serve dinner only, and closes for the winter months, so we weren't able to visit or form any further opinion of it.
Looking at its menu shows it to serve mainly schnitzel in various forms - I'd been hoping for some fondue and rosti style potatoes. However, if the thought of vaguely Swiss food appeals, and you're there when it is open, it might be worth giving a try.
The Old Settler Pub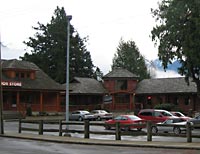 Opposite the Crazy Fish Bistro on the way in to town is The Old Settler Pub. This attractive building, made from logs, has a fairly typical average bar which serves food - breakfast, lunch and dinner - seven days a week.
Typical bar/restaurant type American (and Canadian, of course!) food and snacks are served, with prices ranging between $15 - 25 for main courses. The food is nothing special at all, but the relaxed casualness of the Old Settler Pub makes a great antidote from the pretension of the Copper Room.
Read more in Parts 1, 3 and 4
Related Articles, etc

If so, please donate to keep the website free and fund the addition of more articles like this. Any help is most appreciated - simply click below to securely send a contribution through a credit card and Paypal.