Leavenworth Local Wine Tasting

Stroll and sip around downtown Leavenworth

Leavenworth is closer to the main grape growing parts of Washington state than is Seattle, and also has some local wineries in the immediate vicinity.
That, and the town's successful focus on tourism, has created a locus of opportunity for wineries, with the result being there are a number of excellent wine sampling opportunities, both in the local township itself and in the wineries near by.
If you're visiting Leavenworth (and you should - see our related series about visiting Leavenworth) then a day or afternoon of wine tasting is a great way to add to the range of experiences in this lovely part of Washington.
Wineries and/or Tasting Rooms
If you're wanting to visit wineries on their estates, then you'll want to travel outside of downtown Leavenworth, obviously enough. Click the link for information on the estate based wineries around Leavenworth.
But if you'd prefer to just stroll around beautiful downtown Leavenworth, visiting primarily wine tasting rooms (plus one in-town winery too) then this article provides information on the range of tasting rooms in downtown Leavenworth. These are generally owned by a winery located somewhere else that wishes to introduce the public to its wines.
One of the benefits of visiting a series of tasting rooms in downtown Leavenworth is that you could do this without needing to drive. Walk downtown from your hotel accommodation, then walk between tasting rooms, perhaps stay for some food at one of the many restaurants in Leavenworth, then walk back to your room at the end of a lovely day.
Note that there is also one winery that is actually located in downtown Leavenworth (Bergdorf Cellars), with what looks like a nice tasting room but it is actually the public front to their winery, which is out the back and below the wine tasting room. So you can tour both a winery and tasting rooms, all in an easy stroll along Leavenworth's main street (called Front St).
Self Touring Strategies
There is no need for guided tours complete with transport if you're simply walking around the town, visiting tasting rooms.
There are currently five 'unique' tasting rooms, two tasting rooms that have their wineries nearby, and one winery, all in the downtown area. One more tasting room is currently (June 09) in the process of getting its permissions and approvals and is due to open shortly.
The chances are you won't wish to visit all eight (soon to be nine) venues (update, Sept 2010 - there are now 11 tasting rooms in Leavenworth). We suggest you avoid Bavarian Cellars, and we suggest you do visit both Bergdorf Cellars (which is actually a winery) and the tasting room immediately adjacent which showcases wines from both Pasek Cellars and Willow Crest.
If you wanted to add another tasting room or two (and, after all, you are walking, right?) then Okanogan Estate would probably be our third choice. And then, if you're at Okanogan Estate, well, Ryan Patrick is almost directly opposite, so you may as well try and visit there too.
If four visits (with potentially as many as 33 different wines being offered to you!) aren't enough, well, by all means stroll or stagger some more to visit the other tasting outlets detailed below, too.
Wineries and Tasting Rooms in Leavenworth Township
There are two tasting rooms in Leavenworth which are outlets from the wineries close by : D'Vinery is the tasting room for Eagle Creek, and, more obviously, the Icicle Ridge Winery tasting room is for that winery. If you're planning on visiting the wineries themselves, there's no need to visit their tasting rooms too.
This leaves six other tasting rooms in downtown Leavenworth. Here is information on all of them, in alphabetical order :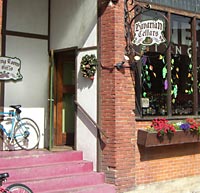 Bavarian Cellars
208 9th Street
First alphabetically, but probably last by most other measures is Bavarian Cellars, the Leavenworth outlet for Maison de Padgett Winery, located in Zillah, WA.
A rather untidy small room down a side street offered tastings for $2, which gave us the chance to taste six or more different wines.
The wines were disappointing, and the red wines distinctively brown, even though the man pouring them told us the bottles were recently opened, and the vintages reasonably recent. We didn't like any of the wines, and found their distinctive labels unappealing as well.
However, it was interesting to taste one of their ports. They have both a coffee and a vanilla infused port - we tried the coffee port infusion. This was very light in color, and had predominantly coffee notes layered on top of a more traditional port base. It was an interesting flavor, but as my brother commented, he thought a sip was great, but a whole glass might be too much.
This is our last choice of wine tasting room in Leavenworth. More information about the winery on their website.
Baroness Cellars
939 Front Street
This is located upstairs on a mezzanine floor in the same building as Bergdorf Cellars. We've not yet visited so can't comment.
More details on their website (which currently seems to be down - or perhaps not yet published and up).
Bella Terrazza Vineyards
837 Front Street
Located in the main block of Leavenworth's main street, and between Taste of Icicle Ridge Winery and Kestrel Vintners. We've not yet visited so can't comment.
More details on their website.
Bergdorf Cellars
939 Front Street
This is both an attractive and spacious wine tasting room and also (behind/below) the actual winery too, right in the downtown heart of Leavenworth.
Bergdorf is a friendly place that offers tastings for $2.50. You will probably be offered six or seven wines to taste, and on the two times we visited, they were doing barrel tastings as well as from regular bottles. Trying a wine direct from the barrel is always fun (but not always a wonderful taste treat - it is more an insight into the evolution of a wine's flavor than it is an opportunity to taste it at its best).
Even though the winery made 3760 cases of wine in 2008 and plans to make 4800 cases in 2009, the Assistant wine maker, Robert, proudly told us that every single bottle of wine passes through his hands almost twelve times during the total production process.
They delight in challenging the conventional, such as putting red wine in clear bottles, and using non-traditional bottle shapes. Definitely a fun place to visit.
More details on their website.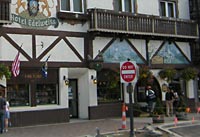 Kestrel Vintners
843 Front Street
This tasting room offers wines from the winery of the same name, located in Prosser, WA.
Looking from outside like just another touristy souvenir shop, inside you find a large wine bar area, plus space where you can sit and drink wine by the glass or bottle. Of course, you pay for this, but if you simply want to taste, the friendly staff invite you to sample away, completely free of charge.
They have up to as many as 15 wines available for tasting, including a lightly oaked Chardonnay that is made from the oldest vines in Washington (they are 38 years old in 2009). A less familiar wine for many might be their Viognier, an intense flavored wine, strong on acid, but with some sweetness too.
More details on their website.
Leavenworth Tasting Room
(Pasek Cellars and Willow Crest)
939-B Front Street
Located immediately next to Bergdorf Cellars is another of our favorite tasting rooms. This one offers wines from two independent but allied wineries, Pasek Cellars, in Mt Vernon in the western part of Washington, and Willow Crest Winery, located in Prosser, WA. Willow Crest grows the grapes for both itself and also for Pasek.
They have an attractive tasting room (yes, that is a giant wooden bear you see directly outside on the sidewalk) with friendly staff inside. Tastings are free, and you can look forward to enjoying perhaps seven different wines, being a mix of wines from both wineries.
Pasek seems to concentrate more on fruit wines, although they have a few regular wines as well. Willow Crest have a more traditional range of wines, and both companies have very fair pricing if you choose to buy any of their product.
More details on the websites for Pasek and Willow Crest.
Monaco's Corner Store
703 Front Street
This is a store full of junky sort of souvenirs and other tourist kitsch, but if you make your way to the back of the store, they sell some wines and beers and on the weekends will sometimes have a wine or two that they are featuring with tastings.
If you're walking past, you may as well walk on in to see if there is anything on offer.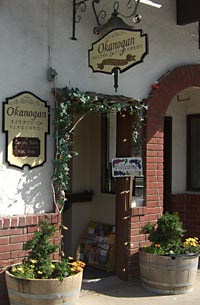 Okanogan Estate and Vineyards
633 Front Street
Located down a steep flight of stairs, and opposite Ryan Patrick is this tasting room, which is a form of cooperative of several wine makers in Oroville, WA, located in the Okanogan Valley just south of the Canadian border.
Their tasting room is worth going down the stairs to reach, and offers two different types of tasting. $3 buys you the chance to taste a selection of five wines, and if you're willing to pay $5, you not only get to taste potentially as many as 12 different wines, but many of them are paired with recommended cheeses or salamis or chocolate.
The wine and food pairings were inspired, and the food item definitely brought out new aspects of each wine. For this reason rather than the chance to get 12 wine tastes, we urge you to choose this option - and if you're like us, you'll probably trim down the range of wines you try to just those that interest you.
One wine of note was an unusually dry and very pleasant 2007 Riesling, quite distinctively different from most other Rieslings commonly encountered.
More details on their website.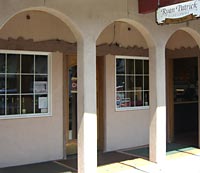 Ryan Patrick Vineyards
636 Front Street
This tasting room represents the winery of the same name, based in Quincy WA, and is named after the winemaker's son.
The smallish tasting room is however clean and neat, and tastings are offered for $2. You'll get about seven tastings in return for your $2.
Most of their wines are reds, including an unusual wine not commonly found in the US - a Barbera, which is an Italian grape. An interesting flavor and distinctively different from the usual orbit of Cab/Merlot/Syrah type flavors.
More details on their website.
Stemilt Creek
220 9th St, Suite K (Obertal Mall)
Another new wine tasting room, just off the main street, and in the Obertal Mall on 9th St. This is an outlet for a small winery in the Wenatchee area, but which doesn't have on-site tasting at the winery.
We've yet to visit, so can't comment further.
More details on their website.
Swakane Winery Tasting Room
725 Front Street
This is another recently opened tasting room. The winery it supports is over in the Wenatchee area (a few miles north of the city), so if you like the experience in the tasting room, it is only a short drive to the winery itself.
We've yet to visit either the tasting room or the winery.
More details on their website.
Food Too
If you'd like to eat during your day of wine tasting (and who doesn't), please refer to our page about Leavenworth restaurants.
Related Articles, etc

If so, please donate to keep the website free and fund the addition of more articles like this. Any help is most appreciated - simply click below to securely send a contribution through a credit card and Paypal.