New Zealand's Wonderful Wines and Wineries

But Still Largely An International Secret

Forty years ago, New Zealand's wine industry was typified by low price generic wine from no-name hybrid grapes and maximum strength 'sherry' (which would be sold in 80 ounce flagons). Wine was grown in three main regions in the North Island and almost nowhere else.
Who would have thought that today New Zealand's classic varietal wines are as good as any in the world, and that brilliant wine is being made throughout the country by literally hundreds of wineries, from the north of the North Island to the south of the South Island.
But New Zealand's wine revolution is largely hidden from the rest of the world, because its boutique wineries are too small to export their products. You have to go, see, and sample, for yourself.
Looking Back - The Amazing Evolution of New Zealand Wine
To me, one of the most remarkable aspects to New Zealand's wonderful wines today is to look at how the industry has progressed.
In the 'old world' (ie Europe) wine making is all about tradition, with the assumption being that the older the winery, the better the wine, and with much to do with the wine making process similarly frozen in time and place.
The old world also sees their total wine production struggling to adapt to declining local demand and consumption.
But at the same time, wine making in the 'new world' has - necessarily - rejected all such constraints and instead is joyously experimenting with new regions to grow grapes, new wine blends and styles, new ways to even brand, bottle, label and market wine. This is not a uniquely NZ phenomenon of course, but is being repeated in many other countries too. However, it is seen in its most extreme and finest form in NZ.
The outcomes as between old world tradition and new world innovation are barely spoken of in the 'old world' but the truth is out there if you search for it. Blind taste tests have upset the supposition that the biggest names (and biggest prices) of the old world wine producers are the unrivaled best in terms of quality, too. They no longer are.
The transformation of wine in NZ has been nothing short of astonishing. It is difficult, but perhaps also irrelevant, to ponder which came first - a more sophisticated and enthusiastic wine drinking population, or better wine. But now NZ has plenty of both.
Forty years ago, there were three or four main wineries in New Zealand. If people wanted good wine, they'd buy an imported bottle of Australian or South African or other wine. No NZ wine was exported.
Flash forward a few decades, and now brilliant wine is being made throughout the country by literally hundreds of winemakers of all sizes from tiny boutique wineries to enormous sized (by NZ standards) operations. And nowadays, if people want good wine, they shun the lower priced imports and choose one of the many premium local wines instead. Furthermore, two out of every three bottles of NZ wine are now exported.
As for the flagons of 'McDonalds Special Extra Strength Sherry' (something which was definitely not special, and very debatable as to if it was deserving of the sherry description or not); although 40 years ago I used to sell it in vast quantities when working in my college holidays at the local liquor store, that has thankfully disappeared entirely (as probably have those who formerly drank it so enthusiastically!).
NZ - the World's Fastest Growing Wine Region
According to this report, New Zealand has increased the land on which it grows grapes by 168% in the period 2000 - 2011. This was massively more than any other country reported on, and at a time when total land for grape growing, world-wide, decreased by 3.5%.
New Zealand also came top in growth terms for the shorter period 2007 - 2011 (a 21% increase compared to a global 2.5% decrease).
The table on page 23 of that report is also very interesting - look at the contrast in wine production between the 'old world' countries such as France, Germany, Spain and Italy - all showing significant decreases between 2000 and 2011, and the growth of 'new world' countries such as Australia, Chile, and Argentina.
NZ doesn't appear in this table because it is not one of the ten largest wine producers (in 2011 it was the 19th largest) but its total wine production is also massively increasing (according to this table, a 15% increase from 2008 - 2011, as compared to a 2.9% increase worldwide).
If you've not had a chance to adequately sample a good range of New Zealand wines, you're missing out on the biggest new thing in the wine world.
NZ Wine - An Unavoidably Well Kept Secret
Unfortunately, the chances are you have not had a chance to adequately try NZ's better wines. Although some New Zealand wine can sometimes be found in some wine stores around the world, there is a problem which prevents its best wines becoming better known.
Put in simplest terms, most of the country's better wineries are way too small to be able to get a significant 'footprint' on the world stage, and the biggest wineries necessarily have to compromise on quality as part of a focus on quantity for their most prolifically produced wines.
In total, NZ produces just under 1% of all wine in the world (235,000 litres/61,000 gallons, or, if you prefer, the equivalent of 313,000 standard sized bottles of wine a year).
Imagine, for example, the problem posed if a large supermarket chain such as, perhaps, the Safeway or Kroger group in the US (1458 and 2460 stores, respectively) were to agree to showcase a premium NZ wine. They'd of course want a minimum of a dozen bottles of the wine per store, and more likely two or three dozen bottles, and if it proved popular, they'd want to be assured of an ongoing supply.
But how many premium winemakers in NZ could supply, say, 5,000 cases (45,000 litres) of one particular vintage of one particular wine to fill a first order? Almost none.
According to these 2013 statistics, NZ has 692 wineries in total, but 609 of the 692 are small, and only 15 are getting close to 'large'.
Even the largest of the 609 small wineries would find that single one order represented a quarter of their total annual production, and of course, their total annual production would be of a mix of different wine styles and bottlings. In other words, a single order of this sort of size would take their entire annual production, and if the wine sold well, they'd be unable to resupply for a year.
That just simply makes no sense for the supermarket chain - or for the winery, either.
This makes it difficult for New Zealand to fully and fairly showcase its best wines. That's not to say you can't find NZ wine - indeed, for a stunning display of the evolution of NZ wine, look at the evolving mix of wine exporting shown in these charts - but the wine you find is primarily mass market wine rather than high quality wine.
There's an interesting related issue. In 2007, New Zealand wine, when sold internationally, got a higher price per liter than wine from any other country, beating even France, and being more than twice as costly as Australia and many other major producers (NZers would say this price loading is a fair reflection of its better quality!). See page 7 of this report for the statistics.
If you want to luxuriate in some of NZ's world-beating wines, the only way to do so is to travel to NZ yourself. But that's hardly the worst thing in the world to need to do, is it!
Where to Find NZ's Wine Growing Regions and Wineries
The good news is that pretty much anywhere you travel in New Zealand, you'll be close to wineries these days.
But there are some clearly distinct regions where most of the winemaking is concentrated, and where specific regional styles and characteristics become factors.
By winery count, rather than by volume of wine produced, here are the main regional groupings (as of Feb 2013). Note that this list sort of goes from the top of the country downwards.
| | |
| --- | --- |
| Region | Winery Count |
| North Island | |
| Northland | 13 |
| Auckland | 119 |
| Waikato & Bay of Plenty | 15 |
| Gisborne | 21 |
| Hawkes Bay | 79 |
| Wairarapa | 65 |
| South Island | |
| Nelson | 38 |
| Marlborough | 145 |
| Canterbury & Waipara | 67 |
| Central Otago | 121 |
These regions are shown geographically here :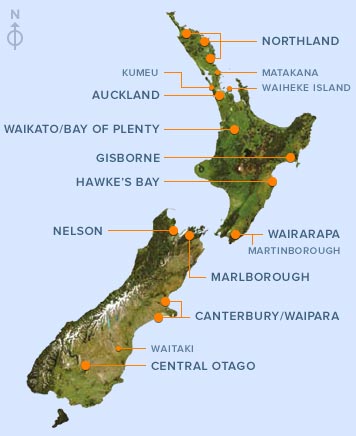 The good news is that one of the more active wine regions - that in the Central Otago region - is close to the lovely town of Queenstown that most visitors choose to include in their NZ itineraries anyway.
But most of the other major wine regions (in particular, Hawke's Bay and Marlborough) are off the traditional international tourist routes, but this is not necessarily a bad thing at all.
If you choose to go to such places, you'll find you're in more quintessentially New Zealand surroundings, with more of a focus on local New Zealanders and their lifestyle, rather than being in regions with lots of other international visitors and going to places that are primarily designed to give foreign tourists whatever it is that the attraction developers think they want.
What are NZ's Best Wine Types
You'll find most people in NZ are reluctant to answer this question, preferring instead to believe that all NZ wine varieties and styles are excellent!
One easier question to answer is what types of wine does NZ produce in largest quantities. In 2008, grapes were grown in the following amounts of land
| | |
| --- | --- |
| Variety | Hectares |
| Sauvignon blanc | 13,988 |
| Chardonnay | 3,881 |
| Pinot noir | 4,650 |
| Merlot | 1,363 |
| Riesling | 917 |
| Cabernet Sauvignon | 516 |
This is interesting from a historical perspective - NZ first made a name for itself with some astonishingly 'big' Cabernet Sauvignon wines, made by revered wine-maker Tom McDonald, in Hawke's Bay, in the 1960s, and produced little white wine at all. But today the situation has totally reversed.
A Suggested Wine Based Itinerary for a NZ Visit
If you're going to New Zealand and wish to combine 'normal' activities with wine tasting, the good news it is totally possible to do both.
You'd probably fly into Auckland, and we'd suggest you then hire a car and drive your way down the North Island - stopping in Rotorua for normal tourist things, then going to Hawke's Bay (go first to Gisborne if time allows) for wine tasting, then spend a night in Martinborough for more wine experiences and on to Wellington.
Take the ferry over to Picton and then head down to Blenheim to spend time luxuriating in the Marlborough region (go first to Nelson if you have more time).
Then drive down to Queenstown for plenty of wonderful things to see and do, including lots of Central Otago wines and wineries to visit.
At the end of your time, fly back to Auckland and back home again.
Shipping Wine Back Home
Remember the curious thing - wine always tastes at least twice as good when tasting it at the winery, compared to when opening a bottle of it back home subsequently!
But if you find some wine you absolutely must have, then most wineries can help you ship it home. Alternatively, there are wine shipping services such as MWT Wine Export that can arrange everything for you.
Summary
New Zealand has evolved to become a wine lover's paradise. But although it has around 700 wineries, only perhaps 3% of these are represented internationally, and their wines are not necessarily the finest the country produces.
If you're curious about why NZ wines are more valuable than French wines internationally, you really should head down to New Zealand and see for yourself.
Related Articles, etc

If so, please donate to keep the website free and fund the addition of more articles like this. Any help is most appreciated - simply click below to securely send a contribution through a credit card and Paypal.