Self-Drive Touring in New Zealand

Driving in New Zealand

Perhaps the most convenient way to enjoy a New Zealand vacation is by renting a car and driving yourself around the country.
When driving in New Zealand, the journey and the beautiful scenery truly is the highlight, reaching your destination is definitely a secondary consideration.
This article tells you what you need to know to plan a self-drive vacation.
A New Zealand Self-Drive Vacation
In some countries you can enjoy a marvelous vacation without needing to hire a car at all. But unless you're going on a fully organized coach tour, you'll find that New Zealand is a country where you are almost forced to hire a car. Many of the places you'll want to see and enjoy can only be reached by car - there is no bus service, and while taxis are possible, the expense of taxi fares and the inconvenience of waiting for taxis make this approach of little appeal to most people.
The good news is that traveling by car in New Zealand is comparatively easy. Roads are of a good quality, they are well signposted making it easy to get around, and traffic is generally orderly, safe, and uncongested.
How Long to Spend on a New Zealand Self-Drive Tour
As discussed in more detail in the article on When to Visit New Zealand and How Long to Stay there is no right or wrong length of time to spend in New Zealand. Most people spend between one and three weeks; but some people spend less when making a brief stop in NZ as part of a multi-destination journey, and other people spend much longer.
You'll enjoy your time in New Zealand, no matter how long you stay, and you'll also wish you could stay longer, again no matter how long you stay.
We will be offering sample itineraries for various lengths of stay in an upcoming extra part of our NZ travel series.
Which Cities to Fly Into and Out From
If you have less time to spend in New Zealand, you'll save time by flying in and out of different cities.
Most international flights fly in and out of Auckland. But flights between Australia and New Zealand fly in and out of Wellington and Christchurch as well as Auckland (and sometimes to other cities too).
Strategy for travel to/from NZ and Australia
If your itinerary includes travel to both New Zealand and Australia, and you have two weeks or less to spend in New Zealand, consider having the New Zealand end of your flight between the two countries be somewhere other than Auckland - Christchurch or Queenstown being the best to places to consider.
This means you can fly in (or out of) Auckland and out of (or in to) the other city, saving the need to double back on yourself to get back to Auckland. This can be both a significant time saving (it is a couple of days of driving to get between Christchurch and Auckland, and three days of driving to get between Queenstown and Auckland) as well as an appreciable cost saving too.
Strategy for travel only to New Zealand
If you want to avoid the doubling back when you're traveling only to New Zealand, and probably arriving/departing from Auckland, you still may be able to do this. Many international airfares can be modified to have you flying in to one city and out of another for little more than a ticket to and from Auckland alone.
Driving Between the North Island and the South Island
There are two ways to get between the North Island and the South Island. You can fly, or you can take a passenger ferry.
Most of the passenger ferries take cars as well as passengers, and some rental car companies allow you to take your car across on the ferry, whereas others require you to swap cars - you return one at the ferry terminal on one island, and pick up another at the ferry terminal on the other island.
Which is best? Swapping cars can actually end up being more convenient, as surprising as this may seem. Especially if you are traveling in the busy summer months (and in particular during NZ's summer school holidays between mid December and the end of January) there can sometimes be long waits for a ferry with available space for cars, and the cost of taking a car across is also a factor. Taking a car will add about NZ$150 to the fare you pay (US$95).
Usually there is little need to book a reservation if you're not taking a car with you, although note there can be discounted fares available if you book your travel in advance.
We have a very complete three page series on taking a ferry between New Zealand's two main islands, and we also have another page that gives you many alternatives - your choices for how to get between New Zealand's two main islands.
Choosing a Rental Car Company in NZ
New Zealand has most of the major international rental car companies, plus a variety of local rental car companies too.
You can comfortably and sensibly choose a local NZ-only rental car company, and will usually find the rates to be lower than those quoted by the major international franchises.
See our pages on renting a car in New Zealand for a detailed coverage of how to find the best rental car for your needs while touring around NZ.
Cost of Petrol and Diesel in New Zealand
Petrol prices are about 50% higher in New Zealand than in the US. Petrol is sold per liter in New Zealand, and if you should see any references to gallons, remember these would be larger Imperial (UK) gallons, not US gallons.
There are 3.8 liters in a US gallon (and 4.5 liters in a UK gallon).
In January 2011 petrol was selling at NZ$1.999 a liter for regular grade (91 octane) and NZ$2.069 for super grade (95 octane). Diesel was massively cheaper at NZ$1.369/liter. These prices equate to US$5.77, US$5.98 and US$3.95 per US gallon. At the same time, US prices for regular grade petrol averaged $3.10/gallon (lowest in the Rocky Mountain region at $2.89, highest in California at $3.35) and diesel was averaging $3.41.
Interestingly, when this article was first written in mid April 2006, there was a much smaller cost differential. Petrol was selling in NZ for about NZ$1.70/liter, which translates to just over US$4/gallon. At the same time, petrol in the US was generally selling for about US$3/gallon. So while petrol is more expensive in NZ, it isn't outrageously more expensive (petrol was US$6.70/gallon in the UK in mid April).
Car or Campervan or Motorhome?
Most people choose to hire a regular motorcar for driving around New Zealand. But you can also choose from various sizes of campervans and motorhomes (sort of similar to an RV in the US).
If you're thinking of a campervan or motorhome, be aware that these are very much smaller than RVs in the US.
While they may be less expensive than renting a car and paying for nightly accommodation in hotels and motels, this is not necessarily a sensible way to save money. They are less convenient to drive, and harder to park, and of course consume a great deal more petrol. And at night, their comfort level and spaciousness leaves a great deal to be desired.
If you are going to rent a campervan or motorhome, you should know that daily hire rates change greatly depending on the season. You can often find very discounted specials for rentals in the winter season, but in the middle of summer, you might find all vehicles are booked out and nothing is available - even when trying to pre-book a month or two prior to travel.
Book early and consider adjusting your travel dates to secure the most favorable rental rate.
One more issue when considering a campervan/motorhome hire. Find out how old your vehicle is likely to be, and carefully consider paying extra to get a newer vehicle. Older campervans/motorhomes are much more likely to give you trouble than are older cars.
Some companies buy brand new vehicles and rent those, then when they get too old for their high standards, they sell them to second level operators who then continue to rent them. In some cases, there are even third level operators who will take the second-level operators hand-me-downs and continue to rent them still further.
Driving on the Other Side of the Road
In New Zealand traffic keeps to the left of the road.
It is surprisingly easy to adjust to driving on the other side of the road, but there are a few tricks and traps to keep in mind.
Please refer to our article about driving on the left side of the road for full details of how to quickly become skilled at this.
Which Direction to Travel
Should you travel from the top of New Zealand in a generally southerly direction? Or should you start your vacation at the bottom of the South Island and head steadily north?
This isn't really a vital issue to resolve, but there are several issues to consider in making this decision which might help tweak your itinerary from 'good' to 'great' :
Air itinerary
Clearly, if your air itinerary has you unavoidably, eg, arriving in Christchurch and leaving from Auckland, your travels will be generally northerly. But it is rare that you can't change your flights to suit your preference.
Strategizing the first day in NZ
Most people, if they are arriving into Auckland early in the morning after many long hours of travel, will not want to then get into a car and spend the next some hours driving.
But if your flight arrives at 6am and your hotel choices don't allow checkin until sometime in the afternoon (and you don't want to pay extra for early checkin) maybe it is better to at least keep on flying down to Christchurch or Queenstown so as to get as much of the travel over and done with at once.
Special events
If there is a special event you're planning on attending - or perhaps an unrelated special event you wish to avoid due to full hotels and local area congestion - this may influence your itinerary planning.
Weather
There's quite a distance from the top of the North Island to the bottom of the South Island, making for quite a difference in daylight and weather at some times of year.
If you're in New Zealand at a time when it is getting steadily colder and the days shorter, you might want to consider starting at the bottom and moving north. On the other hand, if you're in NZ at a time when it is getting steadily warmer and the days longer, you might want to consider traveling from the top down.
Fitting in with other destinations
It makes sense to try and mix and match your varying travel experiences into some sort of pattern. Maybe you prefer to have like following like, or maybe you prefer contrasting experiences. For example, if you're spending some time in Fiji, NZ and Australia, do you want a NZ 'big city' experience to be adjacent to an Australian 'big city' experience, or do you want to mix and match big cities with outdoor and resort style locations?
How Far to Drive in a Day
If you're renting a car and driving yourself around NZ (and this is how most people choose to travel around) then how far is realistic to consider traveling in a single day?
You'll find many maps in NZ with 'estimated traveling times' on them. These estimated traveling times tend to be very conservative - some (but not all) of them were prepared 25 or more years ago, when the speed limit was 50 mph, when roads and cars weren't so good, and they also assume you're making frequent stops each hour as well.
These days the speed limit has increased to 62 mph (100 km/hr), and roads and cars are both better suited for faster motoring.
In terms of actual on the road average speeds, figure on averaging perhaps 50 miles every hour if you like to keep close to the speed limit. If you're a faster driver, you'll probably manage to get 55 - 60 miles behind you each hour.
Fortunately, New Zealand is small and most of the time you'll be choosing to drive only moderate distances each day.
Speed Limits and Speeding Tickets
New Zealand generally sets an open road speed limit of 100 km/hr (62 mph) and a speed limit of 50 km/hr (31 mph) in built up areas.
There are also intermediate speed zones of 70 km/hr and 80 km/hr. Prior to 1986, 80 km/hr (50 mph) was the standard open road speed limit.
Unfortunately there is no increased speed limit for the short stretches of motorway (freeway) in the country.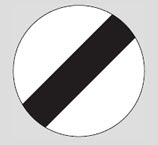 Most speed signs are easily recognizable as such - a black number inside a circle with an outside red band.
There is also one speed limit sign that is less intuitive - you can see it pictured on the left.
This is the 'open road' sign and it denotes the end of any previous speed restrictions or limits, and means the 100 km/hr open road speed limit will apply.
Speeding Enforcement and Fines in New Zealand
New Zealand has fairly aggressive enforcement of its speed limits, and unlike some countries which don't attempt to collect fines from international visitors, NZ quite aggressively seeks payment.
If you leave the country before your speeding fine becomes overdue, you can leave with no problems, but if you choose to return back to New Zealand in the future, expect to have an embarrassing encounter when trying to pass through Immigration. It is best to pay any fines you might accrue.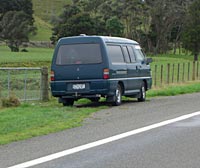 A feature of NZ speed enforcement is a number of unmarked dark vans with tinted windows that have a hidden photo radar camera inside.
Here is one such van pictured, with the camera and radar equipment facing out the back of the van.
These will be parked, all by themselves, by the side of the road somewhere, and you won't even realize they are anything significant until too late. So if you see a dark, tinted window, clean van by the side of the road for no apparent reason, check your speed.
One possible warning might be if oncoming cars flash their headlights at you. This is a common signal in New Zealand to advise drivers that up ahead there is a policeman or radar trap or photo radar van.
Mix Self-drive with Other Travel Options
Your travel doesn't need to be exclusively by car. Of course you'll probably be taking a ferry across Cook Strait between the two islands, and perhaps you might want to take a train as well.
There are the two very pleasant train journeys worth considering. The most popular is the Tranz-Alpine, cross the South Island between Christchurch and Greymouth. This is a 4.5 hour journey, with the train operating one roundtrip a day, from Christchurch in the morning, arriving in Greymouth at lunchtime, and returning back to Christchurch an hour later, getting back early evening.
Another journey to consider is the TranzCoastal, operating between Picton (where the ferry terminal is at the top of the South Island) and Christchurch. This is a five and a quarter hour journey, leaving Christchurch daily in the early morning, arriving in Picton at lunchtime, and returning back to Christchurch 45 minutes later. This train conveniently connects to ferry service and indeed you can check your bags in Wellington or Christchurch and have them transfer between ferry and train in Picton.
The other mode of travel to consider, especially if you have only a little time in New Zealand, is air travel. In addition to the obvious flights between Auckland and Christchurch or Queenstown, another good flight for visitors is between Rotorua and Christchurch or Queenstown.
Self-Drive Itineraries
We are publishing a series of self-drive itineraries to help you plan your self-drive New Zealand vacation. Here is the list of NZ self-drive itineraries for you to choose from.
Related Articles, etc

If so, please donate to keep the website free and fund the addition of more articles like this. Any help is most appreciated - simply click below to securely send a contribution through a credit card and Paypal.