What to See and Do in and around Christchurch

There's a wide variety of fascinating experiences in Christchurch

Christchurch has something to interest and entertain everyone and just about every interest.
Whether you've always wanted to drive an army tank yourself, or perhaps if you'd prefer a leisurely tour by vintage tram; whether you'd prefer to ride a modern helicopter (or balloon) or vintage DC3, there are touring methods and experiences of all kinds.
Aerial gondolas and river punting are two more travel experiences (and did we mention vintage and modern trains too).
If you'd rather something that doesn't involve movement, then there are plenty of such places and activities too.
An Introduction to Christchurch
Please note this is the second part of a two part article focused on Christchurch, New Zealand. Please also visit the first part of this article series to understand how to get to Christchurch, why to visit, for how long, and where to stay.
What to See and Do in Christchurch
Christchurch has a rich variety of things to see and do. Many activities and experiences are conveniently located in the city itself, some provide convenient transportation to and from the city center as part of their package, and if you want to explore the area a bit more on your own, there are plenty of interesting places to drive to as well.
Inner City Christchurch
The inner city has some lovely 19th century stone block buildings, has the beautiful Avon river flowing close to its center, and an interesting English style cathedral in its center.
Christchurch has one casino, located on the north side of the city center.
The center of Christchurch is considered to be its cathedral, open daily. It is possible to climb up its tower if you want a lovely view out over the city.
Cultural Experiences
For the more culturally interested of us, there is the Canterbury Museum, and an extensive Arts Centre (as well as the Christchurch Art Gallery), all very centrally located in the city itself.
There is also an excellent concert hall in the Christchurch Town Hall that features occasional orchestral and other concerts and public performances. The local orchestra is the Christchurch Symphony Orchestra, and New Zealand's national New Zealand Symphony Orchestra also tour regularly to Christchurch.
In addition to strolling around the city on foot, you should also enjoy at least one complete circuit of the restored street car/tram.
Christchurch Tramway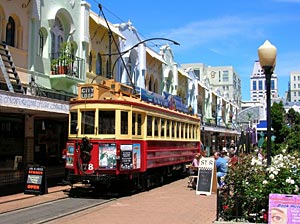 The Christchurch tramway was opened in 1995 and features a fleet of restored vintage trams (some originally from Christchurch, others from Dunedin and even Melbourne, Australia) that provide regular service every day, running around a 1.5 mile loop in the center of the city.
The tram line is currently being extended in two phases, extending the line down to the southeast, and will be substantially longer when these two phases have been completed.
The trams provide a live commentary by the driver, and make 11 stops o their route. A complete circuit takes less than 30 minutes, and tickets are good for as many rides as you like during a two day period.
You can also get discounted combination passes for the tram and gondola or punting.
There is a special dinner tram that provides a surprisingly high quality dining experience while traveling around the tram circuit each evening. Reservations are essential for this, and while the meal is not particularly cheap, it is a memorable and different type of experience and so is recommended.
More details about the Christchurch Tramway can be found on their website.
Punting on the Avon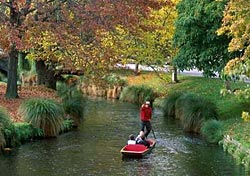 In a manner similar to that offered in Oxford and Cambridge (UK, not NZ) you can enjoy a 30 minute punt along the Avon river in central Christchurch.
Blankets and umbrellas are offered for inclement weather (the punts operate every day), and each punt can typically hold six or more people.
More details on their website.
Christchurch Gondola
The Christchurch gondola ride, opened in 1992, takes you up the Christchurch side of the hill between Christchurch and Lyttleton. The ride terminates at a building at the top (just over 1500 ft high) which offers a free (well, included in the price of the Gondola ride) 'Time Tunnel' ride (a short slow moving audio-visual presentation of some of Christchurch's history) as well as a restaurant, cafe, and (of course) gift shop full of expensive touristy souvenirs. There are also some outdoor walking trails around the area.
The views can be very nice as you go up and from the top, but if it isn't a clear day, of course they won't be so great, so look around you at the weather before deciding to do this or not.
It takes between 5 - 10 minutes to go up (and to come down). If they are busy, they will speed the line up so as to handle more people, making the ride shorter.
If you don't have a car (or even if you do but don't wish to drive) you can get to the Gondola's base station by regular bus or by the Gondola's hourly shuttle service from Cathedral Square. Regular city buses are cheaper, but the journey time is longer, and the shuttle service driver provides some interesting commentary on the route if you choose this option.
More details on their website.
International Antarctic Centre
New Zealand has part of the Antarctic, and Christchurch has been the headquarters for the US Operation Deep Freeze and other Antarctic operations since the International Geophysical Year back in 1957.
Accordingly it is perhaps unsurprising to see an excellent Antarctic center, and in Christchurch. It includes not merely a 3-D movie experience but what it calls a '4-D' experience, complete with the touch, smells, vibrations, movement, and much more that are part of the movie's story.
A range of different exhibits and experiences are provided, making it much more than a stuffy dry non-participative museum.
Although some parts of the exhibits recreate the feeling and temperatures of the Antarctic, don't worry if you don't have warm clothing. They provide warm jackets and overshoes for their 'Snow and Ice' experience.
The attraction is out at the airport, a short walk from the main passenger terminal. If you're not driving, you can take a bus to the airport, or use the Antarctic Center's free shuttle bus service that operates hourly from Cathedral Square.
More details on their website.
Note that the Canterbury Museum also has some interesting artifacts and related items to do with New Zealand's Antarctic connection.
Traveling Out of Christchurch
In addition to enjoying activities within the city of Christchurch itself, if you have a car, there are a number of nearby places that make for a pleasant day's driving out of Christchurch.
In addition, you might also enjoy a return trip on the Tranz-Alpine train up to Haast Pass and over to Greymouth and back again. See our page about train travel in New Zealand for more information on trains.
A Day Out - Akaroa and Lyttleton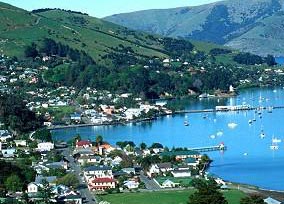 Did you know that New Zealand was nearly claimed by the French? If the timings had been only a very little different, NZ would be speaking French not English.
After some preliminary exploration in 1838, France sent settlers to NZ in 1840. Britain's awareness of France's intentions accelerated its own actions, and resulted in the Treaty of Waitangi being signed on 6 Feb 1840, where the Maori people ceded sovereignty to the Queen, and followed up by Britain claiming of sovereignty over the South Island too on 17 June.
A group of 53 French immigrants arrived in July, and while they were made to feel welcome, a British warship followed them down to Akaroa (pictured above), a small town on the south of Banks Peninsula (the semi-circle of land that sticks out to the east of Christchurch) where they settled under its watchful eye.
Little remains of the town's French origins, but a few of the streets have French names (eg Rue Lavaud) and it is interesting to visit this attractive little town with a fascinating history.
A nice day out would be to combine a visit to Akaroa with a visit to Lyttleton.
Lyttleton is Christchurch's port, and still has lots of buildings that point back to a time when shipping companies and shipping were a much more prominent part of NZ business than they are now. These days the various tramp steamers and passenger ferries that used to ply the New Zealand coast and provide freight and passenger transportation between the North and South Islands have been replaced by huge ugly container ships, while passenger ships have completely disappeared, other than for cruise ships that visit Lyttleton on occasion, particularly in the summer months.
Lyttleton was connected to Christchurch by a 1.2 mile long road tunnel in 1964, and remains to this day the longest road tunnel in NZ. There is also a rail tunnel which opened in 1867 and is 1.6 miles long. This rail tunnel was, when it opened, the first tunnel in the world to go through the side of a volcano, albeit admittedly an extinct one.
If you are traveling to Lyttleton, you might wish to drive through the tunnel in one direction, but you should also consider the scenic route over the top of the hill in at least one direction. There are a couple of routes between Lyttleton and the top (Sumner Rd then Summit Rd, or Governors Bay Rd to Dyers Pass Rd and up to Summit Rd), and essentially only one way down the Christchurch side of the hill (Mount Pleasant Rd), so you might even wish to go over rather than through the hill both ways.
A Day Out - Wine (and a Steam Train too)
It is amazing how New Zealand keeps opening up new wine regions in the country. A few decades ago, wine was grown only around Auckland, with a bit of wine production in Gisborne and Hawkes Bay.
Nowadays, there is scarcely anywhere in the country that doesn't grow grapes and make wine, and usually of a high quality.
The Christchurch area is no exception, with their wine region being the Waipara Valley, about 45 miles drive north from Christchurch around the intersection of state highways 1 and 7. There are approximately 24 wineries in the small region, not all of which are open to the public. More details of the wineries can be found on their regional website.
There is also a delightful restored steam train (the Weka Pass Railway) based there that operates a short restored line on most Sundays and occasionally on other days too.
Other activities
There truly is a wide variety of other things to see and do in and around Christchurch, ranging from an aquarium and kiwi house in Cathedral Square to a chance to fly in a lovely old DC3, from Ghost Walks at night to riding in (and driving, yourself) an army tank - including crushing over a parked car - during the day.
For more information
The official Christchurch tourism website is a good place to visit.
Please see also the first part of this two part article
Please note this is the second part of a two part article focused on Christchurch, New Zealand. Please also visit the first part of this article series to understand how to get to Christchurch, why to visit, for how long, and where to stay.

Related Articles, etc

If so, please donate to keep the website free and fund the addition of more articles like this. Any help is most appreciated - simply click below to securely send a contribution through a credit card and Paypal.