Logitech Alert 750 review (part 3 of 3)

What Happens When Motion is Detected

Who is watching your home and property when you're not there to look after it yourself? Now, with the Logitech Alert system, the answer can be - you (and/or anyone else you designate as well).
This is because the Logitech system sends you alert messages whenever it detects motion. It also allows you to view recorded video clips of previous motion detection events and to watch realtime video of what is happening in your house at the present time.
If your review of the alert indicates a bona fide problem, simply call the police, and then you can even watch realtime as the police arrive and apprehend the intruders. That is surely the best 'reality tv' experience ever!
What Happens When Motion Detected
The preceding two parts of this series describe what the system is, how it can be installed and configured, and similar issues. Now, as a reward for reading through, it is time for the most important part of the entire system and its capabilities - what it does when it detects motion.
Stated simply and shortly, the system will send real-time alert messages to your phone or email anytime the cameras believe they've detected a bona fide movement (based on how you have programmed the cameras to detect significant motion).
You can set up alerts for each camera differently. And each camera can send multiple alerts to multiple phone numbers or email addresses, optionally including snapshots from the alerting camera which may show you instantly what caused the alert.
The snapshots are 640x480 and compressed in detail to make for easier emailing. They are typically about 55kB in size. This resolution is smaller than the video resolution which is a massive 960x720.
Here is a cropped sample image (to fit in the column size) emailed to me from my external camera showing me running across my driveway with my back to the camera. If you click on the image, it will open up the full image in a new window.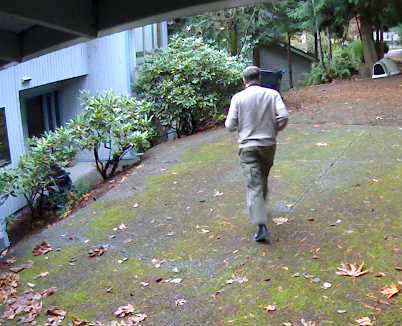 Of course, most of the time, my outside camera would not record the back of people, it would record the front of people as they drive or walk down the drive from the street (this is in the top right of the full photo); and even if they entered my property from a different direction so their back was to the camera, when they exited I'd then get full frontal shots of them.
You'll notice a bit of blurring around my lower leg. The shutter speed is sometimes a bit slow if light is low, and I was actually running at the time.
If you'd like to see the actual video clip this created, you can then view that remotely too (if you have the management feature enabled).
Here it is for the motion event related to the alert image sent to me above. Note that this is not the raw video, which is considerably higher quality and larger size - this is a YouTube compressed version :
Nonetheless, even in this reduced YouTube format, it clearly shows the value of the monitoring system as it tracks me all the way across the field of the camera's view.
Remote Monitoring and Management
One of the wonderful features of the Logitech Alert system is the ability to remotely monitor and manage your cameras, from anywhere in the world, via your phone or via a computer connected to the internet.
You can remotely monitor your cameras for free. Logitech provide free applications you can load onto an iPhone or Android phone, and so any time you wish to check what is happening with any of the cameras in your system, you can remotely monitor them.
For example, if you get an alert message, you can then follow up from the image that was sent with the alert to see exactly what is happening now. Maybe the alert message showed a picture of someone you don't recognize approaching your front door - go and check, realtime, to see the status of the outside and inside of your house.
There is one slight limitation of the remote monitoring. It does not provide the sound, just the video. This is done in an attempt to keep the bandwidth requirement as low as possible - something you'll appreciate when it comes to facing your monthly data charge from your wireless company.
Management as well as Realtime Monitoring
If you wish to be able to not only monitor but also to manage your system, and to get audio as well as video with the realtime monitoring, you need to subscribe to Logitech's annual fee based service ($80/year).
This not only allows you to monitor realtime video complete with audio, but also adds the ability to change camera settings (such as digital zoom and motion detection settings), and to be able to access and play back previously recorded video clips.
You can essentially do anything remotely you could if you were at home. This is amazingly flexible and ideal if you are away from home for several days and need to make a change or simply want to carefully check back and understand what has been happening.
High Definition?
Logitech claim their system to be 'high definition' but concede that the term 'high definition' is not a term with only one clear meaning.
The system is arguably high definition in terms of the raw camera resolution - if unzoomed, you get a 960 x 720 pixel color image from each camera.
But it is not high definition in terms of the frames per second at which video is recorded. True high definition is somewhere from 24 full frames a second of video and upwards. This system has a maximum of 15 frames a second and goes lower than that depending on how much light - the darker the area the camera is recording, the longer the shutter speed per frame taken, and so the slower the frames per second rate becomes, dropping down as low as 4 or 5 fps in the dark.
It is also not high definition in terms of the video bandwidth. The video stream from each camera is compressed down to about 1.3 Mbps for transmission on your local network and recording to your hard drive; it is compressed even more for remote transmission to a web management program and even more for transmission to a mobile phone.
In comparison, regular DVDs (not HD) have about a 6 Mbps video stream, and true HD Blu-ray disks have about 20 - 25 Mbps video streams.
So the video you record is a bit fuzzy and chunky, due to all the compression, and the motion can be a bit blurry and jerky due to being at a low frame rate.
High definition it definitely is not. But adequate/good definition, it equally definitely is, and it is much better quality than that offered by many other security systems. See the above sample videos to get a realistic impression of the quality you can expect, and please remember that these videos have been further compressed and reduced by Youtube. The raw footage stored on your camera and on your computer is better quality.
Recording the Video
Each time the camera detects motion, the camera starts recording and picks up two seconds before actual motion was discovered, so that the recorded video event captures the entire event.
The camera also continues recording five seconds after the motion stops, so you get a minimum of a seven second video clip, and longer than this depending on the duration of the detected motion.
The images don't currently show a time/date overlay like you see with some security systems. Logitech say there is no need for this. The information is stored 'inside' the video file in its meta data, and it is preferable to leave the image itself unaltered and without interference/obscuring which an overlay would of course create.
Privacy Issues
The good news is that you can view your security cameras from anywhere on the internet, anywhere in the world.
But if you can view your security cameras anywhere and at any time, can other people do this too?
Can Logitech themselves access your cameras and act as voyeurs (particularly for any cameras you have filming the interior of your home and active while you're inside yourself)?
The security of your system is as secure as the login and password you create to access your cameras. If you use an insecure password, then if someone can guess at your user ID, they might be able to guess at your password too.
So be sure to use a password that is different to other passwords you use, and which contains both letters and numbers or punctuation signs. See our review of the excellent Roboform password management software for a great way to enable you to have different passwords for every website you need a password for.
As for Logitech eavesdropping on your cameras, I am told by Logitech that their people also need to use the same password access that you would use, so unless they know your password, they can't access your cameras.
The exception to this is a handful of privileged senior developers who have the technical skills and super-user access to the system, but the reality of these few people choosing to spend their day watching your video (out of the tens/hundreds of thousands of systems available) rather than working is very low, and such activity would quickly be detected as an anomaly by Logitech anyway.
The cameras actually are not continually broadcasting to the internet. They only start broadcasting to the internet when they receive a request from you via your remote monitoring or management program to do so, so the smart neighborhood kid couldn't work a way to hack into your internet connection (or your Wi-Fi network) to view the cameras either.
Summary
The Logitech Alert Home Security System is easily installed, easily configured, and easily used. It provides high quality audio and video recordings of 'events' triggered whenever the cameras detect motion in their field of view.
It can send you realtime alerts and pictures of the motion events when they are detected, and allows you to remotely monitor your system from anywhere, on your phone or on your computer.
Affordably priced (list from $300 and less on Amazon
,) and able to grow to as much as a six camera system, the Logitech Alert seems to represent as one of the best home security systems currently available. Recommended.

If so, please donate to keep the website free and fund the addition of more articles like this. Any help is most appreciated - simply click below to securely send a contribution through a credit card and Paypal.