Connectify Internet Sharing Software

A wonderful free program for Windows 7/8/10 computers

You can't beat free. And you can't beat the ease of use and functionality of the Connectify software, even if it was not free.
Using an 'unfinished' part of Windows 7, this software turns any Wi-Fi equipped Windows 7, 8, or 10 computer into an internet sharing device, while not interfering with the rest of the ordinary operation of the computer.
Recommended for all people who travel with more than one device needing an internet connection.
What Connectify Does
Apparently when Microsoft was developing their new Windows 7 operating system they started work on a feature, 'Virtual Wi-Fi' that they ended up leaving unfinished in the inevitable rush to get the product released.
And so the developers behind Connectify managed to identify the functionality that had been already created in the operating system and added the remaining parts, creating the Connectify product as a result. Because it relies on some of the new 'stuff under the hood' of Windows 7, it only works on a Windows 7 or more recent based computer.
Connectify creates a 'virtual' Wi-Fi router within your computer (assuming it has a Wi-Fi card installed of course). It is 'virtual' in the sense of being software rather than hardware based, but it is very real in the sense of working.
It provides full functionality - what is termed an Access Point - rather than the more limited functionality of an 'Ad Hoc' network configuration. And that's about all the buzz words you need to know (and you don't even need to know those) - everything else is incredibly user-friendly and simple.
It also gives you a reasonably secure form of protecting the data you transmit wirelessly - WPA2-Personal (AES) encryption.
This virtual router takes an incoming internet connection - either Wi-Fi or ethernet (wired) and then (re)broadcasts it out again through your computer's Wi-Fi card. It also works with Wi-Fi USB dongles and some but not all 3G USB dongles and (Bluetooth) tethered phones - see below.
At the risk of stating the obvious, although Connectify relies on Windows 7 to work on the host computer, it provides a regular Wi-Fi network that all internet devices can connect to as readily as they can to any other Wi-Fi network.
Using Connectify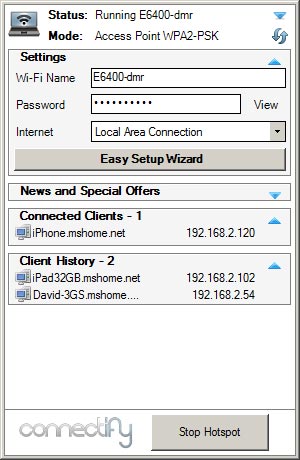 Connectify's main control screen (pictured here) is very simple, and the process of setting it up is equally simple, something you can either do by filling in the gaps or by answering the prompts in the 'Easy Setup Wizard'.
You don't need any knowledge of networking terms of any special skills.
As you can see in this screenshot from my Dell E6400 laptop, the program is currently retransmitting a 'Local Area Connection' (ie wired ethernet connection) with currently one device attached (an iPhone) and in the history, you can see information about two other devices that have also been attached to it (another iPhone and an iPad). In the drop down box, I could as readily choose the Wi-Fi connection instead if I preferred.
If for any reason you ever wanted to stop the program, you'd click the Stop button at the bottom, which then changes to become a Start button for when you want to restart it. Normally, you set the program to start automatically when you boot up your computer, and leave it running in the background all the time without ever thinking about it. It is fully automatic.
Obvious and Other Uses for Connectify
The obvious use for Connectify is to enable multiple Wi-Fi equipped devices to share a single Wi-Fi or ethernet internet connection, whether this be in a hotel room or anywhere else where there's a shortage of connections and too many devices wishing to access them.
Another use for Connectify is simply to extend the range and coverage of your current Wi-fi network. For example, in my house, I've poor signal downstairs - good enough for everything except the iPad to connect to. So I simply run Connectify at home downstairs in my work area on one of the laptops to give myself a Wi-Fi repeater/extender. This makes all the difference to the iPad.
Sharing a 3G/4G Phone Data Service Too
Connectify - in theory - can also share other types of internet connections that are feeding in to your computer. The most common types of other internet connections would typically be from a wireless phone company's data service, either via a plug in wireless data card that accesses the wireless company's data service, or perhaps via a 'tethered' cell phone. These types of connections are discussed in our article on wireless internet data sharing.
A potential problem is that some of these devices include a setting that requests the built-in Windows Internet Connection Sharing (ICS) service in Windows 7 not to share the device and its connection. Connectify is working on providing an alternate way of sharing such devices, but at present, if such a connection includes the 'Do not share me' setting, Connectify could not share it.
Performance Testing
Extensive testing (detailed below) has shown two positive results and no concerns.
Connectify uses very little processing power and doesn't noticeably slow down your laptop (or even underpowered netbook) at all.
I tested it both on a powerful fast Dell E6400 laptop (Intel dual core T9600 @ 2.8 GHz and with 4 GB of memory) and on a slow Acer Aspire 1410 with an Intel Celeron 743 1.3 GHz processor and 2 GB of memory).
Tests of the processing loads, even those imposed on the underpowered Acer netbook showed there to be very little overhead required by the Connectify software. With two devices attached and both involved in network communications, the Connectify processes reported usually between 0% and 3% load, and there was little discernable increase in CPU load from any other processes either.
Of course the Dell laptop barely noticed the impact of the Connectify program at all. It truly does run invisibly in the background without impacting on your regular computing.
Again using the Acer netbook for 'worst case' results, a series of internet bandwidth/latency tests were run, comparing the outcome from directly connecting devices to a Wi-Fi router and alternatively, connecting them first to Connectify and then from Connectify on to the internet (both via the Wi-Fi router and then from the netbook via ethernet).
The internet connection was a Verizon FIOS line specified at 10Mbit/sec download and 2 Mbit/sec upload.
Two sets of tests were done. The first test was using an iPhone 3GS and the Speedtest.net app. This gave consistent but anomalous results in terms of upload speeds which were all much less than expected. However, as can be seen, there was no significant slowdown by connecting via Connectify rather than direct to the Wi-Fi router.
Due to the anomalous upload results, we then repeated using the new FCC bandwidth testing app (itself a bit unreliable). This did not have any anomaly, and showed very similar results - indeed, download and upload speeds were very slightly faster going through Connectify than directly connecting.
Raw Test Results
Each test was done four times to allow for semi-random variations in internet connectivity. The results and averages are shown below.
Bandwidth Tests using iPhone 3GS and Speedtest.net app
Test 1.1 - Direct to Wi-Fi router, no Connectify involvement

Download (Mb/sec)

Upload (Mb/sec)

Latency (msec)

Test 1

9.24

0.42

39

Test 2

9.27

0.36

45

Test 3

9.22

0.20

44

Test 4

9.16

0.46

42

Average

9.22

0.36

43

Test 1.2 - via Connectify, using its Wi-Fi

Test 1

9.17

0.37

37

Test 2

9.16

0.20

45

Test 3

9.07

0.54

38

Test 4

9.32

0.34

47

Average

9.18

0.36

42

Test 1.3 - via Connectify, using its Ethernet

Test 1

9.20

0.15

41

Test 2

8.95

0.57

47

Test 3

9.23

0.17

44

Test 3

9.08

0.82

40

Average

9.12

0.43

43
Bandwidth Tests using iPhone 3GS and FCC Bandwidth Tester App
Test 2.1 - Direct to Wi-Fi router, no Connectify involvement

Download (Mb/sec)

Upload (Mb/sec)

Latency (msec)

Test 1

8.04

1.98

35

Test 2

7.58

2.15

35

Test 3

9.18

2.12

35

Test 4

9.23

2.13

35

Average

8.51

2.10

35

Test 2.2 - via Connectify, using its Wi-Fi

Test 1

8.68

2.09

35

Test 2

7.90

2.15

35

Test 3

9.02

2.15

46

Test 4

8.65

2.13

46

Average

8.56

2.13

41

Test 2.3 - via Connectify, using its Ethernet

Test 1

9.32

2.13

32

Test 2

9.27

2.15

31

Test 3

9.44

2.10

31

Test 3

9.30

2.05

33

Average

9.33

2.11

32
Summary
Although hotels and other places may attempt to charge access fees for each and every individual device that you wish to connect to the internet, there are a number of workarounds to avoid having to pay ridiculous fees for this access.
In the first part of this series, we discussed the general nature of the problem and the underlying issues and solutions to sharing a single internet access point. In the second part we discussed using routers to provide a hardware based internet access sharing solution, and in the third part we discussed using wireless data devices to avoid hotel and other providers and their access charges in general.
And now in this final part we introduce you to a wonderful and free software solution that provides all the functionality you need, as long as you have a Windows 7 (or above) laptop or netbook to run it on.

Related Articles, etc

If so, please donate to keep the website free and fund the addition of more articles like this. Any help is most appreciated - simply click below to securely send a contribution through a credit card and Paypal.