More iPod and iPhone Accessories

Part two of a series showcasing low cost add-ons for your iPhone or iPod

Whether it is something as mundane as a replacement power supply, or an adapter to play your iPod through the car radio, or something more imaginative (for which there is truly no limit) such as the device profiled below to allow you to enjoy your iPod in the bathroom, you've a wonderful range of accessory choices for your Apple iPod or iPhone.
Here are another two add-on accessories are not only helpful for you, they can be great stocking stuffer type gifts to present to other people, offering a good solution to the ever-present problem of 'what do I buy (anyone) for their birthday/anniversary/Christmas/etc?'.
Note that the film shield is available in other shapes and sizes and so can be used with many other small electronic items too, not just the iPod and iPhone.
Invisible Shield Protective Cover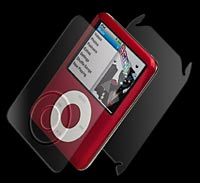 So you've just bought your lovely new iPod or iPhone; you've taken it lovingly out of its presentation packaging, and you resolve to keep it in perfect as new condition.
But almost immediately, you'll be inadvertently scratching the unit, bumping it, and damaging it in a dozen different superficial ways. Maybe you don't care about this, or maybe you decide to get some sort of protective case.
Except that, when you put your unit into a protective case of any nature, you're greatly increasing the unit's bulk and detracting from its stand-alone simple beauty.
Enter the Invisible Shield range of products. These are custom sized and shaped pieces of super-strong clear adhesive plastic which you can place over your device - with common choices being to protect the 'glass' (often plastic) display only, the front only, the back only (who would want to do that?), or the entire thing.
The illustration above shows an iPod Nano, but Invisible Shields are available for over 2000 different units, including not only Apple iPods and iPhones but also most other major personal digital players and phones.
The plastic film is very thin - 0.2mm, which is less than 1/100th of an inch thick. It is also very strong, and claims to be scratch proof. This is very different to other types of plastic shield which seem to be offered on the basis of 'use it until it gets scratched then replace it' (how else to explain products that are, eg, sold in packs of three). While having a sacrificial and replaceable plastic protective shield is good, having a shield that doesn't get scratched is even better.
The film stretches, unlike other mylar type films offered by other companies, making it better able to absorb and resist potential scratching and other damage.
Applying the film to a device seemed complicated (with detailed instructions listing six steps in the process) compared to other types of protective film (which typically come with no instructions at all) but is actually much easier and much better.
I always have problems putting sticky sheets of plastic onto something - I get fingerprints on the film, and I don't get it exactly right, so have to lift it up and re-affix it, and then end up with air bubbles trapped underneath. These problems are brilliantly solved with the Invisible Shield.
The Invisible Shield film comes with a very clever liquid spray which, when applied to the film, temporarily annuls its stickiness. So you spray the film with the liquid, then you can readily place the film exactly as you want it placed, and even slide it around a bit to get it exactly right. The spray also stops fingerprints appearing.
And, as for the air bubbles, because the film isn't yet very sticky, it is easy to squeegee them out. Ah - did someone say squeegee? They even provide a squeegee with the kit.
I tried covering my iPhone with an Invisible Shield. The front sheet went on perfectly, but I had problems getting the back sheet to wrap around the unit and ended up pulling it off and throwing it away.
One tip - if there are any holes to be punched out of the film (for buttons, speakers, etc) make sure to remove these while the film is still on its backing paper. It is much easier to do it then than to do it later.
I played with the unused sheet of film, and duplicated the picture they show on their packaging of a ball point pen stretching but not breaking the film. I also tried to scratch it with no apparent success. This is really tough film.
Prices for Invisible Shields range from about $10 - $25, depending on if you just want a glass shield, a full front shield, or a complete front and back shield. In cases where you have a choice, my suggestion would be the full front shield is your best option, and the entire front and back shield is generally not so good an option (unless you have more patience than me!). Invisible Shields can be purchased direct from the manufacturer's website, which of course has the most complete range of all their products, or doubtless from various other places too.
Their pricing is in line with inferior shield products, but the product is vastly superior. While the other accessories here are optional to varying degrees, this is one accessory you should consider for all your small electronic items - PDAs, phones, MP3 players, computer game devices, GPS units, and who knows what else. There are over 2000 devices that Invisible Shield now has protective film for.
Visit their website
for more details.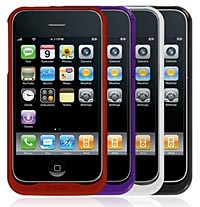 This is a must-have accessory for everyone who has an iPhone 3G or an iPhone 3GS.
As you will surely know if you have one of these phones already, the Achilles heel of the phone is its short battery life. Although the battery life is not a problem when you only use the phone for making and receiving phone calls, if you are going to start to use some of the other features of the phone, it's battery life will reduce dramatically, to the point where it becomes a struggle to go through a complete working day on a single charge.
Fortunately, there is a brilliant solution. This is the Mophie Juice Pack Air. This is a two-part sleeve, into which you fit your phone. The sleeve acts as a external protector/carry case for your phone, but its real purpose is as an additional external battery pack. Within the sleeve is an extra 1200 mAh lithium ion battery that can almost double the life of the battery sealed inside the iPhone itself. It can give you up to another 270 hours of standby time, nine hours of talk time, 5.4 hours of Internet use, 20 hours of listening to music, or six hours of watching video.
The cleverest feature of this external battery pack is a switch. When switched off, the phone runs exclusively on its internal battery; when switched on, the Mophie external battery starts powering and charging the phone. The benefit of this is that you can keep the Moshi battery fully charged and untouched, and only switch it on when you need to recharge the internal battery.
You can charge your iPhone through the Mophie battery pack, and the Mophie pack is clever enough to first of all charge the iPhone, and only when the iPhone is charged will it then start charging itself. Four LEDs on the Mophie juice pack air let you know its own internal battery charge level.
This is a 100% essential accessory that you must get. It comes in a range of colors, retails for about $80, and can usually be found for a bit less, e.g. on Amazon
.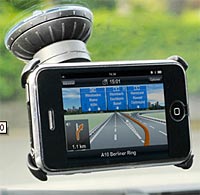 Many of us now use our iPhone as a GPS unit too. Even if we are not using the iPhone as a GPS unit, there are a dozen (in fact, countless more than a dozen!) other uses that the iPhone can be put to while we are in our car.
All of which begs an answer to the question - Where and how do we mount the iPhone while driving?
I've experimented with various sorts of useless mounts. They are all too flimsy, too wobbly, or in some other way just simply not good enough. In addition, it is difficult to find a mount that can securely hold an iPhone both in and out of an external protective carry case (such as the Mophie Juice Pack Air above). One more problem with most of these mounts is that they end up covering the sides of the phone, making it difficult or impossible to access the control buttons.
And now -- drumroll please -- enter the Just Mobile Xtand Go. It is an excellent and complete vehicle mount solution, giving a very stable and secure mount, with a great deal of flexibility in terms of where and how the phone is mounted, either onto the windshield or onto the dash, either vertically or horizontally, and with the phone either in or not in an external carry case.
This is a wonderful piece of industrial design. It solves all the shortcomings that other inadequate amounts suffer from, and while primarily designed for an iPhone, it can also be used with many other handheld devices by using the mounting buttons (three of which are generously supplied with the kit).
At $39.95, and available online at Amazon
and doubtless elsewhere too, it isn't cheap. But it is a wonderful device, that completely addresses all the mounting needs of your iPhone and other handheld mobile devices. Recommended.
And One More Accessory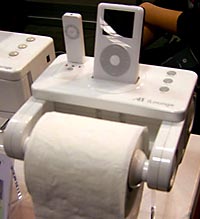 Just to show that there is no limit to the devices one can buy to augment your digital music experience, here is an, ahem, bathroom accessory.
This device - the iCarta iPod Toilet Paper Holder - includes four waterproof speakers, and docking adapters for all models of iPods. Toilet paper not included.
It comes with an AC adapter that plugs into an available nearby power outlet.
Of course, there is actually a small potentially normal use for this - it allows you to listen to your iPod while in the bath or shower, and while you're shaving (men) or putting on makeup (women), etc. When you think about the accessory in that context, it actually offers some more sense than the 'just for yucks' concept of something that plays music while sitting on the 'porcelain throne'.
Which is not to say there isn't a market for throne related music players. In Japan in particular, some toilets have accessories that will play music or make other natural sounds (the wind in the trees, birds singing, etc) to allow more self conscious people to mask the other sounds they may be making in the bathroom. This unit clearly can also be helpful for covering up those sounds, too!
Available from Amazon
for about $60 (it originally listed for $100).
Read more in our MP3 articles series
Related Articles, etc

If so, please donate to keep the website free and fund the addition of more articles like this. Any help is most appreciated - simply click below to securely send a contribution through a credit card and Paypal.