Touring around the Loch Ness region and The Great Glen, Scotland

Part 1 : Where to Stay, What to See/Do, and How to Get There

Scotland's Great Glen (or Glen Mor in Gaelic) is a long valley running northeast/southwest, with a series of linked lakes (or lochs) and dividing Scotland into two parts.
Loch Ness and the area close by is not only the reputed home of Nessie, the Loch Ness monster, but also boasts some wonderful scenery, spectacular castle ruins, mysterious stones, and is close to other key parts of a Scotland itinerary.
Whether you just visit Loch Ness as a day tour from somewhere like Inverness, Beauly or Fort William, or whether you stay close to Loch Ness, possibly at Fort Augustus or Drumnadrochit, you'll find plenty to see, do, and enjoy in the nearby region.
The Loch Ness Region and The Great Glen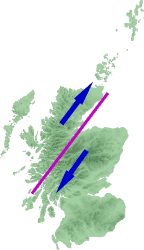 Scotland, as a land mass, can be considered as being in two halves, with what is known as 'The Great Glen' marking the transition.
The Great Glen is a low-lying fault line just over 60 miles in length with a string of long narrow lakes (or, as they are called in Scotland, lochs) running along the fault line. It runs from Fort William in the southwest to Inverness in the northeast.
There are four lochs along the Great Glen. From south to north, they are Loch Lochy, Loch Oich, Loch Ness and Loch Darfour.
Loch Ness is the largest of these.
Due to the glen being relatively flat, it has long been used as a main route for people and freight and has been a key strategic element to fortify, as is shown most notably by the ruins of Urquhart Castle.
Where to Base Yourself to Tour around Loch Ness
Loch Ness itself is a very long and narrow lake (or loch as it is called in Scotland), and runs almost 25 miles from end to end.
At the bottom (south western) end is the small town of Fort Augustus and halfway up is the even smaller town of Drumnadrochit. Both places offer several different accommodation choices.
A bit further north is the city of Inverness, a mere 8 miles past the north eastern end of the loch. Inverness is Scotland's 15th largest city (by population), being slightly bigger than Greenock (part of the Glasgow metroplex) and slightly smaller than Kilmarnock (about 20 miles southwest of Glasgow), and has a population of about 45,000. This contrasts with Fort Augustus (pop 650) and Drumnadrochit (population 820) and so obviously Inverness has the largest range of accommodation choices.
About 13 miles to the north of Drumnadrochit is a lovely little town, Beauly, which would make a good base to spend a night or two in. Beauly (population just under 1000) is well located for traveling around the Loch Ness and Inverness region.
One last location, for the sake of completeness, is Fort William. Fort William is a rather featureless and soulless town, but has a good range of accommodation choices, and has the special attraction of being located at one end of the wonderful train journey between there and the small fishing town of Mallaig; a rail journey made famous in the Harry Potter movies and with service by a glorious restored steam train, the Jacobite, in the summer months.
The best place to base yourself will of course depend on where else you're going to and where you've come from, and what you want to do during your time in this region. But most people will probably be best served by choosing Beauly (rather than Inverness) for a northern base, or Fort Augustus (rather than Fort William) for a southern base.
Specific Accommodation Recommendations
Fort Augustus
If you're staying in Fort Augustus, the best place is the Lovat Arms. This is a lovely family owned and operated hotel, albeit rather self-consciously over focused on being 'eco-conscious'. They have a good restaurant and comfortable rooms.
The Inch Hotel is another good place to stay, and The Caledonian Hotel is one more choice, albeit not quite as nice as the other two.
If you are planning on staying three or more nights, you could also consider the self catering apartments at the former Fort Augustus Abbey for a high quality and distinctive experience. They have an excellent restaurant on-site, too.
Beauly
There are two main hotels in Beauly. Our favorite is the Lovat Arms (no link to the Fort Augustus Lovat Arms, merely the same name - the Lovats being a major clan in the area).
This is a very friendly hotel and if you're lucky, there might be a caleidh scheduled for one of the nights in their bar. This is a traditional Scottish 'party' celebration, where people dance and drink and generally enjoy themselves.
The other main hotel in town, on the other side of the road and otherwise close to the Lovat Arms, is the Priory Hotel. We feel this to be more modern and institutional, compared to the Lovat Arms, but it is still comfortable and acceptable in terms of quality.
Other choices
Just out of Drumnadrochit is the pleasant small Polmaily House Hotel, which offers very family friendly accommodation and activities in their rural environment, and can help arrange horse-riding and fishing in the area.
Another distinctive alternative worth considering is the slightly faded but still grand Glengarry Castle Hotel, located in Invergarry, about 7 miles south of Fort Augustus. This is one of the more reasonably priced stately home/hotel conversions, and is in a beautiful setting on the shores of Loch Oich.
Bunchrew House, half-way between Beauly and Inverness and on the shores of Beauly Firth is another nice place to treat yourself to if you're looking to stay somewhere out of the ordinary. Parts of the building date back to 1505.
How to Get To the Region
You'll almost certainly choose to have a rental car and drive to The Great Glen region, and to drive on again from there to wherever next you travel on to.
Remember that Scotland is not very big, and the roads are seldom congested. Both Fort William in the south and Inverness in the north are only half a day's drive from either Glasgow or Edinburgh.
However, for a change of travel style, you might choose to take a train. Inverness is well served by trains from Edinburgh, and Fort William has four trains a day from Glasgow. With train service between Edinburgh and Glasgow being virtually a commuter service, with trains leaving every 15 minutes and taking about 50 minutes for the journey, it is easy to start or end your travels in either city.
If you take a train to Fort William or Inverness, you'd probably want to arrange for a rental car to be waiting for you at the station for your time traveling around the region.
Inverness also has an airport if you wished to fly in or out.
What to See and Do Around the Great Glen
There are many things to think about for this part of your time in Scotland.
Clearly, a visit to Loch Ness will be an essential feature of your travels.

A boat trip on Loch Ness will give you a much better appreciation of Scotland's largest and deepest loch.

Urquhart Castle on the shores of Loch Ness is deservedly one of Scotland's most popular tourist attractions.

You should visit one but probably not both of the two Loch Ness Monster exhibitions in Drumnadrochit

A leisurely relaxing time in Fort Augustus alongside the staircase locks on the Caledonian Canal is a great way to spend an hour or two.

The Jacobite Steam Train is a wonderful retreat to the earlier age of steam trains and beautiful railway journeys.

The Corrimony cairn and stones and nearby Mony's Stone, the two Clava sites, and the Windhill Standing Stones are just some of the prehistoric mysteries you can see in the area.

Just east of Inverness is the Culloden battlefield, upon which Scotland's last hopes for independence fell (at least until the last decade or two).

Consider walking some or all of the Great Glen Way, a walking travel which travels all the way from Fort William to Inverness, a total distance of 73 miles.

There are of course opportunities to play golf, or to go fishing.

If so, please donate to keep the website free and fund the addition of more articles like this. Any help is most appreciated - simply click below to securely send a contribution through a credit card and Paypal.