The Inner and Outer Hebrides Islands

Whisky, Weaving, Water and more


Click this map image to open up a larger map in a new window
There are three major island groupings around Scotland - to the north, the Shetland and the Orkney Islands, and to the west are the Hebrides, also known as the Western Isles.
In total there are 790 islands, but many are uninhabited, and only few are conveniently reachable by visitors.
The Hebrides or Western Isles
Off Scotland's West Coast are the Hebrides, or Western Isles - very different in culture and atmosphere to those of the northern ones.
A frequent service of ferries plying to and from this patchwork of islands - mainly under the flag of Caledonian MacBrayne (known as Calmac by the locals) make island hopping practical and easy. They offer a variety of mountain and coastal landscapes, and are rich in wildlife, from birds of prey to deer and dolphins.
We'll consider the main islands and island groupings from north to south along Scotland's western coast.
Click this map image to open up a larger map in a new window

The Outer Hebrides -
Lewis, Harris, North Uist, Benbecula, South Uist and Barra

These are the northernmost islands off Scotland's west coast.
Stornaway is the major town in the Outer Hebrides, located much of the way up the Isle of Lewis, on its east coast. Due to the distance, air service exists to Stornaway from Glasgow, Edinburgh and Inverness.
If you have a short amount of time to visit the Outer Hebrides, you might choose to travel across by ferry from Uig on Skye to Tarbert, and then drive north to Stornaway and around Lewis, the largest of the islands, and then return by ferry from Stornaway to Ullapool back on the mainland. The ferry between Uig and Tarbert is a 1 hr 40 min journey, and between Stornaway and Ullapool is a two and three quarter hour journey.
If you have more time, you can consider traveling to the southern islands in the group too, and varying your ferry journeys to suit your more extensive itinerary.
Mull, Iona, and Staffa
Oban, 93 miles north-west of Glasgow, is a compact but bustling port from which the ferries sail off to a dozen or more island destinations. It is a convenient stepping off point for the Isle of Mull.
Many people chose to visit the Isle of Mull, second largest of the Hebridean islands after Skye and a brief 40 minutes by boat. Its 352 square miles contain a population of just 3,000 (Greater London, just under twice the size, packs in seven million!).
Craignure, one of Mull's ferry ports, becomes a brief hive of activity whenever a boat arrives. After a hearty lunch in the stone-built Craignure Inn, you might wish to climb aboard a gleaming steam train of the Mull Railway for the mile-long ride to the baronial-style Torosay Castle and its gardens. In typical island fashion, visitors are welcomed as guests, encouraged to sit on the armchairs and leaf through the family scrap albums.
Mull is one of the best islands from which to see wildlife including sea eagles and otters, whose populations are growing steadily. There are seals, too - and more deer than people - plus over 200 species of birds.
In Scotland, one island often leads to another. At the western extremity of Mull you can see Iona, with its abbey an unmistakable landmark across the sound. As well as the regular crossings to Iona (the journey takes about five minutes, and is only for foot traffic not cars), two ferry companies make the longer journey to Staffa, and you can visit both islands on the same trip.
Staffa's famous sea-cave ('Fingal's Cave') inspired the German composer Felix Mendelssohn to write his "Hebrides" Overture. In fact, it is not so much an island, more a huge lump of volcanic rock rising out of the Atlantic (its name is Norse for Pillar Island). You can carefully edge your way along the basaltic pillars (thankfully there is a rope to cling to) into the mouth of the cave. It was the eerie sound of a rough sea booming and crashing inside the cavern that inspired the composer, though your experience may be different, with perhaps calm sea and glorious sunshine. Chances are you'll see puffins, shags and maybe a shy sea-otter or two.
Visitors are invited to explore Iona on foot (cars are not encouraged) or in style by pony-and-trap, visiting the abbey and ancient chapel where 48 Scottish kings are reputedly buried. It was here that St. Columba and his followers came from Ireland in the 6th century and spread their teachings throughout Scotland and much of Europe.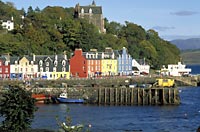 Back on Mull, Tobermory is the main town, its focal point being colour-washed houses strung around a crescent-shaped harbour. The rainbow-coloured town has even become the location for a BBC children's TV series, Balamory. The Tobermory Hotel has a room - like so many on the islands - with a perfect view over the harbor.
Tobermory is the departure point for trips to see dolphins, basking shark and even whales, which come in close to the islands. These are not the only delights of the Hebrides : the air is so pure that lichen grows on the trunks and branches of trees; and the light is so clear it gives a sharpness much sought after by photographers and artists. Many beaches are of soft, white sand and lapped by clear water.
Islay and Jura
The small but friendly nature of Islay is obvious when you drive around the island - all oncoming car drivers will give you a cheery wave.
Islay (pronounced 'Eye-Luh') has two major points of interest. Historically, it was the seat of the powerful 'Lords of the Isles' - the MacDonald clan. The ruins of their main castle of Finlaggan can be visited, and while far less impressive than an English castle, this adds to the interest and mystery of what life was like back many hundreds of years ago. Even less can be seen of another MacDonald castle, Dunyvaig, located opposite the Lagavulin distillery.
Distillery? Did someone say distillery? The other point of interest is more current, although it too has a long history. Whisky. Islay is currently home to seven operating distilleries, and these seven distilleries are renowned throughout the world of whisky drinkers for their very distinctive whisky. They are smokey and peaty, and also have a strong seaweed type aroma, doubtless imbued into the whisky as it lies maturing in barrels close to the water's edge.
A visit to one or two (or three or four....) of the distilleries is definitely something you should include during your stay on Islay. Three are almost immediately adjacent to each other (Laphroig, Lagavulin and Ardbeg), two others are not far from each other (Caol Ila and Bunnahabhain), one is centrally located in the town of Bowmore (Bowmore) and the seventh is by itself (Bruichladdich). They are all no more than 15 - 30 minute drive apart from each other.
Jura is a five minute ferry ride from Islay. It has 'only' one distillery, and is sparsely populated. It is best known for its distinctive hills and for its one-time resident, George Orwell, who came to write "1984".
Getting to Islay and Jura
Ferries travel from the mainland to two ports on Islay - Port Ellen and Port Askaig. It doesn't really matter whether you choose to take the ferry to one or the other destination, because Islay is small, and the chances are you won't actually stay at either port, but instead will stay in Islay's main town of Bowmore.
It is a two hour crossing between Kennacraig on the mainland and Port Askaig, and a similar duration from Port Ellen.
Where to stay on Islay
There are three main hotels on Islay, plus other smaller hotels and guest houses. The three main hotels are :
Harbour Inn - Located in downtown Bowmore, and with a good reputation for food.
Lochside Hotel - Located just around the corner from the Harbour Inn, this is perhaps half a star down in quality, but has a friendly more personal feel to it, and boasts the largest range of malt whiskies of anywhere on Islay in their bar.
Port Charlotte Hotel - A very nice hotel, but located in Port Charlotte rather than Bowmore, so not quite as central to the various things you'll be wanting to see and do on Islay.
Skye
Skye is the largest of the islands off Scotland's coast. Often associated with 'Bonnie Prince Charlie' and the song that recounts his escape to Skye by boat, Skye is now connected by a bridge to the mainland. This was a controversial act, as many of the islanders feared losing their special island identity. They need not have worried - Skye retains its own unique appeal.
Ferries also provide service from Mallaig over to Armadale across the Sound of Sleat. This is a beautiful and short 30 minute crossing.
The main town on Skye is Portree.
Getting to and around the Western Isles of the Hebrides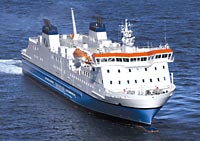 Ferry schedules are seasonal, with the most frequent services being operated in the summer (ie April - October), and some ferries not operating at all in the winter.
Most West Coast ferry services are run by Caledonian MacBrayne. You can buy individual tickets, and they also offer Island Rover passes. These give you the run of the 22 islands they serve for eight (or 15) days. 2004 prices range from £47.50 (£69) per person to £228 (£341) per car; bicycles travel free. Fares will increase by 2.5% on 25 March, 2005.
The island of Skye is now connected to the mainland by a toll bridge.
Smaller Ferry Services in the Hebrides
There is a small passenger only ferry with seasonal service between Portree on the Isle of Skye and Gairloch (not very far from Ullapool) on the mainland (a 90 minute journey).
There is a small car and passenger ferry that travels every 20 minutes or so the short distance between Gourock and Dunoon. This is a bit west of Glasgow.
There is a small car and passenger ferry that offers service every 30 minutes or so between Islay and Jura.
For more information
More information on The Hebrides is available from their visitor information website.
Read more in Part 1
Related Articles, etc

If so, please donate to keep the website free and fund the addition of more articles like this. Any help is most appreciated - simply click below to securely send a contribution through a credit card and Paypal.