Scotland's Islands and Highlands Tour
A comprehensive expedition type tour around seven islands in Scotland's Inner and Outer Hebrides plus time in the heart of the Highlands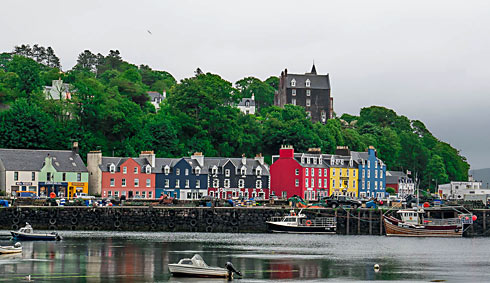 Enjoy 11 days of touring the islands (and some of the mainland too) of Scotland, with visits to small uninhabited isles (Fingal's Cave on Staffa) as well as to the largest of the islands (Lewis/Harris and Skye) and some of the remotest (again, Lewis and Harris).
We also include visits to the famously distinctive whisky distilleries on Islay, to ancient mysterious stone circles, castles, and in between coaching and ferry rides, we have time for what is regarded as the world's finest railway journey on a vintage restored steam train too.
Of course you can add anything extra you like before and/or after the main tour activities, so you've everything you need for a wonderful, varied and complete 2018 vacation.
Tour Dates (2018)
We are offering three tour departures in 2018.
Tour starts in Glasgow, Monday, 12.30pm
2 July
16 July
30 July
Tour ends in Inverness, Edinburgh or Glasgow, Thursday afternoon
12 July
26 July
9 Aug
Optional pre tours available on both Saturday (to Stirling, Falkirk, and overnighting in New Lanark) and/or Sunday (to Culcreuch Castle for the night)
Optional post tour available in Edinburgh (and Rosslyn Chapel tour)

The tour starts at 12.30pm Monday at the Glasgow Railway Station. We recommend you should arrive in Britain - and ideally Glasgow - no later than the day before (ie Sunday).
If you're starting your travels in the US, you'll probably take an overnight flight on Saturday (or sooner - see our pre-tour options), to arrive into Britain on Sunday (or sooner).
The tour ends on Thursday when we arrive first into Edinburgh at about 4.15pm and then subsequently Glasgow at about 5.45pm (sometimes people also wish to leave in Inverness, late morning, on our way down from Ullapool, that is not a problem either). You can then either return directly home, enjoy our post tour options, or add your own arrangements as it suits you.
If you're traveling immediately back to the US, you might choose to spend a night either in your choice of Edinburgh or Glasgow or in the city you'll be flying out of, on the Thursday night, and plan to fly home on Friday. You can also consider taking a late afternoon/early evening train onwards on the Thursday.
You'll arrive back in the US at much the same time and on the same day as when you leave Britain.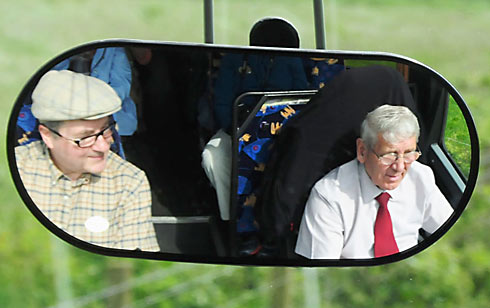 Tour Inclusions
On the Coach
Large luxury coach (38 seater if 25 or fewer group members, 49 seater if 26-30 members) so there's always an average of at least 1.5 seats per person, giving you best views and comfort while touring

Bottled water always available for purchase at modest price

On-board rest-room, reclinable seats, plenty of space for luggage and carry-ons

Small group, to avoid the crowded impersonal feeling

Ultra-experienced coach-captain Jim Morrison plus David Rowell ('The Travel Insider' himself) as dedicated tour leader

Copious commentary while touring

Several feature presentations on aspects of Scotland, its history, culture, and even some careful discussion about Scotland's current politics
Where We Stay
One night stay in Campbeltown on the mainland

Two night stay in Bowmore on the Isle of Islay

One night stay in Oban on the mainland

Two night stay in Tobermory on the Isle of Mull

Two night stay in Fort William on the mainland

Two night stay in Stornoway on the Isle of Lewis in the Outer Hebrides
Meals
Cooked Scottish style breakfasts every morning (usually offering such delicacies as porridge, haggis and black pudding in addition to all the usual items)

Feature welcome dinner and drinks on the first night in Campbeltown

Farewell dinner and drinks on the last night in Stornoway
What and Where We Visit
Area touring every day

Ten different ferry rides through beautiful island vistas

Five different islands in the Inner Hebrides and two different islands in the Outer Hebrides

Ride on the Jacobite Steam Train between Ft William and Mallaig

Tastings and Tours of two of the famous Islay whisky distilleries plus visit for lunch at a third

Day tour to the holy Isle of Iona and to Staffa, site of Fingal's Cave (made famous by Mendelssohn)

Visits to Eilean Donan, Duart, Dunvegan and Urquhart Castles

Visit to the Loch Ness Visitor Center and Monster Exhibition

Cruise on Loch Ness

Visits to several stone circles and other ancient mysterious structures

Assorted photo stops at amazing locations
Tour Cost
Because this tour is with a small group, and because it has a substantial fixed cost (ie coach and driver/guide), the cost per person significantly varies based on the total number of people joining.
Rather than choose a price and either make an undue profit (or loss) depending on the number who participate, we're setting the price on a variable scale, depending on the total number who sign up.
$3395 if the group size is 14 - 16 people

$3295 if the group size is 17 - 19 people


$3195 if the group size is 20 - 23 people


$3095 if the group size is 24 - 27 people

$2995 if the group size is 28 or more people
Rates are per person, share twin. We'll let you know as/when the group size grows and the price per person falls.
A single supplement of $525 is available. We will also help to match together singles if you'd like to share with a compatible fellow single traveler.
These prices reflect a 3% discount for cash/check.
A $500 per person non-refundable deposit is required to confirm your places on this tour.
Tour does not include the costs of travel to and from the tour start and end points.
A Note about the Hotels
The small towns we are staying in do not have large five star hotels. They have smaller hotels, and in some cases even a group as small as ours will be filling the entire hotel, or will need to be split over two hotels in a town.
The hotels are not generic faceless chain hotels. They are standard class hotels, often full of unique individuality and character, and are probably converted buildings rather than custom designed as hotels to start with. They are generally rated at three stars. But they are the best that are sensibly available in the places we have chosen, and while the rooms may be small, they are clean and reasonably comfortable, and all rooms have their own private bathroom.
The hotels are full of character, and even the bad parts - such as they may be - will hopefully add to the island experiences.
We make these comments not to apologize for bad hotels, because none of them are bad, but simply to explain about where we'll be staying and what to expect. I've stayed at nearly all of them myself and used them on previous tours, and been happy in all cases. If you, for example, look on TripAdvisor, you'll see that these hotels (and the ones we don't use as well) tend to get a wild swing of reviews from five out of five down to one out of five - we feel that the reason for this is whether people have a realistic expectation and a positive attitude or not.
For example, if you treat the staff politely and in a friendly manner, they will be polite and friendly back, but if you treat them rudely, they'll probably be rude back to you! So our interpretation is that the number of stars given by each reviewer is as much a reflection on the reviewer as it is on the place stayed at.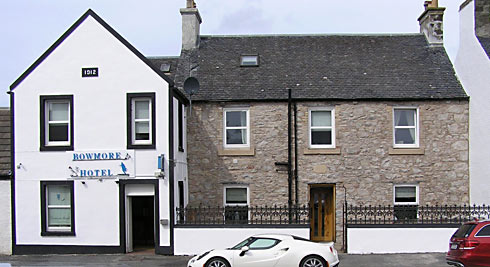 Tour Upgrades
Some (but not all) of the hotels have upgraded rooms available for an extra price.
Upgraded rooms may be larger than standard rooms, may have a higher standard of fittings and furniture and amenities, sometimes have a bath as well as shower, and may have better views.
We offer two upgrade options - one is to upgrade from the standard hotel rooms to the next category of rooms (where available), and the second upgrade is to upgrade, where available, up two categories of rooms in the hotels.
To upgrade from standard to the first level of superior category where available would be about an extra $350 per person (share twin)
To upgrade from standard to the second level of superior category where available would be about an extra $500 per person (share twin).
What about the Air Fare?
You will save money and gain flexible convenience if you arrange your own air travel. These days airlines seldom give discounts to groups, and sometimes even charge more, while also adding extra restrictions to the tickets!
You can choose whichever carrier has the best fare and the best schedules for you, and you can also choose a carrier that you wish to earn miles with. You can even cash in miles and fly on frequent flier awards.
We'll be pleased to answer any questions you might have about arranging your air transportation, of course.
Where in Britain Should I Fly To?
The obvious choice would be to fly in to Glasgow and out of Edinburgh or Glasgow (if you're not adding extra time and places in Britain before or after the tour). Both airports are nice and small, with easy and relatively fast progress through Immigration upon arrival, and easy checkin/departures on the way out.
On the other hand, many people will choose to fly to London, because there are the most flights to London (either Gatwick or Heathrow airport is fine to choose).
It is a quick and very pleasant 4.5 - 5 hour train journey from London to Glasgow and from Edinburgh (or again Glasgow) back to London, with no need to change trains on the way.
And, if you prefer - perhaps because you can get a special low airfare, or maybe because you're trying to cash in frequent flier miles - you can of course fly to any other airport in Britain. Indeed, just about all other airports are closer to Scotland than is London! We'll help arrange trains so that you get to Glasgow by 12.30pm on the Monday to join the group.
Joining and Leaving the Tour
Joining the tour is simple and straightforward - please be at the Glasgow Central Railway station (note there are several railway stations in Glasgow) by 12.30pm on the Monday the tour starts.
As for leaving the tour, you can of course leave at any time and any place.
On the final day, once we return to Ullapool (a remote place and not somewhere you'd likely want to leave the group at!) you can get off the coach anywhere on its route via Inverness (we stop at their main railway station) and Pitlochry and down to Edinburgh (we stop at the main Waverley Railway station) and on to Glasgow (we stop at Glasgow Central station, the same place we started the journey).
The two most convenient places though are likely to be either Edinburgh or Glasgow, with a third option possibly being Inverness (if you wanted to, eg, then collect a rental car and drive around some more of the Scottish Highlands yourself).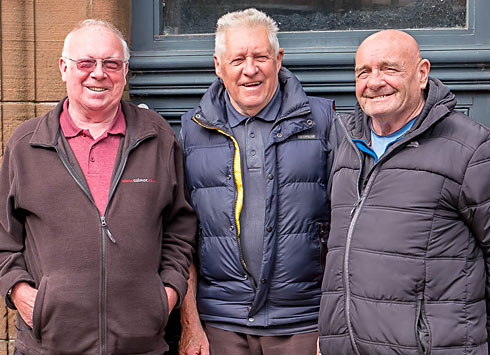 How to Extend or Vary this Tour
There are many ways you can extend or vary this tour, and to help you, we have selected two pre-tour and one post-tour options (click the link for full details).
You can spend more time in Britain before the start of this tour, and/or anywhere else (eg in Europe) too. We recommend that you arrive into Britain (or anywhere else in Europe) a day or more before the Monday tour start, so as to give you a chance to unwind from the flights and at least partially pre-adjust to the time zone changes and jet lag.
During the tour, all of the day touring is of course optional and you can substitute your own activities if you prefer.
After the tour (or after the tour options), you can spend more time in Scotland, or travel on anywhere else in Britain and/or Europe.
So, you have many choices about adding extra time and sightseeing. We're here to help ensure your experience is as good as possible, and will be pleased to help you with your pre or post tour planning - please don't hesitate to ask.
Travel Insurance
We recommend you should consider travel insurance as prudent protection.
For more information about travel insurance than you probably ever thought you'd want to know, you can read our three part series on the subject.
Need More Information?
If you've a question or need more clarification, go ahead and ask. Please send us an email, or feel free to call us at (206)337-2317.
Tour Terms and Conditions
Our standard terms and conditions apply to this tour.
In addition, please note these extra terms :
1. Your non-refundable deposit is required within seven days of your participation being confirmed. Full payment of the balance is due on or before 6/20 April/4 May 2018.
2. US citizens require a current passport that will not expire for at least six months after the date of their planned return back to the US in order to be admitted to Britain. They do not require a British visa. Citizens of other countries should check with the airline that will transport them to Britain to determine what passport and visa requirements may apply.
3. Tour price is subject to change prior to full payment being received and is based on a UK/US exchange rate in the wholesale range between 1.275 and 1.325 (as shown, eg, in Yahoo Finance/Money - on 11 July 2017 the rate was 1.285). If the exchange rate moves outside this range, and prior to full payment having been received by you, we will adjust the price up or down to reflect the change in underlying tour costs. If the tour price increases by more than 10%, you may cancel without penalty and receive a full refund of your deposit. Tour price is locked in place once full payment has been received.
4. Triple share rates may be available. Ask for a quote if this is required.
5. There's plenty of room in the coach's luggage bays for as much luggage as you choose to bring. But most hotels will not provide porterage and some may have you on an upper floor with no elevator, so you'll find it easier if you try and limit yourself to one main suitcase and one smaller item per person.