Christmas Markets Land Cruise - December 2018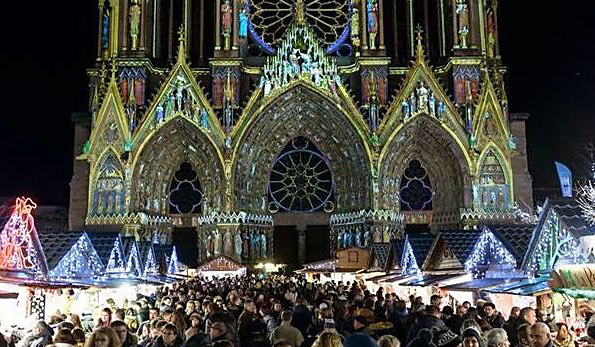 The Reims Christmas Market at night, with Reims Cathedral providing a stunning backdrop.
All the best features of a river cruise - with none of the downsides.
Here's a great way to experience the delight of Europe's Christmas markets, without being limited to only those close to the Rhine and Danube rivers.
Just like on a river cruise, you only need to unpack once, but into a first class hotel room rather than a small cruise ship cabin.
Just like on a river cruise, your time can be filled with included activities at no extra cost, but you're also free to take it easy, and do things at your own speed as you wish. You never have to be back before the ship sails - the hotel isn't going anywhere!
We take advantage of the wonderful concentration of beautiful villages, towns and cities in Northern France and Belgium, so each day you can travel on our luxury 'coach cruiser' to a different selection of stops, before returning back to your hotel in centrally located Lille for dinner each evening.
We arrange the tour to be as convenient as possible, and if you could only do part of it, we can customize your participation to allow you to join and leave at the times that are best for you. You don't have to worry about how to meet the boat or getting into a port late - our hotel isn't going anywhere.
A generous amount of free time, an avoidance of such awful things as mandatory group meals at set dining times, plus a small size group of well traveled fellow Travel Insiders means you don't feel like a prisoner in a traditional coach tour, either. Instead, you're enjoying a special experience with new friends.
The tour is personally escorted by me - David Rowell, the Travel Insider. Consider me your cruise director - I'm there to help you any way and any time I can. We also have local guides to introduce us to the sights and scenes we'll experience and enjoy on our daily regional touring.
Click to skip down to the booking form
Tour Dates
Start Date and Options
If you choose to join us at the formal start of our cruise tour, then you should arrive into Lille on Sunday 9 December, 2018.
If you're traveling from North America, you'll probably take an overnight flight which means you arrive into France the day after your flight takes off from your home airport. So you'd want to leave home at least one day before the tour starts. We recommend arriving a day or more early to give you some 'emergency time' and a day or so to relax after the long international flight.
There are also optional touring possibilities before the main 'cruise' - see the next section, below.
End Date and Options
Our one week cruise/tour ends on the morning of Sunday 16 December. At this point you could return home, or extend on with our post-tour option, also explained immediately below.
You are of course welcome to stay on in Europe in general as you wish.
Pre and Post Optional Extensions
You can fly into Europe at any time, of course, and to return home at any time, too.
Similarly you don't need to limit yourself to simply flying in and out of Lille. Due to Lille's central nature and excellent mainline high speed rail connections, it is easy to get there from most other places in western Europe.
We also offer a special post-tour group extension to enhance your overall tour experience.
Suggested Free-Form Pre-Cruise Options - Either London or Paris for one, two or more nights
If you'd like to spend a few extra days before the start of our cruise tour, why not do so in London or Paris. Lille is only 90 minutes from London by Eurostar train, and 70 minutes by train from Paris.
This would give you a chance to visit a major capital city as well as our time in smaller towns around northern France and Belgium (and, if you wished, to do some big city Christmas gift shopping, too).
Talking about capital cities, you could also consider spending time in Brussels (a mere 40 minutes away) or even Amsterdam (about 3 hours).
These various suggestions are 'free form' meaning you can do whatever you wish on your own itinerary. We are happy to help you with arrangements if needed, of course.
Suggested Group Post-Cruise Extension - Luxembourg, Germany and Switzerland Too (even Lichtenstein as a bonus if you wish!)
We have arranged a post-tour chance for you to add greatly to the totality of your experience and the places you visit, adding three or four extra countries to the total tour.
On Sunday after checking out of our Lille hotel, we travel first to Luxembourg and then on to Metz (back in France) where we stay overnight.
On Monday 17th, we travel into Germany for the day (visiting the lovely town of Freiburg and its Christmas markets), and then end our day in Zurich, Switzerland.
On Tuesday 18th, we have a full day in Zurich. If you wish to, you could do a one day visit to Lichtenstein, adding a sixth (or possibly seventh) country to your tour.
On Wednesday 19th, this option ends and you can then either fly home from Zurich or continue your travels any way you wish.
This is offered as a coordinated tour extension by us. Full details are on our itinerary page.
Special Savings
Why not bring a friend or two with you, for more shared fun and fellowship.
To encourage you to do this, and your friends to travel with you, we'll offer a 1% discount for each extra person you bring with you (other than anyone you are sharing your room with to start with).
Bring another couple, and they get a 2% discount - and you get the same 2% discount too! Bring two couples and all of you get a 4% discount, and so on (up to a maximum of ten people and 10%).
Singles Save Too!
Typically river cruises either force singles into tiny rooms on the lowest deck or charge up to twice the regular rate for singles in normal cabins.
Travel Insider tours always have a large number of singles - our groups are friendly, inclusive, and welcoming, making them ideal for singles as well as couples and larger groups.
We do our best to make our tours not only as friendly as possible, but also affordable and fair for singles, too. We'll give you the same good room couples get, and have managed to talk down the single supplement to a mere 20% loading - $499.
About the Cruise/Tour
Like a traditional cruise on a ship, you'll spend the full week at a single hotel, so you unpack once and can get comfortable, with none of the hassle of a regular coach tour and the need to regularly pack and unpack, and checking in and out of hotels.
Like a traditional cruise, we visit towns around our region, traveling each day to selected destinations by luxury coach (of course with restroom on board).
Unlike a traditional cruise, we don't include all meals. Yes, you get breakfasts every morning, and we have a first night and last night group dining experience in Lille.
The good news is the rest of the time you are free to enjoy whatever types of varied dining experiences you wish, rather than endure meal after meal after meal on the same cruise ship. Lunchtimes will usually be in the various towns we visit around northern France and Belgium, giving you different choices and regional styles every day. Instead of being limited to the one restaurant on the ship, and the several menu choices offered each meal, you've an entire large city full of choices.
Dinner times will see us in the cosmopolitan city of Lille, with its wonderful variety of restaurants of all styles and levels for you to choose from, including three Michelin starred establishments.
Small Group Size
We are limiting the size of the group to no more than 19 participants.
This keeps the coach nice and unfilled, it keeps a good ratio of guides to passengers (and we use radios for commentary off the coach), and gives us a great group size - big enough to be interesting, but not too large as to be impersonal.
Detailed Day by Day Itinerary
Tour Inclusions

We've balanced the opposing concepts of including lots of activities and also allowing you free flexible time on this cruise/tour.

Perhaps the most distinctive thing about this experience is that because we always return back to Lille every evening, you can vary your own activities any way you like because you'll never get left behind, as happens on a cruise or regular coach tour that travels between various different overnight stays.

We're also reasonably flexible about adding to or varying the tour 'real time' as we are traveling. As long as the group as a whole agrees and the schedule allows, we're happy to make changes to enhance the experience for all group members.
Accordingly, while including accommodation every night, breakfasts and two dinners, touring and sightseeing, we've left plenty of time open for you to choose exactly the experiences, meals, and other activities you personally wish.
Everything is optional, so if you want to spend a lazy day strolling around one of the lovely towns we stay in rather than an active day out and about sightseeing, that is of course totally possible. It is all up to you.
Some of what the tour includes comprises
On the Coach
Large luxury coach so there's always an average of at least 1.5 seats per person, giving you best views and comfort while touring

Bottled water available for purchase at modest price

On-board rest-room, reclinable seats, plenty of space for carry-ons and purchases

David Rowell (the 'Travel Insider' himself) as 'cruise director' (ie tour leader)

Local specialist guides
Where we visit
Lille - Our central base for the tour, home to many excellent restaurants and one of the most popular Christmas markets in all of France. Festooned in Flemish-Renaissance architecture.

Saint-Omer - Dating to the 7th century, starting point of the Aa river's canal, has Vauban fortifications and a history of many battles.

Calais - One of the traditional ports for ferries to/from England, now largely superseded by the Channel Tunnel. Home to a famous Rodin statue and a World Heritage listed belfry.

Dunkirk - An unforgettable site, with its fame renewed by the 2017 movie of the same name, and with two entries on the list of World Heritage sites.

Reims - In the heart of the Champagne district of France. Need we say more? For centuries the kings of France were crowned in its glorious cathedral, now a World Heritage site.

Saint-Quentin - Dating back to Roman times, and more recently famous for its Art Deco buildings.

Ypres - Also known as Ieper, the site of some of WW1's most tragic battles such as Passchendaele, and notable for being where poison gas was first used. Has a World Heritage listed belfry.

Bruges - Perhaps the most beautiful town in all of Belgium, and deservedly a World Heritage Site. Like several other cities, is sometimes called the 'Venice of the North'.

Ghent - Not as well known as Bruges, but still a jewel of a city built along the banks of two rivers. Still shows evidence of when it was one of the largest and richest cities in all of northern Europe, with 50,000 people living in it in 1300. An inland port and, like so many of our destinations, also a World Heritage site.

Lens - First a market town, then a mining town, and now a museum town, having the 'out of Paris' extension of the Louvre Museum based in its town center.

Bethune - An amazing town square with a mixture of post WW1 Art Deco and earlier Flemish architecture justify this town's World Heritage designation.

Amiens - Set in the Somme region, this town claims to have the largest Christmas market in the north of France. Canals, a Gothic cathedral and medieval belfry complete the beatiful scenes in this town, also a World Heritage site.

Arras - Its "Grand Place" (town square) has been described as being unrivaled in all of Europe for its Flemish Baroque architecture, and its Vauban fortifications qualify it for World Heritage listing and its belfry for a second World Heritage listing.

Plus a free day to go anywhere you wish - London, Paris, Brussels, Antwerp, etc
Food and Drink inclusions
Breakfasts every morning are included

Welcome cocktails the first night

A group welcome dinner on the second night to accelerate the getting to know each other process, with a drink or two also included

A Champagne tasting in Reims in the heart of the Champagne region

Group farewell dinner - a sad experience for sure, but we try to make it as convivial as possible, and, yes, of course there'll again be a drink or two on offer
Of perhaps equal importance in understanding the distinctive and special nature of this tour is not just what the tour includes, but also what it omits.
What the tour proudly does NOT include!
NO Early starts

NO Crowded coaches (maximum group size 24 people)

NO Characterless hotels on the outskirts of cities

NO Checking in and out of multiple hotels

NO Series of long days of endless travel on a bus

NO Huge groups being rushed through tourist trap after tourist trap

NO 'Shopping opportunities' at over-priced trashy souvenir shops

NO Group meals, at fixed times, with limited fixed menus, in generic cafeterias

NO Regimented inflexible schedules and mandatory events

NO Obnoxious inexperienced 'out of their depth' first time travelers

NO Crowded schedules leaving no flexible free time
Our 'Ship' (Hotel)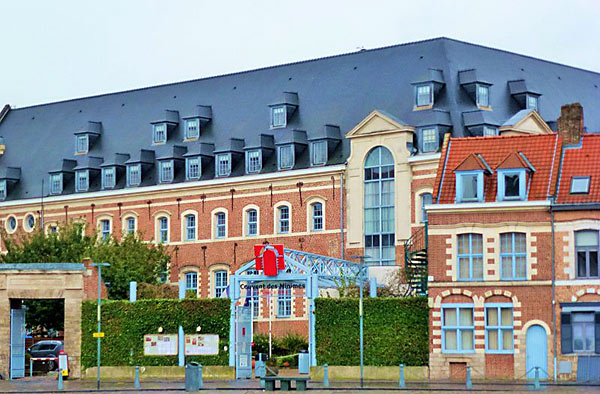 The Hotel Couvent des Minimes in central Lille - our 'ship' for our seven day 'cruise'.
Just like a regular river cruise on a smaller sized vessel with about 80 cabins, we've carefully chosen a smaller boutique hotel, which offers a similar feeling of personalization and friendliness, where we as guests are much more closely linked to the hotel staff.
But unlike a river cruise ship, where newer is generally synonymous with 'better', we have chosen a hotel that is steeped in history and character, while still having a high quality modern interior to ensure we enjoy all modern services, comforts and conveniences.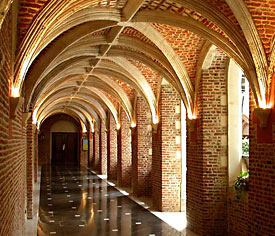 The Couvent des Minimes (Minim Convent - the earlier monastery/convent of the Minim Order) is a listed historical building in the heart of Lille, and regarded as an excellent example of 17th century Belgian/Flemish architecture (Belgium is less than 10 miles from Lille).
The Minim Order was founded in the 15th century and placed great value on humility and a simple lifestyle. At one point they operated the brewery that these days, and now unrelated to the order, is well known as the Paulaner Brewery in Germany and takes its name from the order's founder, St Francis of Paola.
The hotel restored the building's cloisters (pictured, above) and rear garden in 1990, adding greatly to its ambience, and also allowing for its own freshly grown produce to be included in its restaurant.
The main reception and public area is the building's former internal courtyard, and is now protected under a huge Verriere - a large open area with a glass roof, and very rarely found in northern France.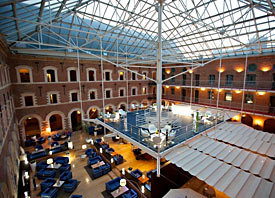 Adding to the distinctiveness of this public area is a suspended bar/lounge platform that floats above the open public area (pictured, left).
The hotel is less than 200 yds from the Bois de Boulogne, a 125 acre parkland that includes the Lille Zoo and the historic Lille Citadel, built over 340 years ago, and one of the best examples of the famous string of citadels designed by Louis Vauban, now designated as World Heritage sites.
A branch of the Deule river and canal runs right to the front of the hotel.
Ten minutes walk takes you to the heart of the city - Vieux Lille and/or the Grand Place.
In summary, our hotel has a unique character and history, and fronts to a quiet street and branch of the river/canal. It is peaceful and relaxing, while being close to the center of the city.
Cabin (Room) Choices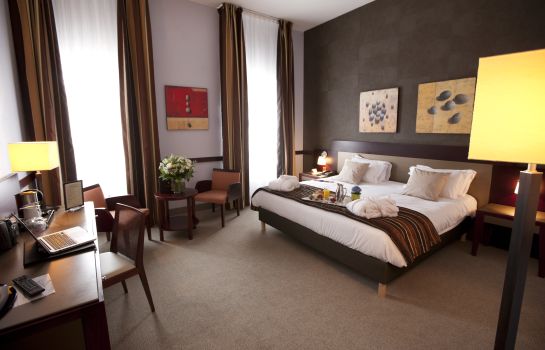 A superior room at the Couvent des Minimes Hotel in Lille
The regular category of 'cabin' (ie hotel room).

Part of one of the enormous suites.

Just like a regular cruise, we offer you a choice of three different 'cabin' types. We call them cabins, staterooms, and suites.

The regular 'cabin' type room is still roomier than a cruise ship cabin. It is 215 sq ft in size, and of course has windows and private facilities, and a choice of two twin beds or one double bed. See image on the left.

If you wish to upgrade to a more spacious 'stateroom' you get a larger 269 sq ft stateroom (image above).

And if you wish to go to the 'suite' you get a huge 431 sq ft suite. This is shown in the second image on the left.
Tour Cost
Just like a cruise, we offer this tour to you with a choice of three 'cabin types'.
Tour Price
$2395 in regular rooms

Add $299 to upgrade to a superior stateroom (ie $2794)

Add a further $449 to upgrade to a deluxe suite (ie $3243)
Rates are per person, share twin.
A single supplement of $499 is available (add $74 for superior upgrades and a further $112 for deluxe upgrades).
We will also help to match together singles if you'd like to share with a compatible fellow single traveler.
No Hidden Extras
There are no extra charges for 'port fees'.
While you are free to tip our coach driver and occasional guides as you might wish, there are no envelopes passed around at the end of the tour and 'recommended' tips that you are asked/expected to pay.
Other Price Comments
All these prices reflect a 3% discount for cash/check.
A $500 per person non-refundable deposit is required to confirm your place on this tour.
Tour does not include the costs of travel to and from the tour start and end points, or anything not specified as included.
Why Tour in Winter?
Ha - tricked you. Early December is not yet winter - it is still late fall. But, in any event, there are two good reasons to enjoy this experience at this off-season time of year.
The first reason is simply because it is the off-season. The crowds of people aren't as crushingly overpowering as they are in the busy season. When we visit the famous sites in the region, we'll not be squeezed and squashed in with the teeming groups of people who visit in the summer.
It will be easier to get straight in to attractions, to find tables in restaurants, and to relax and enjoy the towns with fewer foreigners and more locals, making for a much more pleasant ambience and realistic experience.
The second reason is to experience the Christmas markets. Because of the strong Christian tradition in the towns we visit, Christmas is viewed more seriously to start with, and the Christmas markets are a delightful celebration of our shared Judeo-Christian and European heritage.
Yes, the weather is cold, but nothing that several layers of warm clothes can't combat, and our many previous Christmas Market tours at this time of year have generally been blessed with good weather (ie usually no rain, very little snow and not uncomfortably cold).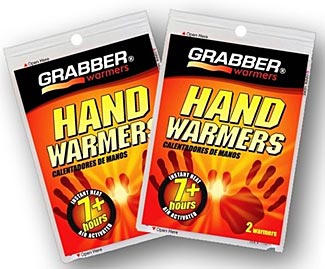 Just in case it does get cold, and as yet another Travel Insider bonus, we provide some free handwarmers for you, too!
For the time we visit, Lille reports an average high in the mid/high 40s and an average nightly low a little below 40°. Snow is exceedingly rare. So while the weather will be cool, it certainly shouldn't be bitterly cold. Weather has never interfered with our enjoyment of previous Christmas Markets tours.
What about the Air Fare?
You will save money and gain flexible convenience if you arrange your own air travel. These days airlines seldom give discounts to groups, and sometimes even charge more, while also adding extra restrictions to the tickets!
You can choose whichever carrier has the best fare and the best schedules for you, and you can also choose your preferred carrier that you wish to earn miles with. You can even cash in miles and fly on frequent flier awards.
We'll be pleased to answer any questions you might have about arranging your air transportation, of course.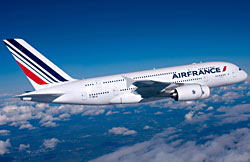 Where Should I Fly To and From?
Lille is a wonderful destination, giving you more options for how to get there than most other places, and lots of choices for things to do and places to visit before and after our land cruise.
It is a major rail hub, and is the central point of the Eurostar services, and also on the main route from Belgium and Holland to Paris.
You could fly into Lille airport (city code LIL), or you could fly to perhaps London or Paris or Brussels or Amsterdam and spend some time there before then enjoying a lovely fast and comfortable train ride on to Lille.
Note that most airlines allow you to fly into one city and out of another, so for your flight back home, if you take the optional extension to Zurich there is no need to return back to whichever city you flew into before flying home. Simply book your return flights from Zurich.
How to Extend or Vary this Tour
There are many ways you can extend or vary this tour (the main tour itinerary page is here).
You can spend more time in Europe before the start of this tour, and/or anywhere else (eg in Britain) too. We recommend that you arrive a day or more before you join the tour, so as to give yourself a chance to relax after the flights and at least partially pre-adjust to the time zone changes and jet lag.
During the tour, all of the day touring is of course optional and you can substitute your own activities if you prefer.
After the tour, you can spend more time in Europe - either on our arranged optional extension, or travel on anywhere else in Europe and/or Britain on your own.
So, you have many choices for adding extra time and sightseeing. We're here to help ensure your experience is as good as possible, and will be pleased to help you with your pre or post tour planning - please don't hesitate to ask.
Travel Insurance
We recommend you should consider travel insurance as prudent protection. Rather than attempt to sell you some policy ourselves that may or may not suit your needs, we recommend you go to this insurance shopping site, which offers comparisons between something like 100 different policies offered by 18 different insurers, giving you all the options you need.
For more information about travel insurance than you probably ever thought you'd want to know, please click the link to read our three part series on the subject.
Need More Information?
If you've a question or need more clarification, go ahead and ask. Feel free to send us an email, or call us at (206)337-2317.
As soon as your application is accepted, you will be asked to send in your $500 deposit within seven days.
Tour Terms and Conditions
Our standard terms and conditions apply to this tour.
In addition, please note these extra terms :
1. Deposit is required within seven days of your participation being confirmed. Full payment is due on or before Friday 7 September, 2018.
2. US, Canadian, and many other citizens require a current passport that will not expire until after the date of their planned return from the UK in order to be admitted to the UK, but do not require a visa. Citizens of other countries should check with the airline that will transport them to the UK to determine what passport and visa requirements may apply.
3. Tour price is based on a wholesale Euro/USD exchange rate in the range of 1.14 - 1.19 (as shown, eg, in Yahoo Finance/Money - on Thursday 6 September it is showing a rate of 1.16. If the exchange rate moves outside this range, and prior to full payment having been received by you, we will adjust the price up or down to reflect the change in underlying tour costs. We will advise you if the exchange rate is materially changing and you can always lock in the price by sending in early full payment.