Danube Christmas Markets Cruise 2017
A magical European Christmas cruise experience with a special difference this year
Special Discounts to Travel Insiders :

Save $750 per person off published rate!
Save extra for past Amawaterways passengers
Plus Travel Insider exclusives - Cocktail Reception, Free Gift and Free Vienna Concert
Special Single Rates Too!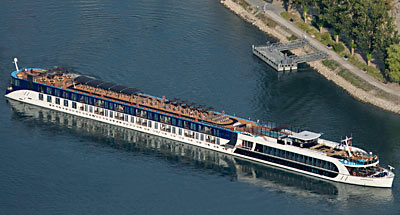 Join a small group of 'Travel Insiders' and share the enjoyment of a very different style of vacation on a custom built luxury river boat.
Glide by picture postcard scenes during the magic of the pre-Christmas season in Germany, Austria, Hungary, and optionally Slovakia and the Czech Republic too.
Maybe you've cruised on a gigantic cruise ship before. Our Christmas Markets river cruise is very different. The nearly new river super-cruiser, Amacerto, (launched in 2012) has only 82 cabins, making for a much more personal and less institutional experience.
The river cruise itinerary is also very different to a traditional ocean cruise. You never have rough seas, and you're always treated to beautiful views out your cabin window, never just empty ocean.
Click to skip down to the booking form
Cruise Dates
Start Date and Options
You should leave the US on or before Sunday 10 December 2017, so as to arrive into Budapest on or before Monday 11 December. You board the ship on Monday afternoon.
Many people choose to arrive a day before the start of the cruise. This means if you - or your luggage - should miss a connecting flight, or if anything else goes wrong, you still have a day up your sleeve before the start of the cruise.
It also gives you a day to 'de-jetlag' before the cruise gets underway.
We are offering a pre-cruise option in Budapest - leave the US on or before Saturday 9 December to arrive into Budapest on or before Sunday 10 December and enjoy one or more nights in Budapest, including an out-of-town tour on Monday. More details in the next section.
End Date and Options
The cruise ends in Nuremberg in Germany on the morning of Monday 18 December.
At this point you're free to either fly home or to extend your vacation as you wish. In most cases, if you fly home that day, you will arrive back in the US the same day. You've still seven days to finish any Christmas shopping!
We are also offering a post-cruise optional extension, see immediately below.
Pre and Post Cruise Optional Extensions
You are welcome to fly into Europe any time you wish, of course, and to return home at any time, too. Similarly you don't need to limit yourself to simply flying in to Budapest and out of Nuremberg, or any of various other airport choices.
We also offer Travel Insider exclusive extensions to enhance your overall tour experience. Most people choose to take advantage of these, and everyone who does agrees it adds greatly to their overall European Christmas experience.
Pre-Cruise Option - Budapest for one, two or more nights
We are offering you the chance to spend one or more nights in Budapest prior to joining the ship on Monday afternoon, 11 December.
This is a very sensible option. Murphy's Law, seasonal weather interruptions in airline service, beating the jet lag, and the various other occasional challenges with international travel all make it very sensible to give yourself some safety margin and arrive into Budapest at least a day before joining the cruise.
Our pre-cruise option gives you an extra experience, taking you out of Budapest and seeing some more in the region.
If you are staying for one night, we offer a tour on Monday to the charming and impressive towns of the Danube bend region (Szentendre, Visegrad and Esztergom), ending up with you boarding the ship late Monday afternoon in time for the start of the cruise experience that night.
If you are staying for two nights, we offer a tour on Sunday to Bratislava, capital of adjacent Slovakia. (Note that although our cruise sails through Bratislava, it is at night and we don't stop.)
Most people will choose to stay two nights (ie leave the US on Friday 8 Dec and arrive on Saturday 9 Dec), although you can of course stay any length of time you wish, and there's plenty to do, both in Budapest and via day tours out of town, to fill in additional days.
A two night stay gives you the day you arrive, a full day for touring around the city or to join us on the day tour to Bratislava, and then the day we board the ship, spent touring around the Danube Bend before returning back to board the ship in the mid/late afternoon.
Full details on the itinerary page.
Post-Cruise Option - Bayreuth, Karlovy Vary, Holasovice, Cesky Krumlov and Prague; two, three or more nights
Our most popular optional extension with our Christmas Market cruises is always Prague. This year we are offering a bigger and better Prague extension than ever before, including both of the two 'must see' other places in the Czech Republic that normally we can't find the time to offer.
On Monday 18th, we disembark the ship and then drive up to Bayreuth, the hallowed site of Richard Wagner's Festspielhaus, plus another opera house so spectacular that it is a World Heritage site. We then cross the border into the Czech Republic and travel to glorious Karlovy Vary where we spend a night in their wonderful Grand Hotel Pupp.
On Tuesday we go to three more World Heritage sites. First, to the Holasovice Historic Village, then to the medieval Cesky Krumlov, before continuing on to Prague, where we suggest you stay at least two nights.
We include accommodation at our official Travel Insider hotel in the absolute heart of historic Prague, literally just around the corner from the main Christmas Markets and Clock Tower Square, in a quiet little courtyard reeking of hundreds of years of history.
On Wednesday we have a half day Prague tour, and that evening a a feature dinner in one of our favorite traditional Czech cellar restaurants, serving great traditional Czech food, also right in the heart of Prague (5 minutes walk from the hotel).
You could leave, perhaps to return home or to continue your travels, on Thursday 21 December (or on Wednesday, or stay longer).
Full details on the itinerary page.
Special Savings
Bring a friend or two with you, for more shared fun. To encourage you to do this, and your friends to travel with you, we'll offer a 1% discount for each extra person you bring with you (other than anyone you are sharing your room with to start with).
Bring another couple, and they get a 2% discount and you get a 2% discount too; bring two couples and all of you get a 4% discount, and so on (up to a maximum of ten people and 10%).
Singles Save Too!
Typically river cruises either force singles into tiny rooms on the lowest deckGreat news if you're choosing to travel alone. Amawaterways have agreed to zero out the single supplement for you! No more 50% extra charge.
Note - so as not to 'double dip' and get a discount on top of a discount, singles pay the regular per person rate, not the discounted per person rate. But this is still a huge saving for you!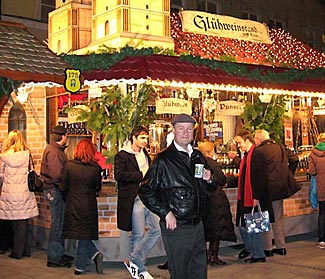 David in front of a Christmas market gluhwein stall in Munich
About the Cruise/Tour
Like a traditional cruise, this is a fully meal inclusive cruise, and - better than a traditional cruise - it includes a generous amount of shore touring as well. You won't have to pay extra for your shore touring when visiting the lovely towns and cities as you cruise through Germany, Austria and Hungary.
The cruise of course includes three great meals a day, plus various other snacks, on-board entertainment most evenings, as well as generous opportunities to sightsee, both from the boat as it cruises the river, and while ashore during the many stops. You typically have time to both participate in a provided tour and also to sightsee and shop on your own.
Indeed, the shopping is part of the experience on this tour, as you visit various local craft Christmas markets in the different towns and cities. You'll be able to buy distinctive gifts for all your friends and family this year! And while all meals are available on the vessel, you'll also be able to experience other dining opportunities ashore if you wish.
A nice extra feature is free wine, beer or soda with every lunch and dinner (and sparkling wine to have with the smoked salmon and other breakfast dishes each morning too!). If you wish to drink more wine, you'll be delighted at the bargain prices that wine sells for ashore.
Unlimited 24/7 free gourmet espresso is also offered.
While all meals are available on the vessel, you'll also be able to experience other dining opportunities ashore if you wish. Similarly, the on-board entertainment can be supplemented with visits to clubs and bars and shows ashore - the vessel will sometimes stay in port until late at night, allowing you a chance to experience each town by day and by night.
Because the ship carries a maximum of 158 passengers, everything is more personal. The crew will remember you by name, and you have a chance to meet other people on board and to create new friendships. Most people on these cruises seem to be variously middle aged and older.
I have done the exact same cruise, as well as similar Christmas cruises ten times before and almost always with Amawaterways. I have been consistently impressed with Amawaterways in general, their ships and their crews; and feel this to be undoubtedly the best value, best itinerary, and overall best experience for Christmas cruises in 2016.
It isn't only me who feels this way. Amawaterways recently had their ships take all top ten places in the 2016 Berlitz 310 European river ship evaluation/ranking.
More general information about river cruising in Europe can be found here.
A day by day, town by town photo journal of a similar Christmas Cruise we took in a previous year can be found here.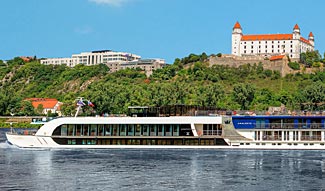 The Amacerto, sailing through Bratislava.
Why River Cruising
River cruising is simply and absolutely the most comfortable and convenient way to travel around Europe. You can unpack your bags and get comfortable in your lovely cabin and not need to repack or transfer until the end of the cruise - this in itself is probably all the convincing you'll need!
In addition, European towns have historically tended to be centered around the major rivers, and so river cruising is a great way to get to the lovely historic parts of Europe, at a sedate speed, and in luxurious comfort.
How else could you travel around Europe? On a bus tour? Yuck! By train or car - yes, but then you have an abundance of travel hassles every day.
I've experienced every possible type of travel, and I'm a 100% convert. River cruising is the best way to see Europe. Try it, and you'll be sure to agree.
Why Cruise in Winter?
Ha - tricked you. Early December is not yet winter - it is still late fall. But, in any event, there are two good reasons to enjoy this cruise at this off-season time of year.
The first reason is simply because it is the off-season. The crowds of people aren't as crushingly overpowering as they are in the busy season. For example, at the glorious abbey in Melk, during the summer there are tours departing every two minutes! When we visit, we'll probably be the only group visiting and so our guides can slow down and show us more things and not rush to squeeze us in between the group immediately before and after. And instead of 20 cruise ships mooring in (and overwhelming) the small town, we may be the only one, or perhaps there might be one other.
The second reason is to experience the Christmas markets. Because of the strong Christian tradition in the towns we visit, Christmas is viewed more seriously to start with, and the Christmas markets are a delightful celebration of our shared Judeo-Christian and European heritage.
Yes, the weather is cold, but nothing that several layers of warm clothes can't combat, and our eight previous Christmas Market cruises have generally been blessed with good weather (ie usually no rain, very little snow and not uncomfortably cold).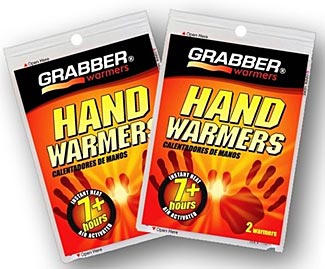 Just in case it does get cold, and as yet another Travel Insider bonus, we provide some free handwarmers for you, too!
I heartily recommend this cruise, and at this time of year. I've loved it the ten times I've done it, and the 275 Travel Insider readers who've accompanied me have been similarly charmed by it.
Try it for yourself - you'll be delighted you did.
About the Amacerto
Our cruise ship for this cruise, the Amacerto, is relatively new (it was built in 2012), and has been been custom designed to meet the special needs of the Danube, enabling it to operate in less favorable conditions than many of the other boats (ie when the water levels are 'too high' or 'too low').
The boat is what we call a 'super cruiser'. For a long time, construction techniques and limitations restricted river cruisers to a maximum of about 350' in length, but now, new state of the art design has enabled longer ships, and this ship is 443' long. This extra space has been used not just to add more cabins, but also to increase the size and spaciousness of the cabins, and to add extra public areas too (like a second dining room, for example).
The boat is definitely long, and also relatively narrow (to fit in the locks). It is 38' wide, and cruises at 15.6 mph. This might seem like a slow speed, but it is faster than most of the other cruise boats, enabling the boat to get between towns faster and giving you more time sightseeing.
Dining is single-seating and with no pre-assigned tables, so you can move about as you wish from meal to meal. Amawaterways even provides a generous amount of complimentary wine, beer and soft drinks with both your lunches and dinners every day.
Smoking is restricted to the outside Sun Deck only.
Our cruise has been marketed primarily to English speaking people and the language on board is exclusively English. This means you won't have the inconvenience of having to listen to every announcement being repeated in four or five different languages, and you can conveniently talk to your fellow guests (and likely soon to be new friends) on board.
Note - here is an interesting pictorial presentation with lots of pictures of a sister ship, published by USA Today. During the summer this year, the pictured ship was chartered by Disney, but there is no Disney association for the Christmas cruise.
Cabin Types
Cabins on the Amacerto are some of the largest of any Danube river cruise boat.
Cabins are typically either 235 sq ft or 210 sq ft, with some 170 sq ft cabins and a few smaller cabins. Suites are a huge 350 sq ft in size.
This cabin picture is of a midgrade BA category 210 sq ft cabin with both internal and external sun deck/balconies.
There are a great variety of different cabin types to choose from. We've written a special article to help you decide which is best for you, which you can see here.
And here is a deck plan of the Amacerto so you understand exactly where the cabins are located. Click the link then choose the Deck Plan tab.
Needless to say, feel free to ask if you'd like further help choosing the best cabin option to suit your needs and budget/value point.
Detailed Day by Day Itinerary

Click this image to have a larger map open in a new window
Cruise Cost
Per person net pricing - after your special $750 per person discount - for the cruise is shown in the table below.
Note - save another $100 :
Cabin Type

Net Cruise Price per person share twin

(singles pay the before discount price but with no surcharge)

Amawaterways optional insurance

(Add extra $60 for 'cancel for any reason' option)

E
160 sq ft
lower deck

$2149

($2899 before discount)

Sold out

D
160 sq ft
lower deck

$2448

($3198 before discount)

Sold out

$321

C
170 sq ft
mid & top decks

$3048

($3798 before discount)

Sold out

$321

BB
210 sq ft
mid deck

$3548

($4298 before discount)

Sold out

BA
210 sq ft
top deck

$3748

($4498 before discount)

Sold out

AB
235 sq ft
mid deck

$3948

($4698 before discount)

$321

AA
235 sq ft
top deck

$4148

($4898 before discount)

$441

AA+
290 sq ft
top deck

$4248

($5498 before discount)

$441

Suite
300 sq ft
top deck

$5348

($6098 before discount)

$441
Pre and Post Cruise Option Pricing
The cost of the pre and post cruise options are dependent on the number of people who choose to take advantage of them.
But for preliminary estimates, you could plan on the following
Pre-Cruise in/around Budapest (and to Bratislava in Slovakia)
Option 1 : Sunday night in Budapest, breakfast Monday morning, tour to Szentendre, Visegrad and Esztergom, lunch, transfer to ship - estimate $225 per person (share twin)
Option 2 : Saturday and Sunday nights in Budapest, two breakfasts, Sunday tour to Bratislava, Monday activities as in option 1 - estimate $415 per person (share twin)
Extra nights in Budapest : estimate $100 per person (share twin)
Post-Cruise in the Czech Republic
Option 1 : Monday tour via Bayreuth to Karlovy Vary for one night, breakfast, Tuesday touring via Holosovice Village and Cesky Krumlov to Prague, one night in Prague, breakfast Wednesday morning - estimate $400 per person (share twin)
Option 2 : All in option 1 then half day tour in Prague on Wednesday, evening dinner in traditional cellar restaurant, another night in hotel and another breakfast, estimate $200 per person (share twin)
Extra Thursday night in Prague : estimate $75 per person (share twin)
Extras and Inclusions
Port Taxes are $168 per person.

Single rate is the before discount per person rate with no surcharge, does not apply to suites.

Air can be arranged for you by us through Amawaterways or you can make your own arrangements as you wish. Air fares can be quoted from most cities in the US.

Rates include a selection of special Travel Insider bonuses.

Rates include an exclusive Travel Insider cocktail party on board Amacerto

Rates can be discounted by an extra $100 gross if you are a past Amawaterways customer

Prague two night rates include two hot breakfasts, a feature dinner and a half day city tour
You can pay for your cruise using a credit card with no credit card surcharge. Prague payment is requested by cash/check or with a 3% addition on credit card.
A $400 per person deposit is due when cruise booking confirmed, the balance 90 days prior to cruise departure. An additional $100 deposit is required for both the pre and post cruise options.
Single Share Program
If you are planning to travel by yourself, but would prefer to avoid the single surcharge, we can make a best effort to connect you with another single Travel Insider group member, but can't guarantee to find someone compatible.
What about the Air Fare?
If you buy the Amawaterways airfare, they include transfers from the airport to the cruise ship when you arrive into Budapest. These transfers are convenient, but require you to arrive on the exact day the cruise starts, and/or can easily be arranged by yourself when you arrive at the airport as well, so should not unduly influence your airfare planning (taxis in Budapest are brilliantly simple with a flat fare pricing system so there's no danger of being cheated).
We suggest you check to see if you can use any frequent flier miles you might have for this travel, and/or check to see what the best fare you can get on your favorite airline is, then compare it to the Amadeus rate and make your decision then.
You are therefore free to make your own arrangements, any way you wish, to travel to Budapest and then home again from wherever, and you can of course make extra stops and arrive earlier or stay longer. You can choose whichever carrier has the best fare and the best schedules for you, and you can also choose a carrier that you wish to earn miles with.
We'll be pleased to answer any questions you might have about arranging your air transportation, of course.
Most people end up arranging their own air rather than booking through Amawaterways.
Which cities to fly in and out of
This might seem like an obvious issue, but remember that Europe is very small and so if you can't get convenient flights (or fares) on your preferred airlines to and from the obvious cities at the start and end of your tour, consider flying in or out of nearby airports and then using a train to get between that airport and the city you need to be in.
For example, for your arrival, it is only 2¾ hours by train between Budapest and Vienna - you might find it easier to fly into Vienna.
Travel Insurance
We generally recommend you should protect against the various types of losses that may occur while traveling, and also to provide medical coverage in the event of illness, by purchasing some form of travel insurance. We've seen enough times in the past either where people have not had travel insurance and desperately wished they had, or where people have had travel insurance and needed to claim on it, to appreciate the value of this protection.
Please see our three part series on travel insurance for more information, and in particular, please see 2/3 of the way down the second page which lists automated travel insurance shopping/comparison/quoting services to help you get the most appropriate travel insurance at the best rate.
Alternatively, Amawaterways offer travel insurance themselves for the cruise, with two options, either a 'cancel for medical reasons only' type policy or a 'cancel/defer for any reason' type policy. Rates are shown in the table, above. There is an extra $60 payable in premium if you wish the 'cancel for any reason' extended coverage. Simply choose it when signing up for the cruise, below. We suspect you can get less expensive coverages through the shopping service we link to above, but at least with Amawaterways, it is all being handled through the one company.
Here's a link to a PDF with the details of the Amawaterways coverages.
How to Extend or Vary this Tour
There are many ways you can extend or vary this tour.
In addition to the pre-packaged extensions we are offering (see above), you're of course free to add anything you like, before or after the cruise.
We recommend you consider arriving into Europe at least a day before the cruise starts, so as to give yourself a day to resolve any problems that may occur such as missing/delayed flights or losing luggage.
If you have more questions, please don't hesitate to ask. We're here to help ensure your experience is as good as possible.
Need More Information?
If you've a question or need more clarification, go ahead and ask. Feel free to send us an email, or call us at (206)337-2317.
As soon as your application is accepted, you will be asked to send in your deposit within seven days.
Tour Terms and Conditions
Our standard terms and conditions apply to this tour.
In addition, please note these extra terms :
1. US citizens require a current passport that will not expire for at least six months after the date of their planned return back to the US in order to be admitted to Europe. They do not require any European visas. Citizens of other countries should check with the airline that will transport them to Europe to determine what passport and visa requirements may apply.
2. Tour price is subject to change prior to full payment being received.
3. Deposit is due within seven days. Balance due 90 days prior to tour starting.
4. Prices are cash prices. No surcharge for credit cards on the cruise portion, 3% for credit cards on the ground optional extensions.
5. Terms and conditions of the cruise line (AmaWaterways) also apply. In particular, please note that the itinerary can occasionally (rarely) change if water levels are too high or too low to allow the boat to travel.