Salisbury - Where to Stay
You definitely should plan to stay overnight for a night or two in Salisbury, and you'll be happiest if you choose a place conveniently in the center town so you can walk around the town without having to worry about driving or parking.
Here is a complete list of the three star central hotels, plus a couple of other choices as well.
Salisbury Accommodation - Few choices, No luxury
Salisbury has surprisingly few choices of hotels to offer its visitors, with the highest rated central city properties only garnering three stars. There are two very central hotels (the Red Lion and the White Hart), plus three other hotels only a few extra minutes walk from the city center (Milford Hall, the Rose & Crown, and Grasmere House).
None of the hotels have lift service to all floors, but all will provide porterage service if you don't want to struggle with heavy suitcases up stairs to your room. If the thought of climbing several flights of stairs each time you go to your room does not appeal, be sure to request a room on a lower floor when reserving.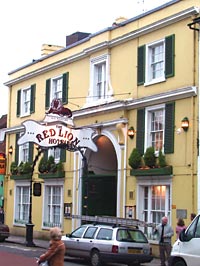 The Red Lion
The Red Lion is believed to be the oldest purpose-built hotel in England, with some parts originally constructed for the draughtsmen working on Salisbury Cathedral in the 13th century. The rooms have, however, been refurbished several times since then, and one now gets only fleeting suggestions of its antiquity, with most of the hotel seeming to be of indeterminate age. It has been owned by the same family for over 100 years, and is a member of the Best Western chain. In 2002, it won British Heritage Magazine's award as Best Historic Inn.
Entrance to the hotel is from an attractive courtyard. A small reception area serves the 52 rooms, which are variously in either a new or old wing of the building. Some of the rooms look out onto busy Milford Street, and we recommend that you specifically request not to be given such rooms, due to the noise factor from the street at all hours of the day and night. The hotel is not air conditioned and so if you felt the need for fresh air, opening the window with street side rooms would bring in all the outside noise along with the air.
Rooms are finished to a moderately high standard. They are not particularly spacious and only moderately well lit. They have most normal fittings and features, although the desk was lacking a phone, making it difficult for those traveling with a computer to work on the internet. Nonsmoking rooms are available.
The English staff were friendly and helpful and the hotel as a whole has a pleasing ambience. It is in a very central location, but does not offer parking for guests with cars. Note also their room rates typically do not include breakfast, so if comparing rates be certain to understand if the rates are with breakfast included or not. Adding the cost of parking and breakfast will probably make this the most expensive Salisbury hotel, and the inconvenience of parking somewhere else detracts from the overall experience.
The Red Lion Hotel, 4 Milford St, SP1 2AN
Ph (01722)323-334, Fax (01722)325-756
[email protected] www.the-redlion.co.uk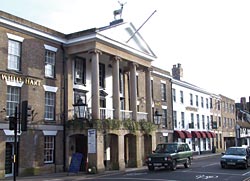 The Mercure White Hart
The other central city hotel is the White Hart, and 68 rooms makes it the largest hotel in the city. It dates back to the 17th century, and when one first walks in the imposing colonnaded entrance to the White Hart, one feels like one has stepped back in time 50 years. Elderly ladies in their best clothes can be seen enjoying a 'high tea' in the public lounges, and there is little to betray the fact that one is in fact in a 21st century hotel. The White Hart is now a Mercure hotel.
The rooms at the White Hart are much as expected - neither too small nor generously large, with some looking onto the busy (ie noisy) street. They are well lit, and fairly well fitted out with facilities, even having cd players as well as televisions. Rooms also have mini-bars.
Rates generally include breakfast, and free on-site parking is offered.
The White Hart, 1 St John St, SP1 2SD
Ph (0870)400-8125, Fax (01722)412-761
[email protected] www.whitehart-salisbury.co.uk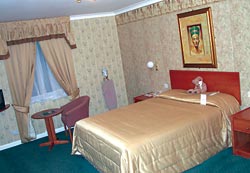 Milford Hall
The other three hotels are slightly further out of the city center, but still no more than a ten minute walk. They have more to distinguish between them.
Milford Hall prominently features an old house in its literature, but the reality is that all but four of its 35 rooms are in a new wing built alongside the old house. The hotel has the usual lack of charm that characterizes a fairly modern custom built hotel, and rooms are cookie-cutter identical while being efficient and well outfitted.
Their very well lit rooms are slightly larger than normal, and have all normal amenities including trouser press, hair drier, and a reasonable sized (5' wide) and comfortable double bed, but do not have a mini-bar. The rooms do not offer any type of view other than of ordinary buildings nearby, but they are nice and quiet, being well set back from the road. Rooms are heated during the winter, but - like all hotels in Salisbury - do not offer a/c during the summer. A small circular table and easy chair did double duty as my computer desk during my stay. Nonsmoking rooms are available. The restaurant offers an excellent Full English breakfast, including such sinful luxuries as fried bread.
Room rates vary substantially - they were quoting a rack rate of £150 for the room that we paid £79 per night for (a double room including cooked breakfast for two). The reasonably friendly and helpful reception staff offer to deliver your choice of paper to your room each morning, but if you accept this offer, the cost of the paper will be added to your bill.
Milford Hall, 206 Castle St, SP1 3TE
Ph (01722)417-411, Fax (01722)419-444
[email protected] www.milfordhallhotel.com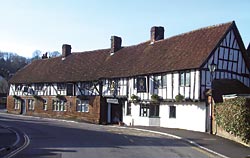 The Rose & Crown
The Rose & Crown has been recommended by several travel guides, but we don't entirely agree. Perhaps it was just our bad luck, but the people we met there on our first visit were rude and unhelpful.
This is a shame because many of the newer rooms have a great deal of potential, being of good size and with lovely views over their grounds and to the River Avon. Rooms in the old wing tend to look out over the road, and have the potential for noise problems. The hotel also suffers from being largely booked out on many Saturday nights by wedding groups - it's not much fun being in a hotel dominated by a drunken wedding party!
We'd put this hotel on a 'watch' list – good management would justify the recommendation that some guides give the hotel, but poor staff and management, such as we experienced, detract from the overall guest experience.
Update June 2008 : The hotel is looking good, having just had a recent refurbishment, and the staff seemed friendlier too.
Rose & Crown, Harnham Rd, Harnham SP2 8JQ
Ph (01722)399-955, Fax (01722)339-816

The Grasmere House
And now – our continuing favorite : The Grasmere House, a small hotel originally constructed as a private house in 1896, and now with 38 rooms, 15 of which are in a recently built extension. We were immediately impressed by the quality of the friendly staff, which is perhaps understandable because it is an owner managed hotel, rather than a hotel with absentee owners and a manager with less personal commitment to the guests.
Owner Dale Naug is a transplanted Australian from Melbourne, who has lived in Salisbury for the last 25 years.
Because this hotel is on 'the other side' of the rivers, some people immediately dismiss it as not being central, but in reality it took us no more time to walk downtown from this hotel as it did from Milford Hall.
The restaurant is highly regarded, and overall the hotel has a cozy welcoming feel in a lovely and quiet setting.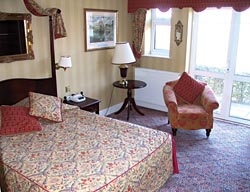 Rooms vary in size from smallish to moderate, but are well fitted out and all have broadband internet connections. Some rooms have lovely views over the River Nadder and to the Cathedral, similar to the Rose & Crown (which is only 100yds distant) and all rooms have been individually named as well as numbered, differentiating it from the usually faceless hotel with equally anonymous rooms.
Luxury it isn't, but for good quality and good service in a lovely quiet setting, you won't find better in Salisbury. The hotel is a rare example of a central city hotel but in a peaceful rural setting.
Grasmere House, 70 Harnham Rd, Harnham SP2 8JN
Ph (01722)338-388, Fax (01722)333-710
[email protected] www.grasmerehotel.com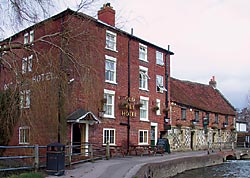 The Old Mill Hotel
Places like this remind one that so much of England is so very old. The original mill building dates back to 1135.
There are eleven rooms. They are not particularly spacious, but they are functional and clean, and some have lovely views out over the river. It is a lovely tranquil location (although conceivably, if you had a room overlooking the beer garden, that could be noisy - best to request a quiet room) but still very close to the center of the town.
The Old Mill Hotel, Town Path, West Harnham SP2 8EU
Ph (01722)327-517, Fax (01722)333-367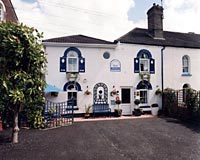 Webster's Bed & Breakfast
If you're staying on a tight budget, then you'll probably want to seek out a B&B instead of staying in a regular hotel. Like most of Britain, Salisbury is well served by B&Bs. A recommended choice would be Webster's B&B. Formerly owned by Mary Webb, it was recently sold but the new owners, John and Veronica Mussell, seem resolved to maintain Mary's formerly high standards. The B&B features five very nicely appointed bedrooms, all with private shower or bath and toilet. Like most small B&B's the rooms don't have direct dial phones, but there is a pay phone downstairs and also – unusually – a computer in the small lounge that you can use to access the internet (a charge applies for use of the internet computer). The most expensive room is a mere £45/night for bed and breakfast. Limited parking directly in front.
Webster's Bed & Breakfast, 11 Hartington Rd. SP2 7LG
Ph (01722)339-779, Fax (01722)4421-903
[email protected] www.websters-bed-breakfast.com




The Cathedral
Update April 2009 : We were contacted in April 09 by a gentleman who said he was one of the new owners of this property. He said that the first thing they did was an extensive three month renovation, and suggests the hotel is now one to reconsider if you're looking for value priced accommodation in the heart of Salisbury. Their new website certainly looks impressive.
Update June 2018 : A reader who stayed there instead of at our official Salisbury hotel prior to our tour advises that our earlier review is probably more accurate than the updated website.....
Lastly, a hotel to avoid. The Cathedral. Small spartan rooms are set above a public bar, with the receptionist doing double duty as barmaid. When we visited, I was wearing a brimmed cap, and was told that house rules required me to remove my cap so that the security cameras would get a good image of my face!
A seedy clientele in the bar such as to make single women feel uncomfortable coming and going – especially later in the evening, unsatisfactory rooms, and massive noise factors due to most rooms overlooking a busy main street all make this a bad choice of hotel.
The Cathedral Hotel, 7-9 Milford St, SP1 2AJ
Ph (01722)343-700, Fax (01722)343-701
https://www.cathedralhotelsalisbury.co.uk/
Related Articles, etc

If so, please donate to keep the website free and fund the addition of more articles like this. Any help is most appreciated - simply click below to securely send a contribution through a credit card and Paypal.