Salisbury - Where to Eat
Whether you're looking for traditional British fish and chips, or some 'pub grub', or something more elaborate, there'll be somewhere that will cheerfully serve you what you're looking for in Salisbury.
The Brasserie @ 206
The Brasserie @ 206 is the name of the long established restaurant at the Milford Hall Hotel. This is more a formal 'white tablecloth' type dining room where you feel the need for a suit and tie (indeed they indicate that this is their 'preferred' dress), but the food is of high quality and so too is the service, and it holds an AA rosette.
LXIX
LXIX ('69') is a modern styled restaurant at 69 New Street with an associated bistro next to it. It offers a varied cuisine, is recommended by locals, and has a modern feel to its décor. It is probably the most expensive restaurant in Salisbury, but we can't promise that it is also the best.
Update - they are now (summer 2008) moving to operate out of the Kings Arms hotel, and their pricing is no longer quite as high as it formerly had been.
Grasmere House Hotel
The restaurant at Grasmere House Hotel is very good, especially for a small hotel. The menu changes daily, and typically features five or six main courses and a similar number of appetizers and desserts. Prices range between £3-4.50 for appetizers, £15-18 for mains, and £4.50 for desserts. There is usually also a vegetarian main course (less expensive), and the cuisine is a mixture of traditional (eg Roast Lamb or Roast Beef) plus also more modern cuisine, with a slight touch of Indian influence (their chef is Indian) thrown in for good measure. (01722)338-388
Jade Restaurant
Perhaps you fancy a change of cuisine. The Jade Restaurant at 109a Exeter St offers a good range of Cantonese style food (mainly fish dishes) and is another place recommended by 'the locals'. It has been in business for quite a long time and continues to consistently please.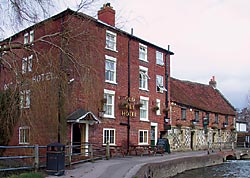 The Old Mill
And for a lovely setting, combined with ordinary 'pub grub', try the beer garden at The Old Mill, just off Mill Road on the Town Path to Harnham. This restaurant and hotel has parts of its building (which is indeed an old water mill) dating back to 1135, and provides eleven acceptable quality two star rooms as well as a 'pub grub' type bar and restaurant.
The distinctive feature of this venue – quite apart from the lovely walk across the fields from the Cathedral to the Old Mill – is its outdoor beer garden, with the river that powers the mill a prominent feature. If the weather is good, head to the Old Mill; lunch 12-2 every day and dinner 7-9 daily except Sunday. You might even see otters as well as plenty of ducks and swans in the mill stream.
Strada Restaurant
Now that the La Luna restaurant is no more, if you are looking for Italian food you might want to consider the Strada Restaurant at 32 Marketplace. They are open for lunch and dinner seven days a week. (01722)321-213.
Anokaa Restaurant
One of the results of the former British Empire and India's prominent part of that is the large number of restaurants in Britain with Indian style food. One such example, in Salisbury, is Anokaa, located at 60 Fisherton St. They provide a good range of Indian style foods, and are open for lunch and dinner every day. (01722)414-142.
The Lemon Tree
Situated close to the cathedral at 92 Crane St, The Lemon Tree has an ambitious menu with food cooked in 'haute cuisine' style and usually succeed in their attempts. A nice conservatory and garden make this more than just a typical room with tables and chairs, and adds to the ambience on a nice day. Open for lunch and dinner Mon - Sat, closed on Sunday. (01722)333-471.
Traditional Fish and Chips and other Takeaways
If your needs are simply for a snack, there is a good takeaway fish and chip shop almost immediately next to the Tourist Information Center, and a lovely bakery adjacent.
Consider going further afield - Romsey
If you're wanting to go for a day tour out of Salisbury down to Romsey and Broadlands (former home of Lord Louis Mountbatten - truly one of the very greatest soldier/statesmen of the 20th century), then there are a number of surprising good quality restaurants to enjoy in the small village of Romsey.
Do please visit the church in Romsey to honor Mountbatten's unassuming burial site inside the church.
Haunch of Venison
Lastly, a good example of the danger of relying on out of date guidebooks can be found if dining at the well known 'Haunch of Venison', located in the center of the city on Minster Street.
For many years this was well regarded, and it served archetypal English food in a lovely medieval half-timbered building in the center of the city. Its location and building were probably its prime claims to fame rather than its cooking, a situation which has now become even more pronounced.
The owners seem to be allowing the restaurant to exist on its reputation and location, and - based on our culinary disappointment - are making little effort to provide either good food or good service.
For example, my steak, ordered 'medium-well', was served very rare, so I returned it to be cooked some more. Rather than putting it back under the grill, they just microwaved it! Indifferent service and unappealing food.
Not recommended.
On the other hand, the building is interesting, and you might enjoy stopping there for a drink in one of their several small downstairs bar areas. They have some refreshing real ales.
Related Articles, etc

If so, please donate to keep the website free and fund the addition of more articles like this. Any help is most appreciated - simply click below to securely send a contribution through a credit card and Paypal.