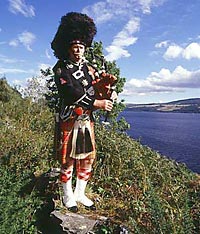 Scotland's Castles and Monsters
We can't guarantee you'll see the Loch Ness monster, but you will see a lot of castles and even stay in one!
This tour can be enjoyed by itself, or can be combined with more time in Scotland, Britain, or Europe.
You can add extra time in Scotland or elsewhere at the beginning and/or end of your tour.
And, if you prefer, you can travel by private car, joining the group only for accommodation, meals, and any other activities that you might wish.
Total flexibility. And total enjoyment.

2005 Tour
Our 2004 tour was a great success! Read what travel writer and tour member Joe Brancatelli said about it in USA Today (link gone).
My wife and I spent a week kicking around Scotland last month and every experience — skillfully arranged by Scotland fan David Rowell, The Travel Insider—was nearly perfect. If you care about flowers, you'll be wowed by the endless glens full of heather and bluebells. The lochs (lakes) and bens (mountains) do make breathtaking panoramas. There are plenty of castles and stately homes, lots of regal and commercial history, museums and culture — and, of course, all the single-malt whisky and salmon you can handle.
Now you can join us for the 2005 tour and experience the splendor of Scotland for yourself.
Tour Dates
The tour starts on Monday 9 May, but we recommend you should arrive in Britain the previous day, Sunday, 8 May, 2004.
If you're starting your travels in the US, you'll probably take an overnight flight on Saturday 7 May (or sooner), to arrive into Britain on Sunday 8 May (or sooner).
The tour ends on Sunday 15 May when you can travel on from Edinburgh by first class train. You can either then join the Scotland's Islands Tour (itinerary to be published very shortly) or add your own arrangements as it suits you, or simply return home.
If you're traveling immediately back to the US, you should arrange to take a late afternoon/early evening train on Sunday or else perhaps add a night in your departure city and return on Monday 16 May. You'll arrive back in the US at much the same time and on the same day as when you leave Britain.
Tour Inclusions
First Class train travel to get from your arrival city in Britain to Glasgow and from Edinburgh back to where you depart, plus two more free days of first class train travel to use as you may wish

Large luxury coach for best views while touring and complete with onboard restroom for best comfort

Small group, to avoid the crowded impersonal feeling - maximum size 24 - lots of room and comfort for everyone on a large 36 seater coach

Expert Scottish driver/guide plus David Rowell as dedicated tour leader

Two nights accommodation in a genuine Scottish castle dating back to 1297 and complete with resident ghost

Two nights accommodation in the northern town of Dornoch

Two nights accommodation in central Edinburgh

Breakfasts every morning

Feature dinners at Culcreuch Castle and Edinburgh

Area touring to Stirling, Braveheart and Rob Roy country in the Trossachs

A Tasting and Tour of the award winning Glengoyne Single Malt Distillery

A visit to Doune Castle (featured in the movie 'Monty Python and the Holy Grail')

Travel along the shores of Loch Ness, including a visit to ruined Urquhart Castle and the Loch Ness Visitors Center to learn about 'Nessie'.

Day tour to the very top of Scotland, and the famed 'John O'Groats'

Visit to Dornoch and see the church where Madonna's son was christened

See the Culloden Battlefield, site of the final battle in the civil war between Scotland and England

Visits to stately Blair Atholl and Dunrobin Castles

Visit to the lovely Victorian town of Pitlochry

A full free day in Edinburgh, including admission to Edinburgh Castle
Itinerary

Day 1 (Saturday 7 May) : Leave the US

To arrive in Britain on Sunday, you probably need to take an overnight flight on Saturday
Day 2 (Sunday 8 May) : Arrive in Britain

You can fly to London or to any other convenient city in Britain
Day 3 (Monday 9 May) : Traveling to Scotland and coach
to Culcreuch Castle

Our deluxe 36 seater coach has lots of space, restroom, hot and cold refreshments, even a video system

Culcreuch Castle - our home for two nights
Day 4 (Tuesday 10 May) : Stirling, Braveheart and Rob Roy

Stirling Castle

Glengoyne, described as the most beautiful distillery in Scotland
Day 5 (Wednesday 11 May) : Castles and Monsters

Urquhart Castle on the shores of Loch Ness
Day 6 (Thursday 12 May) : John O'Groats

David at John O'Groats

Dunrobin Castle. The oldest part dates back to 1401
Day 7 (Friday 13 May) : To Edinburgh

Blair Atholl

Victorian Pitlochry
Day 8 (Saturday 14 May) : Edinburgh As You Like

Edinburgh Castle, overlooking the city

There's lots to see and do in Scotland's historic capital city
Day 9 (Sunday 15 May) : Traveling on from Edinburgh (or
extend on your own)

Return back to London (or wherever else) by comfortable fast first class train

Options : If you prefer, you can stay longer in Edinburgh or travel on elsewhere as it suits you. Your train ticket is actually a Britrail Pass good for three more days of first class travel anywhere in Britain, anytime in the next seven weeks.

Tour Cost
$1895 per person, share twin.
Want more information? Got questions you need answered?
You can chat with David directly if he is online. Click on the button below if it says 'Click for Live Help'.

A single supplement of $395 is available. We will also help to match together singles if you'd like to share with a compatible fellow single traveler.
These prices reflect a 3% discount for cash/check.
A $200 per person non-refundable deposit is required to confirm your places on this tour.
Tour does not include the cost of travel between the US and Britain.
Double Tour Special Deal
If you combine this tour and our Scotland's Islands Tour we will provide you a free night of accommodation on Sunday 15 May (the night between the end of the first tour and start of the second tour) at the New Lanark Hotel, situated in the lovely World Heritage area of New Lanark Mills, complete with transfers between the hotel and Glasgow.
What about the Air Fare?
You will save money and gain flexible convenience if you arrange your own air travel. These days airlines seldom give discounts to groups, and sometimes even charge more, while also adding extra restrictions to the tickets!
You can choose whichever carrier has the best fare and the best schedules for you, and you can also choose a carrier that you wish to earn miles with. You can even cash in miles and fly on frequent flier awards.
We'll be pleased to answer any questions you might have about arranging your air transportation, of course.
Where in Britain Should I Fly To?
Most people will choose to fly to London, because there are the most flights to London (either Gatwick or Heathrow airport is fine to choose).
It is a quick and very pleasant five hour train journey from London to Glasgow and from Edinburgh back to London, with no need to change trains on the way.
But if you prefer - perhaps because you can get a special low airfare, or maybe because you're trying to cash in frequent flier miles - you can of course fly to any other airport in Britain. Indeed, just about all other airports are closer to Scotland than is London! We'll help arrange trains so that you get to Glasgow by 3pm on the Monday to join the group.
How to Extend or Vary this Tour
There are many ways you can extend or vary this tour.
You are encouraged to add the Scotland's Islands Tour to the end of this tour.
You can also spend more time in Britain before the start of this tour, and/or, if you wish, you can travel up to either Edinburgh or Glasgow before the main group and spend time in and around these areas, too.
During the tour, all of the day touring is of course optional and you can substitute your own activities if you prefer. And, indeed, if you wish, you can even rent a car and follow the group's itinerary in your own car, rather than in the coach with the rest of the group.
After the tour, you can spend more time in Edinburgh, or travel on anywhere else in Britain by train, making use of the other two days of train travel on your first class Britrail pass.
Truly, this tour gives you a great number of ways to add extra time and sightseeing. And, if you have more questions, please don't hesitate to ask. We're here to help ensure your experience is as good as possible.
Suggested Tour Extensions
We suggest you arrive in Britain a day or two before Sunday 8 May, so that you are well rested when the tour starts.
And if you have time extra time available, our Scotland's Islands Tour which starts immediately after this tour is a wonderful addition to your Scottish experience.
Tour Terms and Conditions
Our standard terms and conditions apply to this tour.
In addition, please note these extra terms :
1. Full payment is due on or before Friday, 25 March.
2. US citizens require a current passport that will not expire for at least six months after the date of their planned return back to the US in order to be admitted to Britain. They do not require a British visa. Citizens of other countries should check with the airline that will transport them to Britain to determine what passport and visa requirements may apply.
3. UK residents will not qualify for the Britrail pass which is used to provide train travel to and from Glasgow and Edinburgh. We will quote an adjusted price for such people.
4. Tour price is based on a UK/US exchange rate in the wholesale range between 1.77 and 1.87. If the exchange rate varies outside of this rate prior to final payment being received, the tour price will be adjusted (either up or down) to reflect the change in the cost of tour components. If the price of the tour increases by more than 5%, participants will be offered a no cost, no penalty opportunity to cancel and receive a full refund of all monies paid.
5. A $50 discount is available to seniors aged over 60 at the start of the tour (due to a discount on the Britrail pass).
6. Triple share rates may be available. Ask for a quote if this is required.
7. There's plenty of room in the coach's luggage bays for as much luggage as you choose to bring. But you'll find it easier on the train journeys, and in the hotel rooms, if you try and limit yourself to one main suitcase and one smaller item per person.
The Travel Insider is licensed by the State of Washington as a seller of travel - registration number 602 036 247.