Discounted Portugal Douro River Cruises
SAVE : 15% Discount !!!
BONUS : Cabin upgrade too on May & June cruises!!!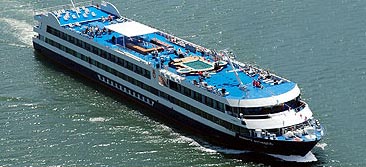 The
Amadouro
, the newest cruise boat in Portugal, will be your home for this lovely cruise along the Douro River.
Enjoy a lovely cruise in a beautiful part of the world, on a great new ship, with what is perhaps the best cruise operator in the US (Amadeus Waterways) and now - have all of this for way less than the price other people pay.
Hopefully most of what you need to know is answered below, and on the pages linked from here. Needless to say, you're welcome to ask if you have any further questions you can send us an email, click here for Live Chat Help (we're not always online but it doesn't hurt to check) or call us at (206)337-2317.
We hope we can help you arrange and enjoy a river cruise in the near future. And if these cruises don't suit, please consider some of our other cruises, all with at least a 5% discount.

Cruise Dates and Discounts
The 15% discount applies to three cruises in May, June and August. The complimentary cabin upgrade applies to the May and June sailings only.
The other two sailings later in the year (September) are also available, with a 5% discount.
| | | | |
| --- | --- | --- | --- |
| Leave US for Lisbon pre-cruise tour (Tuesday) | Leave US to join cruise (Friday) | Cruise starts on (Saturday) | Cruise ends on (Saturday) |
| 13 May | 16 May | 17 May | 24 May |
| 3 June | 6 June | 7 June | 14 June |
| 26 August | 29 August | 30 August | 6 September |
Cruise Costs
We give full details down by the booking form, but to quickly answer the question now so you know if you should read on further or not, the list price on the seven day/seven night cruise, including three meals a day and off-ship touring, is $2199 per person for their standard cabins, which after a 15% discount drops to $1869.
The three day Lisbon extension is an extra $500.
About the Cruise and Tour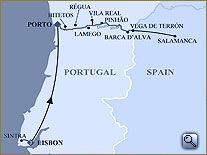 Full details of the cruise can be found on the Amadeus Waterways website.
The seven day and seven night cruise is a roundtrip through the Douro river valley in Portugal, starting and returning to the city of Porto, and takes you into Spain to Salamanca as part of the itinerary.
An optional three night pre-cruise tour of Lisbon is also available. This includes the transfer (and sightseeing) from Lisbon up to Porto.
Like a traditional cruise, this is a fully meal inclusive cruise, and - better than a traditional cruise - it includes a generous amount of shore touring as well. You won't have to pay extra for your shore touring when visiting the lovely towns and cities as you cruise along the Douro River.
The cruise of course includes three great meals a day, some of which are actually held in featured restaurants ashore, plus various other snacks.
You won't be bored. There's on-board entertainment, as well as generous opportunities to sightsee, both from the boat as it cruises the river, and while ashore during the many stops. You typically have time to both participate in a provided tour and also to sightsee and shop on your own.
A nice extra feature is free wine (unlimited, not just one tiny glass) provided with every dinner. Dining is single-seating and with no pre-assigned tables, so you can move about as you wish from meal to meal.
While all meals are available and included, you'll also be able to experience other dining opportunities ashore if you wish. Similarly, the on-board entertainment can be supplemented with visits to clubs and bars and shows ashore - the vessel will sometimes stay in port until late at night, allowing you a chance to experience towns by day and by night.
Because the Amadouro carries a maximum of 130 passengers, you have a chance to meet other people on board and to create new friendships. Most people on these cruises seem to be variously middle aged and older.
About the Ship, the Amadouro
Full information about the Amadouro can be found here on the Amadeus Waterways website.
The cruise ship for this cruise, the Amadouro, is nearly new (launched in 2005) and is custom designed to operate along the Douro River.
The boat is long but narrow. It is 255' long and 36' wide, and has a crew of 30. Smoking is restricted to the outside deck only.
The cruise has been marketed primarily to English speaking people and the language on board is exclusively English. This means you won't have the inconvenience of having to listen to every announcement being repeated in four or five different languages, and you can conveniently talk to your fellow guests (and likely soon to be new friends) on board.
Cabin Types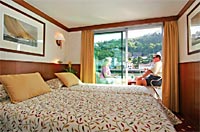 Cabins on the Amadouro are not huge, but neither are they tiny, and measure 135 sq ft. Upper deck cabins also have a private outside balcony, adding another 26 sq ft to their total size.
The cruise is offered in four cabin grades on two decks. All are well equipped with a/c, bathroom and shower, flat screen television, telephone, hairdryer and safe.
All four grades of cabin are very similar in terms of size, with the three differences between them being the deck they are on, whether they have large picture windows or floor to ceiling windows, and whether they have a private balcony or not.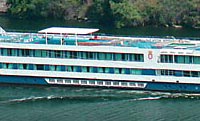 This picture shows the accommodation decks and the relative positions of the two decks.
On the lower deck, especially with some bank on the sides of the river, you'll not much other than the water and bank from the bottom deck, and there may be a bit more water and machinery noise on that level too.
When moored, if your cabin is on the dockside rather than the outboard side, the lower deck cabins may have a limited view, while the upper deck cabins will usually have a view above the dock level.
These differences are much more profound than in a massive cruise ship where even the lowest deck is still a long way above the waterline. Of course, if you do choose a C or D category cabin, you can spend the days in the public areas and enjoy the views from there, but if you can justify the extra cost to go up a deck, the chances are you'll be very pleased you did.
Tip : Choose the least expensive cabin type on the deck you'd rather be on. There is very little added value in choosing a C cabin in favor of an D cabin, or an A cabin in favor of a B cabin.
Your Special Discount
We are able to exclusively offer you a 15% discount off the cruise price on all three featured sailings.
Plus, for the May and June sailings, we offer you a space available upgrade of one cabin category (this will be confirmed immediately at the time you book).
The other sailings in September and subsequently have a 5% discount available, as do all other Amadeus cruises.
Please note this discount applies to the cruise cost only. It does not apply to the port fees, or to the land option, insurance, or air fare.
More Discounts Too
If you are an AARP member, you'll get an extra $100 per person off the cruise price.
And if you've been on a previous Amadeus cruise, you'll get another $100 per person as a past passenger discount.
Note also that we offer a 5% (and occasionally more) discount on all Amadeus cruises.
More About River Cruising
River cruising is simply and absolutely the most comfortable and convenient way to travel around Europe. You can unpack your bags and get comfortable in your lovely large cabin and not need to repack or transfer until the end of the cruise - this in itself is probably all the convincing you'll need!
In addition, European towns have historically tended to be centered around the major rivers, and so river cruising is a great way to get to the lovely historic parts of Europe, at a sedate speed, and in luxurious comfort.
How else could you travel around Europe? On a bus tour? Yuck! By train or car - yes, but then you have an abundance of travel hassles every day.
I've experienced every possible type of travel, and I'm a 100% convert. River cruising is the best way to see Europe. Try it, and you'll be sure to agree.
For more about river cruising, please see our articles on European River Cruising.
How can we offer this Special Deal
No-one else is offering a 15% discount and a cabin upgrade on this cruise.
We can do this simply because we're a big reseller of Amadeus Waterways cruises, and we've committed to a block of cabins on this cruise, helping them to fill their ship, albeit at a reduced rate of return for them.
The internet allows us to efficiently and cost effectively offer this cruise deal to you, so it is a win-win-win for all - Amadeus gets extra revenue, you get an unbeatable deal, and we get a modest commission in the middle.
You need have no fear - Amadeus will charge your credit card directly, so your money goes immediately to them, not to us (they send us our commission after you've cruised).
Cruise Cost
Per person pricing for the cruise is as follows :
Cabin Type

Cruise

Cruise less 5%

Cruise less 15%

D cabin
(best value, lower deck and picture windows)

$2199

$2089

$1869

C cabin
(best for a free upgrade, lower deck and picture windows)

$2398

$2278

$2038

B cabin
(Upper deck and balcony)

$2648

$2516

$2251

A cabin
(Upper deck and balcony)

$2748

$2611

$2336

Extras and Inclusions
Port Taxes are $91 per person.

The three day Lisbon pre-cruise option (recommended) is an additional $500 per person.

If you're traveling alone, the single supplement for the cruise is an extra 50% of the person person rate, and for the Lisbon extension is an extra $360.

You can pay for your tour using a credit card with no credit card surcharge.

A $400 per person non-refundable deposit is required to confirm your participation and to hold your preferred grade of cabin on this cruise, and the balance is due 90 days prior to departure.
What about the Air Fare?
If you buy the Amadeus airfare, and are taking the Lisbon option too, they include transfers from the airport to the hotel in Lisbon, and from the ship back to the hotel in Porto.
These transfers are convenient, but require you to arrive on the exact day the Lisbon extension starts and leave the exact day the cruise ends. They can easily be arranged by yourself when you arrive at the airport as well (ie taxi), so should not unduly influence your airfare planning.
We suggest you check to see if you can use any frequent flier miles you might have for this travel, and/or check to see what the best fare you can get on your favorite airline is, then compare it to the Amadeus rate and make your decision then.
You are therefore free to make your own arrangements, any way you wish, to travel to Porto or Lisbon and then home again from Porto, and you can of course make extra stops and arrive earlier or stay longer. You can choose whichever carrier has the best fare and the best schedules for you, and you can also choose a carrier that you wish to earn miles with.
We'll be pleased to answer any questions you might have about arranging your air transportation, of course.
Which cities to fly in and out of
This might seem like an obvious issue, but remember that Europe is very small and so if you can't get convenient flights (or fares) on your preferred airlines to and from the obvious cities at the start and end of your tour, consider flying in or out of nearby airports and then using a train to get between that airport and the city you need to be in.
You'll probably find it easy to get flights to Lisbon.
On your return, if you wish to fly directly home from the end of the cruise in Porto, you can definitely do this. Another option could be to take a train back to Lisbon and fly from Lisbon instead. It is a $38 journey and takes a short three hours.
Passports and visas
US citizens require a current passport that will not expire for at least six months after the date of their planned return back to the US in order to be admitted to Europe. They do not require any European visas. Citizens of other countries should check with the airline that will transport them to Europe to determine what passport and visa requirements may apply.
Travel Insurance
We generally recommend you should protect against the various types of losses that may occur while traveling.
Amadeus Waterways offer a policy that covers you for trip cancellation and interruption costs, medical costs, trip delay, and baggage delay or loss. This is $229 per person. The premium is payable with your deposit.
To add an extra trip cancellation premium that will allow you to cancel for any reason at all, add another $40. With this add-on premium, if you cancel for a reason not covered by the main policy, Amadeus will refund you as much of your payment as is covered by their usual policy, and give you a voucher to be redeemed against future travel any time in the next year for the balance.
Click here for a new page with more information on the Amadeus travel insurance.
Need More Information?
If you've a question or need more clarification, go ahead and ask. Click for Live Chat Help (if we're online) or send us an email, or feel free to call us at (206)337-2317.
Tour Terms and Conditions
Terms and conditions of the cruise line (Amadeus Waterways) apply.
The Travel Insider is licensed by the State of Washington as a seller of travel - registration number 602 036 247.