New Year in Vienna Danube River Cruise
Finish 2007 with a flourish and start 2008 in style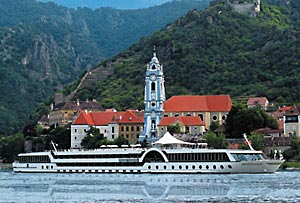 Join a small group of 'Travel Insiders' and share the enjoyment of a very different style of vacation on a custom built river boat.

Celebrate New Year in one of the world's most exciting cities, and glide by picture postcard scenes during the magic of the holiday season in Hungary, Austria and Germany.

Maybe you've cruised on a gigantic cruise ship before. Our New Year in Vienna Danube River Cruise is very different. The brand new (launched in Feb 2006) river cruiser, Amadagio, has only 73 cabins, making for a much more personal and less institutional experience.
The river cruise itinerary is also very different to a traditional ocean cruise. You never have rough seas, and you're always treated to beautiful views out your cabin window, never just empty ocean.
Note : We can offer you an across the board 5% discount on all cruises operated by Amadeus Waterways. So if this special tour doesn't suit, have us arrange whichever other cruise you'd prefer.
Click to skip down to the booking form
About the Cruise/Tour
You'll depart the US on or before Saturday 29 December, to join the vessel in Budapest on Sunday 30 December. The cruise ends on Sunday 6 January in Nuremberg.
Should you wish it, you can choose between either an optional two night extension to Prague that continues until Tuesday 8 January, or you can remain on board the Amadagio for another week and cruise on to Amsterdam, where you'd leave the vessel on Sunday 13 January. You might also wish to add a night or two in Budapest prior to the cruise.
Like a traditional cruise, all meals are included, and - better than a traditional cruise - it includes a generous amount of shore touring as well, at no extra cost. You won't have to pay extra for your shore touring as we visit the lovely towns and cities along the Danube.
The cruise of course includes three great meals a day, plus various other snacks, on-board entertainment, as well as generous opportunities to sightsee, both from the boat as it cruises the river, and while ashore during the many stops. You typically have time to both participate in a provided tour and also to sightsee and shop on your own.
While all meals are available on the vessel, you'll be able to experience other dining opportunities ashore if you wish. Similarly, the on-board entertainment can be supplemented with visits to clubs and bars and shows ashore - the vessel sometimes stays in each port until late at night, allowing you a chance to experience some towns by day and by night.
More general information about river cruising in Europe can be found here.
Why Cruise in Winter?
Yes, we all know the weather is cold in winter, but that is nothing which several layers of warm clothes can't combat. Offsetting this are several strong reasons to consider this cruise at this time :
Firstly, of course, is the chance to enjoy New Year's Eve and New Year's Day in Vienna. What a wonderful place to celebrate the end of 2007 and the start of 2008.
Secondly, for many people, the period between Christmas and New Year is their slowest time of year at work or school, making it easier to get time off to travel.
Thirdly, the very fact that this time of year is the off-season is as much a positive advantage as it is a disadvantage. The crowds of people aren't as crushingly overpowering as they are in the busy season. For example, at the glorious abbey in Melk, during the summer there are tours departing every two minutes. When we visited, we were the only group visiting and so our guides could slow down and show us more things and not rush to squeeze us in between the group immediately before and after.
Lastly, you may be able to get a lower rate on the air fare during this off-peak travel period.
I recommend this winter cruise. Try it for yourself - you'll be delighted you did.
Information about Amadeus Waterways
As of the time of writing, we have already had two very positive group experiences with Amadeus, and we will have had three more prior to the New Year's cruise in December. Every contact we've had with Amadeus to date has confirmed our perception that they are a highest quality operator.
This perception isn't just a coincidence. The founder and head of Amadeus, Rudi Schreiner, first worked for Uniworld (another fine cruise company) and then was President of Viking River Cruises from 2000 until the end of 2002, when he left to found Amadeus, with Amadeus first appearing on the market in 2003, and growing steadily every year since then. Rudi was largely responsible for the excellent operations at both Uniworld and Viking, and now he is taking everything he has learned and applying it in his own company, with - so far - outstanding results.
His ships are as good or better than any others you'll find on the rivers and canals of Europe, and are (of course) also very new. As the new company in the market, he is having to work harder to win business, and is doing so by offering great itineraries, lots of inclusions, and great values. I've spoken with Rudi and he impresses as a sensible and perceptive gentleman.
In 2004, Amadeus was still new and largely unproven, so we chose the safer option of Viking. Now, in 2007, Amadeus is a proven quality operator we're pleased to partner with. We are confident you'll agree with us that Amadeus Waterways is an excellent operation.
Because Amadeus is relatively new, there are few independent reviews of their cruises. Here are three :
Waverly writes on this site (scroll down a bit to get to the review)
...the Amadagio exceeded our highest expectations. Amadeus Waterways claims that the Amadagio is the most luxurious ship on the European waterways today and this is true.

The hips don't lie - one outstanding feature was the variety of meals served for lunch and dinners with outstanding desserts. The crew was very helpful, friendly and professional...
Tom Ogg writes about his experience with Amadeus on a different itinerary and says in his conclusion (I agree with everything but wonder how they managed to get 11 hours sleep a night!)
Joanie and I didn't know if we were going to like our river cruise or not. Many of our friends told us that we wouldn't for a variety of reasons. They were too structured for us (we are well known for our aversion to structured events), there is nothing but older folks on a river cruise, or we would be bored out of our minds. One friend that has taken several groups on river cruises warned us against taking off on our own.

Here is the bottom line. We liked it a lot….and here are the reasons. First, we went our own way on purpose and no one said anything to us whatsoever. We knew where the boat would be and when to be there and that is all that counted. In fact, the cruise manager would tell us special things we could do in some of the towns that turned out great. Don't discount river cruises if you are the type that likes to go your own way. Second, we loved the intimacy of the ship. With only 120 passengers we got to know quite a few people very well. Joanie and I met a couple from Vail, Colorado that were wonderful people that I am sure we will evolve a friendship with. We were going to meet them for dinner in Paris, but Joanie became ill and couldn't make it. Folks that like river cruising are well traveled, successful, bright and interesting people and Joanie and I enjoyed the people we met…all of them. I can't say I have ever had the same experience on a larger ship. Third, we loved the uniqueness of the ports. About the only way to see the same ports would be via a motor coach tour. Which would you rather do? Sit in the sun on the river drinking a glass of wine while the scenery drifts by, or sit in a motor coach trying to catch a glimpse of that castle that is hiding behind the trees.

Finally, yes, it was boring. There were no discos, no casino, no theme parties, no production shows, no tender tickets, no lines, no bar hopping, none of that. It was so boring that Joanie and I got more rest than we have ever had. We averaged almost 11 hours of sleep a night. The entire cruise was so relaxing, that we are having a hard time reentering our normal lives. I will take boring any day! If you haven't considered a river cruise, take another look, you might just find it as enjoyable as Joanie and I did.
Connie and Darwin write of their cruise on the same itinerary with Amadeus
If you have never been to Europe, or even if you have, a river cruise is the way to go. Your hotel travels with you. It is so relaxing and you really get caught up in the atmosphere and are intoxicated with the scenery, even without beer or wine. We have been back a few weeks now, and I still have vacation head. I would go back in a heartbeat. During our cruise we celebrated our anniversary and I whispered to my husband during the fabulous sparkler-laden layer cake that paraded out, "How are we ever going to top this?"
About the Amadagio
Our cruise ship for this cruise, the Amadagio is almost brand new, being commissioned in March of 2006.
The boat is long but narrow. It is 360' long and 37.4' wide, and cruises at 15.6 mph. This might seem like a slow speed, but it is faster than most of the other cruise boats, enabling the boat to get between towns faster and giving you more time sightseeing.
Dining is single-seating and with no pre-assigned tables, so you can move about as you wish from meal to meal. Amadeus even provides complimentary beer or wine or softdrinks with your evening meal each day.
Smoking is restricted to the Sun Deck only.
Our cruise has been marketed primarily to English speaking people and the official language on board is English. This means you won't have the inconvenience of having to listen to every announcement being repeated in four or five different languages.
Cabin Types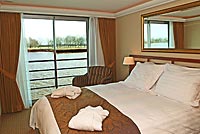 Cabins on the Amadagio are the largest of any cruise boat - a massive 170 sq ft each. The 154 sq ft cabins on the earlier Viking cruise seemed spacious, and the 170 sq ft cabins on Amadagio are even more marvelously roomy and comfortable.
The cruise is offered in five cabin grades plus there are four suites as well.
There are 69 cabins and four suites on three decks, and all are well equipped with a/c, bathroom and shower, phone, flat screen television, internet access, hairdryer and safe. The television has both local and satellite channels, a bridge-cam channel, and an evening movie channel.
All five grades of cabin are very similar in terms of size and amenities. The main difference is the deck the cabins are situated on.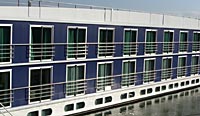 This picture clearly shows the three accommodation decks on Amadagio. The top deck and the middle deck have floor to ceiling sliding doors and 'French balconies' (a very small space outside the sliding door), but the lower deck just has windows.
The most important difference though is not the style of window, but rather the height above the waterline. There is a big difference in perspective and view between the top deck (suites and A category cabins) and the middle deck (B and C category cabins), while on the lowest deck (D and E category cabins) the floor is actually below the waterline and your windows and eye level is only a foot or so above the waterline. On this deck, with even the slightest amount of bank on the sides of the river, you'll not see anything other than the water and bank from the bottom deck, and there may be a bit more water and machinery noise on that level too.
When moored, if your cabin is on the dockside rather than the outboard side, the lowest deck cabins will have a view blocked by the dock, the middle deck cabins may have a limited view, and the top deck cabins will usually have a view above the dock level.
These differences are much more profound than in a massive cruise ship where even the lowest deck is still a long way above the waterline. Of course, if you do choose a D or E category cabin, you can spend the days in the public areas and enjoy the views from there, but if you can justify the extra cost to go up a deck or two, the chances are you'll be very pleased you did.
Suites are 255 sq ft, cabins are 170 sq ft.
More information about the Amadagio can be seen on the Amadeus website.
Tip : Choose the least expensive cabin type on the deck you'd rather be on. There is no added value in choosing a D cabin in favor of an E cabin, or a B cabin in favor of a C cabin.
Cruise Dates
The cruise commences in Budapest on Sunday 30 December 2006. If you're traveling from the US, you should leave on Saturday 29 December (or earlier) to arrive into Budapest on the 30th (or earlier).
The cruise finishes in Nuremburg on Sunday 6 January. You can then either return home that day, add on either the optional extension to Prague or Amsterdam, or extend your stay in Europe any other way as you wish.
You might want to consider arriving into Budapest a day or more early. This gives you an 'emergency' day in case of flight delays or luggage problems or anything else, and also gives you a day to 'de-jetlag' before the cruise gets underway. You'll want to be able to stay up until midnight on the 31st, after all!

Detailed Day by Day Itinerary

Click this image to have a larger map open in a new window
Per person pricing for the cruise is as follows :
| | | | |
| --- | --- | --- | --- |
| Cabin Type | Cruise | Cruise & Prague | Cruise to Amsterdam |
| E | $1599 | $1899 | $3129 |
| D | $1698 | $1998 | $3318 |
| C | $1998 | $2298 | $3898 |
| B | $2098 | $2398 | $4088 |
| A | $2198 | $2498 | $4278 |
| Jr Suite | $2798 | $3098 | $5418 |

Extras and Inclusions
Rates include a free New Year's event in Vienna (subject to availability) - your choice of either :
* A Vienna Symphony Orchestra concert performance of Beethoven's Ninth (Choral) Symphony; or
* A Vienna Hofburg Orchestra concert of popular Strauss and Mozart pieces; or
* A performance of Die Fledermaus (by either the Vienna Volksoper or Staatsoper); or
* A Vienna Heurigen (Folk) Show; or
* Half the cost of a €130 ($180) ticket to the Grand Ball at the Hofburg Palace

Rates include a free excursion to Salzburg (an $85 value) as a special Travel Insider bonus.

Rates include a Travel Insider New Year's Party on board the Amadagio

Rates include a 10% discount on the extension to Amsterdam

Bring your friends and family! Group Discounts available :
* 3 or 4 people traveling together = 5% discount per person
* 5 or 6 people traveling together = 7.5% discount per person
* 7 or more people traveling together = 10% discount per person
(Note - 'traveling together' does not mean in the same cabin!)

Port Taxes are $84 per person to Nuremberg or $168 to Amsterdam.

Single rate is 150% of the above per person share twin rates for cabins or 200% for a junior suite. A guaranteed single share program is also available for category B cabins (see below).

Air fares can be quoted from most cities in the US, or you can arrange your own air travel as you wish.
You can pay for your tour using a credit card with no credit card surcharge.
A $200 per person non-refundable deposit is required to confirm your participation and to hold your preferred grade of cabin on this cruise, and the balance is due 90 days prior to departure.
Single Guaranteed Share Program
If you are planning to travel by yourself, but would prefer to avoid the single surcharge, Amadeus offer a guaranteed twin share program with another person of the same gender, in their category B cabins.
What about the Air Fare?
If you buy the Amadeus airfare, they include transfers from the airport to the cruise ship when you arrive into Budapest, and from the ship back to the airport at the end of the cruise in Prague if you extend on to Prague (if you end your cruise in Nuremberg, they don't offer a transfer there). These transfers are convenient, but require you to arrive on the exact day the cruise starts and leave on the exact day the cruise ends, and/or can easily be arranged by yourself when you arrive at the airport as well, so should not unduly influence your airfare planning.
We suggest you check to see if you can use any frequent flier miles you might have for this travel, and/or check to see what the best fare you can get on your favorite airline is, then compare it to the Amadeus rate and make your decision then.
You are therefore free to make your own arrangements, any way you wish, to travel to Budapest and then home again from Nuremburg, and you can of course make extra stops and arrive earlier or stay longer. You can choose whichever carrier has the best fare and the best schedules for you, and you can also choose a carrier that you wish to earn miles with.
We'll be pleased to answer any questions you might have about arranging your air transportation, of course.
Tip : Ask for an air included quote when you know your itinerary. Then with that space held, see if you can get a better deal or more convenient flights, or perhaps frequent flier tickets. As long as you cancel your Amadeus arranged flights before you send in final payment, you can do this without penalty.
Which cities to fly in and out of
This might seem like an obvious issue, but remember that Europe is very small and so if you can't get convenient flights (or fares) on your preferred airlines to and from the obvious cities at the start and end of your tour, consider flying in or out of nearby airports and then using a train to get between that airport and the city you need to be in.
For example, if you are returning home from Nuremberg, consider taking a short 1¾ hour train ride from Nuremberg to Munich, and then connect at the rail station to the suburban rail line that travels directly out to the airport.
Similarly, if you are thinking of perhaps arriving into Europe a day or two before the cruise begins, maybe fly in to Vienna rather than Budapest. It is only 2¾ hours by train between Vienna and Budapest.
Sometimes you might find you get a cheaper fare if you fly in and out of the same city. For example, to return to Vienna from Prague is 4 hours by train, or to return to Vienna from Nuremberg is 5 hours.
Travel Insurance
We generally recommend you should protect against the various types of losses that may occur while traveling.
Amadeus Waterways offer a policy that covers you for trip cancellation and interruption costs, medical costs, trip delay, and baggage delay or loss. This is $199 per person. The premium is payable with your deposit.
To add an extra trip cancellation premium that will allow you to cancel for any reason at all, add another $30. With this add-on premium, if you cancel for a reason not covered by the main policy, Amadeus will refund you as much of your payment as is covered by their usual policy, and give you a voucher to be redeemed against future travel any time in the next year for the balance.
Click here for a new page with more information on the Amadeus travel insurance.
How to Extend or Vary this Tour
There are many ways you can extend or vary this tour.
Pre-Cruise Extensions
Many people typically choose to arrive a day or two early into Budapest. This gives you time to relax and unwind after the long flight and to adjust to the new time zone, it gives you 'emergency time' in case of delays to your flights or your luggage, and it gives you time to explore Budapest prior to joining the cruise.
We'll be offering a tour and transfer on Sunday 30 December that will feature sightseeing in the city and to the artist's colony town of Szentendre before taking you (and your bags) to join the Amadagio in Budapest.
Post-Cruise Extensions
Amadeus Waterways offers a two night extension in Prague at the end of the tour for $300.
This takes you by coach from Nuremberg to Prague, includes two nights of accommodation, breakfast each morning, and a half day tour of the lovely city of Prague.
As an alternate option, you could choose to stay on the Amadagio and travel for another week on to Amsterdam. The cost of this extension depends on your cabin category, and is shown above. Note these rates include a 10% discount on the extension to Amsterdam.
Other Variations and Additions
If you are planning to arrive early, you might want to consider flying in to Vienna and spending extra time in Vienna, then taking the short 2¾ hour train ride to Budapest to join the cruise on Sunday 30 December.
You are of course free to arrange your travels before and after the cruise any way you like,
If you have more questions, please don't hesitate to ask. We're here to help ensure your experience is as good as possible.
Tour Terms and Conditions
Our standard terms and conditions apply to this tour.
In addition, please note these extra terms :
1. The 90 day payment due date is considered to be Friday 28 September.
2. US citizens require a current passport that will not expire for at least six months after the date of their planned return back to the US in order to be admitted to Europe. They do not require any European visas. Citizens of other countries should check with the airline that will transport them to Europe to determine what passport and visa requirements may apply.
3. Tour price is subject to change prior to full payment being received.
4. Terms and conditions of the cruise line (Amadeus Waterways) also apply.