Europe's Heartland Cruise June 09
Cruise pricing from as low as $1599!
SAVE $700-850 off Amawaterways Brochure Price
Fully Escorted Travel Insider Tour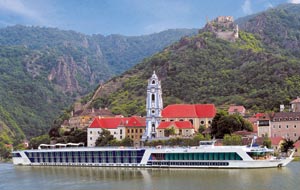 A gorgeous cruise at a wonderful time of year with warm weather, long days, and lots of beautiful sights and experiences.

Enjoy a wonderful cruise along the picturesque Mosel and Rhine rivers in Germany, with wonderful shore touring each day to beautiful old towns and cities.
Maybe you've cruised on a gigantic cruise ship before. A river cruise is very different. The custom built (brand new this year - 2009) river cruiser, Amalyra, has only 75 cabins, making for a much more personal and less institutional experience.
The river cruise itinerary is also very different to a traditional ocean cruise. You never have rough seas, and you're always treated to beautiful views out your cabin window, never just empty ocean.
Take advantage of the weak Euro, and this wonderful bargain priced cruise and enjoy a wonderful vacation at the best time of year.

Click to skip down to the booking form
Cruise Dates
You should leave the US on or before Sunday June 28, so as to arrive into Trier, Germany's oldest city, on or before Monday June 29. You board the ship on Monday afternoon, June 29.
If you choose Amawaterways' three night pre-cruise option in Paris, you should leave the US on/before 25 June, to arrive into Paris on 26 June.
And if you choose to do your own thing, travel to Europe as and when it suits you. If helpful we can arrange a tour/transfer from Paris to Trier on Monday June 29.
The cruise ends in Nuremberg on the morning of Monday July 6.
At this point you're free to either fly home (probably choosing to fly from either Nuremberg or Munich), or to extend your stay as you wish. Amawaterways offer an extension that would take you on to Prague that day, and spend two nights there before flying home on Wednesday July 8 (or continuing your European experience as you choose).
Many people choose to arrive into Europe a day before the start of the cruise. This means if you - or your luggage - should miss a connecting flight, or if anything else goes wrong, you still have a day up your sleeve before the start of the cruise.
It also gives you a day to 'de-jetlag' before the cruise gets underway.
If you wanted to arrive a day early, you could either spend a night in Trier, or perhaps a night in Paris then take the tour/transfer on Monday June 29 to the ship in Trier (including sightseeing in Luxembourg en route).
Europe's Heartland Cruise - Detailed Day by Day Itinerary

Click this image to have a larger map open in a new window
Your Special Savings
This is truly a great deal to tempt you over to Europe this summer, with the 'perfect storm' of savings! Take advantage of the cheap Euro, low air fares, and this tremendous cruising deal.
Plus, there's another chance to save for some of you. If you've traveled with Amawaterways (formerly known as Amadeus Waterways) before, you'll get another $100 per person past passenger discount. Let us know if you've sailed with them before in the comments section of the booking form, below.
About the Cruise/Tour
Like a traditional cruise, this is a fully meal inclusive cruise, and - better than a traditional cruise - it includes a generous amount of shore touring as well. You won't have to pay extra for your shore touring when visiting the lovely towns and cities as you cruise through Germany.
The cruise of course includes three great meals a day, plus various other snacks, on-board entertainment, as well as generous opportunities to sightsee, both from the boat as it cruises the river, and while ashore during the many stops. You typically have time to participate in a provided tour and also to sightsee and shop on your own.
A nice extra feature is free wine, beer, or soda provided with all dinners on board. And, talking about free - you have free internet access too. Every room has its own computer screen and keyboard, which you can use for the internet as well as for access to the ship's movie library, bridge cam, GPS, and lots more.
While all meals are available on the vessel, you'll also be able to experience other dining opportunities ashore if you wish. Similarly, the on-board entertainment can be supplemented with visits to clubs, bars and shows ashore - the vessel will sometimes stay in port until late at night, allowing you a chance to experience towns by day and by night.
Because the ship carries a maximum of 150 passengers, you have a chance to actually get to know other people on board and to create new friendships. Most people on these cruises seem to be variously middle aged and older.
Travel Insider Extra Features
You'll be traveling as a member of the Travel Insider group, with the group hosted/escorted by David Rowell personally.
David will be on-call 24/7 to help you with any issues or challenges any way he can, and will add value to your travel experience and its quality assurance.
Being a Travel Insider makes you a VIP client of Amawaterways, and while all Amawaterways passengers get excellent service, you'll get even better service still.
In addition, David will be hosting two exclusive Travel Insider receptions on the cruise, giving you more opportunities to relax and enjoy the fellowship of traveling with a group of like minded travelers.
Why River Cruising
River cruising is simply and absolutely the most comfortable and convenient way to travel around Europe. You can unpack your bags and get comfortable in your lovely large cabin and not need to repack or transfer until the end of the cruise - this in itself is probably all the convincing you'll need!
In addition, European towns have historically tended to be centered around the major rivers, and so river cruising is a great way to get to the lovely historic parts of Europe, at a sedate speed, and in luxurious comfort.
How else could you travel around Europe? On a bus tour? Yuck! By train or car - yes, but then you have an abundance of travel hassles every day.
I've experienced every possible type of travel, and I'm a 100% convert. River cruising is the best way to see Europe. Try it, and you'll be sure to agree.
Why Cruise in June?
Experienced travelers know the best time to travel is always either side of the peak periods. Late spring is a glorious time of year, and you're getting the longest possible days (the summer solstice (longest day) is 22 June) combined with the best possible weather - long warm sunny days, prior to the sometimes stifling heat of mid-summer in central Europe, while beating the worst of the summer crush of people and high travel costs.
The weather should be comfortably warm during the days, with temperatures ranging up into the low/mid 70s, and cooling down in the evenings. There may be a little rain (average total rainfall for the month in the regions we visit is about 2.7").
About the Amalyra
The cruise ship for this cruise, the Amalyra is brand new. Its maiden voyage is scheduled for 23 March 2009. It is custom designed to meet the special needs of the European river system, enabling it to operate in less favorable conditions than many of the other boats (ie when the water levels are 'too high' or 'too low').
The boat is long but narrow. It is 360' long and 37.4' wide, and cruises at 15.6 mph. This might seem like a slow speed, but it is faster than many of the other cruise boats, enabling the boat to get between towns faster and giving you more time sightseeing.
Dining is single-seating and with no pre-assigned tables, so you can move about as you wish from meal to meal. Amawaterways even provide a generous amount of complimentary wine (or beer) with your evening meal each night.
Smoking is restricted to the outside Sun Deck only.
The cruise has been marketed primarily to English speaking people and the language on board is exclusively English. This means you won't have the inconvenience of having to listen to every announcement being repeated in four or five different languages, and you can conveniently talk to your fellow guests (and likely soon to be new friends) on board.
Cabin Types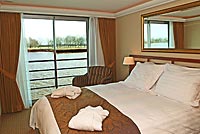 Cabins on the Amalyra are comparatively large and spacious compared to other cruise boats - a massive 170 sq ft each.
The cruise is offered in five cabin grades plus there are four suites as well.
There are 71 cabins and four suites on three decks, and all are well equipped with a/c, bathroom and shower, phone, flat screen television, free internet access, hairdryer and safe. The television has both local and satellite channels, a bridge-cam channel, and an evening movie channel.
All five grades of cabin are very similar in terms of size and amenities. The main difference is the deck the cabins are situated on and the exterior windows.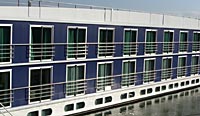 This picture clearly shows the three accommodation decks on Amalyra. The top deck and the middle deck have floor to ceiling sliding doors and 'French balconies' (a very small space outside the sliding door), but the lower deck just has windows.
These French balconies, and the panoramic views from them, are wonderful, especially on a warm day in late June/early July such as you'll hopefully enjoy.
The most important difference though is not the style of window, but rather the height above the waterline. There is a big difference in perspective and view between the top deck (suites and A category cabins) and the middle deck (B and C category cabins), while on the lowest deck (D and E category cabins) the floor is actually below the waterline and your windows and eye level is only a foot or so above the waterline. On this deck, with even the slightest amount of bank on the sides of the river, you'll not see anything other than the water and bank from the bottom deck, and there may be a bit more water and machinery noise on that level too.
When moored, if your cabin is on the dockside rather than the outboard side, the lowest deck cabins will have a view blocked by the dock, the middle deck cabins may have a limited view, and the top deck cabins will usually have a view above the dock level.
These differences are much more profound than in a massive cruise ship where even the lowest deck is still a long way above the waterline. Of course, if you do choose a D or E category cabin, you can spend the days in the public areas and enjoy the views from there, but if you can justify the extra cost to go up a deck or two, the chances are you'll be very pleased you did.
Suites are 255 sq ft, cabins are 170 sq ft.
Tip : Choose the least expensive cabin type on the deck you'd rather be on. There is very little added value in choosing a D cabin in favor of an E cabin, or a B cabin in favor of a C cabin.
Amawaterways is a relatively new company, founded by their President Rudi Schreiner in 2003, who formerly started the river cruising operation for Uniworld, and who then founded Viking River Cruises before now creating this latest company. He has taken his experience and knowledge of both what is good and bad about other river cruises and built a high quality company that is quickly setting the new high standard for river cruising in Europe.
I've spoken with Rudi at length, and we know many of the same people in the travel industry, and I am very comfortable endorsing his company and his tours.
Cruise Cost
Per person pricing for the cruise is as follows :
Cabin Type

Special Travel Insider Cruise Rate

E (normally $2299)

Sorry - now sold out

$1599 - save $700

D (normally $2448)

Sorry - now sold out

$1738 - save $710

C (normally $2748)

Sorry - now sold out

$1998 - save $750

B (normally $2898)

Sorry - now sold out

$2098 - save $800

A (normally $2998)

$2198 - save $800

Jr Suite (normally $3798)

Sorry - now sold out

$2948 - save $850

Extras and Inclusions
Port Taxes are $98 per person.

The Paris add-on (three nights) is $660, the Prague add-on (two nights) is $440.

Single supplement is currently being renegotiated for the cruise (ask to be updated when this is resolved), and is $360 for the Paris option and $240 for the Prague option.

Amadeus operates a limited number of 'guaranteed share' spaces where they'll either match you up with a fellow passenger of the same gender or allow you to travel with no single supplement. We (The Travel Insider) can also attempt to match you up with another single traveler too.

If you just want the tour/transfer between Paris and Trier, that is $130 per person. You'd need to be at the Paris Republique Crown Plaza Hotel at 7.30am to join the transfer/tour.

You can pay for your tour using a credit card with no credit card surcharge.

Because we are now within three months of sailing, full payment is required as soon as your booking request is confirmed.
Click to skip down to the booking form
What about the Air Fare?
We can help you find a good airfare, and there'd be no extra charge for our services. You can also do this yourself - we generally use www.kayak.com to shop for the best airfares.
We can also have Amawaterways arrange air for you, but with the wealth of deals out there, the contract rates they have available are seldom as good as what you can find yourself.
We'll be pleased to answer any questions you might have about arranging your air transportation, of course.
Which cities to fly in and out of
Trier - Germany's oldest city - is very small and doesn't have its own airport. The nearest major airport is Luxembourg, which is just under 30 miles away (ie simply take a taxi or shuttle bus to Trier from the Luxembourg airport).
You'll probably find most flight choices, and best value, if you fly in to Frankfurt. This is further away (about 135 miles) and the best way to travel from Frankfurt to Trier is by train. It is about a 3 hr train journey, and costs around €30 (about $38) for pre-purchased tickets.
There are other airports as close or closer than Frankfurt (eg Bonn) which you could consider as well.
One other option is to fly in to Paris, or in some other way, make your way to Paris, and then take advantage of the sightseeing transfer/tour from Paris to Trier on the Monday morning, June 29. This includes a stop in Luxembourg en route. This transfer/tour is $130 per person.
For returning home again, if you wish to fly directly home from Nuremberg, you could either fly from Nuremberg or take a train to Munich and fly from there (you might find a broader range of cheaper flights from Munich). It is a mere hour by fast train between the two cities and again costs about €30 for a pre-purchased ticket.
If you're traveling on to glorious Prague, your best choice is to fly home from Prague. It is a good airport with lots of flight choices, and not very close to a 'better' airport.
Need More Information?
If you've a question or need more clarification, go ahead and ask. You can send us an email, or feel free to call us at (206)337-2317.
Travel Insurance
We generally recommend you should protect against the various types of losses that may occur while traveling.
Amawaterways offer a policy that covers you for trip cancellation and interruption costs, medical costs, trip delay, and baggage delay or loss. This is $229 per person. The premium is payable with your deposit.
To add an extra trip cancellation premium that will allow you to cancel for any reason at all, add another $40. With this add-on premium, if you cancel for a reason not covered by the main policy, Amawaterways will refund you as much of your payment as is covered by their usual policy, and give you a voucher to be redeemed against future travel any time in the next year for the balance.
Click here for a new page with more information on the Amawaterways travel insurance.
How to Extend or Vary this Tour
There are many ways you can extend or vary this tour. You're of course free to add anything you like, before or after the cruise. Alternatively, if you prefer, the cruise is a complete experience in itself without needing any extra time.
We recommend you consider arriving into Europe at least a day before the cruise starts, so as to give yourself a day to resolve any problems that may occur such as missing/delayed flights or losing luggage.
If you have more questions, please don't hesitate to ask. We're here to help ensure your experience is as good as possible.
The Amawaterways offered optional pre-cruise three night Paris package and two night Prague package are both very popular. But if you've been to Paris several times before, you might prefer to make your own arrangements there and simply take the tour/transfer via Luxembourg to join the tour on Monday 29 June.
Tour Terms and Conditions
Our standard terms and conditions apply to this tour.
In addition, please note these extra terms :
1. The 90 day payment due date is considered to be Wednesday March 25, 2009. In other words, payment is due once your booking is confirmed.
2. US citizens require a current passport that will not expire for at least six months after the date of their planned return back to the US in order to be admitted to Europe. They do not require any European visas. Citizens of other countries should check with the airline that will transport them to Europe to determine what passport and visa requirements may apply.
3. Tour price is subject to change prior to full payment being received.
4. Terms and conditions of the cruise line (Amawaterways) also apply.