Bentley Continental GT Review
The Bentley Continental GT represents the relaunch of the Bentley marque under its new ownership. Volkswagen have sympathetically avoided interfering with the highest quality traditions of this classic British car manufacturer, while providing generous funding to enable the development of this new dream machine.
Astonishingly, by utilizing available technology from other Volkswagen brands, and by planning for a high level of sales, Bentley's new offering not only is truly state of the art in terms of elegance and capabilities, but is also at a price point way below other super-cars.
It is difficult to say 'good value' in the same sentence as '$150,000 motor car' but the Bentley Continental GT makes it as easy as it is ever likely to be.
First Impression - the Bentley's Traction Control
John Crawford, Director of Public Relations for Bentley in the US, smoothly stopped the shiny red Bentley Continental GT, pulling over into the gravel on the side of the road. We got out and swapped sides, and with a frisson of excitement, I sat behind the impressive steering wheel. John noticed me admiring it and proudly told me 'A master craftsman spends 13 hours to hand stitch the leather on the steering wheel alone - about as many man hours as it takes to make an entire Ford Taurus'.
I wondered who was more nervous at me being cut loose behind the wheel of the 552 horsepower twin turbo-charged W-12 (two V-6's mounted side by side on the same crankshaft) super sports car. I adjusted the mirrors, and thought about what every person must surely dream of - a full throttle start in gravel.
I dialed a firm sports setting into the computerized suspension management system - just in case....
'This thing really does have traction control?'
'Yes, it is an all wheel drive vehicle with full traction control on all wheels' John replied.
'Okay, so hang on!'
I gripped the steering wheel tightly, ready to react to the car fishtailing wildly out of control, then firmly pushed the accelerator all the way, hard to the floor boards.
So what did the six litres, twelve cylinders, 552 horsepower and 479 ft lbs of torque do? They behaved perfectly. With only the slightest bit of wheel chatter, the car smoothly accelerated, almost without disturbing the gravel. Amazing.
I steered the car onto the road, and with the better traction, the car took full advantage of its incredible power. I blinked and almost missed the rev counter whip around to touch the red line at 6600 rpm in first gear, then in a silky smooth change under full power, it really started to work in second gear and quickly climbed up to red line again before shifting into third.
By this time, something more than the 4.7 seconds it takes the Continental GT to rocket up to 60 mph had passed, and I'll plead the Fifth Amendment rather than disclose the number indicated on the speedometer when I eased off the gas pedal several seconds later. The car has a rated top speed of 198 mph, and several people claim to have exceeded 200 mph.
I had a quick look in the rear vision mirror - as if any other car would be anywhere in sight behind us after that take-off! I noticed something new reflected back at me. The Bentley has an automatic aerofoil that deploys above a certain speed, and we were definitely now traveling above that 'certain speed', although I had to rely on the speedometer to be sure of this. It felt much slower.
As we continued along the road at a speed State Troopers rarely see on their radar guns, the interior was quiet and the ride perfectly smooth and self-assured. Classical music from a local radio station bathed us in beautiful sound. Monster sports car it may be, but not in a sense of unrefined brute strength - the Bentley is utterly luxurious to look at and to drive in.
Wow. First impression - overwhelmingly positive.
Second impression - The Continental GT's transmission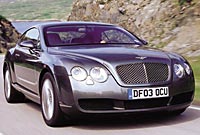 Now for the fun part of the drive (and you thought a full throttle start from gravel was fun!). We were approaching a windy section of road, going uphill and with a lovely hairpin halfway up. I'd been driving slowly for a while so as to ensure we'd then have an open road ahead with no cars to interfere with the high speed hill climb.
The lovely ZF automatic transmission has six forward gears, and shifts between them almost imperceptibly. But for what I had in mind, I wanted to be in control of the gears myself. The Bentley Continental GT has two ways to over-ride the auto transmission, and I moved the shift lever from its 'Auto - Drive' position across to the manual shifting 'Tiptronic' setting, where you control the gears and the shifts manually.
John noticed and made a suggestion. 'Why don't you use the paddles, instead? You have much more control and don't need to take your hands off the wheel at all.'
Similar to two more turn indicator stalks, there were levers on either side of the steering wheel; what Bentley call 'paddles'. You press the left one down to shift down a gear, and the right one to shift up a gear. If 18 seconds pass with no more gear change requests from you via the paddles, the car settles back into full auto mode.
On one of the two multi-function computer displays, it shows the gear that is being used. Currently it was showing 5, and I experimentally flipped the left hand paddle. The rev counter climbed, the indicator shifted to 4, and presumably we had changed down a gear. It was hard to tell, because the shift was so smooth. I flipped the left paddle again, and this time noticed a change in engine noise along with the further increase in revs, and the indicator now read 3.
Okay, so with that as a mini training course in operating the paddles, I concentrated on enjoying the curves ahead. John had been steadily talking away - there's so much to say when the topic is the new Continental GT, after all - but his voice trailed off as we headed into and around the first corner. Brave man that he is, he never once demurred as we whipped around the corners, and I found myself absolutely loving the paddles, as well as every other part of the car, flipping the gears up and down as we snaked around the hill. Neither the car nor the passenger complained, and the car was stunningly sure-footed, giving no hint of the 5200 lbs of body weight that it carries.
Wow again. Second impression - I want one!
Third Impression - Demure and well behaved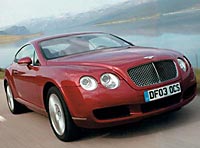 Disaster struck! Well, don't get the wrong idea, please. In this context, disaster was defined as coming up behind another car and being forced down to its speed.
Allow me to speak hypothetically for a moment... If one was driving a Bentley Continental GT and found oneself stuck behind a slow vehicle (and, let's face it, compared to the 198 mph maximum speed of the Continental GT, all other cars are slow!), then the amazing power and low down torque could get you past the car in front, even if only a very small amount of clear road ahead existed, and even if there was a double yellow line, which surely only applies to normal cars and drivers, not to Bentley Continental GTs and those privileged to drive them!
Anyway, back to the narrative, and with the other car now behind us and receding into the background....
We were approaching a built up area, so we slowed down to a safe slow speed. I wondered how the car would react when being asked to behave 'normally' at low speeds in urban areas.
It was perfectly docile. It was as controllable as a regular car, and was easy to smoothly slow and stop, and then to gently start up from the lights again just like the other cars around.
Wow again - but, uh oh, this is a car the wife will want to drive just as much as the male driver in a household. Maybe we'll have to buy two!
Fourth Impression - A crowd pleaser
We parked and left the Bentley for a bite to eat. When we returned, three ladies were crowded around and admiring the car. Plainly, they had no idea what exactly a Bentley Continental GT was, but they knew a good looking super-car when they saw one.
How proud I was to walk up to it and step inside, looking for all the world as if I owned it. Which, alas, I do not.
Still more wow.
A quick history of Bentley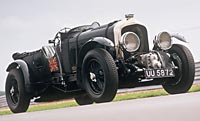 Like most people, I was vaguely aware that Bentley was formerly part of Rolls-Royce, and both Rolls-Royce and Bentley had now been sold to German companies. Now I know more, and you can, too.
The company was founded in London by Walter Owen Bentley immediately after the First World War, in January 1919. WO Bentley had designed two very successful airplane engines for the war effort and was given an £8000 gratuity for doing so - a huge amount of money in those days, and enough to fund the establishment of Bentley Motors.
The first car went into full production in 1922, and in 1924 Bentley scored the first of a series of five wins at the 24 hr Le Mans Endurance Race, with its record for the most wins standing until being bested by Jaguar in the 1950s. The new Bentley organization returned to Le Mans and won a sixth time in 2003.
Bentley built up a deserved reputation based around what we'd call in these times a 'mission statement' but what was simply a statement of WO's - he said his goal was to build 'a fast car, a good car, the best in its class'.
The depression affected Bentley's sales and the company was bought by Rolls-Royce in 1931. This acquisition was primarily a defensive move by Rolls-Royce, preventing Bentley from becoming a revived competitor as would have been the case if the other bidder for the company (Napier) had succeeded in its tender.
For much of its Rolls-Royce ownership, the Bentley marque languished, with Rolls-Royce often simply rebadging its own cars as Bentleys. Although Bentley sales originally represented as much as 60% of combined sales, this number steadily diminished and at the low point in the late 1970s represented a mere 5% of total factory production.
Then Roll-Royce rediscovered Bentley's roots - high quality high performance sports touring - and brought out, in 1980, the Bentley Mulsanne. The public received this car, and its future derivatives, with enthusiasm, and Bentley's share of total Roll-Royce production steadily climbed. By 1989 it represented half of all cars made.
Bentley's success continued, and in 2002 - the final year for Rolls Royce production at the Crewe, England factory, Bentleys outnumbered Rolls Royce cars by ten to one.
In 1998 it was the turn of Rolls-Royce to be sold, and the company ended up having its Rolls-Royce brand sold to BMW and the Bentley brand plus its Crewe factory sold to Volkswagen.
Volkswagen proved sympathetic to Bentley and in large part limited its role to providing funding and encouragement, with an investment of £500 million ($900 million) being made into updating the factory, re-engineering the cars and developing an all-new car model.
This new car model became the Continental GT. It was designed in record time, and first appeared at the Paris Motor Show in September 2002. Deliveries started in the UK in late 2003, by which time there had already been more than 1000 orders placed in the US.
95% of these buyers ordered and paid a deposit on the car without ever seeing or driving one - a great leap of faith when you consider that 85% of buyers have never owned a Bentley before.
More about the new Continental GT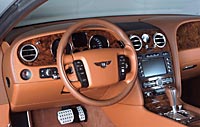 I'm not going to recite all the countless features of the car, nor point out its very occasional shortcoming. Plenty of traditional reviews will do both these things for you.
Instead, I want you to understand the distinctive feel of driving a Bentley. If - like in my own wilder moments - you love to drive a powerful car hard and fast, you'll delight in this car. It has an extraordinary torque curve - more like a flat line, with maximum torque being reached at only 1600 rpm and staying constant all the way to redline at 6600 rpm.
There is almost no lag and no fuss when the twin intercooled turbochargers respond to your request for power, and no complaint if you step hard on the massive brakes that quickly arrest the vehicle's forward motion. It handles obediently and obligingly, and its electronic traction and stability controls together with all wheel drive act to get you out of problems in an almost miraculous way.
If your preference is to enjoy a luxurious and ultra-reliable every day driving experience (at last, this need not be an oxymoron!), then the Bentley is also the car for you. The car I drove already had 4500 miles on the clock, but looked and felt brand new with no sign of any wear and tear.
The car is perfectly willing to quietly amble along in regular traffic, with only the occasional throaty burble (which you can hear if standing by the side of the road, but not when inside the car) giving hint to the untapped reserves of power under the hood. It is easy to park and maneuver, and I'm told the car is proving very reliable as a daily driver. For this reason, many purchasers are using their car for exactly this purpose - as a regular driving car, rather than a special occasions car.
Ground clearance - a problem with some super sports cars - is normal, and can be raised if necessary, and automatically lowers at speed. It has front air-bags, and both mid and top level side airbags.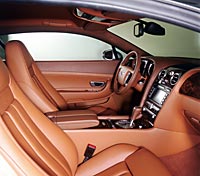 Inside, everything is double stitched leather, solid wood, or metal. There is no plastic or vinyl. Even the headliner is leather, and in total, 11 hides go into finishing every car.
The two rear seats are nicely contoured for comfort, and while leg room is not generous, it is adequate if the front seat is not all the way back. A surprisingly roomy trunk has room for luggage of two or more people, plus golf clubs or skis as well.
Plenty of electronics are available to play with if you wish, but you don't need to read the user manual before stepping in and driving off. However, if you do want to read the user guide, it is available online in the car's computer system as well as in traditional printed manual form. The electronics assist rather than interfere with the driving experience.
The car is best considered as the latest example of a 'Grand Touring' car - a vehicle designed for the best compromise between maximum comfort and performance. This is a car to enjoy on long road journeys. It feels reliable and unbreakable, while still having the panache and performance to make it a worthy vehicle to star in the next James Bond movie.
The Bentley Continental GT was named '2004 Car of the Year' by The Robb Report, who said, in bestowing the honor 'no other high-performance vehicle [that] delivers this amount of security at speed and this level of distinction, elegance, and comfort.' I agree with their choice and comments.
The Continental GT - available for sale, but not delivery
So now you probably want to rush out and buy one?
US deliveries commenced in late May 2004, and some 800 have been delivered by early October 04. There remains a six month waiting list on getting a car, although I've seen people offering to sell their waiting list places on eBay for $25,000 or more, and a local luxury car company is selling a 'second hand' (but never driven) car for $50,000 more than the new car dealer list price.
The car lists at the 37 Bentley dealers in the US for about $150,000.
Update, April 2006 : The car is now listed for $165,000. And the waiting list is now nine months long, and a staggering 18 months if you want one of the new convertible GTC cars, just released this month.
$150,000 - A good value?
Readers will know I'm usually fairly cynical about highly priced products. But in the case of the Bentley Continental GT, I find myself enthusiastically accepting its $150,000 sticker price as a great value.
My current car is a Jaguar XJS and a new replacement Jaguar would cost $74,330. So the Bentley is almost exactly twice the price.
Is it twice the car? Well, it goes 33% faster, has nearly twice as many horsepower and 50% more torque, and weighs almost 50% more.
But these numbers don't describe the driving experience. I love my Jaguar very much indeed and have proudly owned it for ten years, and just a couple of days earlier had taken it for a lovely 550 mile drive to Spokane and back on Wednesday, glorying in its comfort and power.
Alas, my wonderful Jag pales beside the new Continental GT. Yes, the C-GT is indeed twice the car (or more).
Sure, the Bentley costs more than a medium sized condo or good sized boat, but if you're considering such a car, you probably already have all the real estate and boats you want or need. The $150,000 sticker price is also very much less than the other current Bentley - the Arnage, which costs between $200,000 - $250,000, and by Bentley standards, the Continental GT is the lowest priced and best value Bentley ever produced. It is also the first all Bentley car released in 73 years, and the only Bentley ever to have all-wheel drive.
By borrowing technology from family members such as all-wheel drive from the Audi A8 and the basic chassis from the VW Phaeton, the Bentley design team have been able to develop the car far more quickly and for much less cost than would otherwise have been the case. And by commendably choosing to sell at a lower price point and in larger numbers, Bentley have ended up being able to sell a car at $150,000 that could credibly be priced at $200,000 or more.
You will probably buy the car without any options, but if you so desire, several options are available, including massaging front seats and a jeweled gas tank filler cap!
A curious and disappointing contradiction on the value and qualify issues was the pathetically short warranty offered. It offers a 3 year/unlimited mile warranty - the unlimited miles sounds generous, but few people are likely to put a huge number of miles on their car during the three years of coverage.
Why only three years? Why not four or five, same as for many other upmarket cars? Indeed, why not make a statement and make is six or more years!
The Continental GT and the Continental Flying Spur
The Continental GT has few competitors. Perhaps one of its strongest competitors is its stable-mate, the Continental Flying Spur. Read our review of the Flying Spur to understand the similarities and differences between these two wonder-cars.
Summary
The Bentley Continental GT is as different to a regular mass produced generic car as an executive Learjet is different to a four-seater Cessna. Perhaps its closest competitor is Ford's new Aston Martin DB9 or Vanquish, both of which are considerably more expensive.
One enjoys a justified feeling of comfort, control, and confidence behind the wheel of the Bentley. This car gives you a rare combination of super sports car performance combined with ultra luxury car comfort.
If you are looking for a high end car with uncompromising quality and performance, this is almost certainly the car for you.
Related Articles, etc

If so, please donate to keep the website free and fund the addition of more articles like this (and to help David get his own Bentley Continental GT!). Any help is most appreciated - simply click below to securely send a contribution through a credit card and Paypal.