Here are six recommended gift suggestions ranging in price from free to $350 to help you choose something special for someone special.
I personally own and recommend all six items.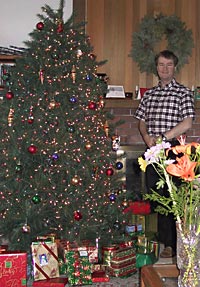 Delight the special someone in your life by placing one of these items under the tree this Christmas.
NEWSLETTER : In addition to weekly feature columns, I also send out a free weekly email newsletter that contains a wide ranging variety of travel related items and opinions.
Don't miss out! Have the newsletter emailed to you each week. (Privacy Policy) Simply fill in your email address :
[serverinclude/googleads/GA-160600-rhs-belowtop.htm]
(This is the 2003 Gift Giving Guide. Most products are still current and relevant, and the 2004 Christmas Gadget Gift Giving Guide is here.)

Looking for the ideal gift for the person in your life that already 'has everything'? Or maybe looking for ideas for yourself?

Chances are that at least one of the suggestions on this list will become an appreciated gift.

And, please excuse us our unashamed political incorrectness when we sincerely wish you Merry Christmas, and very best wishes for the New Year. :)
Item
Description
Price
Links

1. Noise Reducing Headphones
$80
Review
A must for all long distance fliers, and anyone else who spends extended time in noisy environments. Arrive feeling more relaxed. Enjoy movies and music without bothersome background noise.
2. Latest Generation Cell Phone
$50 back!
Review
An indispensable productivity aid and no longer just a phone, but also a camera, video recorder, calendar, internet access device, and lots more, too. Now that you can transfer your number from any cell phone service to any other cell phone service, you have no reason not to take advantage of the best deals and best phones.
3. Palm Tungsten T3 PDA
$90 -$350
Review
Color. Bigger screen than before. Bluetooth. Software to access your email, the internet, and much more. The works! Or, if your budget is more limited, choose one of Palm's lower priced models.
4. The Boom Headset
$150
Review
An incredibly effective headset for use with cellphones that almost completely eliminates the noise around you. Now you can whisper into your cellphone, even in a noisy bar, and still be heard clearly.
5. Skull Candy
$25-30
Review
This simple and clever device allows you to both use your phone and listen to music at the same time.
6. Nexcell Ni-MH rechargeable battery kit
$40
Review
Using rechargeable batteries is sensible and convenient, and saves you a huge amount of money compared to standard alkaline batteries. This kit has everything you need.
MORE IDEAS : Visit our 2005 Christmas Gift Guide and 2004 Christmas Gift Guide for more suggestions.
---
Related Articles, etc
Tell David your opinion. Send him an Email - [email protected]
Originally published 5 Dec 2003, last update 21 Jul 2020
Copyright 2003 by David M Rowell.
You may freely reproduce or distribute this article for noncommercial purposes as long as you give credit to me as original writer.