Sri Lanka - Nature's Paradise Tour Feb 2014

Enjoy a comprehensive tour around the beautiful tropical paradise of Sri Lanka


Enjoy 13 days of touring one of the world's most beautiful island paradises - Sri Lanka - in February 2014. We'll see abundant wildlife of all types, stunning natural beauty, and treat ourselves to stays in some of Sri Lanka's best hotels.
In addition to traveling in a comfortable high quality coach, we will also enjoy an elephant ride and a scenic train ride. We visit all six of Sri Lanka's World Heritage sites of outstanding global cultural significance, plus national nature parks, historical monuments, and plenty more.
Of course you can add anything extra you like before and/or after the main tour activities, so you've everything you need for a wonderful, varied and complete 2014 vacation.
We've carefully chosen the best time of year (from a weather perspective) to give you the best possible Sri Lankan experience.
Sri Lanka was named the number one best destination in the world by Lonely Planet in October 2012. Come see for yourself why it is so deserving of this accolade.
Tour Dates (2014)
Start Date and Options
Our tour starts in Colombo, Sri Lanka, on Saturday 15 February 2014.
Depending on the day you 'lose' as you cross the dateline (and which is of course returned to you when you go back home) and the air itinerary you select, you probably need to start your travels on Friday 14 or Thursday 13 Feb. You are welcome to arrive any time at all on Saturday 15th.
We are offering a pre-tour option in Singapore if you'd like to break the journey and arrive in Sri Lanka more refreshed.
End Date and Options
Our tour ends in Negombo (close to Colombo and the main international airport), on Thursday 27 February 2014.
You are of course welcome to stay on in Sri Lanka as you wish. Alternatively, you are welcome to leave at any time on Thursday to connect with ongoing flights.
We are offering a post-tour option in Bangkok if you'd like to add another destination and experience to your vacation, too.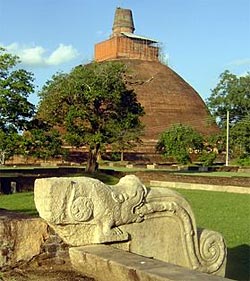 Tour Inclusions
Your tour experience is abundantly complete without being completely exhausting.
We've carefully designed it to give you as broad an experience as possible, while still allowing for a relatively easy and relaxed touring style.
And, of course, everything is optional, if you want to spend a lazy day by the pool rather than an active day out and about sightseeing, then stay at the hotel for the day instead. It is all up to you.
This is actually two tours in one. We have two guides, and when we stop at places, we'll typically split the group in two. One half will be for 'easy walkers' - people who want to move at a leisurely relaxed pace, and the other half will be for 'active walkers' - people who are keen to see and do as much as possible, and willing to walk at a faster pace accordingly.
There is a huge amount of sightseeing all included - look at this long list :
Large luxury coach for best views and comfort while touring

Two expert English speaking national guides, plus an assistant, local guides as needed, and dedicated Travel Insider tour leader

Two night stay in the capital city of Colombo in the luxury Cinnamon Grand Hotel

Three night stay at the luxury Cinnamon Lodge Hotel in Habarana

Two night stay in the ancient former capital of Kandy at the Cinnamon Citadel in upgraded deluxe rooms

One night stay in Nuwara Eliya at the St Andrews Hotel

Two night stay in a Jungle Chalet at the elite Chaaya Wild Resort, Yala

One night stay at the award winning Jetwing Lighthouse Hotel, Galle

One night stay at the award winning Jetwing Lagoon Hotel, Negombo

Cooked breakfasts every morning

Feature dinners on the first and last nights

Visits to and touring around all six of Sri Lanka's World Heritage Sites of Extraordinary Global Cultural Significance

Area touring every day

An elephant ride

Talking about elephants, a visit to the world famous Pinnawala Elephant orphanage

An open-air carriage scenic train ride from Peradeniya to Nanu Oya

Evening wildlife safari in Minneriya

Your choice of a morning or afternoon wildlife safari in Yala (or do both as an option if you wish)

Half day city tour Colombo

Evening tour of Galle Fort

Tour of Kandy

Batik demonstration

Spice Market visit and demonstration

Visit to the ancient capital city of Polonnaruwa

Visit to the ancient capital city and fortress of Sigiriya

Visit to the sacred city of Anuradhapura

Visit to the pilgrimage site of Mihintale

Visit to the 5th century, 40 ft high Buddha statue at Avukana

Visit to the Golden Temple of Dambulla and its labyrinth of shrine caves

Visit to the Temple of the Sacred Tooth

The Peradeniya Royal Botanical Gardens

Visit to a Tea Plantation

Visit to the multi-religion holy site of Kataragama

Tour of Galle Fort and Museum

Tour of Negombo and visit to their Fish Market

Short stops in other towns and areas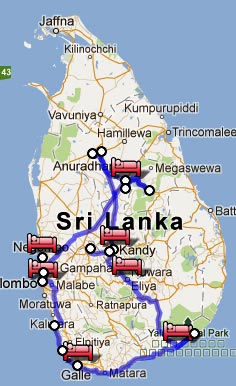 Tour Itinerary
Tour Cost
By dealing direct and cutting out the middle men, we've come up with an extraordinary value tour. Other tours can cost twice as much (see, for example, this tour and its 2013 not 2014 price - it goes to the same places and even uses most of the same hotels we do).
Your special Travel Insider tour price is $2545 per person, share twin.
A single supplement of $1045 is available. We will also help to match together singles if you'd like to share with a compatible fellow single traveler.
These prices reflect a 3% discount for cash/check.
A $500 per person non-refundable deposit is required to confirm your place on this tour.
The tour does not include the costs of travel between your home and the tour start and end points.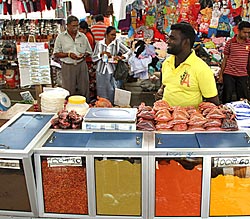 Tour Upgrades
We are staying in some of the best hotels in Sri Lanka (Cinnamon Grand, Colombo; Cinnamon Lodge, Habarana; Cinnamon Citadel, Kandy; St Andrews, Nuwara Eliya; Chaaya Wild, Yala; The Lighthouse, Galle; and Jetwing Lagoon, Negombo) and our rooms will be comfortable and of high quality.
Indeed, the Cinnamon Lodge, Habarana, where we'll stay for three nights won the 2011 Sri Lanka Tourism Award for being the best Five Star Resort in the entire country.
However, most of the hotels also have upgraded rooms available for an extra price, and a few even have ultra deluxe suites, too.
Upgraded rooms may be larger than standard rooms, may have a higher standard of fittings and furniture and amenities, sometimes have a bath as well as shower, and may have better views.
If you'd like to upgrade your hotel stays to these enhanced quality rooms, this would add $195 per person (share twin) to the price.
If you'd like to enjoy the full luxury of suites, let us know and we'll get a custom quote for you.
What about the Air Fare?
You will save money and gain flexible convenience if you arrange your own air travel. These days airlines seldom give discounts to groups, and sometimes even charge more, while also adding extra restrictions to the tickets!
You can choose whichever carrier has the best fare and the best schedules for you, and you can also choose a carrier that you wish to earn miles with. You can even cash in miles and fly on frequent flier awards.
We'll be pleased to answer any questions you might have about arranging your air transportation, of course.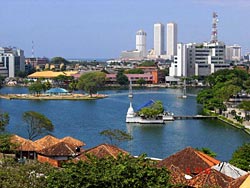 Where in Sri Lanka Should I Fly To?
Sri Lanka's main airport is the Bandaranaike International Airport, located some 20 miles north of Colombo (where our tour starts) and a few miles south of Negombo (where our tour ends). Its airport code is CMB.
As a measure of Sri Lanka's massive growth in tourism, not only is CMB doubling its passenger and flight handling capacity, but a second international airport that will also serve Colombo is opening - Ratmalana Airport, code RML.
At the time of writing (April 2013) no major international airlines are yet flying to RML, but this might change by February 2014. Ratmalana is south of Colombo, and while it might be convenient to fly in to RML, it would not be convenient for you to depart from RML because our last night will be spent north of Colombo.
Joining and Leaving the Tour
Joining the tour is simple and straightforward - simply arrive in Sri Lanka on or before Saturday 15 February. You can arrive any time on the Saturday, because there are no tour activities scheduled until Sunday morning, although you of course do have a room reserved for you at our Colombo hotel on Saturday night.
We will be offering transfers from the airport into Colombo to meet the flights people arrive in on.
Leaving the tour is also simple. The tour ends on Thursday morning 27 February, and you can take any flight at any time that day (or stay on as you choose). We'll be coordinating transfers to the airport on Thursday too.
How to Extend or Vary this Tour
There are many ways you can extend or vary this tour.
You can spend more time in Sri Lanka before the start of this tour, and/or anywhere else you wish, too.
We recommend that you arrive into Sri Lanka a day or more before the Sunday 16 Feb official tour start (or take our Singapore pre-tour option), so as to give you a chance to unwind from the flights and at least partially pre-adjust to the time zone changes and jet lag.
Arriving a day or more early also gives you some 'emergency' time, just in case your flights are delayed or connections are missed or bags are lost.
Fortunately, we spend the first two nights in Colombo, so if you do arrive on the actual tour start day, there is some extra 'emergency time' built in to the schedule as well to allow either you or your luggage to catch up, if the worst comes to the worst!
During the tour, all of the day touring is of course optional and you can substitute your own activities if you prefer.
After the tour, you can spend more time in Sri Lanka, or travel on anywhere else you wish.
So, you have many choices about adding extra time and sightseeing. We're here to help ensure your experience is as good as possible, and will be pleased to help you with your pre or post tour planning - please don't hesitate to ask.
We also offer a couple of Travel Insider optional extensions.
Pre-Tour Option in Singapore
There's a good chance your flights to Sri Lanka may see you changing planes in Singapore anyway, so why not take advantage of this and spend two or three nights in Singapore prior to the start of your Sri Lanka tour.
We're offering a two or three night Singapore pre-tour option that will include some local Singapore sightseeing.
It is a relatively short 3.5 - 4 hour flight from Singapore to Colombo in Sri Lanka.
Let us know if you'd like more details on this.
Post-Tour Option in Bangkok
Another common gateway/connection city is Bangkok and so we are offering a two or three night stopover in Bangkok starting from Thursday 27 Feb when we leave Sri Lanka.
It is a relatively short 3.5 hour flight from Colombo to Bangkok.
Let us know if you'd like more details on this.
Both Options - Arranging Air
If you choose to do both the Singapore and the Bangkok options, you might find it easiest to buy an international ticket to Singapore and back from Bangkok, and then to arrange a separate ticket on SriLankan Airlines from Singapore to Colombo and on to Bangkok.
Your travel agent can advise/assist you with this, of course.
Travel Insurance
We recommend you should consider travel insurance as prudent protection. Rather than attempt to sell you some policy ourselves that may or may not suit your needs, we recommend you go to this insurance shopping site, which offers comparisons between something like 100 different policies offered by 18 different insurers, giving you all the options you need.
For more information about travel insurance than you probably ever thought you'd want to know, please click the link to read our three part series on the subject.
Need More Information?
If you've a question or need more clarification, go ahead and ask. Simply send us an email, or feel free to call us at (206)337-2317.
Tour Terms and Conditions
Our standard terms and conditions apply to this tour.
In addition, please note these extra terms :
1. Deposit is required within seven days of your participation being confirmed. Full payment is due on or before 15 November 2013.
2. US, UK, EU, Canadian, Australian, New Zealand (and most other) citizens require a current passport that will not expire for at least six months after the date of their planned return from Sri Lanka in order to be admitted to Sri Lanka, and also require a visa. These can simply be applied for and obtained electronically online, and cost US$30. Citizens of other countries should check with the airline that will transport them to Sri Lanka to determine what passport and visa requirements may apply.
3. There's plenty of room in the coach's luggage bays for as much luggage as you choose to bring, and most hotels provide porterage. But airlines charge massively for extra luggage and some people like to handle their own bags to save time when checking in and out of hotels, so you might want to try to limit your luggage to one major suitcase and a carry on per person.

The Travel Insider is licensed by the State of Washington as a seller of travel - registration number 602 036 247.