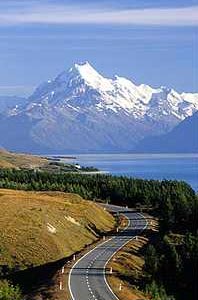 New Zealand Grand Spectacular
An eighteen day small group tour of both islands, with lots of inclusions and plenty of individual flexibility
Three options - enjoy the complete tour or either of two shorter options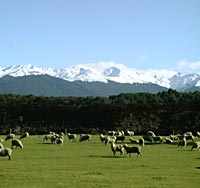 This New Zealand tour can be enjoyed by itself, or can be combined with time in Australia, Fiji, Tahiti, or various other places.
You can add extra time in New Zealand or elsewhere at the beginning and/or end of your tour.
If you prefer, you can travel by private car, joining the group only for accommodation, meals, and any other activities that you might wish.
Total flexibility. And total enjoyment.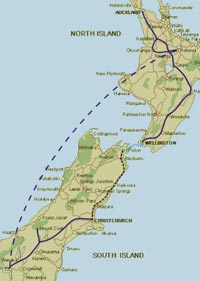 Tour Itinerary
(Click map for a larger image)
This tour gives you an opportunity to visit all the major destinations in beautiful New Zealand.

And, as well as the better known sights, we'll take you places only the locals know about, too.

This varied itinerary offers you a mix of luxury coach travel, scenic train, inter-island ferry, and a domestic flight with wonderful views across NZ as you fly from Rotorua to Queenstown.
Click to view full day by day itinerary details (opens in a new window).
Tour Options and Cost
This tour is available in three forms :
Complete New Zealand : This is the entire 18 day tour as shown below, and includes the extra touring on day 11 between Christchurch and Wellington by coach, train and ferry. $2995 per person share twin plus airfare to/from Auckland.

An Introduction to New Zealand : Auckland, Rotorua, Queenstown and Christchurch. This is the complete 'A list' of NZ attractions ideal for the first time visitor, or the enthusiast seeking to return to the places they know and love. This module is 11 days, counting from the day you leave the US to the day you return (this is the main tour up to day 11, on which day you return home to the US from Christchurch). $1695 per person share twin plus airfare to Auckland and back home from Christchurch.

Advanced New Zealand : Wellington, Martinborough, Hawkes Bay, and Taupo. These are places that most international travelers, with too little time, omit from their quick NZ touring. But you'll find these places every bit as special and perhaps more uniquely NZ-ish than the 'A list' above. This is 10 days, from the day you leave the US to the day you return (this joins the main tour by flying into Wellington on day 11). $1195 per person share twin plus your airfare to Wellington and back from Auckland.
A single supplement of $995 is available for the complete tour ($565/455 for Intro/Advanced tour portions). We will also help to match together singles if you'd like to share with a compatible fellow single traveler.
These prices reflect a 3% discount for cash/check.
A $250 per person non-refundable deposit is required to confirm your places on this tour.
You are responsible for arranging your travel between the US and New Zealand, and for the flight between Rotorua and Queenstown in New Zealand.
Tour Dates
The tour allows you to make your own way to Auckland, New Zealand, any way you wish. You should arrive into Auckland no later than midday, Wednesday, 29 October.
If you're starting your travels in North America, you'll probably take an overnight flight on Monday 27 October (or sooner), to arrive into Auckland on the morning of Wednesday 29 October (or sooner).
This might seem like a very long flight, but a nonstop flight from Los Angeles to Auckland is only about 12½ hours in duration. The reason you leave on a Monday night and arrive on a Wednesday morning is because you skip over Tuesday when you cross the international date line on the way to New Zealand.
Don't worry, the day you 'lose' on the way to NZ isn't lost forever. You get the extra day returned to you when you fly back - meaning you'll land back in North America 'before' you depart Auckland!
The tour ends on Thursday 13 November when we return to Auckland from Hawkes Bay by coach. You are free to fly back this evening, or to stay longer in NZ, or perhaps to go somewhere else like Fiji, Tahiti or Australia before returning home.
If you're traveling directly home, you could arrange to take an evening flight that day. We will be at the airport no later than 5pm, in time for the flights that leave after 7pm that night.
If you're doing the first part of the tour only, then leave the US on/before 27 October and fly home again on/after 6 November
If you're doing the second part of the tour only, then leave the US on/before 4 November and fly home again on/after 13 November.
You can of course join or leave the tour at any time, just let us know what works for you and we'll fit you in as best we can.
Here is the detailed day by day itinerary.
Small Group Size
The group is limited to a maximum of 30 persons.
Most of the time we'll be traveling on 48 - 50 seater coaches so there'll always be lots of room for everyone to spread out.
Because we're a small group, if we decide we want to change or vary a day's itinerary, we'll simply make the changes we wish.
Tour Inclusions
Your $2995 per person tour price includes all the following :
One night accommodation in central Auckland

Two nights accommodation in Rotorua in the middle of the geothermal area

Three nights accommodation in the heart of lovely Queenstown

Two nights accommodation in downtown Christchurch

Two nights accommodation in central Wellington

Five nights accommodation in the lovely village of Havelock North, Hawkes Bay

Feature dinners in Auckland, Rotorua and Hawkes Bay

Breakfasts every morning

Introduction to Auckland sightseeing tour

'Getting to know you' welcome dinner in Auckland

Coach touring in luxury coach with toilet, driver/guide and live commentary from Auckland to Rotorua

Visit to and tour of the Waitomo Glow-worm Caves

Guided tour of the Whakarewarewa geothermal area

Attend a performance at the Agrodome featuring performing sheep and trained farm dogs

Visit the Buried Village - NZ's Pompeii and enjoy a stunningly beautiful bushwalk down to a semi-subterranean waterfall

An evening visit to a Maori marae with traditional entertainments and a hangi feast

Scenic flight from Rotorua to Queenstown (not included in tour price)

Introduction to Queenstown sightseeing tour

Two full days in Queenstown in which you're free to sightsee as you wish (there's so much to experience in this beautiful area we didn't want to dictate what you should see and do)

Coach touring in luxury coach with toilet, driver/guide and live commentary from Queenstown to Christchurch

Visit to the Hermitage on Mt Cook (New Zealand's tallest mountain)

Introduction to Christchurch sightseeing around the city and area

Scenic train journey up the East Coast of the South Island from Christchurch to Picton

Travel by inter-island ferry from Picton, through the beautiful Marlborough Sounds and then across the open waters of Cook Strait and into Wellington Harbor

Wellington City Sightseeing Tour

Cable car ride in Wellington

Special guided tour of New Zealand's 'Te Papa' National Museum

Coach touring in luxury coach with toilet, driver/guide and live commentary from Wellington to Havelock North

Visit to beautiful Martinborough

Visit to a brewery complete with tasting

Four full days in the Hawkes Bay area while staying in Havelock North. We include coach excursions to all the regional highlights

Wine-tasting tour around some of the wonderful Hawkes Bay wineries

Farewell dinner at a special Hawkes Bay restaurant on the top of Te Mata Peak

A full free day to experience the relaxed Hawkes Bay lifestyle as you choose

Coach touring in luxury coach with toilet, driver/guide and live commentary from Havelock North to Auckland Airport

Time at Lake Taupo, NZ's largest lake; and visit to the spectacular Huka Falls
What about the Air Fare?
You will save money and gain flexible convenience if you arrange your own air travel. These days airlines seldom give discounts to groups, and sometimes even charge more, while also adding extra restrictions to the tickets!
You can choose whichever carrier has the best fare and the best schedules for you, and you can also choose a carrier that you wish to earn miles with. You can even cash in miles and fly on frequent flier awards.
Note that you also need to arrange the flight from Rotorua to Queenstown on Saturday 1 November. We recommend the Qantas flight at 1.40pm because it is on a 737 rather than the Air NZ flights which tend to be on smaller propeller powered planes. Sometimes this flight can be purchased at a discounted price as part of an international ticket.
We'll be pleased to answer any questions you might have about arranging your air transportation, of course.
Using Frequent Flier Miles
We all know it can be difficult to get the exact flights you want if you're trying to cash in some frequent flier miles. So here are some tips to help you if you're trying to use frequent flier miles :
Check availability in all cabins (coach, premium economy, business and first class) and be prepared to fly one way in one cabin and the other way in a downgraded cabin if necessary

Check availability for both the 'real' flights on the real airlines, and on codeshare flights too if your mileage can be used for both - for example, Qantas codeshares with AA and Air NZ with UA.

If you can't get flights to and from Auckland, consider flights to and from Sydney or Melbourne instead (either one way or both ways), and then simply buy a cheap flight across the Tasman, or include Auckland as a stop on your travel to/from Australia.

Be flexible about dates - if you have to spend another day or two in NZ so as to get free flights, that's probably a trade-off you'll be pleased to make.
Good Weather in Oct/Nov
Because New Zealand is in the southern hemisphere, the seasons are reversed, and whereas we in the northern hemisphere will be experiencing the sadness of ever colder and shorter days in our fall, New Zealand will be enjoying the freshness of spring, with lengthening days, spring lambs in the fields, and newly blooming greenery.
Average daily temperatures will probably be in the 60s, sometimes breaking into the 70s. You should bring some warmer clothing for cooler evenings and inclement weather, and some lighter clothing for warm sunny days.
How to Extend or Vary this Tour
There are many ways you can extend or vary this tour.
You might want to include other destinations as you fly to and from New Zealand. While there are plenty of non-stop flights to Auckland, other flights can be arranged allowing for stops in places such as Tahiti, Hawaii, and Fiji, either on the way to or from NZ.
And you might also want to fly just a little further west to include some time in Australia, too.
If you wanted to spend more time in New Zealand, you could of course arrive before the main tour start date, and/or stay on after the tour completion date.
Truly, this tour gives you a great number of ways to add extra time and sightseeing. And, if you have more questions, please don't hesitate to ask. We're here to help ensure your experience is as good as possible.
Suggested Tour Extensions
We suggest you arrive in Auckland a day or two before Wednesday 29 October, so that you are well rested when the tour starts.
If time allows, you may wish to spend time in Fiji, Tahiti, or Australia as well, before or after the tour, depending on the best value flight itinerary you can arrange.
Tour Terms and Conditions
Our standard terms and conditions apply to this tour.
In addition, please note these extra terms :
1. The 60 day payment due date is considered to be Friday 29 August.
2. US citizens require a current passport that will not expire for at least six months after the date of their planned return back to the US in order to be admitted to New Zealand. They do not require a NZ visa. Citizens of other countries should check with the airline that will transport them to New Zealand to determine what passport and visa requirements may apply.
3. Tour price is based on a NZ/US exchange rate in the wholesale range between 0.73 and 0.78. If the exchange rate varies outside of this rate prior to final payment being received, the tour price will be adjusted (either up or down) to reflect the change in the cost of tour components. If the price of the tour increases by more than 10%, participants will be offered a no cost, no penalty opportunity to cancel and receive a full refund of all monies paid.
4. Triple share rates may be available. Ask for a quote if this is required.
5. There's plenty of room in the coach's luggage bays for as much luggage as you choose to bring. But you'll find it easier on the train journey, and in the hotel rooms, if you try and limit yourself to one main suitcase and one smaller item per person.
6. We make our best efforts to adhere to the itinerary as shown on the detailed itinerary page, but matters beyond our control may sometimes interfere with our ability to do so. In such cases, we'll substitute the best alternates we can identify, or refund you a portion of your tour cost to fairly represent the inclusions not provided.