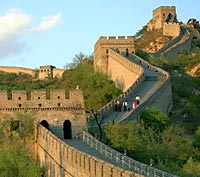 Grand China Tour and Cruise
A fourteen day small group tour of China
June 08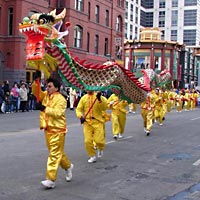 Experience the bewildering diversity that is China - its modern and its historic grandeur, as well as its more humble past and present too, with elements of all four aspects of this country coexisting alongside each other, seemingly without contradiction.
This tour takes you to all the 'must see' attractions and sights, making a country that can be unapproachable and difficult for the individual traveler come alive in a friendly and fun way.
The special luxury of a six night cruise along the Yangtze River gives you a more comprehensive yet relaxing look at a broader cross-section of China than regular visitors get. And, if you're wanting still more, you can add extra time in China or elsewhere at the beginning and/or end of your tour.
Total flexibility. And total enjoyment.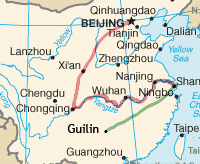 Tour Itinerary
(Click map for a larger image)
This tour gives you an opportunity to visit a very varied cross-section of China, ranging from its capital of Beijing, its major western port of Shanghai, to Xi'an, home of the Terracotta Warriors, plus a six night cruise along the Yangtze River (the longest river in Asia) including the famed Three Gorges, and an optional trip on to beautiful Guilin.
Lots of included sightseeing makes sure you get the best out of your time in China, while some free time gives you the flexibility to ensure you see and do everything you want.
You're free to add to this tour any way before or after the main portion to create an Asian experience exactly as you wish.
Click here for a detailed day by day tour itinerary to open in a new page.
Tour Dates
The tour allows you to make your own way to Beijing, China, any way you wish (we may be able to help you with discounted airfares - ask for a quote). You should arrive into Beijing no later than Wednesday, 18 June, in time for the start of the tour the next morning. (The total package includes your hotel room for this first arrival night and breakfast the next morning.)
If you're starting your travels in North America, you'll probably take a flight that same day, or maybe the day prior, depending on your flight schedules.
The tour ends on Tuesday 1 July in Shanghai. You are free to fly back home today, or to stay longer in China, or perhaps to go somewhere else in Asia before returning home.
Tour Options
You're welcome to add whatever you may wish before or after the main tour, and if you want to do only the cruise with neither the pre or post cruise portions, we can even arrange that so as to work as conveniently as possible with your preferences.
We recommend you should consider arriving a day early into Beijing so as to safeguard against anything that might go wrong, that could otherwise cause your flights to be delayed, you to miss a connection, or your baggage to be misdirected. This will also give you a day to rest and relax before the start of the formal touring.
We also recommend you consider our post-tour extension to Guilin. This is a spectacularly beautiful part of China - we'd have included it for everyone but didn't want to go over the time and money budgets that some people necessarily must keep within. But if you can justify the extra time (two more nights) and money ($600), you'll be delighted to have added this to your total China experience. Details of the Guilin extension are on the day by day itinerary page.
You can of course add any other touring, anywhere else in China, or just plain anywhere else at all.
Small Group Size
The group is limited to a maximum of 25 persons.
Most of the time we'll be traveling on large coaches with plenty of empty seats so there'll always be lots of room for everyone to spread out.
Because we're a small group, if we decide we want to change or vary a day's itinerary, we'll simply make the changes we wish.
Weather
June marks the start of China's summer season, same as here. Weather will be warm to hot, with average daily highs reaching into the low 80s, and considerably cooler at night (dropping to the mid 60s).
Occasional rain can be expected, and in some areas, this can take the form of spectacular tropical thunderstorms. Be sure to bring an umbrella!
Humidity is sometimes very high, too, so consider wearing cotton rather than synthetics. And perhaps buy some Chinese silk clothing, too!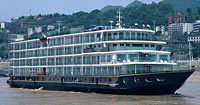 The Cruise
The cruise portion of our tour is on the newly rebuilt (2004) ship, Victoria Prince. The ship has been rebuilt to a high standard of comfort, and is now officially rated as five star by the China National Tourism Administration.
The ship cruises at 17.5 mph, and we've chosen to travel down-river so as to give us more time ashore and less time fighting the river current, as would be the case on the upstream itinerary.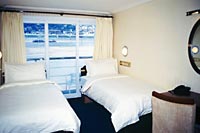 All rooms have outside verandahs, and standard staterooms are a spacious 211 sq ft.
For the luxury lovers, junior (294 sq ft) and deluxe (458 sq ft) suites are also available.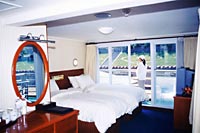 The ship has 103 air conditioned cabins capable of carrying up to 206 passengers, with 121 crew to ensure high service at all times. Smoking is limited to the outside observation deck only.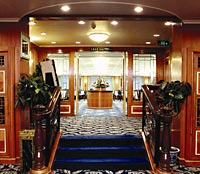 Meals are single seating, featuring a mix of Chinese and western style cuisines, with buffet style service at breakfast and lunch and 'family style' (Chinese style) at dinner. All three meals are included each day.
A fitness center, and onboard internet, provide stimulation for the mind and body.
In addition to the off-ship touring (see the day by day itinerary for details of all the included touring at no extra charge), activities are provided for your education and entertainment on board, including lectures about the history and culture of China, language, painting, and Chinese medicine. Tai Chi Chuan (a form of healthy exercise) is offered every morning, and in the evenings, various shows are offered. In addition, movies are available through your in-cabin television.
The cruise line, Victoria Cruises, has been in business 18 years, and operates the largest fleet of five-star rated vessels in China.
There's a lot to like about the Victoria Prince, and river cruising in general. Our favorite part of the experience is not having to pack and unpack your bags, not having to check in and out of hotels, and having a quality controlled base from which to fan out to sightsee each day. This makes for a wonderfully relaxing way of traveling.
Tour Inclusions
Your $2795 per person tour price includes all the following :
Three nights accommodation in central Beijing

One night accommodation in Xi'an

One night accommodation in Chongqing

Rivercruise from Chongqing to Shanghai for six days and nights

Two nights accommodation in Shanghai

Breakfasts every morning

Six lunches on the cruise portion

Five lunches on the other parts of the tour

Six dinners on the cruise portion

'Getting to know you' Peking Duck dinner in Beijing

Farewell dinner in Shanghai

Touring every day

Flights within China

Taxes, port fees, fuel surcharges
Tour Cost
Per person pricing for the tour and cruise is as follows :
| | | |
| --- | --- | --- |
| Cabin Type | Tour & Cruise | Guilin extension |
| Main (lowest) deck | $2795 | $600 |
| Promenade (middle) deck | $2945 | $600 |
| Bridge (upper) deck | $3095 | $600 |
| Junior suite | $3595 | $600 |
| Deluxe suite | $4495 | $600 |

Extras and Inclusions
Port Taxes are included.

Flights within China (Beijing to Xi'an, Xi'an to Chongqing, and optionally Shanghai to Guilin) are included. Chinese aviation has an excellent safety record, and has been fatality free for over three years.

Single supplement is $1195 for main deck cabins, $1245 for Promenade deck and $1295 for Bridge deck.

Special offer : Single supplement is reduced to only $595 for a 'run of ship' room (ie choose the Main deck cabin above and pay only $595 extra as a single).

Single supplement for the Guilin extension is $100.

Rates include all meals and tours specified on the itinerary.
Note : Ask if you'd like first class upgrades for the domestic China flights and/or upgrades from hotel rooms to suites

You can pay for your cruise using a credit card via Paypal with no credit card surcharge.
A $400 per person non-refundable deposit is required to confirm your participation and to hold your preferred grade of cabin, and the balance is due 90 days prior to departure.
What about the Air Fare?
These days airlines seldom give discounts to groups, and sometimes even charge more, while also adding extra restrictions to the tickets. And most people have their own favorite carrier they wish to fly to maximize their frequent flier benefits. For these reasons, we do not arrange the international air travel for you.
You can choose whichever carrier has the best fare and the best schedules for you, and you can also choose a carrier that you wish to earn miles with. You can even cash in miles and fly on frequent flier awards.
However, note also that we can sometimes help with discounted tickets to China for less than the airlines themselves quote, by booking through a specialty China travel wholesaler. We'd be pleased to help you get discounted air quotes if you wish.
If you're adding on the option to Guilin, and if it isn't convenient for you to arrange this yourself, we can help you with a flight from Guilin to Beijing, Hong Kong or Shanghai at the end of this optional extension.
We'll be pleased to answer any questions you might have about arranging your air transportation, of course.
Using Frequent Flier Miles
We all know it can be difficult to get the exact flights you want if you're trying to cash in some frequent flier miles. So here are some tips to help you if you're trying to use frequent flier miles :
Check availability in all cabins (coach, premium economy, business and first class) and be prepared to fly one way in one cabin and the other way in a downgraded cabin if necessary

Check availability for both the 'real' flights on the real airlines, and on codeshare flights too if your mileage can be used for both - for example, Northwest codeshares with Delta.

Be flexible about dates - if you have to spend another day or two in China so as to get free flights, that's probably a trade-off you'll be pleased to make.
Suggested Tour Extensions
We suggest you arrive in Beijing a day or two before Wednesday 18 June, so that you are well rested when the tour starts, and you have a 'safety margin' of a day or so in case of flight delays, missed flights, and delayed baggage.
We of course suggest you consider the Guilin extension at the end of the main tour.
Other things to consider at the end (either of the main tour or after the Guilin extension) could be time in Hong Kong, or elsewhere in Asia, or perhaps taking a train back to Beijing and flying home from there.
Need More Information?
If you've a question or need more clarification, go ahead and ask. You can send us an email, or feel free to call us at (206)337-2317.
You will be asked to send in your $400 per person confirming deposit as soon as your places on this tour have been confirmed.
Tour Terms and Conditions
Our standard terms and conditions apply to this tour.
In addition, please note these extra terms :
1. The 90 day payment due date is considered to be Friday 14 March.
2. US citizens require a current passport that will not expire for at least six months after the date of their planned return back to the US in order to be admitted to China. They also require a Chinese visa. Citizens of other countries should check with the airline that will transport them to China to determine what passport and visa requirements may apply.
We can help you get your Chinese visa - the process is simple and straightforward, and approval is quick and almost guaranteed. The Chinese Embassy in the US charges a fee to issue your visa, which you would pay.
3. Tour price is based on a China/US exchange rate in the wholesale range between 7.1 - 7.3 yuan to the dollar. If the exchange rate varies outside of this rate prior to final payment being received, the tour price will be adjusted (either up or down) to reflect the change in the cost of tour components. If the price of the tour increases by more than 5%, participants will be offered a no cost, no penalty opportunity to cancel and receive a full refund of all monies paid.
4. Same as most other countries, the internal flights within China restrict the amount of luggage you can carry, free of charge, to 44lbs per person (plus a carry-on). You can of course take more than this, but be prepared to pay excess baggage charges if you do.
5. Itinerary - particularly for the cruise - is somewhat weather dependent and may vary depending on what is best possible at the time.