2004 Best Travel Technology Product Awards

Results of Reader Voting

Travel Insider readers tend to be early adopters of new products which make life on the road easier or more convenient, and just as quick to reject those which don't.
There were a lot of remarkably innovative products to consider over the past year, so their selections truly represent a sophisticated appreciation of value.
Reader Voting
Our favorite products from reviews during 2004 were presented to readers to vote on. Readers could rate each of the offered products from 0 (meaning 'strongly dislike' to 4 (meaning 'strongly like') and could also indicate if it was a product they knew nothing about or had not opinion on.
Products were grouped in two major categories - those that were primarily technology driven, and everything else.
In each category readers could also submit a 'write in' recommendation, and then, after appraising all the individual nominees, were asked to choose an overall favorite.
Voting was held between 21 January and 3 February 2005.
Interpreting the Votes
Almost 2000 votes were cast (surprisingly, a few less than last year).
Some anomalies were spotted in the results, however, which meant a simple automatic tabulation of answers was unlikely to be accurate.
Some votes were internally inconsistent. For example, on occasion, readers would check the box that indicated they knew nothing about a product, but would also then give the product a rating on the 0-4 scale. You can't proceed to rate a product if you know nothing about it!
Other people would give a very low rating (or none at all) to the product that they then voted for as best in its category. This also clearly made no sense.
A few people would rate very many products as 0. It strained credibility to believe that these people had personal experience with all the different products and hated them all, and we ended up deciding that these people were giving a 0 rating instead of indicating they had no experience.
A simpler matter to resolve was the number of people that cast incomplete ballots. This was only to be expected - few people would have personal experience of the entire range of product candidates.
Overly enthusiastic voters?
Last year we detected one clear case of a person casting three votes for his own company's product, and several other cases of multiple voting.
This year, the multiple voting was way up on last year, with almost one third of all entries being deemed to be from people intent on cheating the system. This was particularly true in the luggage area, where a small cabal of voters attempted to skew the results against the excellent Briggs & Riley product, favoring instead write-in votes for a different brand of luggage.
It is encouraging that some people value these awards so very highly. But these, ahem, 'inconsistencies' have not been included in the final vote tallies.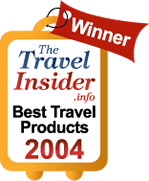 The Results
Reader voting clearly established a winner for the two main categories. We then allowed for some editorial input to decide which of the two category winners should be given the grand prize as 'Best of the Best'.
Each award includes a link to the original review which also has information on how to buy the products.
And, lastly, some other interesting results from the voting are also noted.
Grand Prize - The Best of the Best
and
Best Technology Product

Plane Quiet NC-6 Active Noise Cancelling Headphones

The Plane Quiet NC-6 Active Noise Cancelling Headphones won the 'Best of the Best' Award. The Plane Quiet NC-6 also won the 'Best Technology Product' award, with an average reader rating of 3.21 (out of a maximum possible of 4) and being named as 'best product' by 35% of readers.
David Dillinger, Executive Vice President of Outside the Box (the company that designed and distributes the Plane Quiet headphones) said, "Our second win is a much appreciated affirmation that there's still a place for American design excellence. Our customers have shown to us, and your readers have shown to you, that high value high quality products will always win out."
There is an interesting juxtaposition of events. On the same day we are announcing the NC-6's win for 2004, we are also announcing the release of a new Plane Quiet product, their top of the line Solitude noise cancelling headphones. Might Plane Quiet win the 2005 awards as well?
Runner Up (for Best Technology Product)
The Cellboost emergency battery charger narrowly pulled ahead of the Clipper Gear SIM Saver to win second place. Cellboost scored an average rating of 3.16 and was rated as best product by 9% of voters.
Best Travel Product

MyTag Personalized Bag Tags

The 'Best Travel Product' award was won by the simple but very effective MyTag personalized bag tags. It earned an average reader rating of 2.90 and was named as 'best product' by 46% of readers.
I called to congratulate Chuck Weisbart, the inventor of these lovely devices, and was very touched by his response.
He said 'This award does my heart good, because all our bag tags are made by people at the local Foundation for the Retarded of the Desert. They've become like a second family to us here, and I'd like to thank your readers and our customers for helping these special people help themselves.'
MyTags are fine products, made by, and sold by, fine people.
Amusingly, he told me of an enhancement to the tags. Formerly they were tied to bag handles by plastic loops. However, their range of 'Tude Tags (tags with silly sayings on them instead of owners' names) were suffering from being too popular - they would go missing off people's bags between checking them at the counter and receiving them at the other end. So all MyTags now come with split steel rings (like oversized keyrings) which are much harder to take off.
Theft rates have now dropped.
Runner Up (for Best Travel Product)
Magellan's range of Wrinkle Free Travel Clothing came second, with an average rating of 2.87 and being rated as best product by 25% of readers. Being regular users of such wondrous things ourselves, we agree with our readers.
The Strongest Love-Hate Dichotomy Award
Last year we gave an award to the Nokia 3650 cell phone due to the curious contradiction in its scoring, with almost equal numbers of readers scoring it a 0, 1, 3 and 4. Some people loved this phone, others hated it.
No product had such a range of strongly held opinions this year (and this year's phone - the Motorola V600 - was predominantly liked, not disliked), but one product which scored very highly in the most positive (4) score also scored significantly in the most negative (0) score; the First Class Sleeper.
Overall its score was a credible 2.62 average (on a 0 - 4 scale) and our interpretation of this result is simply to observe that while the First Class Sleeper can indeed make a big difference to one's sleeping comfort on a flight, it still doesn't make things as comfortable as one's own bed.
We also know from correspondence with some readers, discussion with the Sleeper's inventor, and our own experience, it is very important to get exactly the right amount of air in the sleeper for maximum comfort. There is a tendency to over-inflate it, but the sleeper works best when under-inflated to the point where you're almost 'bottoming out' in it.
Write In Voting
Readers could also submit their own suggestions for other notable products in 2004.
The most frequently mentioned product was the Palm/Handspring Treo 650 combination PDA and cell phone (interestingly, last year the most frequently mentioned product was its predecessor, the Treo 600). Also receiving a large number of mentions were the Bose noise cancelling headphones (not a new product in 2004) .
Summary
Our 2004 Best Travel Technology Product Awards have been given to two outstanding products which offer significant improvements to all people's traveling experiences.
They all carry the recommendations and endorsement of both ourselves and our readers.

If so, please donate to keep the website free and fund the addition of more articles like this. Any help is most appreciated - simply click below to securely send a contribution through a credit card and Paypal.