Delta Business Elite Class review

Part 2 : Delta's Business Elite seating on other planes, meal services and more

With a mix of planes from both itself and Northwest, Delta has a bewildering variety of different styles of Business Elite seating currently available.
A newly announced $1+ billion plan will make this more consistent across its fleet. And, no matter which seat style you get, the other elements of your (probably positive) Business Elite flight and service should be consistent.
This review is based on two business class flights with Delta in February 2010, flying from Detroit to London (Heathrow) and back from London (Heathrow) to Atlanta, both times on 767-400 planes.
Other Delta Business Elite Cabins
Delta is a two class airline. Domestically it calls its two classes coach and first class, internationally it refers to the two classes as coach and Business Elite class.
Confusingly, the international Business Elite class is much better than the domestic first class, with better seating and better food/drink/service.
Delta currently has a confusing mix of different seat types in its Business Elite cabins, both because of different plane types and also due to having integrated the Northwest Airlines fleet and their cabin variations too.
Pictured at the top of this article is the new type of seat now in their 777 planes, in its upright configuration.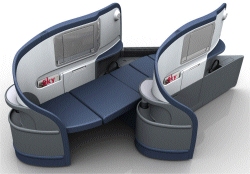 And on the left you can see the seat fully reclined.
These seats are similar in dimension to the seats in the 767s, but have larger video monitors and also seem to truly lie 180° flat and horizontal to the floor. In case it isn't clear from the photos, they are angled in from the sides.
The reason Delta has two different types of business class seating is said to be because of differing cabin widths, which requires different seat designs - in this case, completely different designs - so as not to end up with seating that doesn't fit efficiently and effectively into the cabin space available for it.
In late January 2010 Delta announced an ambitious $1+ billion program to upgrade and enhance its Business Elite cabins on all its international planes, and to make them more consistent with fewer variations.
Some of the enhanced cabin formats will also be made available domestically, primarily on the long flight trans-continental services.
The key parts of this upgrade program include installing full flat-bed seats in BusinessElite on 90 trans-oceanic aircraft, including 14 767-400ERs, 52 767-300ERs, 16 747-400s and eight 777-200ERs. When this is completed, each of these fleets will have full flat bed (but not necessarily horizontal) seats on all aircraft, either in the form described on my 767 flights, or on a slightly different type of seat that has currently been fitted to Delta's 777s.
Delta will add in-seat audio and video on demand throughout its coach class cabins on the 747-400 and 767-300ER aircraft. When this is complete, Delta will offer personal, in-seat entertainment for both BusinessElite and coach class passengers on all wide-body aircraft.
Delta is also adding first class cabins to 66 CRJ-700 aircraft operated by Delta Connection carriers ASA, Comair and SkyWest, bringing to 219 the number of regional aircraft with First Class seating, and is continuing/completing the modification of 269 pre-merger Northwest aircraft to feature Delta's signature blue leather seats, updated lighting and enhanced cabin amenities such as increased overhead bin space on pre-merger Northwest 757-200s.
After the $1 billion has been spent, there will still be different first or Business Elite class seating for 767s, 777s, A330s, 757s, CRJ-700s, and it is as yet unknown if the 747s will have the same seats as in one of the other types of plane or yet another type again. So at least three different types of seat on the international planes. Confusing.
Food and Drink
The food on my two international Business Elite flights was excellent, although the steak on the return fro London was a bit tough and dry.
Delta offered a generous variety of meal items, and presented the food with flair, and used high quality china to serve the food on, and provided one with an abundance of cutlery. Over the course of the meal I received 5 knives, 3 forks and 2 spoons. Remember the days when airlines stopped giving out metal knives? Clearly, with 5 metal knives being handed out, those days are mercifully far behind.
To start things off, they provided a nice china tray with a selection of heated nuts - much better than BA handing out a small packet of nuts.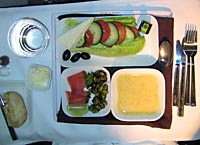 I was reading through the menu for my first flight and trying to decide which appetizer I'd choose. There was a choice of three - Asian flavored salmon, with soybean and seaweed salad, cream of asparagus soup, and a Greek salad with feta cheese, cucumber and olives.
All three sounded nice, so I was delighted to discover that one was given a sampler tray with a portion of each dish - see the picture here.
All three items were indeed lovely (soup could have been hotter), and perhaps you can make out a square shape in the top right of the salad tray - this was a miniature bottle of a wonderful oil and vinegar dressing for the salad. Also visible, barely, on the left are two little shapes which were individual salt and pepper shakers - a nice enhancement over BA which only provides tiny paper sachets of salt and pepper.
Not visible in this picture was something I hadn't seen on a BA flight for a long time - a napkin with a button hole in one corner. These are great - you can button them onto a top shirt button and they then protect your shirt front while eating.
Main course choices included a vegetarian spaghetti carbonara, grilled fillet of beef, seared mahi mahi, or roast beef and herbed shrimp. Yay - Delta understands meat, unlike British Airways, who only serves chicken or fish.
Cheese or ice cream with various toppings were offered for dessert.
A rather disappointing breakfast (no hot food) was served prior to landing.
For the return flight from London to Atlanta, the menu read very similarly to the flight over to London from Detroit, and the food was again excellent.
There was also an extra surprise treat on this flight. Instead of bringing plated portions to one's seat, several of the items were prepared and served at one's seat - for example, a mixed salad, where one could specify exactly which of the component items one wished to have in one's salad, and similarly, one could oversee exactly how one wished one's ice cream sundae to be constructed on the return flight (I, ahem, asked for and was generously given extra chocolate sauce!).
It transpired that Delta has been trialing some new enhancements to its Business Elite service. The at-seat food preparation and service is one of them, and another is having the Flight Services Director walk through the cabin at the start of the flight and personally shake the hand of every passenger and introduce himself, and then repeat that at the end of the flight, thanking everyone for traveling with Delta.
This too is a nice touch, but the guy on our flight was clearly uncomfortable with this role of forced civility and rushed through the process so as to make it an embarrassing travesty of what he was doubtless instructed to do.
Delta served two red wines, two white wines and a sparkling white wine that probably was not champagne on the flight to London and which was champagne on the return flight. Strangely, although their menu gave glowing descriptions of the four specially selected wines, only one of the four was actually available; they had substituted the other three for different wines. So I missed out on trying a promising sounding Bordeaux, but did enjoy a lovely Fume Blanc.
Entertainment
The crew put on a talent show half way through the flight.
Well, actually, no, of course they didn't! But Delta does offer a good in-flight entertainment system, with all seats having their individual seat-back monitors (nice wide-screen displays in their Business Elite class) and on-demand video and audio programming, allowing you to choose any of the entertainment options and play it whenever you like.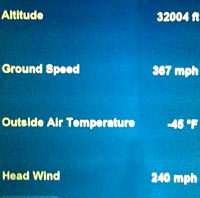 They also have a wonderful moving map display. Maybe I'm unusual, but I find I can spend much too much time just gazing at the moving map as it flicks through the different screens of data, but if it helps the journey pass, then so much the better.
I find it very interesting to see the variations in our ETA, and the vagaries of the head or tail winds, including for a while on the return journey as we came down the eastern seaboard of the US, one of the strongest headwinds I've encountered - as you can see on this screen shot, the plane was struggling to make headway against a 240 - 245 mph headwind.
Add the head wind to the ground speed and you can see the plane was pushing ahead, as best it could, at a 607mph speed through the air. That's truly impressive for a plane that likes to cruise at 530 mph and which has a max suggested cruise speed of 568 mph (see this reference).
Unfortunately, my screen had a software problem on the journey to London and part-way into the flight, became unresponsive and wouldn't do anything more. The unit worked fine on the return journey, although the crew needed to do both a warm and cold (hard) reboot of the entire onboard system due to problems elsewhere on the plane. It takes a lengthy 15 minutes to do a cold/hard reboot.
Coming and Going
Delta's two lane approach to boarding - one lane for Business Elite and for high level frequent fliers, and the other lane for everyone else - makes it easy for business passengers to board the plane whenever they choose, and with no delay.
This is a vastly better procedure than that offered by airlines with only one boarding line and no way for premium passengers to jump to the head of the line if they arrive after the initial priority boarding has been completed.
A minor disappointment and surprise was that Delta doesn't give its business class passengers priority lane passes to go through UK Immigration upon arrival at Heathrow. This would be a reasonable courtesy to expect, in line with that offered by other airlines, and at times can save 30 minutes or more of delay while waiting in line at Immigration.
Here's an interesting suggestion also for Delta - how about priority lanes for passengers returning to the US? My return through Atlanta saw a chaotic long line of US citizens (greatly longer than what is usually a long slow line for foreign visitors) snaking all the way out of the Immigration hall and back into the arrival concourse walkways, and a 20+ minute wait.
As seems to be invariably the case with all airlines, everywhere, the priority luggage tags on one's bags do not ensure your bags will appear on the carousel any sooner than regular bags.
When I arrived into Heathrow, the delay going through Immigration was such that all luggage had already been delivered to the carousel by the time I got there, and on my return through Atlanta, after a long delay (25+ minutes) before any bags arrived, one of my bags arrived promptly but the other took an extra five minutes to appear.
All four of my Delta flights departed on time and arrived early.
One last thing - it is a rare but always positive experience when for some reason or another, the crew gives me a bottle of champagne as a present when departing the plane (not because they know who I am, I never disclose that I'm a travel writer, but just 'because').
As luck would have it, the crew furtively presented me with a bottle on the flight to London, a delight that was only slightly diminished when I opened the bag in my hotel room to discover it to be Italian sparkling wine rather than French champagne. But a very kind gesture, all the same, and an upbeat ending to what was a wonderful flight over.
Overall Impressions
I'm comparing Delta's Business Elite service primarily with British Airways, because that is the airline I've most recently flown internationally in business class of late. In every respect, Delta easily bests BA. Better food (and served better), better in-flight entertainment, better seat, better boarding, better lounges, and in all respects, a better experience.
Indeed, Delta's service almost equals that offered by BA in their First Class, and if the new enhancements Delta is trialing become permanent, Delta's business class will be a very close competitor to BA's first class.
I'm surprised - and delighted - that a US carrier can provide such a high standard of service. Well done, Delta.
FTC Mandatory Disclosure : I was not given a free or in any way discounted/upgraded ticket by Delta (I used frequent flier miles from my Alaska Airlines account for this ticket). I have not been paid money to write this article.

If so, please donate to keep the website free and fund the addition of more articles like this. Any help is most appreciated - simply click below to securely send a contribution through a credit card and Paypal.