British Airways 'Club World London City' review

Part 3 - Actual in flight experience and differences

The small size of the A318 is apparently being offered as a justification for a more bare-bones business class experience than is the case with BA's regular 777 and 747 planes.
That is a hard to understand excuse - the A318, while tiny, can carry up to 117 passengers, so one would think there'd be plenty of space and resource to cater for only 32.
Whatever the reason, the fact is that the business class experience on these planes is not as good as on BA's regular flights.

This review is based on two flights with British Airways in November 2009 - one each way between JFK and LCY.
On Board Comfort and Amenities
The most distinctive thing about this new flight is the tiny A318 that operates the service. For my flight, the plane was still almost brand new and there was still a faint 'new plane' smell to it, and everything was clean and fresh.
It is very nice to be on a flight with only 32 passengers total, eight rows of seats, and three flight attendants. Getting on and off the plane is also wonderfully quick and easy activity - there's no boarding by row numbers (and with over 36" of overhead space per passenger, no rush for overhead space either, with plenty to go around for all).
On the other hand, although there was one flight attendant per 11 passengers, service was cripplingly slow for everything. And the amenities continue to dwindle and dwindle to a point of almost non-existence. The amenities kits handed out were almost laughable in their lack of 'goodies' included; there was only one hot towel offered, and an absolute minimum of cutlery and crockery (for example, no side plate for one's bread roll - one either balances it on the side of the entree plate or leaves it bare on the side of the tray table).
There were three toilets - a great ratio, but one of the toilets was hidden away behind a curtain at the front, as if reserved primarily for the pilots only. Strangely, both the other two toilets were also partitioned off behind curtains - rather than having curtains on the far side of the toilets, leaving the galley space for the crew, the curtains were on the near side of the toilets, making the toilets seem as if they belonged to the crew rather than passengers.
Food and drink
For the evening flights from JFK to London, BA does not serve a proper full meal. Instead it provides you with what they term a 'Nightcap' service, with a snack type food item and a dessert.
In my case, I had a choice between a glorified cold chicken sandwich or a vegetarian brochette, and a generic unappealing dessert.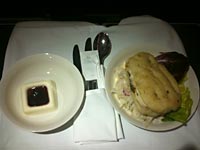 I chose the chicken sandwich (pictured) which came together with some sort of dessert thing that I didn't touch.
Regrettably, the pre-flight dining at BA's JFK lounge also had a very disappointing and limited range of hot food items, and I ended up eating almost nothing, while being ravenously hungry, all the way across the Atlantic.
This is an unacceptable situation for business class passengers, paying up to as much as $10,000 for their ticket, and a sad shadow of 'the good old days' when business class dining was an elaborate affair with many different courses, served with plenty of cutlery, crockery, and glassware.
Fortunately, the regular flights from JFK to Heathrow have better evening meal service on board, so if you are planning on eating a meal during the flight, it is a reason to choose a Heathrow rather than LCY service.
On the flight from London to New York, there was a lunch service on the sector from Shannon to JFK, supplemented by a tiny morsel of ham on the short hop to Shannon, and a snack later in the flight.
It seems all airlines are continually and proudly 'reinventing' their food service, retiring one set of superlatives and replacing them with a fresh set. The food however remains virtually unchanged, and never very good. BA's current claim is to be an 'airline passionate about food', blah blah blah. After the very disappointing passion on the flight from JFK, I was unsurprised to discover the passion on the return flight was only slightly better, with a piece of tasteless beef in a thin liquid. A chicken, fish, and vegetarian selection was also offered.
Drink service was also more restricted than on regular business class flights. There was only one sort of beer (and, alas, it wasn't my favorite London Pride). There was only one type of champagne, not two as hinted at on the menu, and the two white wine selections rapidly reduced down to only one. Again, a disappointment for flights that might cost as much as $10,000 roundtrip (but which can currently often be found for much less).
I couldn't help noticing that on the flight to London, the drink service did not come complete with a serving of nuts or any other snack. A de minimus pack of cashews was offered on the flight to JFK.
The seating
The cabin has eight rows of seats, each row having two seats on each side of the center aisle.
Unlike BA's regular business class seats which alternate between facing forwards and backwards, these seats are more traditional, all facing forwards.
The seats recline almost all the way to completely flat. Although they have a nominal 75" pitch, unfortunately, when in their more reclined state, they are not long enough for me to lie in, stretched out straight, without having my feet banging up against the back of the seat in front.
I'm 6' tall (72") - far from unusually tall, and if you too are more than about 5'10" in height and want to stretch out, on your back, rather than curl up on your side, you will have similar problems of having your feet hard up against the seat in front. Clearly, more than 3" of the 75" pitch is not 'usable space' for stretching out/sleeping purposes (plus also when stretching out sometimes your feet point forwards, making your total length longer than your measured standing up height).
There were two multi-standard power plugs at each seat. One would typically be used by the video player (see below), and the other could be used to power your laptop or recharge a phone or other electronic device.
A bouncier ride
One unexpected outcome from the small A318 is its greater sensitivity to turbulence.
The flights both ways were tossed around considerably more than normal on flights in the much larger 777 and 747 planes, and speaking to the pilot upon arrival, he attributed this to the lighter weight of the A318. An A318 weighs about 62 - 65 tons, whereas a 777 can weigh 250 - 350 tons, and a 747-400 weighs 430 - 455 tons.
In-Flight Entertainment Options
Score a big minus for the very disappointing In-Flight Entertainment (IFE) offering on these flights. Although the planes were brand new, the IFE was something that ceased to be 'state of the art' a decade (or possibly two) ago.
Instead of having a large high definition screen, with hundreds of movies and other entertainment options to choose from (or even thousands, such as on, eg, Emirates), and an integrated 'moving map' display showing realtime information about the status of your flight, expected arrival time, etc, the cabin crew handed out stand-alone digital video players - Archos 705 units, the same as offered on the OpenSkies flights.
These units offered a selection of only 30 movies (fewer even than on BA's regular IFE systems on regular flights, which currently have 51 movies on offer) plus a smattering of short television episodes and audio tracks. And because they are free-standing units, there is no flight status information provided at all.
It was also disappointing that the units were handed out late and collected early on each flight. Whereas many airlines now operate their built-in IFE pretty much from take-off to touch-down, BA didn't even hand out the units at all for the entire 90 minutes between London and Shannon, and made us wait another entire hour after we'd taken off from Shannon before handing the units out. They were collected 30 minutes prior to landing.
With three cabin attendants and only 32 passengers, it is hard to understand the delay in providing these units to us.
Other cabin entertainment options were also minimal - there were no newspapers or magazines available to read. Be sure to bring a good book or two with you.
In-Flight Data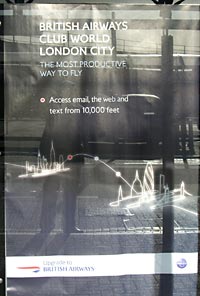 I had erroneously formed the opinion that the flights offered Wi-Fi internet access for laptops, as is also implied by this BA poster pictured which says 'Access email, the web and text from 10,000 ft'.
This was sadly and completely incorrect, and in fact I could access nothing at all at any stage of the flight.
BA have some sort of system that claims to offer inflight GPRS data service (pathetically slow to the point of being almost useless) that works with GSM cell phones, plus normal voice calling capabilities too.
In the US, this would apply only to phones from either T-Mobile or AT&T - I checked both types of phone but neither worked.
It seems that not many carriers have agreed to support BA's service, and so for people with American phones, you have no phone or data service at all (we understand that T-Mobile may come online in Spring of 2010). For people with phones from other countries, your mileage may vary.
As to the cost of using the service, all BA could say was 'check with your wireless carrier'. What a totally useless piece of non-advice.
Duty Free
Okay, so I almost never buy anything from the cheesy and often overpriced Duty Free catalogs on flights, but it is at least a diversion and offers the possibility of some last minute shopping.
Unfortunately, there's no Duty Free shopping offered on board these flights. A minor - almost trivial - omission, but surprising and disappointing, nonetheless.
Summary
This is an interesting new service, but it fails to fulfill either its express or implied promises for most people.
The express promise - a faster way to/from London is almost always not correct for flights from London to New York, and may or may not be correct for flights from New York to London, depending on where in London you're wishing to ultimately arrive at, and if you want to detour through the Arrival Lounge facilities.
Only in a very limited set of circumstances (depending on where in London you are ultimately traveling to/from) will you experience any extra convenience or time saving compared to using BA's regular LHR based services.
The implied promise is a better experience than in 'regular' business class. Unfortunately, although the smaller plane and maximum of 32 passengers is nice, the flights are not as luxurious or well served with food and drink and entertainment options as regular flights to/from Heathrow.
The two flights offer very different experiences. The eastbound flight is straightforward and uncomplicated, and may be appealing to people traveling to the eastern parts of London. The westbound flight suffers from its forced refueling stop in Shannon and is likely of little appeal to most travelers, no matter where in London their journey commences.
Fortunately, at least at the time of writing, it is possible to combine a journey from JFK to LCY with the other half from LHR to JFK on the one roundtrip business class fare, and so perhaps this may be the best strategy.
FTC Mandatory Disclosure : I was given round trip air travel by BA to research/write this article (but had to pay for my own travel between Seattle and New York and all other related costs of the journey). Thank you, BA, for your confidence in your product and your braveness in allowing me to experience and write about it. I have not been paid money to write this article. See more about our editorial policies here.

If so, please donate to keep the website free and fund the addition of more articles like this. Any help is most appreciated - simply click below to securely send a contribution through a credit card and Paypal.