[Web version of this newsletter] [Newsletter Archives] [Website Home Page] [Please Donate Here]

Friday 27 July, 2007
Good morning
It is great to be back after what seems like a long absence. Many thanks to Joe Brancatelli for stepping in to fill the gap with his own excellent material.
This year's Russian River cruise was a great success for the 35 people who traveled with me. The weather wasn't quite as cooperative as last year, but the itinerary, the ship, and, most important of all, the 36 of us, were all excellent and I think we all had a great time.
A highlight (?) of the tour was when one of our group was intercepted as we entered the Kremlin and accused of smuggling radioactive materials. We had to walk through combination metal and radiation detectors to enter the grounds of the Kremlin and one of our number set the radiation alarm off. That his wife used to work for a three letter government agency added to the potential interest. It transpired the alarm was due to having had a radioactive trace in him for an Xray shortly before, but explaining this to the Russian guards took some time and effort.
More seriously, a genuine highlight and positive surprise for all of us was the overnight train from St Petersburg back to Moscow. This was a wonderful experience - very comfortable, with friendly helpful attendants, plenty of champagne to get the journey off to a good start, and such a high standard of everything that one couple who'd recently been on the Orient Express felt this Russian train to be only slightly less pleasant.
Talking about luxury, while in Moscow I visited Moscow's latest luxury hotel. The new Ritz Carlton offers regular rooms for $1000/night and suites for up to $16,000 a night.
Breakfast isn't included in these rates. If you're feeling peckish in the morning, you might want to enjoy their 'Tsar's Breakfast' for a mere $700 per person.
Drinks are priced in line with their breakfast prices. I ordered a beer on their rooftop bar, where the service was atrocious, and the prices even worse. From memory, a single ordinary beer cost over $20, and although I enjoy both whisky and champagne, at $400 for a shot of single malt or up to $68,000 for a bottle of champagne, I wisely resisted the temptation to sample either.
To put these prices in perspective, the average Russian earns less than $1,000 a month.
At this stage I'm probably not offering a Russian cruise next year (due to the sailings on the 'good' dates now being almost completely sold out) but will probably offer one in 2009 (doesn't that sound a long way into the future!).
However, to make up for that, and in response to suggestions from the people on the Russian cruise, I am offering a very different sort of tour, and very soon. I was asked for several types of touring - New Zealand and China being often mentioned, and one other suggestion also surfaced - why not do a tour where I live, in the beautiful Pacific Northwest.
There's a lot to be said for a short simple vacation that is probably more convenient for many of you to schedule, and so I've put together a five day tour around the Pacific Northwest in the beginning of October this year. You can add time in Seattle or elsewhere before or after the tour, during which I'll take participants from Seattle to the Olympic Peninsula, to Victoria BC, and to Leavenworth WA. This really is a lovely tour of my favorite parts of the Pacific Northwest, and you're invited to come join us.
Cash in frequent flier miles or in some other way head towards Seattle and enjoy our Pacific Northwest Explorer, October 1-5. Details here.
Could I also please mention the Christmas Markets cruise. This is a regular reliable favorite each year, and this year promises to be better than ever before, due to a changed itinerary and new add-on options before the main cruise portion. Details here.
In the last newsletter before going to Russia, I discussed a survey suggesting one in five people cheat on their expense reports. I asked you what you thought the true percentage of cheating on expense reports was, and it seems that Travel Insider readers are more cynical (or is that more realistic?) than the people in the other survey.
The average opinion of Travel Insider readers is that just over two in five people cheat. A trusting 5% of readers believe no-one cheats on their expenses, while a less trusting 20% of readers believe almost everyone cheats.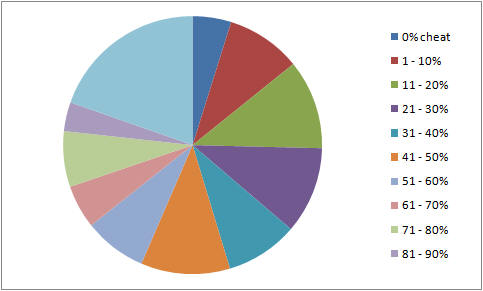 There was one other interesting feature to this survey. Only 2.6% of readers responded to it; whereas the last three surveys have drawn response rates of 6.1%, 6.0% and 5.6%. Could it be that readers were embarrassed to reply for fear of self-incrimination?
My feature column this week makes a delightful change from the last few columns. Instead of reviewing GPS units costing up to as much as $680 each, this time I review a much less expensive gadget, a Bluetooth headset costing a mere $25. I remember not too long ago when Bluetooth headsets were $200 and up, heavy, and largely dysfunctional. At last we're now starting to see inexpensive and sensible headsets that have appeal to all of us. And so :
This Week's Feature Column : Jabra BT125 Bluetooth Headset : This headset combines the lowest price with good quality, making it my pick for current best value. If you have a Bluetooth capable cell phone (and these days many of us do), perhaps this is a good and low cost headset to use with it.
As an aside, more and more states are requiring drivers to use a headset or hands-free speakerphone unit when talking on a cell phone while driving. While a simple corded headset is the lowest tech solution, it can also be the least convenient, and a Bluetooth headset or a Bluetooth hands-free unit installed in the car can be much more convenient.
Dinosaur watching : I had plenty of opportunity to reflect on the perfidy of the airlines on my return from Russia through New York's JFK airport last Thursday night. Here's a special report, with some important advice and tips you can use if (when!) you're similarly stuck.
The Delta flight from JFK to Seattle hung precariously in the balance between being cancelled or just substantially delayed, and my positivism was not encouraged by meeting other people in the gate areas who had been stuck at the airport for two days already, and noticing camp stretchers and blankets laid out in some of the gate areas further alarmed me.
In such cases, one is stuck with the question 'Do I stay on this flight, or do I change and fly a different airline?'. Being as how I was flying home, it would be no inconvenience to not have my suitcases on the same flight, and so I decided to give up on Delta and take a flight that was more likely to actually make the journey as promised, more or less when promised.
I called JetBlue's (800) number to book a ticket on their JFK-SEA flight that was due to leave in about two hours time. My several calls to JetBlue weren't successful, alas - each time I called, their phone system said 'We're very busy right now, please use our website or call later <click>' and hung up on me. I tried to access their website through my Blackberry, but it reported too much network traffic and couldn't connect. Eventually I managed to get my laptop online, but JetBlue's website won't sell tickets for flights scheduled to leave within 90 minutes of booking (why not?) and it was now about 80 minutes prior to their flight's departure, so JetBlue failed to sell me a seat.
What a way to run an airline - hanging up on people who want to buy last-minute full priced tickets.
There were no other airlines with flights out of JFK later that evening, so after getting Alaska Airlines to hold space for me the next morning from Newark as protection against a worst case scenario, I settled in to a waiting and watching game to see what would happen to my flight.
Do you know what to do if confronted with a similar situation, where you're distrustful of the information on the airport monitors and that being told to you by the gate staff (and, alas, these days it seems you can rarely trust these sources of information)?
Experienced travelers know the secret of how to anticipate what will happen to your flight. Don't obsess about its status. Instead, focus on the status of the incoming flight that will become your outward flight on to your destination. This is the advance clue as to if your flight will do what the airline is promising.
And, sure enough, there were enormous contradictions between the status of the incoming flight and what Delta was promising about the outward flight on to Seattle. At one stage, Delta was pretending my flight would leave some two hours before the incoming flight was due to arrive.
Having nothing to do for the hours that passed, at one point I decided to play the 'why is the flight delayed' game with the gate agent. I asked the question while one of the flight's pilots was standing alongside him, and the gate agent first looked blank and flustered, and then said 'due to weather' (being one of the standard excuses all gate agents love to offer up).
I noticed the pilot looked slightly surprised, so I asked 'where was the bad weather, because there's none here?' and the gate agent paused and said 'In Las Vegas' (which was where the incoming flight originated from). The pilot himself then asked, incredulously 'there was bad weather in Vegas?', and I pressed the gate agent by saying 'I've been looking at the FAA weather maps on their website and didn't see any bad weather in Vegas. Who told you that was the reason?'
The gate agent looked flustered, and then pointed over to another podium and said 'He did, you'll have to go ask him.' I went over to the other podium and asked the other gate agent, and after having a replay of the same conversation, he then amended his story and said 'the FAA put a ground hold on all flights coming into JFK'. This was something I had no way of easily checking or rebutting. But I'll be able to do that next time, and here is the information you need to be similarly equipped.
As soon as you notice your flight being delayed, you should do two things (assuming you have internet access). Go to the FAA website and check both their weather status and airport status information.
https://aviationweather.gov/ - browse through the pages linked here for weather information; look for severe turbulence, thunderstorms, and snow/ice as things that might impact on flights

https://www.fly.faa.gov/flyfaa/usmap.jsp shows information about delays on incoming or outgoing flights. This will confirm or contradict claims about ground holds.

https://www.fly.faa.gov/ois/jsp/summary_sys.jsp shows a complicated system summary
Take screen dumps of what you see - Ctrl-PrtScrn and copy them into an image editing program - so you have hard copies of the information you've viewed. That way, if the gate agent tries to fob you off with 'it isn't our fault' type excuses, and/or if you are negotiating compensation, you have facts to back up your assertion that the delays are the airline's fault rather than weather or FAA issues.
As we got close to the real departure time, I noticed on the gate display that Delta was offering to sell upgrades from coach class to first class. After a long flight from Moscow, nine hours at JFK, and the prospect of 6-7 more hours on to Seattle, I was ready to pay extra for a comfy seat and the chance of some sleep on board (total travel time from Moscow to home ended up at 31.5 hours). But because I was traveling on a discount coach fare, they refused to sell me an upgrade - apparently my $100 or whatever the cost was is not as good as anyone else's $100.
The net result - the flight left with one empty first class seat, and at least one unhappy passenger in coach class who'd have happily paid any reasonable amount to Delta to buy that first class seat. I agree that Delta should first offer its first class upgrades to people who paid higher fares, but 30 minutes before a departure that was delayed 5 hours, they could surely allow anyone at all to buy remaining upgrades, and/or charge more for upgrades from lower fare types. Just leaving the first class seat empty is a terrible waste - a waste of goodwill (ie by not upgrading a frequent flier) and a waste of money (ie by not selling the upgrade).
Eventually, the incoming flight arrived, but Delta's extraordinarily incompetent (and rude) gate staff, who seemed able to keep their jobs solely on their ability to help boost Delta's minority hire quota (and who also seemed aggressively aware of this), took such a lackadaisical approach to turning the plane around that it was an hour from when the flight arrived to when it pushed back.
That was probably the most unfortunate part of the whole experience - seeing no awareness at all, on the part of Delta's staff, that the flight was five hours late and no urgent handling to turn it around and get on its way to Seattle.
Notwithstanding the bad treatment above - bad treatment that is being repeated to countless passengers on an almost daily basis, Delta is posting a healthy profit for Q2 of $1.77 billion ($274 million before special items), a major turnaround from last year when it lost $2.21 billion in the same quarter.
Delta's profit is echoed by similar results at the other airlines. United posted its largest quarterly profit in seven years, with a $274 million profit, more than twice its result last year. And AA had its fifth consecutive profitable quarter, up 8.9% on the same quarter last year, with a $317 million profit.
My question to the airlines : You're posting record profits. Does that mean you can now afford to return some of the customer services you've taken away from us in the past? Perhaps some free food? Or even just simply hire a few more staff to give more reliable service? And maybe add some more flights so that we aren't always on full flights. And perhaps remove some of the fuel surcharges.
At what point does profit become sufficient as to invalidate the airlines' excuses of needing to add fare surcharges and not being able to afford to provide the services they used to provide? Or are these claims nothing other than thin lies, and are the amenities gone forever?
On the other hand, and underscoring both its historic role as maverick in the industry and its more recent seeming loss of direction and purpose; while the dinosaurs are making major profits, Southwest's consistent profitability is dropping. Its Q2 result was 16.5% below last year's Q2, but with the profit being $278 million, it is still a good result.
Southwest (WN) has offered buyout packages to more than a quarter of its employees. Although touted as a low cost carrier, most of WN's apparent low costs come from efficient operations; labor-wise it is a high cost carrier and nowadays has some of the highest labor costs in the industry. Because other airlines have moved closer to WN's operational efficiencies, its higher labor costs are becoming increasingly a competitive problem. Southwest needs to come up with its next big new thing to move away from the growing bunch of airlines that are increasingly looking like its clones, but as of the present time, it is clear WN has no idea what its next big idea could be.
In other Southwest news, both Executive Chairman Herb Kelleher and President Colleen Barrett will be stepping down from their positions in 2008. CEO Gary Kelly will remain and his contract has been extended through to 2011.
Bizarrely, Herb Kelleher said he believes CEO Kelly 'has the company going in exactly the right way'. Diminishing profits is exactly the right way?
Meanwhile, Southwest's competitive landscape has become slightly more crowded. Virgin America started selling tickets last week, even though it had yet to obtain DoT authority to start service. Virgin is confident of obtaining that prior to its announced 8 August launch, and is backing that up with a guarantee of sorts that if it can't start flights and honor bookings, it will pay up to twice the cost of its own ticket to move the passenger to another airline's flight.
Southwest and JetBlue both promptly announced they would match Virgin's fares on competing routes, which, at least to start with, are very limited - doubtless much to the relief of Southwest and JetBlue.
Virgin promises to be an interesting competitor with more appeal to business and frequent travelers than other low cost carriers, because it offers a first class section as well as coach class. Initially it is offering one way coach class fares between SFO and LAX for as little as $44 and between SFO and JFK for as little as $139. One way first class fares are $149 and $389 respectively. The coach class fares are somewhat below the lowest fares previously offered.
The airline has decided to emulate the JetBlue model - ie, high quality high comfort interiors and lots of extras. Not only does it have similar inflight entertainment as JetBlue, and leather seats in coach class, but it also offers 110V power at all seats, something road warriors will definitely appreciate.
On the other hand, it only allows one bag to be checked free of charge, although the one bag can be up to 70lbs (most other carriers now have a 50lb limit).
Another nice touch - and another idea taken from JetBlue - is to use home based agents to take calls when people call in to Virgin's reservations center. The airline promises that calls will be handled by Americans in America, not by offshore call centers. Having people work from home offices in virtual call centers this way is called 'homeshoring'.
In addition to service between SFO/LAX and SFO/JFK, the airline plans to add extra service between JFK/LAX on Aug 29, SFO/IAD on Sep 26, SFO/LAX on Oct 10 and LAX/IAD on Oct 24. Routes will continue to be added subsequently, of course, but have yet to be announced.
So far, things all look very positive and encouraging for Virgin America. With its reasonable amount of funding, it can be expected to be in business for at least the short term, and with what seems to be a good product and fair pricing, it will hopefully be in business for the longer term, too. If the initial level of interest in the airline is any measure, it will certainly get at least a first rush of business - their website crashed, either perhaps due to poor design and inability to handle the volume of traffic, or due to hackers flooding the site (the official excuse).
In more Virgin news, rumors suggest that Singapore Airlines might want to sell its 49% stake in Virgin Atlantic.
And Virgin Blue (the Australian airline) has announced that its international operation will be known as 'V Australia' - it can't use the Virgin name due to Singapore Airlines having veto rights on the Virgin brand being extended internationally beyond the current Virgin Atlantic name.
The new airline already has Australian government approval to operate ten flights a week to the US, and is waiting for approval from the US before being able to start service, expected to commence some time next year.
The market between Australia and North America could definitely benefit from another competitor.
Here's an excellent tip from travel writer/consultant Bob Cowen (he has a free newsletter available at www.InternetTravelTips.com) :
When not to buy a ticket: outside Southwest's ticketing window. Most airlines offer to sell tickets for travel up to a year in advance. Southwest Airlines only sells tickets for travel within the next four to six months (currently they offer tickets for travel through November 2nd). Southwest's prices are rarely the lowest but unless you're traveling during a holiday period (Christmas, Easter, etc.); you will often find that prices on all airlines drop when Southwest offers service to/from the same cities. The easiest way to validate this is to use ITASoftware's month-long search for a one night trip. Check for travel from October 15th through November 15th and watch for some fares to jump-up on November 3rd. In my testing of ten trips, more than half of them did.
One of the biggest disaster stories in the industry at present is Alitalia. It appears no-one wants to buy the airline on the Italian government's terms, and the airline is losing money at an accelerating rate. After a €168 million loss in 2005, it managed to lose an impressive €626 million in 2006, despite regular assurances of being about to turn itself around.
Apparently the Italian government is now prepared to be more flexible in terms of accepting any type of bid for the airline. An Italian minister said the government was now willing to sell to anybody, whether they were Eskimos or Chinese, just to get rid of the company and prevent it from shutting down.
Rumors suggest that Air France/KLM and the Texas Pacific Group might be interested in the airline, as also still may be Aeroflot. No word on any Eskimo or Chinese interest, though.
I had a first hand experience with Alitalia while in Russia. Four people in our group had traveled on Alitalia to Moscow and their luggage went missing. No-one would ever answer the phone at the various contact numbers in Moscow for Alitalia's lost luggage service, so I called Alitalia in the US to ask for help. They told me they couldn't help, and said the only people who could help were in Rome, and gave me a number in Rome to call.
After some difficulties, I eventually got to speak to a person in Alitalia's Rome office. Unfortunately, he didn't speak any English, and upon learning that I didn't speak any Italian, he simply hung up the phone on me. I called back, and had the same thing happen to me a couple more times, and eventually was forced to admit defeat and give up.
It is totally acceptable for an airline that does business with the English speaking world to simply hang up the phone when English customers with important problems call it. Even Aeroflot can always find an English speaker, but apparently not Alitalia.
If having your luggage travel with you is important,don't fly Alitalia.
How'd you like to fly on the first ever A380 super jumbo passenger flight? Singapore Airlines, the airline that will fly the A380 for the first time in commercial service, in October this year, has announced a plan to auction off the seats on this first flight and to donate all the proceeds to charities in Singapore and Australia.
The auction is planned to be held in about September, and you can pre-register for it here.
It looks like we all dodged a bullet in the last week. Some people feel it inevitable that sooner or later the airlines will start charging extra for travelers to buy their tickets with credit cards, and this already happens in some parts of the world. The main reason why the US carriers aren't doing this seems to be the insistence by the credit card companies that the airlines don't add surcharges for credit card use.
Plans were announced last week for the airlines to offer discount programs to large corporate travel accounts who paid for their tickets by check/cash rather than through credit cards (and of course a discount is a surcharge by another name), but the plans were subsequently withdrawn due to what were described as 'last minute concerns by the airlines and a desire to have more time to evaluate the product'. Chief among those last minute concerns? 'Political issues,' namely the airlines' relationships with credit card companies, according to Airline Reporting Corporation VP of Marketing, Sales, and Customer Care, Michael Premo.
In other words, it seems clear the credit card companies simply refused to allow the airlines to do this.
Eleven months after a Comair jet crashed on takeoff at Lexington Airport, KY, the National Transportation Safety Board has come up with a finding as to what caused the crash.
To quickly remind you of the sad facts, the pilots, who were apparently breaking various rules for cockpit procedures, turned onto the wrong runway and tried to take off on a too short strip of tarmac. They failed and crashed, killing 49 of the 50 people on board - only the co-pilot survived.
After a daylong hearing, the NTSB concluded the crew missed visual cues at the Lexington airport - like runway markings, construction barricades and signs before proceeding down the incorrect path. The crew also failed to conduct proper preflight procedures, failed to confirm their position on the runway, and engaged in idle cockpit chatter on unrelated matters in violation of federal aviation and company regulations.
The NTSB said the crew did not receive proper notice on runway conditions, but said the taxi route was simple and other signs were clearly apparent so the absent notice was a non-factor. Two previous flights had departed uneventfully on the correct runway.
And now, eleven months after the event, the reason for the crash has finally been determined. Unlike those of us that might rush to judgment and come up with a conclusion within five seconds of reading the preceding summary, the NTSB only now has determined that pilot error was to blame.
It took eleven months to decide this?
All responsibility, no care? Assistant Secretary of State Maura Hartly, in charge of the US Passport Office, is accepting responsibility for the debacle over delays in issuing passports. 'Over the past several months, many travelers who applied for a passport did not receive their document in time for their planned travel. I deeply regret that. I accept complete responsibility for this,' she said.
Although she has accepted responsibility, it is unclear what negative consequence is befalling her - possibly nothing at all? On the other hand, the problems she has been responsible for have resulted in destroyed summer vacations, ruined wedding and honeymoon plans, disrupted business meetings and educational trips. Many people have lost days of work while waiting in lines and/or thousands of dollars in nonrefundable travel and lodging deposits.
What is the point of accepting responsibility if you're not also accountable?
One of the airports you most want to avoid at present is Heathrow. Not only is the airport severely overcrowded and operating way beyond its design capacity (it is handling 68 million passengers a year although designed for 40 million), but the opening of its new Terminal 5 in March next year threatens even more problems as airlines shift from terminal to terminal.
Meanwhile, the monopolistic operator of the airport, BAA, has an interesting response to the nightmarish problems that passengers are experiencing and will continue to experience. It has asked the UK Civil Aviation Authority to be exempted from the penalties it will otherwise incur for failing to meet various service quality standards. BAA is required to meet 27 different service standards, ranging from cleanliness and speed of passenger security checks to the provision of jetways to airlines.
You should avoid Heathrow if at all possible this summer, and again during March and possibly April too next year.
Talking about travel delays, it isn't just in the air that we experience delays. This article gives interesting statistics about time wasted while driving out of town. Of particular interest is the 50% of people who get lost. They need to get a portable GPS.
Good news for Amtrak supporters. The chronically loss making enterprise has been given $1.5 billion in government funding to keep it operating for another year. More details here.
This Week's Security Horror Story : For 4.5 hours every evening, Phoenix airport has no security. The TSA are off-duty, and almost anyone can access the secure area of the airport without any screening of any sort. Although this has been going on for several years, it was only after a television news expose that the airport and TSA did anything to correct the security flaw. Details here.
International terrorism is about as dangerous to Americans as lightning, accident-causing deer, or severe allergic reactions to peanuts.
Until 2001, far fewer Americans were killed in any grouping of years by all forms of international terrorism than were killed by lightning, and almost none of those terrorist deaths occurred within the United States itself.
Even with the September 11 attacks included in the count, the number of Americans killed by international terrorism since the late 1960s (which is when the State Department began counting) is about the same as the number of Americans killed over the same period by lightning, accident-causing deer, or severe allergic reaction to peanuts. More details here.
Drunk pilots with a difference. And, to my surprise, most of the reader responses seem to think this is perfectly okay and acceptable.
The ever-expanding lists of names on our various anti-terrorist watch lists come regularly under criticism for being full of the names of ordinary innocent Americans. And now here's a new reason to consider the whole process a ridiculous charade - as this article shows, it is very easy for terrorists (or anyone else) to change their name.
Don't try this at home : Here's an awe-inspiring video of some very low level flight. And here's a link to video of a freeway landing of a WW2 fighter jet.
And last word for this week goes to these people, who have some humorous but telling words to offer on the state of airport security.
It is great to be back writing these newsletters again, and I hope you're pleased to be receiving them again. Finally this week, please do consider joining me and other Travel Insider readers on our October Pacific Northwest Explorer tour.
Until next week, please enjoy safe travels