[Web version of this newsletter] [Newsletter Archives] [Website Home Page] [Please Donate Here]

Friday 27 April, 2007
Good morning
We continue to have readers joining this year's Christmas Markets Cruise, and there is still plenty of space if you'd like to come and enjoy this delightful experience with a group of your fellow readers and your humble scribe (ie me).
I'm also considering offering one very special cruise at the end of this year. This will be a one week cruise from Budapest to Nuremberg, with option on to Prague by coach, or continuing on to Amsterdam on the ship. The special part is spending New Year's Eve and New Year's Day in glorious Vienna.
You can choose from several different events as ways of celebrating the end of this year and the start of 2008 while in Vienna, including an amazing Grand Ball in the magnificent Hofburg Palace in the center of the city, various concerts and opera performances, as well as street celebrations in downtown Vienna with fireworks and the traditional ringing of the bell on St Stephen's Cathedral at midnight.
There are additional opportunities to enjoy New Year's concerts and other activities on 1 January before setting sail late that night on the continuation of the cruise to Nuremberg and beyond. The Christmas markets will have closed, but the charm of small towns along the Danube in the quieter winter months rather than summer time remains unaltered, and the opportunity to celebrate New Year in Vienna is very special.
And I'm going to make it still more special for you. I'll pay the cost of you attending either a Vienna Symphony Orchestra concert performance of Beethoven's Ninth (Choral) Symphony or a Vienna Hofburg Orchestra concert of popular Strauss and Mozart pieces, or a performance of Die Fledermaus (by either the Vienna Volksoper or Staatsoper), or a Vienna Heurigen (Folk) Show, or will pay half the cost of a €130 ($180) ticket to the Grand Ball. The Grand Ball includes a concert and dancing with ten different orchestras in the various rooms of the palace, and runs through until 3.30am (although you don't need to stay that late!).
In addition, there's a special New Year's dinner on board the ship (the luxury nearly new Amadagio, same as we enjoyed last year), and we'll have a private New Year party one evening on board, including food and unlimited drinks, complete with silly party hats and other things. I'm also giving you a free side tour to Salzburg on one of the cruise days (worth $85).
So if you'd like to celebrate in style this coming season, how about joining us for this cruise. You'd want to leave the US on or before 29 December, to arrive into Budapest on or before 30 December, and the cruise ends in Nuremberg on 6 January 2008. You have three choices on this day - to return home or do anything else you wish, to take a two night extension to Prague (traveling by motor coach) or to continue with the cruise for another week to Amsterdam.
Per person cruise rates start at $1599 plus $84 in port charges, and this includes the cruise, all meals on board, drinks with dinner every night, and touring at every port of call. The Prague extension would be $300, and the Amsterdam extension ranges in price up from $1700. More good news if you choose the Amsterdam extension - I can give you a discount of 10% off its cost.
And, talking about discounts, still more good news. In addition to the free or half price New Year special event, and the onboard party, and the free side trip day tour to Salzburg, there's one more special offer. If you bring other friends or family members with you, I'll give you a 'quantity discount' - the more who travel together, the better the discount. So please make your New Year celebration this year one to remember, and bring plenty of people with you!
If you might be interested, please send me a quick email. If enough people reply, I'll make it a formal Travel Insider cruise.
Talking about sending emails, many thanks to everyone who sent in their responses to last week's Instant Survey. You were asked whether you thought hotels should stick to a 0 - 5 star rating system, or if they should add more stars to reflect increasing levels of luxury, or perhaps if you felt the entire star rating system to be of little value.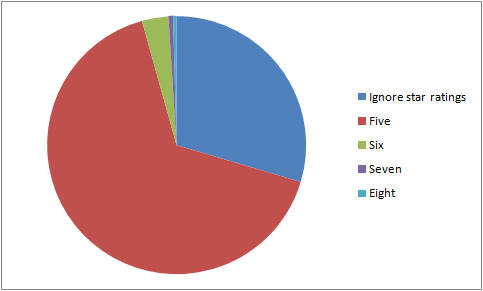 As can clearly be seen, two thirds of readers wanted to stick with a five star system, and another 30% don't place any importance on star ratings anyway. 3.3% of readers favored adding a sixth star, and 1% of readers wanted either seven or eight (!) stars on the rating system.
So in claiming a seventh star, the Milan hotel described last week is ignoring the wishes of 99.5% of its potential guests. Which shows hotels that supposedly are most in tune with the wishes of their guests are, in fact, as out of touch and uncaring as the worst of the dinosaur airlines.
5.6% of readers voted in the survey. Thank you.
My original plan to write a single article about Victoria, BC, has grown some. It became two articles, and then three, and now is proving to be the foundation of a series on vacationing in the Pacific Northwest. I've also linked in to the series the existing article on Seattle restaurants. Anyway, back to Victoria for a minute, here is :
This Week's Feature Column : What to See and Do in Victoria, BC : Victoria's status as capital of BC and formerly the major city in the province gives it a broader heritage and history than would be expected, and its beautiful location adds further variety to the wide range of things to see and do in this lovely part of Canada.
Ouch. I just tried to add the link to the column up above and FrontPage crashed. You see, there is a bug when you try and run Microsoft's own FrontPage program in Microsoft's own Windows Vista operating system. Every time you try and add a link to a page in your website, FrontPage will now crash. It worked fine in Windows XP, but is broken in Vista. A web editing program that crashes when you try to add links to a page is about as useful as, well, mammary glands on a bull.
The good news? Microsoft is well aware of the bug. The bad news? There is no promised date for a fix to a problem which presumably has been present ever since November last year when Vista first shipped, and possibly earlier during the Beta testing.
It is bad enough when third party hardware and software doesn't work with Vista, but how about when Microsoft's own software is incompatible with its new Vista operating system? What possible excuse can Microsoft have for that?
Or how about when Vista crashes (the stupid 'Side Bar' on the Vista desktop which adds no value and merely adds to screen clutter will sometimes fail to load when the system starts up) and then blames something else for its crash. In this case, Vista helpfully explains that the crash is not its fault, but rather it was a problem with Google Desktop instead.
That all sounded credible, but for one thing, I'm not running Google Desktop. Microsoft should focus more on fixing its bugs and focus less on unfairly blaming quality companies for Microsoft's own egregious faults.
Interestingly, it isn't just me who is becoming increasingly disillusioned with Microsoft's Vista OS. Responding to customer pressure, Dell has brought back XP as an option on some of its computers. And whereas last year Microsoft was the world's number one brandname, this year Microsoft has slipped down to the third position, which is poetic justice - a purveyor of third rate software is now number three in the world. The new number one? Google, up from seventh position last year.
Confirming these negative outcomes is a survey from software security company Agnitum. They surveyed potential purchasers of Vista in September 2006, prior to Vista's release. At that time, 69% of users said they planned to upgrade to Vista. Agnitum repeated the survey in March, and this time, only 31% of respondents said they planned to upgrade to Vista. Clearly the word is getting out - Vista is a flawed operating system that adds almost no value to the user computing experience, while creating problems and issues that none of us want.
Agnitum's results are mirrored in a new Harris poll, showing a drop of potential upgrades to Vista by home users - 20% of users planned to do this in December, and now in April only 12% do. Is Microsoft becoming the dinosaur of the software industry?
Dinosaur watching : Delta Airlines had its restructuring plan approved by the bankruptcy court on Wednesday and plans to exit bankruptcy on 30 April. Delta says its old shares will be canceled and therefore worthless, but its new shares will give it a market value of about $10 billion, making it the second most valuable airline after Southwest (currently worth $11.4 billion).
Exiting bankruptcy Delta indeed may be, but losing money, it equally definitely still is. Their first quarter result showed a net loss of $130 million.
Will someone please explain to me how an airline that lost $130 million in Q1 of 2007, and billions in the year and years immediately prior can somehow declare itself all fixed and exit Chapter 11 triumphantly?
The headline on United's press release reads 'UAL Corporation Reports Improved First Quarter Results'. But the heading on an article in USA Today reads 'United Airlines' earnings worse than expected'. Who to believe?
The facts are simple. In Q1 2007, United lost $152 million. In Q1 2006 (during which time the airline exited bankruptcy) it lost $223 million. So, yes, the loss is an improvement on last year, but it is also the second quarter in a row that United has lost money, and the size of the loss was almost three times what analysts were expecting. So both headlines were correct.
But showing that United's senior executives have their eye closely on the ball, United is in the process of moving its headquarters from a Chicago suburb, Elk Grove (close to O'Hare), to downtown Chicago.
Apparently United feels that distancing itself from the reality of its operations at ORD will help it to manage its business better. And noting United's fixation on cutting costs - at least when it comes to passenger services and employee pay, perhaps rent on office space is much less inside the downtown Loop in Chicago than it is in sprawling suburban Elk Grove.
Skybus Countdown to Something : Skybus announced, this week, that it would commence service on 22 May, with flights between Columbus and a handful of sometimes puzzling destinations such as Bellingham, WA, which it claims would draw passengers from both Vancouver BC and Seattle - a claim it reinforces by referring to Bellingham as 'Seattle/Vancouver' on its website, but which is almost certainly wrong.
Delays crossing the border from Canada into the US make it unpredictable and unattractive for Vancouver residents to travel all the way to Bellingham to fly out of, and the congestion on I5 from the Seattle area up to Bellingham makes a theoretical 90 minute journey sometimes well over two hours.
Besides which, the one flight a day from Bellingham is at 9.07am making for a very early morning start for anyone who doesn't live in Bellingham. Let's hope their other airport choices are more promising than Bellingham seems to be.
Air fares start at $10 each way (plus taxes of course) and the airline has promised to sell at least 10 of the 150 seats on each flight at this price. Perhaps this is why they've crammed so many seats onto their planes; 8 - 16 seats more than is commonly found on a A319, thereby allowing Skybus to give ten seats away for $10 and still have the equivalent of an empty plane to sell at normal fares.
Other fares range in price up to moderately expensive levels, and in addition to the fares, you'll be charged extra for just about everything you might want. Checked bags, snacks and drinks, blankets, early boarding to get better seats, you name it, and the chances are there'll be a fee attached.
And, just to make sure its passengers don't 'cheat', Skybus will not allow passengers to bring their own food on board the plane, which sets a new low for airline venality. At least other airlines allow you to bring on as much food as you wish.
You'll even be charged if you want flight status messages sent to a pager or cell phone or email address, and if you want some entertainment during your flight, there are Sudoku puzzles available - but also for a charge rather than free.
Skybus is now accepting bookings on its website, but if you'd rather phone an agent to get some live help, you're out of luck. They only accept web bookings and don't have any phone number for people to call, no matter what the reason for your call.
Surprisingly, the Skybus flights are only between Columbus and somewhere else. Unlike other airlines with a hub and spoke network, you can't use Columbus as a hub and change flights there to travel on further. Well, you could, but you'd have to buy two separate tickets, and you would have to collect your bags off the first flight then go and recheck them (and yourself) again for the next flight.
All in all, the now revealed business plan for Skybus is even more surprising than the earlier speculation. As their route system extends, perhaps they'll start offering flights to and from places where real people are likely to wish to travel, but for now they are offering some of the most cramped seats in the sky, with some of the worst penny-pinching tricks and traps, for travel to a destination (Columbus) that few people ever wish to actually travel to; it does seem like something is missing from their business plan.
Oh yes, I know what it is that is missing - their website has lost all the nonsense phrases it had this time last week that were supposed to imply that Skybus would offer a better flying experience than the dinosaurs. Apparently, this will not be the case.
Naughty Ryanair? I've occasionally speculated about the accuracy (or lack thereof) of airline scales, and now that airlines have lowered the free luggage allowances, you're more likely to find yourself slightly over their limit and being asked to pay.
In the UK, discount carrier Ryanair is being accused by the Sunday Times newspaper of using inaccurate scales, and would you be surprised to learn that the weight errors are not in the passengers' favor? In one cited example, a bag that the Sunday Times carefully weighed at 14.8kg was shown as weighing 17kg on the Ryanair scale. Because Ryanair charge for bags weighing over 15kg, this represented over $40 in excess baggage charges caused by the faulty scales.
I'll test and report on a couple of portable pocket scales that you can carry with you. Seems like it might be necessary to have such an impartial judge on your side at the ticket counter.
And talking about Ryanair, the often controversial airline came under criticism in the UK for refusing to participate in a parliamentary enquiry into passengers' experiences of air travel. Why did they refuse to participate? A spokesman said that it 'had far better things to do than waste time at a House of Commons Committee.'
Not content with that, the airline went on to add '(The committee) is itself wasting time talking about passengers attitudes to air travel at a time when Gordon Brown [the UK Treasurer] is busy stealing an additional £1 billion from UK passengers and visitors this year.'
No sooner said than done. Last week Southwest CEO Gary Kelly said they would be looking at new ways to add revenue, including charging passengers for some services. This week, the airline announced an increase in the price of beer and wine, from $3 to $4.
One wonders how many consultants charged how much in fees to come up with that innovative way to increase Southwest's already generous profitability.
Other possible changes to Southwest's business model might include flying internationally, and possibly adding Wi-Fi connectivity to their planes.
Bad news for JetBlue. They lost $45 million in their Q1, only slightly better than the $47 million loss in Q1 of 2006. However, they do continue to grow, with a 7.3% increase in flown passenger miles compared to the previous year. Interestingly, although there was a 7.3% increase in flown passenger miles, there was a 24% increase in operating revenues, due to appreciably higher average fares.
The increases in average fare levels is confirmed by the latest statistics from the DoT's Bureau of Transportation Statistics. Average air fares in Q4 of 2006 were at the highest since 2000, up 3.4% from the same time a year earlier.
Here's a very interesting review/report on the lowest fare guarantees that some airlines offer on their websites.
Recommended reading.
A slowly developing threat to seemingly unstoppable airline Emirates continues to evolve, and was most recently hinted at today by Virgin's Sir Richard Branson. He was promising to be the first airline to fly scheduled service between Britain (ie London) and Australia, although the value of this route was marginalized when he said that initially the flights would be to Perth on Australia's west coast rather than to Sydney on the east coast, although he did say nonstop flights to Sydney would follow.
Many onlookers are puzzled by Sir Richard's bold promise, because Virgin neither currently has, nor has on order, any planes capable of performing this long distance feat, as explained in this article.
Why is this a threat to Emirates (to say nothing of many other international airlines such as even Singapore and Cathay Pacific)? Because Emirates does not have and is not likely to get the type of rights needed to fly from one country to another country without stopping in Dubai either in the middle or at the very least, before or after the flight between the two foreign countries. This limitation isn't very important when all flights on a route such as between the South Pacific and Europe need to make at least one stop for refueling en route, but as the range of modern planes extends, the need for a refueling stop becomes less pressing.
In addition, although we have seen the recent liberalization of the air routes between the US and Europe, this impacts only on airlines based in the US or Europe, not on other airlines based elsewhere such as Emirates.
However, Emirates is definitely making hay while the sun shines. Earlier this week it announced a 20% increase in profit for the six months ended 31 March compared to the same period a year earlier, and a 40% leap in passengers flown. To put the amazing growth story that is Emirates in slight perspective, it currently flies 102 planes, but has another 106 on order, and is hinting it might order another 15 A380 super jumbos (it already has 43 on order). Emirates says it plans to double the number of cities it flies to in the next five years, which will increase the cities it serves up to 170, including some more US cities.
Talking about Sir Richard Branson, did you spot the cameo role he played in the latest James Bond movie, Casino Royale? He had a very brief couple of second non-speaking appearance, playing the part of an airplane passenger being searched while going through security at Miami Airport. This was part of a series of trade-offs, in return for which Virgin Atlantic made one of its 747s available to the movie makers in Prague (which was doubling as Miami Airport).
British Airways are currently featuring this movie on their flights, but they have edited out the couple of seconds during which Sir Richard appears on screen, and in the fleeting glimpses of Virgin planes on the ground also shown in the movie, the Virgin logos have been airbrushed out.
Good news from Boeing. Not only is it continuing to take more orders for its astonishingly successful 787, but it is reporting record earnings as well, with Q1 this year showing a $877 million profit, up from $692 million the same period last year. And its share price is currently at $94.26, just off its all time high of a couple of days ago ($95.25). Readers may recall I recommended investing in Boeing stock back on 6 October 2006, when the shares were trading at $83.62; since that time the stock has appreciated at an annual rate of slightly over 25%.
This week's 'If only it were true' blue sky dreaming award goes to this Forbes article about the future of first class. With your help, I wrote a different perspective on the future of first class in October last year.
This Week's Most Shameful Exploitation of Global Warming Fears part 1 : Discount UK airline Easyjet says it wants the EU to ban 678 planes from its skies because they are (the airline claims) 'too [ecologically] dirty to fly'. The airline says that some of the older planes are as much as 21% more polluting, per seat flown, than their own modern A319 planes.
Easyjet wants all planes built before 1990 to be banned from flying within the EU, with this forced obsolescence date to be moved forward a year each year. By an incredible coincidence, none of Easyjet's own planes would be affected.
The airline did quote one interesting fact, however. Averaged over the entire last year, they averaged emissions of 95.7 grams of CO2 per passenger kilometer. This compares favorably, they imply, with the Toyota Prius hybrid car, which emits 104 grams per kilometer, as indeed it does - but only as long as there is only one person in the Prius. Put two or three or four people in the Prius, and the situation changes. But being as how most cars are driven, most of the time, with only one person in them, it confirms that air travel is more ecologically friendly than driving in an ultra-efficient automobile.
This Week's Most Shameful Exploitation of Global Warming Fears part 2 : Longer time readers will remember I occasionally cite examples where the US is becoming more like the Soviet Union was, while Russia is becoming more like the US used to be. I came across another example of these opposite trends this week while shopping at IKEA. The store now proudly announces that it is doing its bit to help save the planet. It no longer gives you plastic bags to pack your smaller purchases in. Instead, you have to buy each plastic bag for 5¢, or you can buy massively heavy duty reinforced plastic bags for 59¢.
The formerly free plastic bags probably have 100 times less material in them than the heavy duty bags, which means unless you use the heavy duty bags at least 100 times, your net consumption of plastics has increased rather than decreased. That is saving the planet?
The US/USSR thing? Well, it used to be, in Russia, you had to pay extra to get a bag to put your groceries in at the supermarket, and you'd find old ladies outside selling plastic bags to passers by. Now, in Russia, just about all stores give away free bags. But in the US, the former 'paper or plastic' question is not only being replaced by legislative fiat (eg San Francisco outlawing the generally less polluting plastic bags) but the concept of free bags is being replaced by 'buy your own bags'.
Here's yet another potentially harmful consequence of cell phones.
As readers probably know, I'm very concerned about the health consequences of all the extra radio energy we are pumping into our environments, and therefore, into our bodies too. These dangers are usually expressed in the form of concerns about cell phone radiation.
But it isn't just cell phones that pose a danger to us. Anything that emits very high frequency radio energy/radiation is a danger. For example, have you ever stopped to wonder about the implications of the growing number of Wi-Fi networks out there?
Wi-Fi radio energy is at exactly the same frequency as the energy in a microwave oven. And you know what happens to animal tissue when placed in a microwave oven, don't you. Here's an interesting article that touches on the health implications of the spread of Wi-Fi signals everywhere.
This Week's Security Horror Story : A new radiation scanner device at airports promises to see through our clothes and reveal what is underneath. But did you know it is painfully slow? As this article explains, a scan can take up to as much as ten minutes to scan one passenger. It may give the security screeners a better understanding of what we might be concealing, but at what time cost to us and them?
Workers are given incentives to inform the authorities of suspicious behavior in their co-workers. No, this isn't a headline from the former Soviet Union; instead, it is a new program being introduced in the US whereby airport employees will be trained to spot hostile behavior and encouraged to report their suspicions to the authorities.
Spotting hostile behavior among airline employees? It will be hard to know where to start!
I regularly write about the problems people experience by being inappropriately listed on one of the security watch or do-not-fly lists that have proliferated since 9/11. Here's a surprisingly simple solution.
What is the greatest threat in the world (according to British PM Tony Blair)? What is more of a threat than war or disease, he says? You may be surprised by the answer when you click here to read. And you may be even more surprised by his proposed solution - a UN conference to develop a strategy. He's been a politician too long.
Here's an interesting article on the subject of pricing in the retail stores and food outlets in airports. Can someone explain to me why rental rates on stores at an airport need to be apparently so much higher than in regular malls.
If you're like me, you're continually amazed at the uniquely American phenomenon that is Las Vegas - a city built on nothing except desert and sin, and which seems to be unstoppably growing ever larger. Here's a very interesting article about Vegas and its ongoing growth.
Lastly this week, progress is a funny thing, and sometimes it seems that modern day security at an airport or other restricted access facility isn't much better than it used to be 50 and more years ago. Here's a 1.6MB wmv movie clip to remind us that security has never been completely perfect.
Until next week, please enjoy safe travels