[Web version of this newsletter] [Newsletter Archives] [Website Home Page] [Please Donate Here]

13 October, 2006
Good morning
It has been another interesting week for Airbus, with their CEO resigning on Monday, making two CEOs they've lost in the last four months. At least this one departed without being surrounded by the taint of suspicious share trading.
Last week I wrote an article on the topic of who still chooses to fly first class on international flights. This week I report on my own recent first class flying experiences, with British Airways between Chicago and London and back from London to San Francisco.
This Week's Feature Column : British Airways First Class : Is British Airways' first class worth the $15,000+ that it usually costs, or should you pay less than half this for business class? Read the review to find out exactly what you get for your money.
Quick disclosure : No, I didn't spend $15,000 on the ticket. I used frequent flier miles.
I also tried to take advantage of a current special airfare being offered by British Airways to buy my ticket for travel to/from our Christmas Markets Cruise this December. But this was not as simple as it should be.
The exact same problem I reported back in February still exists on their website today. British Airways uses a third party website cookie to track how people book their travels, and the default security settings in at least some versions of Internet Explorer ban the cookies from this other site being accepted. This means that some appreciable percentage of people (with regular Internet Explorer browsers and default settings) can't book tickets through BA's website. BA has known of this problem - through me - since February, and other users have told me they experience the same problem, but BA has yet to fix it.
How many millions of dollars is BA losing due to inept website design?
The problem continues. I decided to book the travel through Travelocity instead, and I chose to pay about $500 more to fly in BA's World Traveler Plus cabin - much more comfortable than their regular coach cabin.
But - unbelievably - Travelocity can't book this through their website; they can only book coach and business class travel, and maybe also first class. So I called Travelocity's help desk and spoke to a foreign accented gentleman with the strangely unforeign sounding name of Kevin. Kevin didn't even know what World Traveler Plus was, and suggested I call British Airways for help, so I asked to speak to a supervisor.
After a long hold, another foreign accented gentleman, also with a strangely unforeign name ( Steven), came on line. He said Travelocity couldn't even book first class on British Airways and he also knew nothing about World Traveler Plus. I asked him to transfer me to an American in America, and after another delay on hold, he told me he couldn't do this because their San Antonio call center doesn't work 24/7 and was closed.
British Airways' own telephone reservation service also doesn't work 24/7, and I ended my evening not being able to book/buy the British Airways premium priced ticket I wished to purchase - not through BA's website, not direct with BA phone sales, and not through Travelocity (or Expedia or Orbitz).
What an amazing way for an airline to not sell its tickets.
In related British Airways news, two of its senior executives resigned earlier this week after having been on leave of absence since June. Rival airline Virgin Atlantic had complained to the UK Office of Fair Trading (OFT), alleging BA had tried to conspire with Virgin to coordinate raising fuel surcharges.
In a statement issued with his resignation, BA's former Commercial Director, Martin George, said 'I now recognize that within my department, there may have been inappropriate conversations in violation of company policy in relation to long-haul fuel surcharges'.
The OFT's investigation is continuing. Details here.
Dinosaur watching : One of the longest dying dinosaurs is located offshore. Italy's flag carrier, Alitalia, lurches from financial disaster to financial disgrace, and this week was described by the country's new Prime Minister, Romano Prodi, as 'completely out of control'.
The airline's latest rescue package, last year, gave it new funding of one billion Euros (US$1.25 billion) but this doesn't seem to be helping. At a time when many airlines have been returning to solid profits, Alitalia managed to lose 221 million Euros in the first half of this year and is forecasting a 'heavy loss' for the second half.
Despite Mr Prodi's criticism, it is worth noting that the 'completely out of control' airline is 49% controlled by his own government. Details here.
On the topic of how governments and airlines seldom mix well, did you know the US government is subsidizing up to $677 per one-way ticket for people flying out of airports qualifying for taxpayer 'essential air service' subsidies.
What makes this all the more amazing is these airports can be as close as 40 miles to larger and unsubsidized airports. It would be vastly cheaper to buy the very few people traveling on these routes taxi rides. Details here.
Delta raises the ante on its international flights, (and attacks still further the remnants of other airlines' first class cabins) with an announcement this week to add lie-flat sleeper seats to its Business Elite international services.
The first newly configured planes aren't expected until early 2008 however, so don't go switching your travel plans to Delta just yet.
JetBlue has a new way to make money. It is selling five of its older (but still very new) A320 planes to German charter carrier Blue Wings. JetBlue expects to make a gain of about $6 million from the sale of the planes, which it doesn't currently need.
You probably heard about the small plane crashing into a building in New York earlier this week. In addition to the obvious, I found several things about this crash interesting :
First, although this was an accident, it is an alarming thought that there's almost no security preventing a private pilot loading up his private plane with anything (ie explosives) and then flying a legal flight plan almost all the way into midtown Manhattan and crashing his plane deliberately. This seems incongruous alongside the intense scrutiny given to regular passengers and their pocket knives on commercial flights.
Second, the plane flew into an apartment building, destroying part of three floors, creating a fire, and parts of the plane plummeted to the ground below. Huge numbers of emergency services people rushed to the scene. But no-one other than the pilot and his passenger were killed, and most of the 21 people taken to hospital were fire-fighters.
Third, the plane was equipped with an emergency parachute (which wasn't deployed). If something went wrong with the plane or its engine or whatever, the pilot could pull a lever, a parachute would deploy and the entire plane and its passengers would just float down to the ground. What an amazing idea.
Talking about airplane accidents, the pilots of the surviving plane in the mid-air collision in Brazil are being held by the local authorities pending the outcome of a possible criminal investigation into their liability for the accident.
It seems to me the main two things they're guilty of is surviving and being American, but even if they did make some mistakes (and aren't accidents all about mistakes?) is a criminal probe the best way to manage the outcome? No. The focus needs to be on correcting the weakness for the future, and that can't be done if participants stop talking freely and without fear about what happened and why.
Here's an article detailing the growing trend to allocate criminal blame for air accidents.
I wrote a lengthy commentary on Airbus and its present problems last week, and closed with a suggestion that buying some shares in Boeing might be a good idea.
Since I wrote that, Airbus suffered another massive shock when its new CEO, who had been in the job for just three months, resigned on Monday. He said he was resigning because he couldn't get the support of parent company EADS' board for the changes he believes he needs to make to turn around the company.
EADS in turn replaced him with one of their two co-chairmen. It remains to be seen whether the new CEO will prove to be part of the solution the outgoing CEO felt unable to secure, or part of the problem the outgoing CEO felt was preventing him from achieving the outcomes he needed, but Fitch Ratings downgraded EADS' debt ratings over doubts about EADS' future.
Meanwhile, Boeing scored a coup on Sunday when it announced the sale of ten of its new 747-8 jets to Emirates. Although these jets are to be configured as freighters not passenger planes, it definitely strengthens Boeing's position at Emirates and must increase the anxiety levels at Airbus.
But notwithstanding further problems at Airbus and good news at Boeing, what has happened to the stock prices of the two companies from Friday last week through close of Thursday this week? Boeing's price (red line below) dropped steadily before recovering somewhat in a general market recovery on Thursday, but ending the week below its Thursday close last week, while the value of EADS stock (blue line below) has risen almost 2%, as you can see below. The green line is a composite airline industry index shown as a reference point.
Moral of the story - never take a stock tip from me!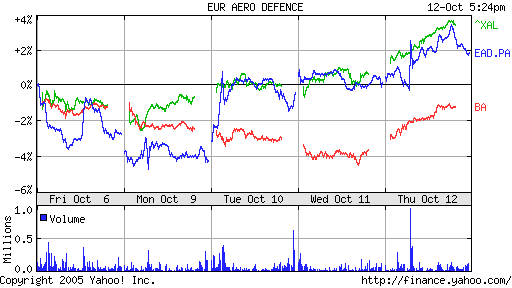 The problems with Airbus have been discussed well in a couple of recent articles. Here's one that looks at the operational incompatibilities between the French and German sides of the company.
And here's one that looks that the management and strategic ownership problems that make up the Airbus corporate entity.
Airbus' biggest strength is now revealed as its biggest weakness. Its biggest strength was its European government supporters and the money they invested in the company. But now its weakness is its need to make decisions based on political pressures rather than business issues.
Airbus needs to be able to react more rationally and freely in the free market it seeks to do business in. But what are its political overlords doing? They are panicking that any such rational acts may involve Airbus closing down overly costly factories in their respective countries, and so they are considering increasing their respective stakes in the company, in an attempt to bully/dominate the outcome of where and how Airbus might retrench. This will further hamstring the company's ability to reorganize and become sustainably profitable.
Perhaps sensing blood in the water, even Russia wants to increase its recently acquired stake in Airbus (currently at about 5%) - you'd think Russia has enough moribund airplane manufacturers of its own to worry about without seeking to take on another one.
I've just upgraded my main computer and was involved in a mad rush to urgently upgrade Windows to the latest round of patches and security updates - it being necessary to connect to the internet to download these fixes - before my machine got attacked and infected through the same internet connection.
Did you know that your computer is likely to be attacked, on average, about once every twelve minutes. Details here.
This week's useless but interesting bit of information : More adults in the US have a mobile phone (74%) than have a regular landline phone (58%). This and related statistics here.
This Week's Security Horror Story : Robert Johnson is an alias of a 62-year-old black man who was convicted of plotting to bomb a Hindu temple and a movie theatre in Toronto. After serving 12 years, he was deported to Trinidad. But the very common name Robert Johnson is now on the US 'No Fly' list, so that any Robert Johnson who seeks to travel by air within the US can not board his flight unless he first undergoes a lengthy process of proving he isn't the Robert Johnson on the list (a non-trivial procedure because the list gives very little information to the airline staff to help them eliminate the other Mr Johnson passengers).
One such Mr Johnson has even been strip searched as part of the process, another one has military ID but still has problems, even after 100 flights.
What does the FBI say about this? Donna Bucella of the FBI's Terrorist Screening Center, and in charge of maintaining the list, says the inconvenience is regrettable, but itís a price society and anyone named Robert Johnson has to pay for security. 'Well, Robert Johnson will never get off the list,' she says. 'They're gonna be inconvenienced every time they try to go to the kiosk or try to do a curbside check-in because they do have the name of a person who's a known or suspected terrorist'.
For full details of this, and other delights (such as the list also including heads of state) see this article.
Just because we can do something doesn't necessarily mean we should do it. New technology being considered for 'airport security' would require all people in passenger terminals to carry special tracking ID units so that their movements around the airport prior to boarding their flight can be monitored for 'suspicious behavior'. Not yet solved - the problem of how to make sure people don't swap devices with each other, or simply lose them.
This sure looks like a technology that hasn't yet found a problem to be applied to. Details here.
And just because there is spare money in a budget, that doesn't mean it should be spent, especially when the funds are from the FEMA budget and being allocated to puppet shows, bingo and yoga. Details here.
Lastly this week, here's something I'd love to do. You might, too.
Today is a 'Black Friday'. Be careful. And until next week, please enjoy safe travels