[Web version of this newsletter] [Newsletter Archives] [Website Home Page] [Please Donate Here]

17 June, 2005
Good morning
I realized, after sending last week's newsletter, there was a certain futility in offering to give Google Gmail accounts to readers. The people most needing these 2.2GB sized free email services are those people who didn't get last week's newsletter, due to having their current email box full.
So, if you missed the offer last week, and would like to get one of the free Gmail accounts with the huge 2.2GB (and growing every day) mailbox capacity, please let me know. I gave away over 100 last week, and still have more available.
I'd mentioned last week the possibility of a tour to New Zealand in the fall. We would visit Auckland, Rotorua, Queenstown, Te Anau/Milford Sound, Mt Cook, Christchurch, Picton, Wellington, and spend five nights in Hawkes Bay before returning to Auckland and heading home again.
The underlying reason for the tour is to give you an overview of the country and a detailed appreciation of Hawkes Bay. This is where we plan to site our New Zealand Winter Home development.
The tour would be 'modular' such that you could choose to join and leave at any time. The main tour itinerary would start with travel from the US to NZ on Monday 24 October, and return from Auckland back to the US on Wednesday 9 November. You could optionally include a side trip to Australia and/or a stopover in Fiji or Tahiti, too.
A ground cost for the tour, including twin share accommodation each night, coach travel, plus also a train between Christchurch and Picton, and the ferry between Picton and Wellington), touring within NZ, all breakfasts and some other meals is currently guesstimated at US$2400 per person (or perhaps a little less), and you'd need to add an airfare to get to/from Auckland (about $1000; my former travel company, Abel Tasman Tours, can offer you discounted airfares) plus a flight between Rotorua and Queenstown.
Would this be of interest? I'm asking for general expressions of interest now - if I get enough people saying they might be interested, I'll proceed with developing a specific tour itinerary and exact cost.
I sent out an update to those of you who provided your email addresses as part of the NZ Winter Home survey earlier this year. If you too would like to receive these updates, please let me know. (The NZ Winter Home concept involves you owning a condo in NZ; during our winter - their summer - you spend time living in it; and the rest of the year it is rented out to casual guests. You get an affordable way of enjoying mainly summer, spring and/or fall, and avoiding winters, plus a property investment in one of the loveliest countries in the world.)
The website's traffic was more than 50% up on Tuesday, setting a new daily record. I don't know why, but suspect it must have been featured somewhere that day. My 'high usage' alarm was going off almost continually for several hours - this alerts when there are over 175 people on the website simultaneously. More alarming was the 'processor overload' alarm, which a couple of times reported over 50% CPU usage for greater than a minute. The present web server is not yet a year old; I'd been hoping to get two years of life from it, but if traffic continues to build, I'll obviously need to upgrade the web server or split the load over two machines.
There's no feature column this week. I've been working steadily on creating an entire new website for the NZ Winter Home project instead, and hope to be able to release that to you next week.
Dinosaur watching : Until now, there's been no real opposition to United's regular requests for extensions to the time they have to exclusively file a reorganization plan with their bankruptcy court. But that might be about to change.
Rumors are floating around of several potential investor groups who may be as brave as to submit alternate plans for a new United. Amongst other potential groups are believed to be Texas Pacific Group (who seem to be sniffing around any and every airline opportunity), a consortium led by United's former CEO Gerald Greenwald, and another consortium led by Continental's just now retired CEO, Gordon Bethune.
Rats leaving a sinking ship? Northwest's largest individual shareholder and non-executive chairman, Gary Wilson, has sold approximately 2.6 million of his 4.3 million shares since the beginning of May.
Alas, this doesn't say much for his sense of timing, with Northwest's shares hitting an all time low in the second week of May, probably right around when he was dumping them.
As many frequent fliers know, it is harder to get an upgrade into first class these days. Which might be a reason to fly Continental in the future. They are doubling the number of first class seats - but only on their nine 757-300s. These planes are currently configured with 12 first class and 210 coach class seats, and are being reconfigured for 24 first class and 192 coach class seats.
Interesting to see that 18 coach class seats (ie three rows of six) are being replaced by 12 first class seats (ie three rows of four). It would seem that although the seats are wider, they're not offering much extra pitch.
The first reconfigured plane is expected this summer, and the other eight will be done by early 2006. CO is also adding another eight of the 757-300s, but even with 17 of these planes, you'll have to carefully monitor what services feature them to have any chance of finding one.
Which makes me think of an interesting instant survey. Please click on the link below that best describes you (this will send an empty email to me with your answer in the subject line; I'll publish the results next week) :
Happy birthday, Independence Air. Thursday saw the new startup celebrate both its first anniversary and also carrying its five millionth passenger.
I have a suggestion to Independence Air, and to the putative Virgin America airline. Independence definitely needs an injection of capital and some more 'ooomph' behind it to help it as it struggles to gain critical mass in a difficult marketplace. Virgin America, on the other hand, needs a US partner before it can start operations.
Would it be a marriage made in heaven for these two organizations to merge? Sir Richard Branson loves being the under-dog in any contest, and this would give him an excellent platform and infrastructure to build his new venture from.
Innovative airport marketing part 1 : Some people wince when they see reference to Washington's Reagan National Airport. But the name I struggle with is Mineta San Jose Airport; an airport named after Norman Mineta; a man with incredible survival skills. A Clinton appointee, he managed to keep his job with Bush - one can only guess as to how and why. His diktat limiting the number of secondary searches of mid-Eastern passengers and requiring more focus on middle class white Americans is a monument to his intellect and effectiveness.
I may not have to struggle with this name too much longer. The airport - gateway to Silicon Valley - is hoping to sell naming rights to various parts of the facility, including buildings (like the Bradley International Terminal at LAX, I guess) or even the entire airport. Wouldn't it be so much nicer to tell people 'I'll be flying in to the Apple Terminal at Google Airport on Tuesday'.
Innovative airport marketing part 2 : Not only does it have free airport parking, but Rockford Airport (good solid name) in Illinois offers a cash rebate to passengers who choose to fly from their airport.
Typically these rebates range from $25 to $100, but for a while in May they had a deal that paid back anything more than $99 each way on NW tickets to various destinations, including even Paris (not Paris, KY, nor Paris, TN, and not Paris, TX, but Paris, France).
No jokes about having to pay people to go to France, please! The promotion was staggeringly effective, with people flying from all around the US to Rockford in order to then travel on to Paris for only $198 roundtrip.
Remember the good old days when you'd get a voucher good for a free roundtrip ticket in the US if you volunteered to be bumped off a flight? Well, the good news is that some airlines still give these vouchers, but the bad news is they now capacity control them, and generally in the same restricted inventory as is released for restricted frequent flier awards. What does this mean? Reader Glenn writes
I have a "free round trip" voucher as a result of agreeing to be bumped from a US AIRWAYS flight. Whenever I try to redeem it I hit road blocks.

I asked one lady to tell me the first time and destination I could use it. The answer was Allentown PA, in seven weeks time, on a Monday to Friday trip!

I know they have to have restrictions but this is just silly. I have called Consumer Affairs and written a complaint email that has never even been acknowledged.
Next time a US airline goes bankrupt and stops flying, it will cost you more to use their tickets. By law, other US airlines are required to allow passengers with tickets on the dead airline to travel, on a space available basis (discussed in my earlier article on your rights with bankrupt airlines). The airlines were required to do this without adding 'significant extra charges'. When does a charge become significant?
After some disagreements, the DoT mandated that airlines charge no more than $25 each way for space available travel. When you remember the airline is only accepting passengers on empty seats it can't otherwise sell, you'd think $25 is a fair to generous price, as well as a chance to earn a new passenger for future travel.
But our oh-so-persuasive airlines have now convinced the DoT to increase the allowed fee from $25 to $50 each way. The DoT, in agreeing, said it had re-examined the costs and agreed that they were higher than previously thought.
Umm - which costs exactly would those be? For wear and tear on pillows and blankets? For heavy suitcases checked as luggage? For meals? For pretzels?
It is a sad state of affairs when our government departments show themselves so susceptible to accepting anything the airlines tell them.
Almost famous almost last words : From one pilot to another while joyriding a jet they were transporting :
'Ooh, look at that,' said the second-in-command, Peter R. Cesarz, 23, apparently referring to cockpit readings. 'Pretty cool.'

'Man, we can do it,' said the captain, Jesse Rhodes, 31. He was wrong. More commentary, a few minutes later :

'Dude, it's losing it,' one pilot said, using an expletive. 'Yeah,' the other said.

And then :

'We don't have any engines,'

followed by

'We're going to hit houses, dude.'
Even their last words were wrong. They didn't hit the houses. But they did crash, 2.5 miles short of the runway, killing themselves, and thereby making them eligible for this year's Darwin Awards. Full details in this NY Times article.
This week saw the Paris Air Show, one of the major air shows of 2005. In previous years, there was a tradition that Boeing and Airbus would bunch up new plane orders and release them at the show with a great deal of showmanship and excitement. This practice no longer happens quite so much, because it distorted the true ongoing nature of each company's progress in the marketplace.
Going in to the show on Monday, many newspaper columns were full of stories about Boeing's new supremacy and how Airbus was struggling on the ropes, pretty much helpless as Boeing recaptured all that mattered in the airline world. Much commentary in particular was devoted to the alleged dismal failure of the new Airbus A350 and the claimed extraordinary success of Boeing's competing 787. And Boeing's boast that it would win a great deal more new plane orders than Airbus this year was accepted as holy writ with not a single journalist expressing doubts.
So, as of Thursday night, how do things stand? Boeing has announced orders for 146 new planes, and says it has no new announcements for Friday. Airbus has announced orders for 261 new planes, and says there might be another announcement tomorrow. In terms of dollars, if valued at full price, Boeing sold about $15 billion of planes at the show, while Airbus has sold, so far, $29 billion. Airbus has received orders pretty much across the board for all its planes, including more than 100 for the A350 and some for the massive new A380. Boeing has mainly sold 737s and 777s (I'm unaware of a single order for its 787).
Year to date, Airbus has 413 confirmed orders (including 117 for its new A350 - a plane so new it hasn't even been formally launched yet, but not so new that commentators couldn't already pronounce it a failure) and Boeing has 401.
Funny how quickly things change in a week, isn't it.
Japan and France have signed an agreement to develop a new supersonic commercial aircraft to succeed the Concorde. Companies from the two countries will each invest the laughably small sum of $914,000 annually in research over the next three years. Are they really serious about this? $1 million barely covers the cost of research on the plane's tires, let alone other systems!
The plane would carry 300 passengers and reduce flight times to about half that of present planes, traveling at a speed slightly slower than Concorde did. Details here.
Our government is here to help protect our quality of life. The FAA has banned 'obtrusive' advertising in space. Obtrusive is defined as being 'advertising in outer space that is capable of being recognized by a human being on the surface of the Earth without the aid of a telescope or other technological device'. The notice was posted in the Federal Register.
Apparently the FAA believes the US owns (or at least controls) outer space.
Getting rich quick, part 1 : Passengers about a charter flight operated by Canadian company Skyservice Airlines allege they were forced to dodge oxygen masks, flying baggage and video monitors during a rough landing into Punta Cana last month. In their statement of claim, passengers allege they were 'thrown around the plane like rag dolls' (did they not have their seat belts fastened?) in what they describe as a 'near death experience' during landing. They said the landing was so violent the plane bounced off the runway three times before coming to a stop.
They are asking for an apology from the airline. And - oh yes, they're also asking for $10 million.
Getting very rich quick, part 2 : About 30 of the passengers who were aboard Norwegian Dawn when it was hit by a rogue wave are planning to sue NCL, claiming the captain and cruise line put them in a 'zone of danger'. The law suit, which hopes to be certified as a class action, is seeking compensation in excess of $100 million. No word as to if they too also want an apology, or if they'll magnanimously settle for just the money.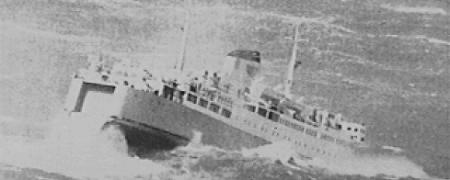 I used to work at sea, back in New Zealand, and thought you'd find this picture (from the early 1970s) of an all too common experience interesting (the ship is longer than it looks in this picture - some of it being briefly under water). Sometimes the mast on the top of the vessel would be broken by huge waves. None of our passengers ever sued, not even the ones with broken limbs; instead they thanked us sincerely for getting them safely into port.
These truly were thrilling experiences and I loved every minute of it, especially while serving on the lovely old Aramoana (the ship pictured above).
Rogue waves notwithstanding, more and more people are cruising. World-wide passenger numbers in the first quarter of 2005 were 9% up on last year, with the strongest growth being in North America (13% increase). The most popular style of cruising was itineraries of 6 - 8 days.
Amazingly, average occupancy was 104.3%. This is primarily due to a ship's theoretical capacity not including rollaway beds.
A survey of 6,000 travel agents by Modern Bride magazine had them picking their favorite destinations for honeymoons. The Big Island came out on top of the survey with Italy coming in second and Tahiti in third place. Four islands in the Caribbean - Anguilla, St. Barts, Jamaica and St. Lucia - were followed by Fiji, Mexico and France to finish the top 10 destinations.
Honeymooners spend an average of $3,700 for an eight-day honeymoon.
Talking about travel agents, a Cleveland TV station compared having a travel agent book a trip to one booked entirely through Internet research. NewsNet5 found a couple, Tony and Carri Burke, who planned a trip from Ohio to Hawaii to celebrate their 10th wedding anniversary. Carri used the Internet and spent up to 60 hours on different aspects of the trip to arrive at a cost of $4,263. An agent, Chuck Petzinger, co-owner of Traveline spent an hour to arrive at a price of $3,499, a savings of $764 (and 59 hours!!!). The TV station also pointed out that in case of an emergency, web sites may not give you the personal comfort that a travel agent might.
I incredulously quoted Saudi Arabia's Crown Prince Abdullah last week. He said 'The world is more likely to run out of uses for oil than Saudi Arabia is going to run out of oil'. I wondered if this would mean a drop in the price of gas at the pump. More good news happened earlier this week, when OPEC agreed to increase daily production by another half million barrels (up to 28 million barrels a day).
And so, what has happened to oil prices per barrel upon these two pieces of good news? Oh, they're back up over $56, a $10 increase in the last few weeks alone.
As this article confirms, the problem is not the amount of crude oil in the ground. The problem is the ability to pump, distribute, and refine the oil. I continue to worry that $100/barrel oil is in our future by the end of 2006.
Interesting statistic :As of the end of last year, 3.9% of U.S. households had abandoned regular landline telephones, and used their cell phones as their only phones. That number is expected to balloon to 13.6% by 2009, according to the Yankee Group.
Perhaps, as this trend develops, this new cell phone device (thank you, Mark) will become increasingly popular.
This Week's Security Horror Story : The good news? Raytheon Corp has developed a ground-based system to protect commercial planes from shoulder-launched missiles. Raytheon claims their system is very much cheaper and more effective than the airplane-mounted lasers under consideration by the U.S. government.
Their system works by 'frying' the electronics in a missile by sending a high powered beam of microwave energy at the missile.
The bad news? Now think about this : You're not allowed to use any sort of electronic device on a plane while it is taking off and landing for fear of some stray milli-watts of radio radiation interfering with the plane's electronics. All of a sudden, not milli-watts but more likely millions of watts of microwaves erupt all around the plane from a false alarm activation of the airport's new Raytheon missile protection system. Raytheon's system is specially designed to interfere with missile avionics. What do you think it does to regular airplane avionics?
Or, for that matter, what do you think it does to you and to other people - in the plane, at the airport, and living/working nearby? A radar oven has a mere 500 - 1200 watts of microwave energy, and we know what that does to food.
Talking about food, here's a novel approach to restaurant pricing - guests are free to pay whatever they think is fair for the food they eat in some London restaurants.
Lastly this week, following what seems to becoming a regrettable pattern of weekly newsletter endings, it is necessary to talk about 'that' topic.
John McManus, founder of Magellan's and very good friend of The Travel Insider, wanted to share with us his company's products, discreetly labeled as Restop 1
and Restop 2
. They are designed for those people who don't want an entire traveling toilet system, but who do need something for, well, numbers 1 and 2.
Never has spending a penny been more worth $9.85 (for number 1) or $12.85 (for number 2). No, I'm not going to do an in-depth review of these!
And, truly lastly, being seated next to a toilet is never much fun, especially on a plane. As this person points out.
Until next week, please enjoy safe and comfortable travels