[Web version of this newsletter here] [Website Home Page]

Friday 27 February, 2004

Good morning

We're two months into the year already, and while there's still plenty of snow in some areas, here in the beautiful Pacific Northwest, we have an occasional hint of spring in the air. As the days get tangibly longer, I become more filled with eager anticipation for the upcoming Scotland tour (places still available). It is hard to imagine a lovely late spring experience in the gloom of winter, but as the days improve, it is becoming easier to dream of enjoying lovely long warm days on our small group tour through the Scottish highlands.

I wrote a three part series about the dangers of document loss and identity theft in May last year. Those of us who travel regularly are at more risk, of course, and one risk in particular arises from what could happen if your laptop is stolen. And so -

This Week's Column : Protect Your Laptop Against Data Theft : An FBI study suggests the average loss, due to misuse of corporate data when a laptop is stolen, exceeds $89,000. Here's a $100 item that reduces your risk. Consider it cheap insurance.

Many thanks to the many readers who answered my short survey last week about which ear you prefer to use when talking on the phone. The answers were surprising. I'd have expected one of three outcomes - either a split similar to the split between left hand/right handedness (ie 10 to 1), or perhaps a large mix of neutral and slight preferences, or maybe close to equal answers for both left and right.

As you can see from the chart below, there was a strong preference for using the left ear, a second strong preference for the right ear, and very few people who had only a slight preference or no preference at all.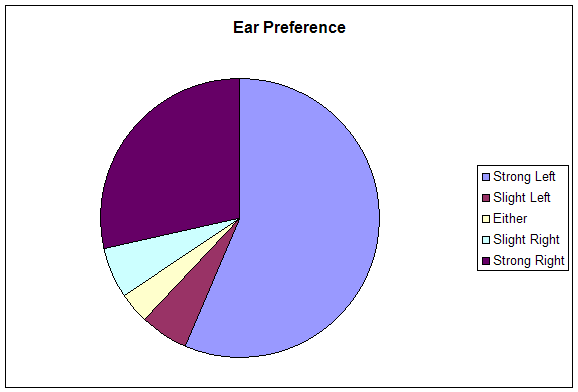 The reason for this slightly strange question? I'm reviewing some Bluetooth wireless headsets at present, and one of them can only be worn in the right ear. Most headsets can be configured for either ear, and I wondered if a headset that only works in the right ear would be a problem for any people.
Based on the answers above, yes - the manufacturer should have chosen the left, not right ear, or - better still - should have made it swappable. Look for the review some time in the next few weeks (there is quite a backlog of goodies to review and tell you about!).
Can I ask for your answers to another mini survey this week : How many minutes prior to flight departure do you plan to arrive at an airport these days? This would be for a domestic flight, and I'd like to know how many minutes prior to the plane's scheduled departure you plan to walk in the door of the airport terminal.
Please click on the link to send me an empty email - your answer is in the email subject line. 30 minutes or less 30-45 minutes 45-60 minutes 60-75 minutes 75-90 minutes 90-105 minutes 105-120 minutes 2-2½ hours 2½-3 hours 3+ hours . Answers next week.
Reader Competition : Here's a chance to have some fun and win two Search Alert locks as well. On Saturday, BA announced it was changing the number and departure time of its troubled flight BA223 from Heathrow to Dulles. The flight had been delayed several times and cancelled completely five times this year due to security concerns. BA decided to renumber the flight as BA 293, and instead of leaving at 3.05pm, it will now leave at 3.00pm.
A friend and I started dreaming up new possible actions which BA might come up with to help avoid future flight cancellations, in the form of future news items or BA press releases. For example, this was one example :
On the heels of success in ducking a terrorist threat against one of its flights to the US, BA today announced a system-wide change in its schedule. Henceforth, it said, all flights will be re-designated by adding 58 to their current flight number and will depart 17 minutes earlier than originally scheduled.

BA said intensive consultations with security authorities had confirmed that these changes will confuse all potential terrorists. "Those with hostile intentions will find these precautions entirely impenetrable," Martin Plod, head of BA security, said. A former New Scotland Yard detective inspector, Mr. Plod added, "Your average Middle-Eastern gentleman will be completely confounded by the sophisticated nature of these steps."
and then in London's Daily Telegraph newspaper, a humorist speculated on why the flight had problems when it was numbered 223. He wrote :
At last the mystery of who is plotting to bring down BA's flight 223 has been solved by an anonymous observer who wrote to the airline to reveal all. "The intelligence services act on intercepts of communications, eavesdropping, etc." he begins. "What's important to people when they travel internationally? The duty free, naturally.

"These repeated references of 'you must get the duty free' are probably being interpreted as 'you must get the 223'. Even a foreigner will say the words duty free in English. That makes it sound more threatening. I'd suggest that you consider changing the flight number."
And now, you too can have a chance to make fun of BA's actions. Email a short fictitious news item that has something to do with BA's changing the number on this flight or possible future similar actions, and the person with the funniest item will be sent two of the new TSA approved SearchAlert luggage locks. All stories become my property; you can be anonymous if you request, but otherwise you agree to have your name and city/state published along with your story.
Please get your entries in as soon as possible; the winner will be chosen on Thursday 4 March and announced in next week's newsletter.
Dinosaur Watching : United Airlines' attempt to rewrite the retirement benefits for retired flight attendants is not going as smoothly as the airline hoped for. A bankruptcy judge refused to grant UA's request, and has appointed an independent examiner to determine if UA misled its employees.
Judge Wedoff also declined to grant UA a further four months grace period before it files a reorganization plan. Instead, he gave UA a short 30 day extension, while leaving open the possibility of further 30 day extensions. UA says it plans to emerge from bankruptcy by the end of June.
The pressure on US Airways is mounting. Not only is Southwest aggressively planning to expand into US' Philadelphia hub, but so too is Frontier, adding flights from both Denver and Los Angeles to PHL from May 23.
In reply, US is increasing the number of flights and dropping its fares on competitive routes, but it needs to appreciate that Southwest is not a small startup carrier that US Airways can hope to 'starve' out of the market. Southwest has a huge cash reserve and very much lower operating costs. It will still be flying its planes profitably long after US Airways is losing money - it is hard to see how US Airways is going to win this match.
Southwest is also making a major change to one of its core procedures - is it possible that Southwest is starting to feel pressure from other 'low cost but high service' carriers such as JetBlue?
I'd mentioned last year there was speculation that Southwest might introduce advance boarding assignments, something which the airline denied at the time. However, after testing a new system at a few airports in January, Southwest has now released a new advanced boarding process systemwide. This will not get you a pre-assigned seat. But it will allow you to print a boarding pass (on the day of your flight) and get you preassigned into a priority boarding group.
This means you don't now need to get to the airport ridiculously early so as to be in one of the first two boarding groups when flying Southwest.
But it is not convenient for people traveling, who can't conveniently print out a boarding pass 'on the road'. It may mean that you have convenient priority access when leaving your home airport, but poorer access when returning back from the other airport.
One of Southwest's strengths is also one of its potential vulnerabilities. This strength is its low cost, contented and high quality workforce. But there have been signs of restlessness, most recently on Wednesday when their flight attendants staged a protest at - where else - Philadelphia. The flight attendants are seeking pay raises comparable to those given to flight attendants at other airlines, and they are getting frustrated after two years of unresolved talks with Southwest's management.
Maverick entrepreneur Sir Richard Branson, founder of Virgin Atlantic Airways, has always liked to think outside the box, avoiding conventional wisdom and industry standard practices and developing his generally excellent airline because of this. As I've commented before, he is getting very close to establishing a new low cost US domestic airline, and has been widely reported to be in 'final discussions' with Fred Reid, President of Delta, to appoint him to head up the new airline.
Reid joined Delta in 1988 as head of marketing, and subsequently became President and COO in 2001. A couple of months ago he was passed over for the CEO's position when Leo Mullin announced his retirement.
Delta has one of the highest cost structures in the industry, and last year - a year when most airlines were cutting costs every which way, their costs increased, helping them achieve a $773 million loss.
Does it seem to you that a fifteen year veteran senior manager from a loss making high cost dinosaur airline with the highest paid pilots in the industry, and a person who was just recently passed over for promotion to CEO, would make a good fit as the head of a new low cost carrier?
One can only speculate that Sir Richard's unknown US partners in the new airline are insisting on what they view as a 'safe choice' to head the new airline. But is this the sort of 'safety' a new low-cost carrier needs? For sure - choosing a senior executive from a troubled high cost dinosaur airline is definitely outside the box thinking for a new startup airline.
Airline bookends : On Tuesday Continental said it would launch daily nonstop service between Newark and Oslo from 17 June. On Wednesday, SAS said it will end its Newark to Oslo route from 28 March, due to it being unprofitable since its start in May last year. I wonder what CO knows that SAS doesn't?
Reformed dinosaur America West recently slashed the cost of its first class tickets. For example, NYC-LAX dropped from $2262 down to $998 (roundtrip). On a plane with, say, 12 first class seats; if they were all sold, that would mean a loss of $15,000 in revenue per roundtrip flight. But - here's an eye opening statistic : America West (HP) says that it was selling only 6% of its seats. Less than one of those 12 seats (and first class is always full) was actually being sold to a passenger who had purchased a first class ticket!
In dropping its first class fares, HP is hoping to repeat the results of dropping its regular coach fares, and to end up with a net increase in passengers and a net increase in revenue. Sometimes, truly, less is more.
Privately owned low-fare airline Spirit has just had a $125 million cash injection from a new shareholder, Oaktree Capital Management. Spirit is currently the 14th largest US carrier, and reported an 'operating profit' of $26 million in 2003, a 12% increase on 2002. The airline plans to use this new capital to expand, upgrade and renew its fleet, perhaps buying as many as 60 new planes in the next five years. Another strengthening competitor snapping at the heels of the dinosaurs.
Venture capitalist Oaktree also made a small investment in US Airways when it emerged from bankruptcy last year.
Dueling aircraft manufacturers : Boeing and Airbus have been trading shots at the Asian Aerospace Show this week. Boeing is choosing to compare its proposed new 7E7 against Airbus' new A380 super-jumbo, and says that an airline could fly three 7E7s between cities, carrying more people and using less fuel than a single A380.
Airbus is choosing to compare its new A380 against Boeing's 747, and points out that in 2003, nine times more A380s were sold than 747s, and claims the 747 production line will be closed down by the time the first A380 flies in 2006. Here's an interesting article.
Both companies may be correct. The A380 and the 7E7 are not intended to be head to head competitors. The A380 will come into its own on routes where there are restricted take-off/landing slots - on routes where the airlines can only operate a limited number of flights, and so necessarily want to have planes with as much capacity as possible. In such a case, the larger capacity of the A380, and the much lower operating costs compared to the 747 (26% less per square foot of cabin area) make it an unbeatable proposition.
But on other routes, operating a greater number of smaller planes will have more appeal. In such situations, the 7E7 would definitely be a much better proposition than the A380. Airbus, however, points out that it already has a plane with comparable performance characteristics to the 7E7 - the A330-200.
It is significant that Boeing has yet to find a launch customer for the 7E7. Boeing almost certainly will get sales for the 7E7, but at this point, while Airbus continues to sell planes across its model range, from the smallest to the largest, Boeing's sales are now reduced almost entirely to its 737 range.
There is also a worrying competitor to both manufacturers. As this article indicates, the huge number of second hand planes is making it more difficult for both airlines to sell new planes at full price.
One of the problems with using Wi-Fi is that there is a myriad of different Wi-Fi access providers, with little or no roaming/cross-billing between them. You need to sign up for a different service every time you use a different company's access point.
This is widely expected to change during this year, and the first steps are already being made in this direction. T-Mobile (the people with Hotspots in Starbucks stores and variously elsewhere as well) has just now signed a roaming agreement with - itself! You can now access T-Mobile Wi-Fi services in the US and its parent company, Deutsche Telekom's Wi-Fi services in Europe.
In the last couple of weeks I've been talking about the growing trend for people to abandon their home phone lines, using a cable modem for internet access and a cell phone for phone service.
Responding to this, phone company Qwest (formerly US West) has made a major change in the products it sells. They will now sell you an internet DSL connection without requiring you to also use the connection as a regular phone line, too.
The off again, on again, off again travel ban to Libya : On Tuesday the US government announced it was lifting its 23 year ban on traveling to Libya. On Wednesday, the government reversed itself and said it was keeping the ban in place, due to some insufficiently humble remarks by the Libyan Prime Minister. On Thursday, getting a satisfactory grovel from other officials, the ban was lifted.
While Libya has definitely been a bad country in the past, it seems to be moving in the right direction now, and I hope we include plenty of carrots along with our ugly big stick to ensure that their tentative and fragile rapprochement with the west solidifies and stabilizes.
This week's security horror story : We all know not to make jokes about guns or bombs anywhere near the airport security screening. Not only might we be arrested, but the TSA can now fine us huge amounts of money. We are told this is an incredibly serious issue and there is no room for joking about such things. But reader Elizabeth writes in with this story, indicating that the TSA doesn't play by the same rules it sets for us :
While I was passing through security the other day, I explained to the man who was x-raying my things that my purse always looks as if it needs 'further inspecting' because of the magnet closure that runs along the front of the bag. Another agent overheard me saying this and jokingly said to me several times, 'You mean you don't have a semi-automatic in there?'

I laughed and said that I didn't, however I was even more amused at the fact that the TSA can make jokes like this, but we lowly passengers could actually be arrested while causing complete chaos in an airport for hours by making similar remarks...even in jest!
There was a puzzling story briefly mentioned on the news wires on Wednesday about a passenger who made an 'inappropriate comment' while on a Delta flight. The man was arrested and charged with making a false report about planting a bomb.
The puzzling thing is that it appears perhaps the passenger was just talking, privately, to a traveling companion, and making a private joke (of course no real bomb was involved), but another passenger overhead him and reported him to the cabin crew, who alerted both the FBI and US Customs. So the 'don't talk about bombs' rule seems to now be extended to 'don't even say the word bomb, in any context, even in a private conversation with a friend, in the airport or on an airplane'. Consider yourself warned!
I wrote last week about the man who flew from London to Venice and back, using his wife's passport, with no-one noticing. Reader and former Marine Roy writes in with this story and comment (he assures me he knows the person in question so it isn't an urban legend)
A long time ago, I asked a Marine why he was busted in rank. He told me he used to be a guard at Portsmouth Naval Prison and that the Admiral who was the commandant hated Marines and the Marines in turn hated the Admiral.

So, on a stormy rainy night the Admiral drives up to security at the main gate, rolls down his window, flashes his ID, receives a salute and continues on his way for a few seconds, then reverses the car back to the gate and asks the Marine if he saw the ID.

The Marine affirmed he checked the ID. So the Admiral asks, "Well, who the heck is this?"

My friend said he looked and in the photograph was Mickey Mouse! And that is why he was busted.

I don't know if anyone gets busted re security screw-ups at airports.
Demonstrating that TSA screeners are sometimes seriously lacking in the brain department, a screener at Denver airport wondered what his brain might look like, and so, being the quick thinking person that he is, lay down on the conveyor belt and sent himself through one of the airport baggage X-ray machines!
These machines are massively powerful - see my article on the damage they can do to film. One can only guess at the harm they do to a normal functioning human brain. The screener was apparently no worse than before his experience, but has been treated to a period of administrative leave (wow - a severe punishment indeed!).
What does Australia have most of, Egypt, Israel, India and Russia have more of than France, and North Korea least of? A good image in the eyes of Americans. Australia was rated as the most favorable nation for Americans, and North Korea the least favorable one. More details here.
A new magazine in the UK is offering one lucky reader the holiday of a lifetime – two weeks with a tribe of cannibals in the rainforests of Papua New Guinea. Readers are assured that the cannibalism aspect is nothing to worry about, with the trip organizer explaining 'They have always been really friendly to me. The really bad ones are their neighbors.'
Until next week, please enjoy safe travels (unlike this poor person)