[Web version of this newsletter here]

Friday 13 February, 2004

Good morning

Well, perhaps I should say that I hope it will be a good morning and a good day for you. Today is, of course, a Black Friday.

I was looking back at the various product reviews published last year, and wondered which my favorite product was. I couldn't decide - so many of them were so great. And that made me think - why not hold an annual survey to determine the winners for 'Best Travel Products' of the previous year? And so, no sooner said than done, here is :

This Week's Column : Vote for Product of the Year : I've listed eighteen of the top products reviewed last year, and you can vote for the best products of 2003. Vote this week, and return next week to see how your favorite products scored.

Please feel free to pass the url to this page on to friends, too. The more votes, the more accurate the results. I have a favorite product (or two) myself and it will be interesting to see how your preferences match with my own. One thing is for sure, however. By the end of 2004, we'll have a rich assortment of new products to choose from as winners for 2004!

Touring Update

There are still opportunities to join the Scotland's Castles and Monsters tour.

A popular pre-tour option is the mainline steam train tour to Oxford or Worcester on Saturday 8 May. This makes a fascinating contrast to our travel by modern high speed rail on Monday 10 May! I'm looking forward to this memorable day outing.

Several people (including probably myself) will make a stop in the ancient Viking and Roman city of York on the way back to London. There are lots of antique shops, one of the finest of Britain's Cathedrals, stately homes, and much more in this lovely walled city.

So, please, check out our itinerary, chat with me about it if you like, and come join us.

I hope to see you in London, in May.

We had one couple withdraw from the Scotland tour. They were worried about their flights to/from Britain possibly being cancelled, like other flights have also been cancelled recently, due to security issues. Other readers have also written to me, expressing concern about the headline stories of flight cancellations (usually, it seems, BA or Air France flights to the East Coast).

These cancellations are another example of the media making a mountain out of a molehill. Every day, there are about 400 flights cancelled by US carriers alone, and countless more by other airlines, elsewhere in the world. Indeed, in December, American and American Eagle cancelled 2815 flights - 4% of all American Eagle flights and 2.2% of all AA flights. Most airlines cancel at least 1% of flights for some reason. Vastly fewer than 1% of international flights have been cancelled for security reasons.

A cancelled flight has the same effect on its scheduled passengers, whether it be cancelled for maintenance, weather, lack of passengers, delayed arrival of incoming flight, or security, or any other reason. In nearly all cases, including the international flights that were cancelled for security reasons, passengers are re-accommodated on alternate flights with a minimum of fuss and inconvenience. There is no need to cancel or change your major vacation plans this year - whether it be on our Scotland tour or anywhere else - due to concerns about the very occasional and rare flight cancellation for security reasons. (More discussion on flight cancellations in the security focus near the bottom of the newsletter.)

The New York Times needs your help again. One of their business reporters is researching a story on how small travel agencies are retaining their business traveler clients. If you work for a 'mom and pop', bricks and mortar, agency, or if you are a client of such an agency, the NYT would like your stories about what you're doing to keep clients, and how business clients feel about continuing to use small travel agencies (as compared to the internet or major travel agencies).

Write a note to me detailing who you are, and your story, with a contact phone number, and I'll pass it on to the NYT.

Some of you already subscribe to Bob Cowen's monthly Travel Tips newsletter or perhaps have browsed around his website. Bob has now contributed a three part article to The Travel Insider website on how businesses can best use the internet. Good reading and sensible down to earth advice. Thanks, Bob!

I should add that although Bob's focus is on using the internet, travel agents still have a viable and valuable role to play. One of the key areas that travel agents can help with is booking cruises, and this article quotes an executive of one of the cruise lines who says 'You need to rely on the expertise of a good travel agent'. Yes, indeed.

We also have a seven part series by Cara Goldsbury, all about how best to experience Walt Disney World in Florida. Cara recently published an excellent book on this subject, which I reviewed earlier this year, and these seven articles contain some of the key recommendations from her book. Very useful if you're going to the Disney area. Thanks, Cara!

Dinosaur Watch : Billion dollar losers : In the three years 2001-3 inclusive, these US airlines have each lost over $1 billion :
| | |
| --- | --- |
| Airline | Loss |
| United | $8.2 billion |
| American | $6.5 billion |
| Delta | $3.3 billion |
| US Airways | $2.3 billion |

Northwest barely escaped the list, with a loss of $973 million. But, on the other side of the ledger, in the same three years, Southwest earned profits of $1.2 billion.
I expressed sympathy for the predicament of retired UA flight attendants last week. United is seeking to reduce the medical benefits it pays them. This week, UA tried to justify its actions by saying that the flight attendants should have seen this coming, and that they'd been talking about changes for a year.
Maybe UA talked about reducing benefits for a year. But how does that excuse them now unilaterally rewriting the deal with retired flight attendants who planned their retirement years earlier, relying on the terms of their pension plan? If you talk about doing a bad thing for a while before doing it, does that somehow make it good?
UA is also seeking an extension of its Chapter 11 status. They had a March 8 deadline to file a reorganization plan, and are asking for this to be extended to June 30. In a massive understatement, UA said that a number of restructuring issues remain unresolved, including in particular the need for a $2 billion loan guarantee from the Air Transportation Stability Board - a loan guarantee that has been previously declined.
Here's a lengthy but good article in the NY Times about the state of US airlines on the east coast. Its most intriguing statement is a quote from US Airways' CEO, David Siegel, who has vowed to come up with a 'big surprise' to fight off Southwest's move into their Philadelphia hub.
'Big surprises' are not the sort of thing you hope for from an airline, especially one in such a desperate situation as US Airways!
Could it be the 'big surprise' might be a new partnership with Virgin USA? Sir Richard Branson's long talked about plan to create a low cost but high service US airline seems to be definitely moving towards a reality, and because he can't fully own a US airline himself, he will need some type of US partner.
While Branson's companies and US Airways would seem to make strange bedfellows with very incompatible corporate cultures, he is understood to be interested in at least buying some parts of US Airways. This could become interesting.
Last week I wrote about Canada's excellent low-fare airline, Westjet, and its plans to start operating flights across the border into the US. As if by coincidence, this week, Canada's decidedly non-excellent and not-low fare airline, struggling Air Canada, announces a series of cuts on their formerly sky-high fares between the US and Canada.
Their press release describes this response as 'a customer-driven solution' and uses impenetrable phrases such as 'Air Canada's comprehensive strategy to provide optimum value and simplicity and to put more control in customers' hands through automation' and 'offer customers and travel professionals clear choices and unbeatable value'.
Wouldn't it be simpler and more accurate just to say 'we're trying to squeeze Westjet out'?
On Wednesday, Air France was given permission by the EU to proceed with its purchase of KLM, and on Thursday the US Justice Department also approved. The combined airline will be the world's largest (in terms of revenue). While both bodies decided that there were no anti-competitive issues, KLM made an interesting statement on Monday, saying that it would start to offer 'outrageous discounts' on 62 of its European routes.
While outrageous discounts (up to 50% in KLM's case) are a short term good thing for travelers, all too often they seem to be followed by outrageous increases, after other lower cost carriers have been squeezed out of the market.
On the other side of the world, Singapore Airlines reported a massive increase in profit for its quarter ended 31 Dec 2003. They made a profit of S$378 (about US$225 million) compared to S$180 million (US$110 million) the previous year.
I wrote last week disparagingly about Northwest operating 33 year old DC9s. Pilot Norm wrote in to say :
When you compare flying a 33 year old airplane to a 33 year old car, one has to wonder about your true understanding of aviation. I fly these 33 year old airplanes at NWA. How many airplanes, still in service today, other than the DC9 can lose hydraulics, pneumatics, and electrics and still make a safe and uneventful landing every time? Hurray for cables and pulleys!
Norm's comments are not wrong, but are also not complete. It is probably true that the 'low tech' nature of the plane's control systems make it more resilient to malfunction than new 'fly by wire' planes, controlled electronically through a computer system. And a 33 year old plane is, in parts, a bit like a 33 year old axe - the head has been changed a few times, and so too has the handle.
But while the engines and other moving parts and control systems might be reasonably new, there is one crucial part of the plane that is completely original, dating back the full 33 years. Its fuselage.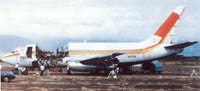 Metal fatigue is a potential danger, as was spectacularly shown when this Aloha Airlines 737-200 had 18 ft of its fuselage come off while flying at 24,000 ft, back in 1988. Amazingly, as you can see from this photo, the plane managed to safely land.
The plane was 19 years old, had flown 35,496 hours, and perhaps most importantly, had gone through 89,680 take-off and landing cycles (many more than most planes that age, due to the short 'island hopping' flights it was operated on). Here is an amazing close-up picture and a fascinating story about what might have caused this accident.
This is not to suggest that old DC-9s (or 737s!) are appreciably more at risk than newer planes, and of course all planes are now very carefully and regularly checked for signs of cracking or tearing. But, all other things being equal, I prefer to drive newer rather than older cars, and prefer to fly on newer rather than older planes.
For most of us, all we know and all we want to know about toilets on planes is that they're too small, frequently too smelly and dirty, and there are too few of them. But if you'd like to know more, Boeing has released the results of its toilet survey about what people would like to see in new for its proposed new 7E7 plane.
Rather terrifying was the result of the first question, which implies that the 7E7 might end up with fewer rather than more toilets, because, as the analysis jovially says, 'space on an airplane is a very valuable commodity'. And the most puzzling question was the one that, in among nine questions about toilets, suddenly appeared asking if you'd like to have a video feed from the cockpit available on the seat back video monitors. Not sure what its connection with toilets is at all!
Putting a brave face on the continued lack of interest in its new plane, Boeing said that it 'likely will have' a launch customer for the 7E7 by May or June. Unusually, it seems the launch customer will not be a US airline.
The beleaguered Eurotunnel company is back to threatening bankruptcy again. The company operates the Channel tunnel, but is unrelated to the Eurostar trains. The good news is that if the company did go bankrupt, there is unlikely to be any impact on Eurostar service. Britain and France would not just let the tunnel close down - a fact which might perhaps have encouraged a bit too much complacency at Eurotunnel.
Bankruptcy is also the threat du jour, yet again, by Amtrak, although with probably more urgency and good reason. One has to feel sorry for Amtrak and its management. The organization has been poorly managed and chronically underfunded for most of its 30 year existence, and giving it only half the funds it needs to continue operating makes the matter worse. Amtrak asked for $1.8 billion for 2004, and at present, President Bush has proposed a $900 million grant.
Amtrak's $1.8 billion request is not the same as saying it will lose $1.8 billion. Only $570 million of that goes to address operating income shortfalls. The balance is for desperately needed repairs and replacement programs on its track, bridges, locos and carriages. And Amtrak is expecting a good year for ridership, with a projected 25 million riders, making for their biggest year ever.
Look up the page again at the table of losses by major US airlines. US airlines have lost over $21 billion in three years, and received many billions of dollars in outright government gifts and other support. Amtrak's $570 million operating loss, and request for $1.8 billion in total subsidy, suddenly seems rather small and moderate, and if it helps rebuild an improved national rail system, it is money well spent.
One of the less talked about impacts of the new 'number portability' rules that allow you to take your cell phone number with you when switching from one carrier to another is the fact that you can also take your regular home phone number and transfer that to a cell phone, too. An estimated 60,000 people have done this already, turning their backs on any regular wired phone service at all, and using only cellular service.
In addition, an estimated 3% (ie 4.5 million) of current cell phone users have already given up on their home wired phone.
This is unsurprising. My monthly cell phone bill is now closely comparable to my domestic phone bill, and the cell phone service includes free long distance and various other benefits that can't be had on a regular phone. Many people now get internet access through their tv cable service. Don't also forget the ability to add inexpensive VoIP phone service to your broadband computer line as well. Who needs a regular phone line any more? Maybe none of us.
Good news for people that stay at Microtel Inns and Suites. This chain of 266 economy hotels has announced new free telecommunication services for its guests, including free in-room local and long distance phone service and wireless internet access. The new services will be available in all their locations by the end of the year.
This Week's Security Horror Story : A convicted felon on probation, by name of Kareem Thomas, strolled past two security checkpoints and onto a Delta flight from LAX to Atlanta. He had no ticket and was discovered hiding in one of the plane's toilets. LAX is one of eight airports in the country at a special heightened state of security at the moment.
Intriguingly, the TSA - the government agency responsible for airport security - has somehow figured out a way to blame Delta for this. Larry Fetters, the TSA's federal security director at LAX said that they might levy a fine or send a letter of warning to Delta! He then went on to say
Of course it's worrisome that this happened and we need to make sure that it doesn't happen again. But we also need to put it in perspective. At LAX, millions of people have gone past screening checkpoints in the last year and only one person got through who shouldn't have been in there.
Mr Fetters should learn to count. Other people have also been detected slipping into LAX airport terminals, resulting in evacuations of one or several terminals each time. Plus, how does he know how many other people got through and avoided detection entirely?
Sadly proving that the problem is more widespread than just at LAX, a woman triggered a major security breach at Ronald Reagan Airport (Happy Birthday, President Reagan - 93 this week, gone but not forgotten) on Monday. The TSA explained that she 'wandered away from the screening area while waiting to be secondarily screened'. They couldn't find her again, and so had to evacuate Terminal A and three planes parked at its gates, then search the terminal before allowing passengers back in again.
Nothing dangerous was found, and neither, either, was the errant passenger!
More about flight cancellations. On Thursday BA announced the ninth cancellation of its unlucky flight 223 between Heathrow and Dulles. They were quick to point out that no passengers were inconvenienced, with all passengers being accommodated on other flights, or given a refund.
Question : The TSA asks an airline to cancel a flight due to the threat of one or more passengers being terrorists. The airline cancels the flight, and the passengers change to other flights. How are we safer? The same potentially high risk passengers have simply switched to other flights! Do you feel safer? I sure don't!
As I discussed recently, surely the better strategy is to allow the flight to operate, unchanged, but with air marshals on board to ensure the safety of the flight.
Here's a question which I defy anyone to answer : Our government can track a cow born in Canada almost three years ago, right to the stall where she slept in Washington, and on to the slaughter house and to the supermarkets where her carcass ended up as meat patties. So why don't we have a better handle on the 11+ million illegal aliens wandering around our country?
'My object all sublime, I shall achieve in time - to let the punishment fit the crime'. These words were sung by the Mikado in the Gilbert and Sullivan eponymous comic operetta that poked fun at feudal Japan. The concept of fair punishment is central to our American society, but increasingly, we seem to be adopting the traits lampooned by G&S 120 years ago.
Case in point : A rural Maine resident, Richard Albert, lives on the Canadian border. The US Customs office is right next to his house. The border crossing is closed on Sundays, and in May last year, following a tightening of security, a locked gate was placed across the road when the office was closed.
Every Sunday, Mr Albert drives across the border to go to church. After the locked gate appeared, he simply drove around the gate on the way to and fro. (So much for 'tightened security'!) Imagine his surprise, then, when he was summoned next door to the Customs Office (on a Tuesday, when they were open) and fined $10,000 for crossing the border illegally.
So, let's see : A US citizen crosses the border to go to church and comes straight back into the US = $10,000 fine. A Mexican citizen crosses the Mexican border and illegally lives and works in the US = ?
What do Melbourne (Australia, not FL), Vancouver (Canada, not WA) and Vienna (Austria, not VA or GA) all have in common? According to Britain's Economist magazine, these three cities tied for the prize as best city in the world to live. Australia fared well, with Perth coming fourth, and Adelaide, Sydney and Brisbane all sharing sixth place.
My money's on Sydney. It is a glorious city in every respect.
These cities might be the best, but a special prize should be given to Bury in England as now perhaps being the safest city in the world. As this story tells, the local council has banned the hanging flower baskets that have become so associated with it, due to concerns that a basket might fall on a passer by's head. In the forty years to date that the hanging baskets have been displayed each spring, none have fallen....
Venice is about to introduce a one way street system. Not for vehicles - no vehicles are admitted to the central city's ancient and very narrow streets. For pedestrians. Fines for walking the wrong way down a one way street will be levied, from 25 Euros to 500 Euros ($640).
I mentioned last week about how my small belt buckle sets off the airport metal detectors these days. Joe Brancatelli says he always takes his belt off before going through the airport, for that very same reason. But, please read this story about a lady who neglected to take off an, ah, different sort of belt, and who did indeed set off the metal detector.
Until next week, please enjoy safe - and beltless - travels