| | |
| --- | --- |
| | |
| | |
| --- | --- |
| | |

Please follow through this set of screen shots to show how British Airways' promise of a $288 fare ends up as costing a minimum of $801, and even at this inflated price, was only available for travel to Britain on two days.
This is discussed and analyzed in our article British Airways Fare Sale : Lazy Website Programming? Or Bait and Switch? - these screen shots are merely the proof of the reality gap between promise and reality.
Webpages like these on this and the third page are 'dynamic' - the information on them is drawn automatically from BA's air fare/availability database each and every time a person requests information. One assumes that the day by day fare information is correct, so why can't the summary/enticement/bait information - the promise of $288 and $313 fares - also be uptodate and correct?
The Screen shots were all taken on Tuesday 15 March, mid morning Pacific time.
This is the second of three pages of screen shots, following through the steps I took to check every date in March and April for the low fares as advertised/promised. It makes best sense to follow through the logic from the first page.
4. Okay, so here it is. But - ooops - where's my $288 fare? The good news is the $288 promised just a couple of screens ago is confirmed in the box on the top right - 'Our lowest fares in...' which shows $288 for March travel - but, wait on - wasn't the $288 fare good for travel all the way through 12 April? Now the site is saying the lowest fare in April is not $288, but $313. Hmmmm.
Now let's see which days I have to choose from for my $288 fare. Hmmm - nothing on the first page. Let's hope for better things in the week that follows.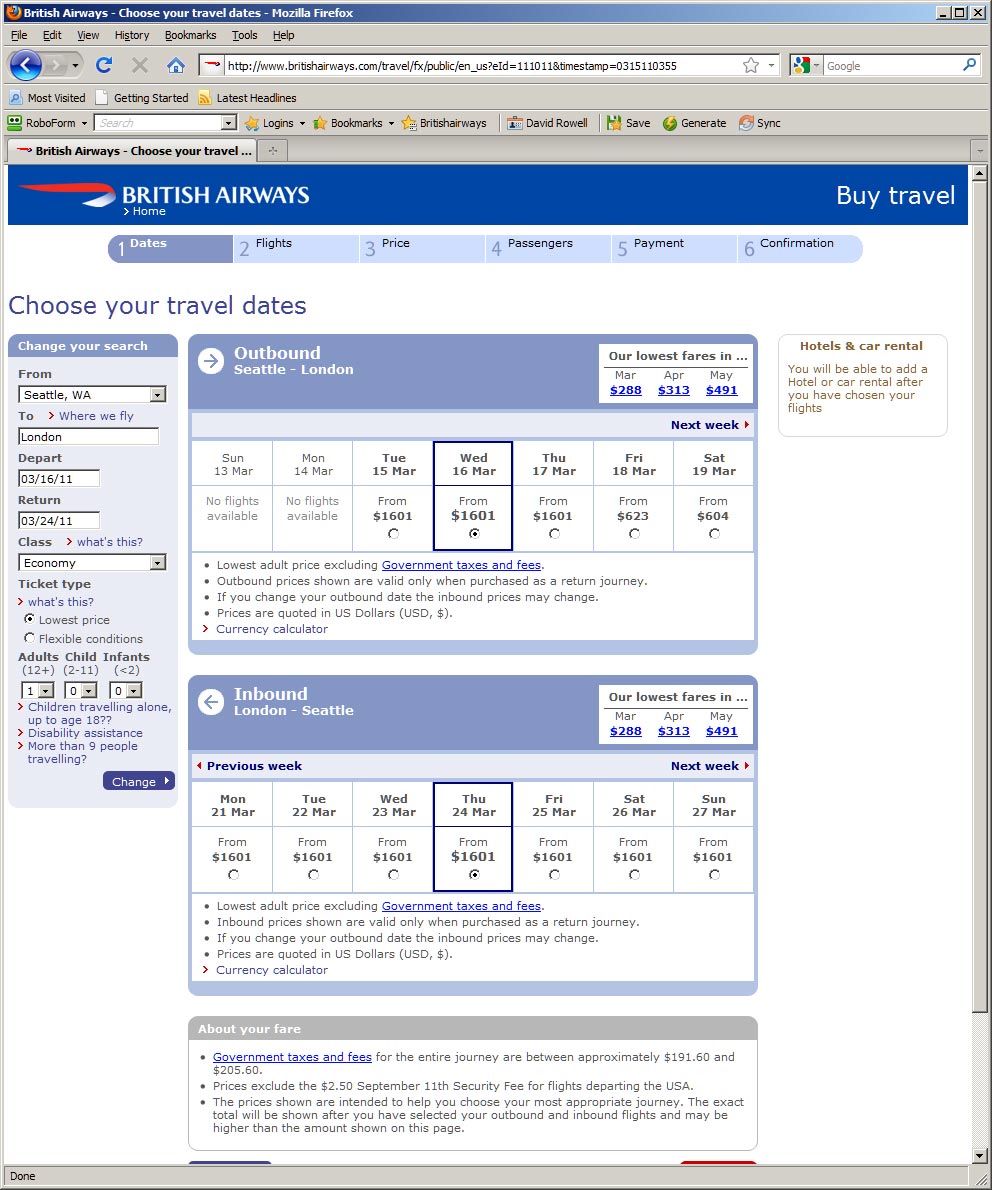 5. So what do we see for the next week? Still nothing close to $288, coming or going. Well, there are still five days remaining in March, so let's move on to another screen of results.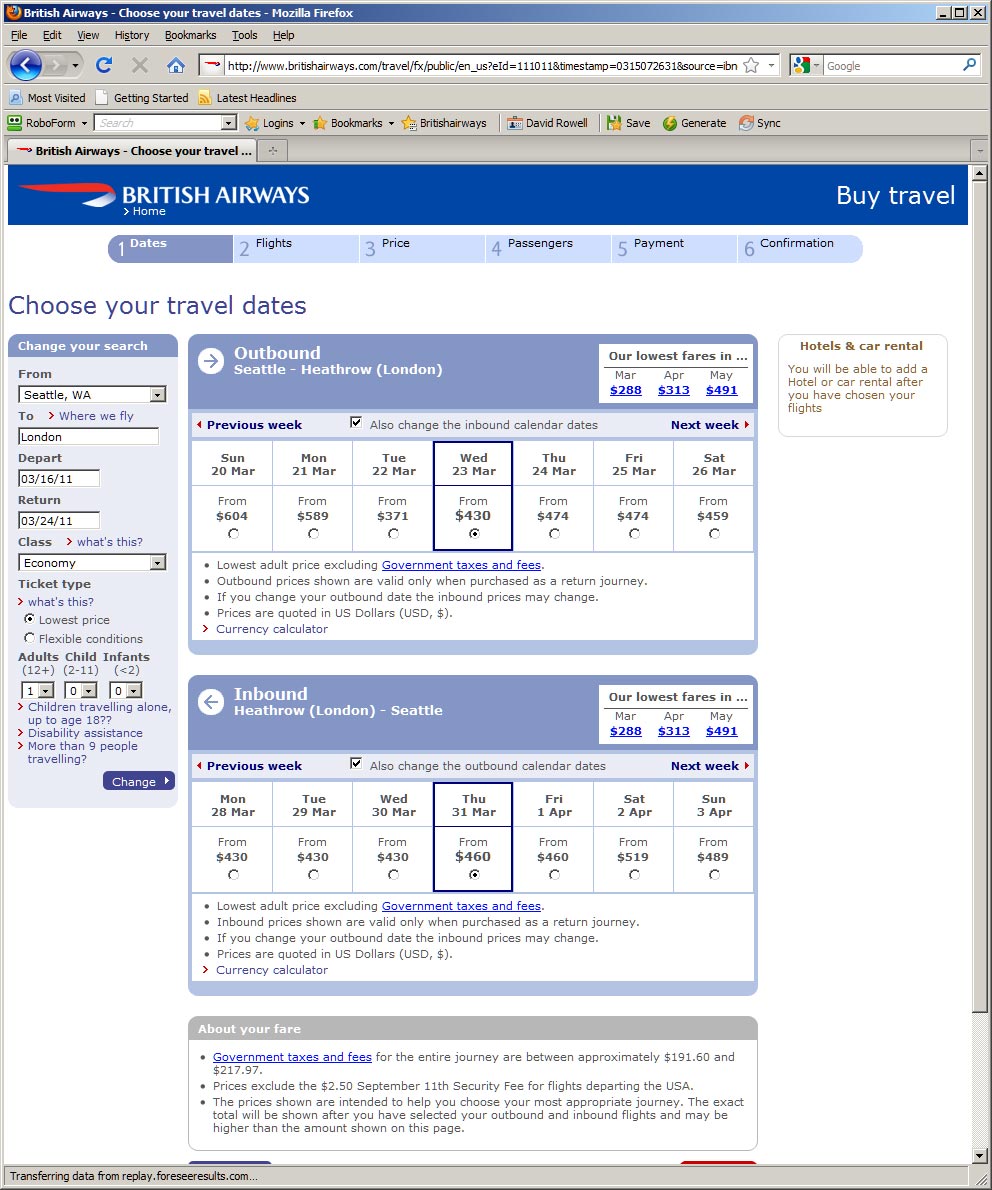 6. What's this? We've now looked at all of March, and no dates - coming or going - show a $288 fare in either direction, even though each page continues to promise fares of $288 in March. The lowest fare is $371 on either the 22nd or the 28th of March, and the lowest return fare is $430 on very few days, making for a total roundtrip fare not of $288 + $288 (= $576) as promised, but of $371 + $430 = $801 in reality. Plus taxes. Where are the $288 fares, BA?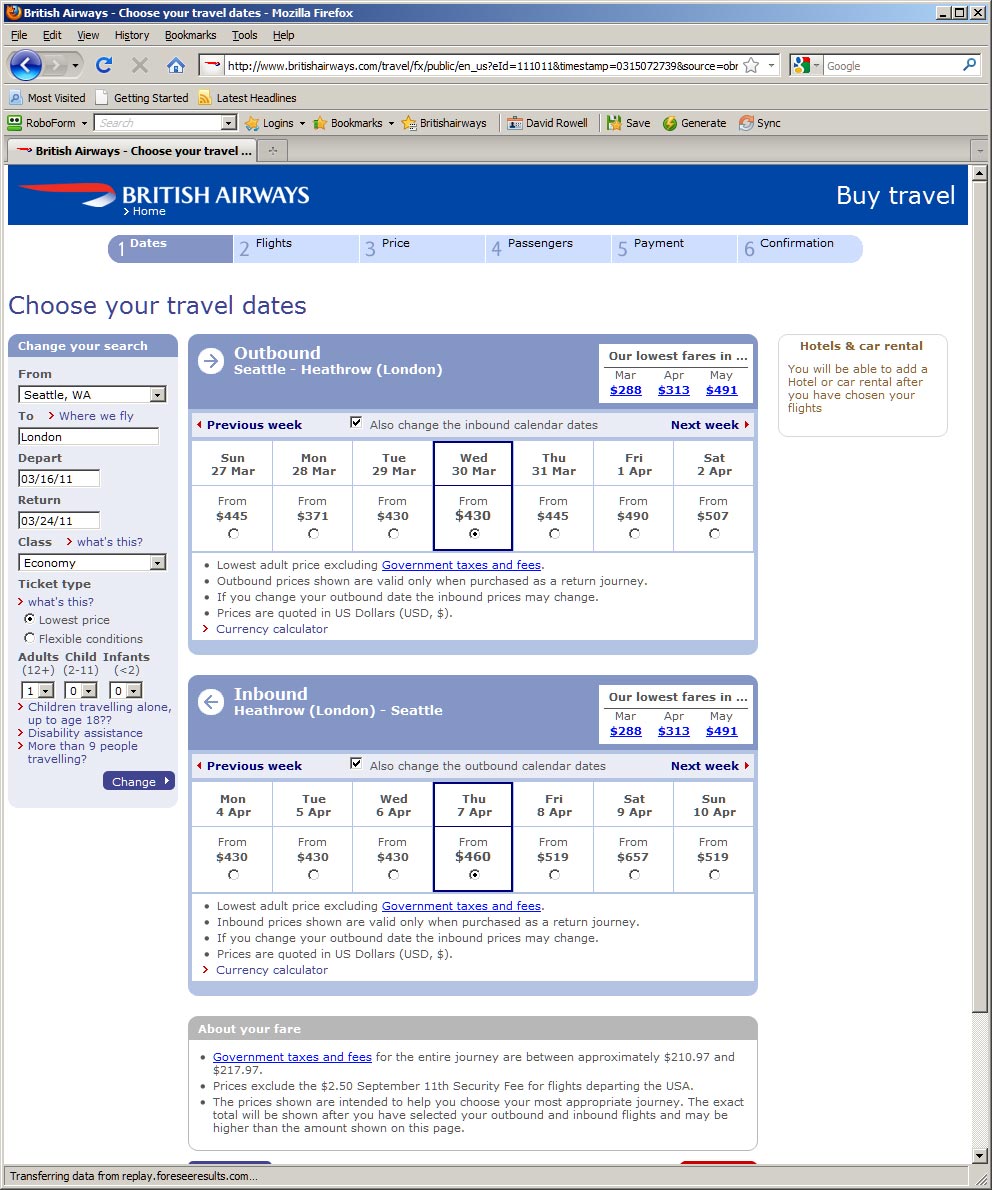 7. Well, with a fare in March showing a lowest price of $801, all of a sudden the promise of each way fares from $313 in April seems like a better deal. So let's now look at April and see how many days are available for travel at $313, shall we. And to do that - yes, you've guess it - please click on to page 3.
Related Articles, etc